Why Juneteenth matters in Taiwan
Through commemorating the end of slavery in the US, Taipei's second annual Juneteenth celebration — featuring vegan soul food — highlights the importance of ending discrimination for all peoples
When Toi Windham co-organized a Black Lives Matter rally in Taipei three years ago, she received some unfriendly comments questioning the relevance of such an event to Taiwan.
"They were like, don't bring your American problems here, we're not racist," she says.
While it's true that African-Americans don't experience the same overt racial tension here as they do back home, microaggressions such as constant stares, people trying to touch her hair or making insensitive comments are part of Windham's daily life. Discriminatory hiring practices still occur. Plus, blatant racism toward Southeast Asian migrant workers and the indigenous community regularly make the news. As Asians, Taiwanese also suffer from racism abroad, which has been exacerbated by the COVID-19 pandemic.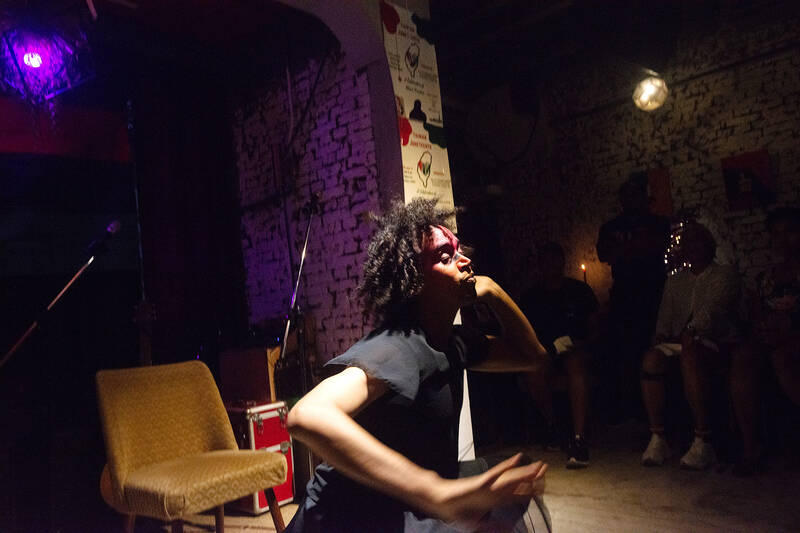 A performer from last year's Juneteenth celebration in Taipei.
Photo courtesy of Black Lives Mattter Taiwan
Next Sunday, Windham is helping put on Taipei's second annual Juneteenth celebration. In addition to celebrating the freeing of the last of America's black slaves in 1865 and raising awareness of the continued struggles of black people "no matter where we go in this world," this event also highlights the right for anyone in the world to exist and live regardless of race.
"Nobody's free until everybody's free," Windham says, quoting black human rights activist Fannie Lou Hamer.
The event also helps facilitate a deeper understanding of African-American culture and history, which is crucial as Taiwanese have embraced many elements of it — especially in music, dance and fashion.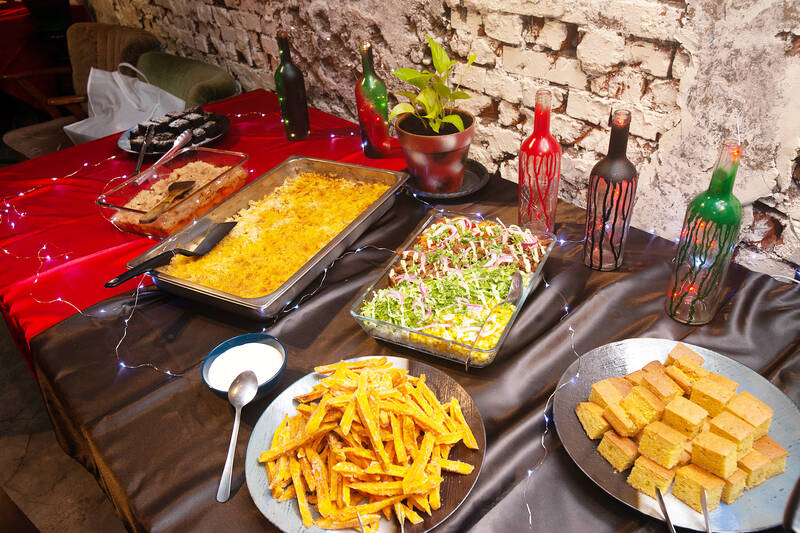 Vegan soul food is on the menu for next Sunday's Juneteenth celebration at the Red Room Rendezvous.
Photo courtesy of Black Lives Mattter Taiwan
"Hip-hop was not created out of joyfulness; it was created out of the hurt and pain and struggle that a lot of black people were experiencing," Windham says. "You can't just embrace one part of the culture and not try to understand the entirety of it."
CELEBRATING FREEDOM
On June 19, 1865, the last of the black slaves in the US were freed in Texas. Locals began celebrating the occasion the following year, but it was only made a federal holiday in 2021.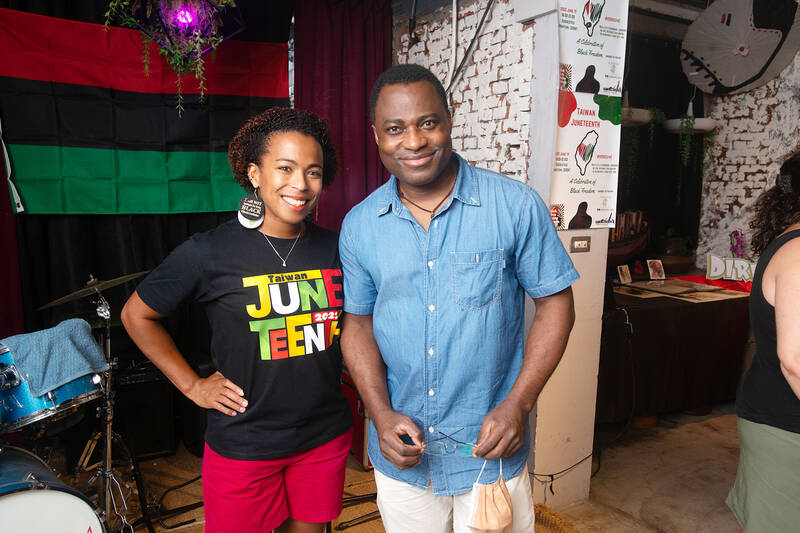 Toi Windham, left, wears a Juneteenth t-shirt at last year's Juneteenth celebration in Taipei.
Photo courtesy of Black Lives Mattter Taiwan
Awareness of Juneteenth varies even across the US. Windham celebrated Juneteenth every year growing up in Dallas, Texas, but her cousins from the east coast didn't know much about it.
They celebrated by having a barbecue, visiting African-American museums, learning about their history and putting on singing and dancing performances.
Next weekend's event will start with a breathing meditation workshop: "We have to acknowledge that there's trauma and baggage we carry, specifically as black people, because of our history. We thought it's a good idea to release that baggage and open ourselves up to the celebration," Windham says.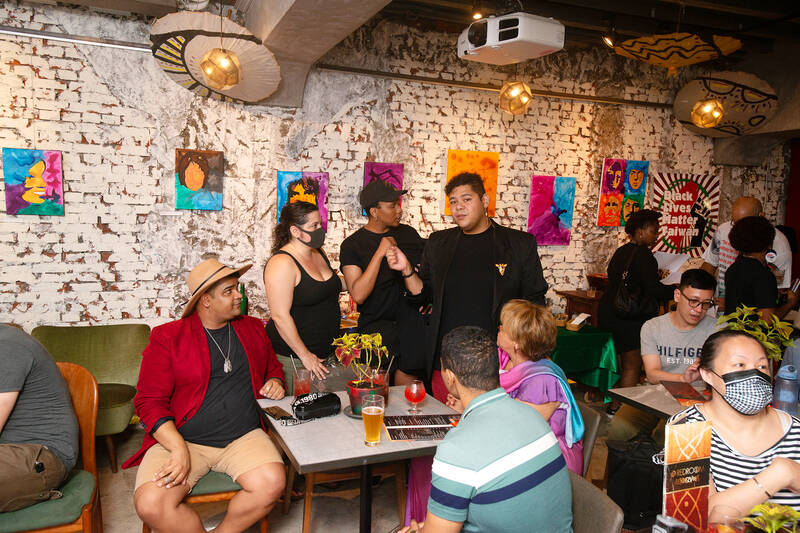 A scene from last year's Juneteenth celebration in Taipei.
Photo courtesy of Black Lives Mattter Taiwan
There will be a short video about the history of the occasion and speeches before transitioning to the songs and performances. The event will once again be held at the Red Room Rendezvous restaurant and bar, which has whipped up a vegan soul food menu that, with its peach cobbler, was especially popular last year.
ONGOING MICROAGGRESSIONS
As an educator, co-organizer Casey Abbott Payne says that he's noticed an increased awareness among his young students of the issues black people face in the US after George Floyd was murdered by police officers in 2020. Most of them told him that they learned about it from watching YouTube videos.
But while Juneteenth is a time to reflect, it's also about celebration and having a good time, Payne says. There may be other events, such as Windham's ongoing Community Convos Taiwan event that may be more suitable for a deep dive into local racism, but he's also experienced his fair share of issues in nearly two decades in Taiwan. The situation here is still better than being in the US, he says, especially as he doesn't have to be afraid of the police.
Fewer people approach him to tell him that he looks like Will Smith nowadays, but passengers are too often reluctant to sit next to him on the MRT even when the train is packed. Windham has experienced the same sort of microaggressions.
"The stares are enough to deal with," Windham says. "Sometimes I don't want to leave the house because it's like, who's going to stare at me now? A lot of time we have to ignore a lot of these things, but they at some point start building up."
People touching her hair without permission is another microaggression that she constantly endures.
"With our hair, there's a deep history with beauty standards, being told that the way our hair looks is unacceptable and having to conform and assimilate. It's a touchy subject — pun intended," she says.
However, discrimination when hiring English teachers continues, Payne says. In 2006, a black candidate whom he recommended to replace him at his job was rejected because of his skin color. When Payne reminded the boss that he was also black, the boss said "Not that black!"
Recently, a black friend who owns an English school here was asked by his partner to do something about the abundance of black teachers at the school.
"They'll also find ways to not mention being black, such as saying that they're looking for someone 'more handsome,'" Abbott says. "Right now, today, that's still going on, but it's better for sure."
All proceeds from the event will go to funding Community Convos Taipei and more black-centered events, Windham says.
"There are gaps in our community that still need to be met, our goal is to create more and connect our community a bit more this year," she says.
Publication Notes
EVENT NOTES
What: Juneteenth When: June 18 from 4:30pm to 9:30pm Where: Red Room Rendezvous, 252, Keelung Rd Sec 2, Taipei City (台北市基隆路二段252號) Admission: NT$500 On the Net: tinyurl.com/yc7m6szt
Comments will be moderated. Keep comments relevant to the article. Remarks containing abusive and obscene language, personal attacks of any kind or promotion will be removed and the user banned. Final decision will be at the discretion of the Taipei Times.