CNN's Mike Chinoy to screen documentary, attend book signing in Taipei
Former CNN news anchor Mike Chinoy will screen his recent documentary, Assignment China: Tiananmen Square, next Thursday evening at Taipei's American Club. The documentary examines news coverage of Tiananmen, which, according to Chinoy, "redefined the relationship between the press, public opinion and foreign policy making, and continues to influence both Chinese politics and international perceptions of China to this day."
The film is part of a 12-part documentary series, Assignment China, begun in 2008 in association with the University of Southern California's US-China Institute, where Chinoy is a senior non-resident fellow.
This film series covers more than eight decades of China reporting, beginning with the episode "The Chinese Civil War" on coverage of China in the 1940s, and concluding with "Follow the Money," about the vast fortunes accumulated by families of Chinese leader Xi Jinping (習近平) and other Chinese political elites, which was brought to light by US reporters in the 2010s. Every major China story to break in the US is covered in between, and all episodes are available on YouTube.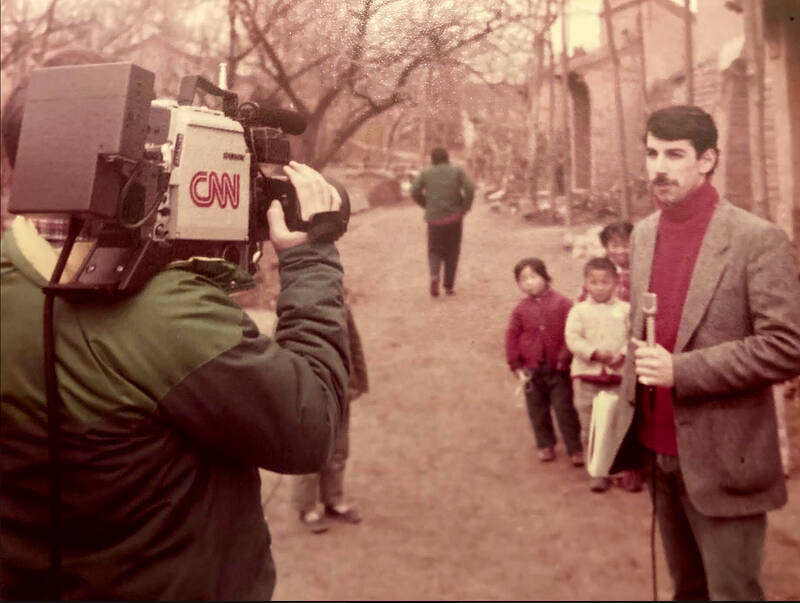 Mike Chinoy reporting from China, 1984.
Photo courtesy of Mike Chinoy
Chinoy's recent book, Assignment China: An Oral History of American Journalists in the People's Republic, just released in March, came as an outgrowth of the documentary project. (See the book review on p14.)
In the introduction, Chinoy writes that the volume includes "many fascinating comments and stories… left on the cutting room floor" as well as nearly two dozen additional interviews. The book's historical scope extends beyond that of the film and all the way to 2021, including the COVID-19 pandemic and recent journalist expulsions by China.
Chinoy, who began covering China in 1976 and has spent 24 years as CNN's top Asia correspondent, is currently based in Taipei.
Following next week's screening, Chinoy will hold a Q&A and a book signing. To attend, the American Club requests RSVPs by the end of the day tomorrow.
Publication Notes
EVENT NOTES:
What: Screening of 'Assignment China: Tiananmen Square' and Q&A and book signing with Mike Chinoy When: Thursday, May 25 at 6:30pm Where: American Club Taipei (ACC, 台北美僑協會), 47 Bei-an Road, Taipei City (台北市中山區北安路47號) Admission: NT$1,500; includes dinner DETAILS: Registration is available until the end of tomorrow. E-mail Jean Chen: jchen@pamirlaw.com
Comments will be moderated. Keep comments relevant to the article. Remarks containing abusive and obscene language, personal attacks of any kind or promotion will be removed and the user banned. Final decision will be at the discretion of the Taipei Times.