New 'Shazam!' has more everything, but less charm
The sequel brings five times the title wordage, more action, more villains, more monsters and more star wattage
Sequels, by nature, are more. Whatever the original had, just add more, the rule seems to be. Even more words in the title — how often is a sequel's title shorter than the original?
And so, exactly four years after the original DC superhero pic Shazam! surprised with its clever blend of innocence and silliness, and enough wit to blunt the inevitable ridiculousness of plot, we have Shazam! Fury of the Gods. It brings five times the title wordage, more action, more villains, more monsters and more star wattage — Oscar winner Helen Mirren, for example.
But not more charm. The sequel, again directed by David Sandberg and currently in Taiwan theaters, feels less breezily funny, less fresh, less fleet of foot. (At two hours and 10 minutes, it's actually two minutes shorter than the original, but doesn't feel shorter).
From left: Ross Butler, Adam Brody, Grace Caroline Currey, Zachary Levi, Meagan Good and D.J. Cotrona in a scene from Shazam! Fury of the Gods.
Photo: AP
In its favor, though, are some elements that lent the original its pleasures, especially Zachary Levi and his goofy efforts (if perhaps more frenetic) to play a youngster in an adult superhero body, and Jack Dylan Grazer as fast-talking, always-thinking best bud (and foster brother) Freddy — this time given a love interest in appealing Rachel Zegler. It also smartly drops colorless villain Dr Thaddeus Sivana, who's apparently still in that lonely cell.
First, a plot refresher. We're back in Philadelphia with teen hero Billy Batson (Asher Angel), the foster kid who was bestowed in the original with magic powers by a wizard (Djimon Hounsou) and learned that the word Shazam! turned him into a strapping superhero (Levi). But now, his foster fam (well, just the siblings) has joined the superhero biz.
It's not going great, though. The group is known in the City of Brotherly Love as the "Philadelphia Fiascoes," because of frequent youthful mistakes. We know teenagers have only partly developed brains, right? No matter how many buses or train cars they can hold with one arm.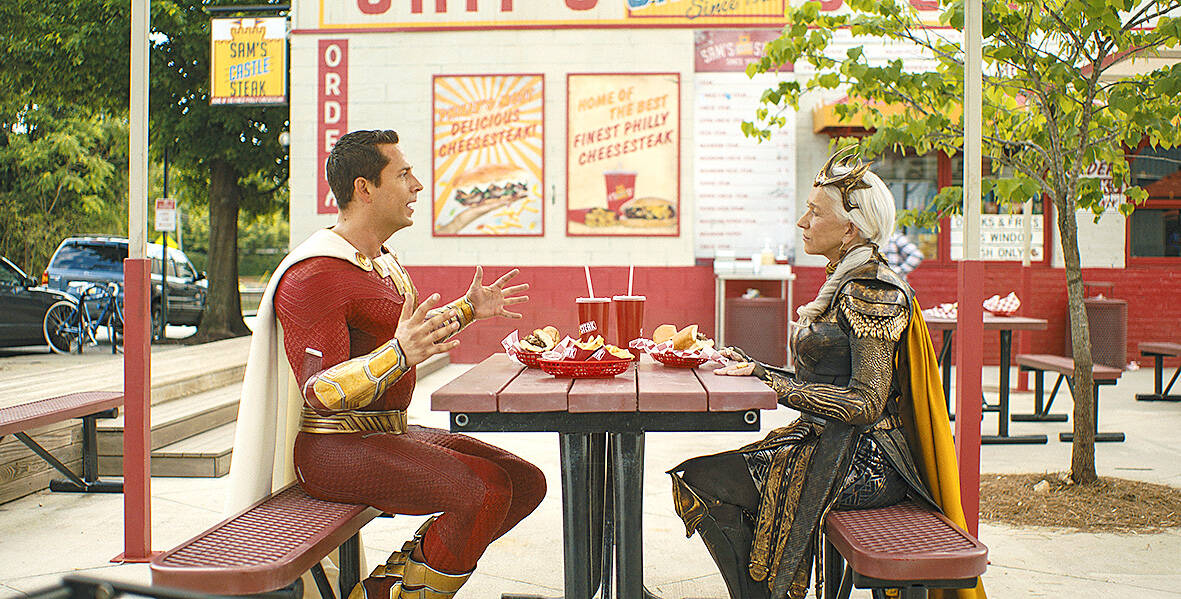 Zachary Levi, left, and Helen Mirren in a scene from Shazam! Fury of the Gods.
Photo: AP
And there's a big new villain to fight — actually three, the ancient Daughters of Atlas, who arrive in the human world to reclaim their stolen magic.
Turns out the mythical staff of the gods, which Billy/Shazam had broken at the end of the first film, lies in a museum, and let's just say the visitors are not in for a good day when two daughters of Atlas appear — Hespera and Kalypso — ready to annihilate anyone in their way. They're soon revealed as Mirren and Lucy Liu, adding some real mean goddess vibe to the proceedings.
Meanwhile, Billy/Shazam is in a therapy session, saying he feels like a fraud. (He's mistakenly gone to a pediatrician, but it's not hard to diagnose impostor syndrome.) Soon, though, he and his siblings are called upon to save the city from a collapsing bridge.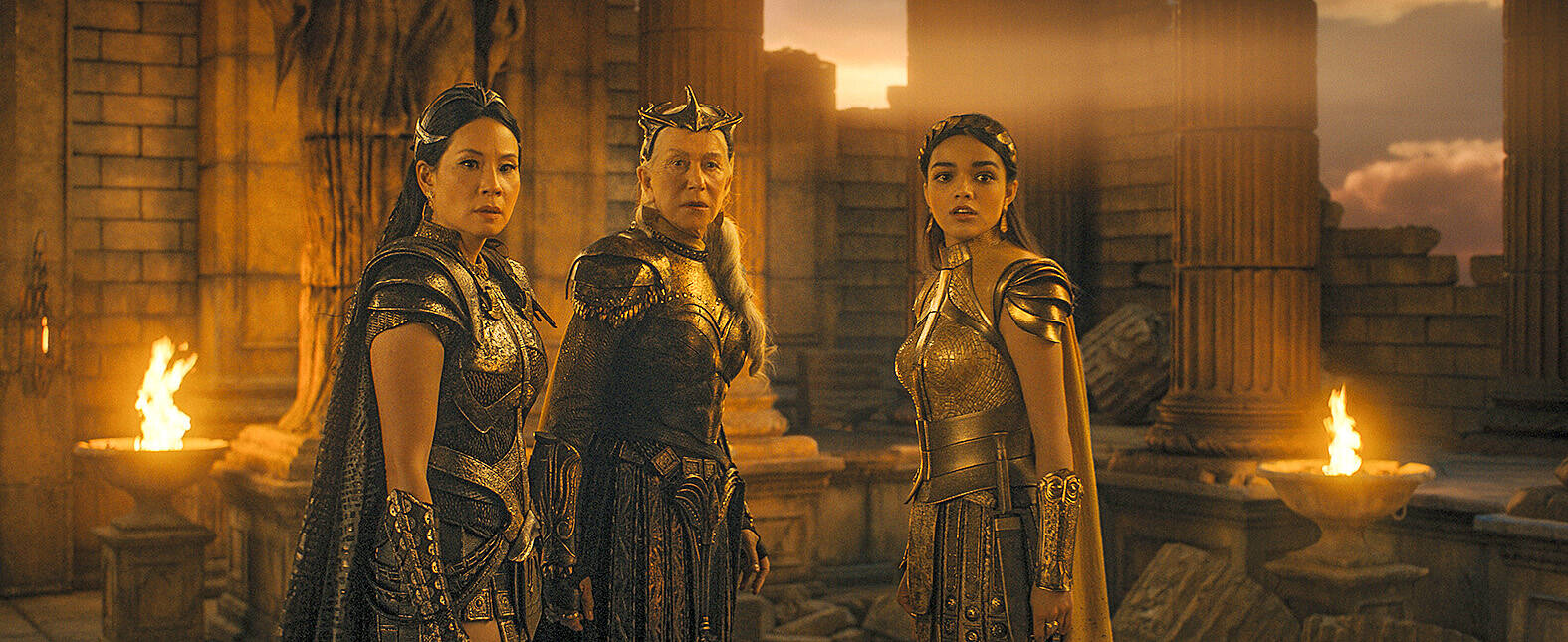 Lucy Liu, left, Helen Mirren, center, and Rachel Zegler in a scene from Shazam! Fury of the Gods.
Photo: AP
The funniest parts of Shazam! and now its sequel involve the overlap between teen-human and superhero life. Witness the teen-designed secret lair, complete with all the Skittles and other junk food anyone would want (Skittles will play a key role at one point.) There, we also learn what's currently occupying each of the siblings. The oldest, Mary, who studies organic chemistry for fun, is aching for college over superhero life. And Freddy wants to forge his own identity.
But Billy, abandoned as a child by his parents, wants family unity at all costs. Mary tries to tell him nothing lasts forever — plus, soon he'll be 18 and checks to his foster parents will stop coming. Then what? (Ya think we'll have a scene later where someone assures him family lasts forever?)
Meanwhile, the Daughters of Atlas, accompanied by a big old dragon and some other monsters, are on the warpath. Where's the third, you ask? Ah, she's masquerading as human, and she's taken a shine to Freddy, who cannot believe his luck.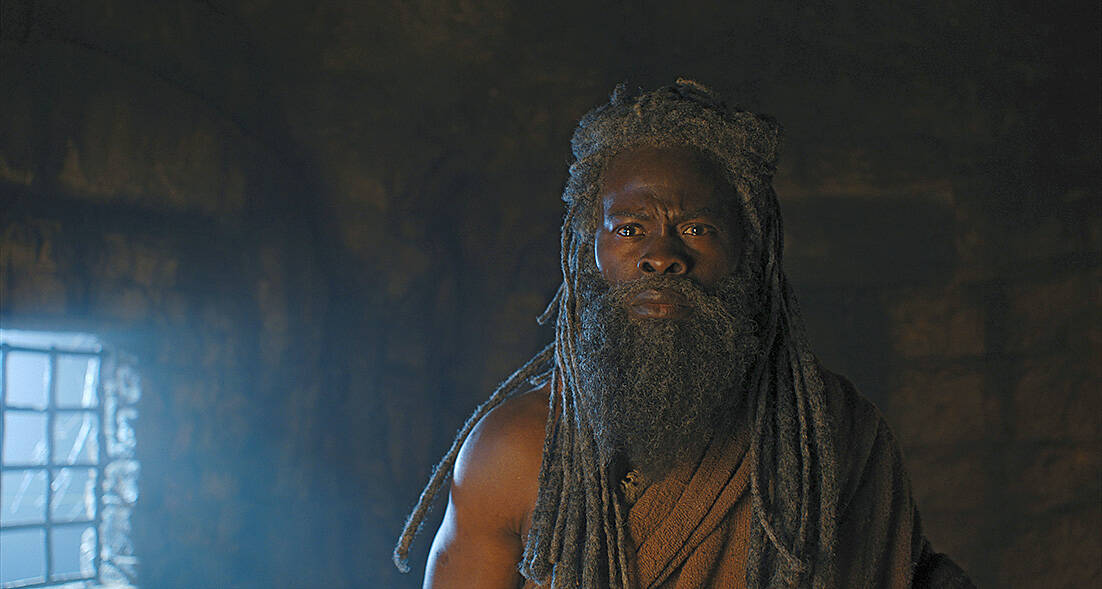 Djimon Hounsou in a scene from Shazam! Fury of the Gods.
Photo: AP
That's all you need to know to understand the action. And there's lots. Still, the best moments are when the wit of the original shines through — like when Hespera (Mirren) reads aloud a letter that's been dictated by the young superheroes to a magic quill pen, who like a smartphone catches the extraneous dialogue, which means she's repeating gravely: "Anyone else want a Gatorade?" (Would that Mirren — and Liu, too — had more such comic moments.)
The action, laden with CGI battles, could fatally weigh down the film if it weren't for Levi, who brings the nimbleness of a musical theater performer (ever see him sing while cartwheeling on Broadway? ) and Grazer, a bit older but still irascible, not to mention singleminded ("We can't let her die, she called me sweet!").
Angel still makes an appealing teen Billy, and Hounsou gets a dashing fashion moment. The family's all back, and foster mom Rosa gets at least one good line amid apocalyptic destruction: "I am not entirely sure how to parent here."
Oh wait, we forgot the unicorns!
Did we need a dragon AND unicorns? Well, of course we did, because in a sequel, there's always more.
Comments will be moderated. Keep comments relevant to the article. Remarks containing abusive and obscene language, personal attacks of any kind or promotion will be removed and the user banned. Final decision will be at the discretion of the Taipei Times.