The TransTaiwan Trek
Connecting major highways, high mountain trails, and semi-abandoned forest roads, a German tourist recently completed an 800km south-to-north hike of the Taiwan unlike any other
On January 5th, a 29-year-old German set off from the southernmost point in Taiwan with two friends by his side, 20kg on his back, a cold beer in hand and a big dream in mind. This was Day 1 of TransTaiwan, his plan to cross Taiwan from south to north, from sea to summit to sea, all on foot.
Over the next month and a half, Julian Sandbrink passed through four national parks, reached the nation's highest peak and struggled through biting cold, painful blisters and dense bamboo. At the same time, he experienced incredible hospitality, saw some magnificent scenery, shared in Lunar New Year celebrations with locals and made a host of new friends. On Feb. 18, he reached Fuguijiao Lighthouse (富貴角燈塔), bringing his epic journey to a successful close.
For someone whose first reaction to the suggestion of traveling to Taiwan was "Umm, not on my list," how did such an unusual trip come about?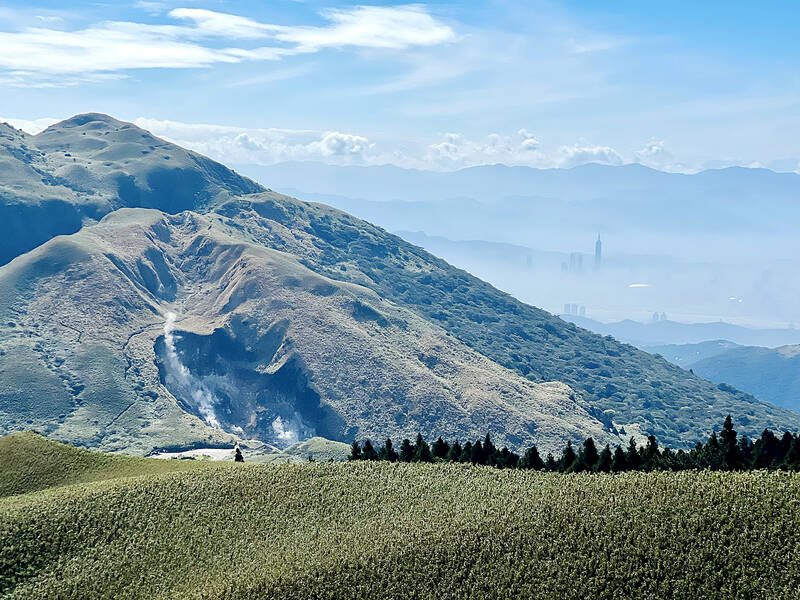 A shot capturing Yangmingshan's Xiaoyoukeng and Taipei 101 on the last day of TransTaiwan.
Photo courtesy of Julian Sandbrink
THE BIRTH OF TRANSTAIWAN
Before arriving in Taiwan, Sandbrink and an Austrian friend Florian had been exchange students in Hong Kong and traveled extensively elsewhere in Asia. When Florian suggested a trip to Taiwan, Sandbrink reconsidered his initial reluctance after a glowing recommendation by Florian's father, a travel writer who had spent time in Taiwan. While in Nepal for a summit attempt on Manaslu (8,163 m), Sandbrink also met Taiwanese mountaineer Tri Fish (三條魚), who further persuaded him that he would enjoy a visit.
And so, Sandbrink decided he would head to Taiwan with Florian, but not as an ordinary backpacker. He wanted to accomplish something, and preferred to minimize city time in favor of time in the mountains. With so much hiking time planned, they decided to do the entire trip on foot. A rough outline of the trip emerged: They would walk from the southernmost point to the northernmost point, and summit the island's highest peak along the way. The rest of the details would be filled in later.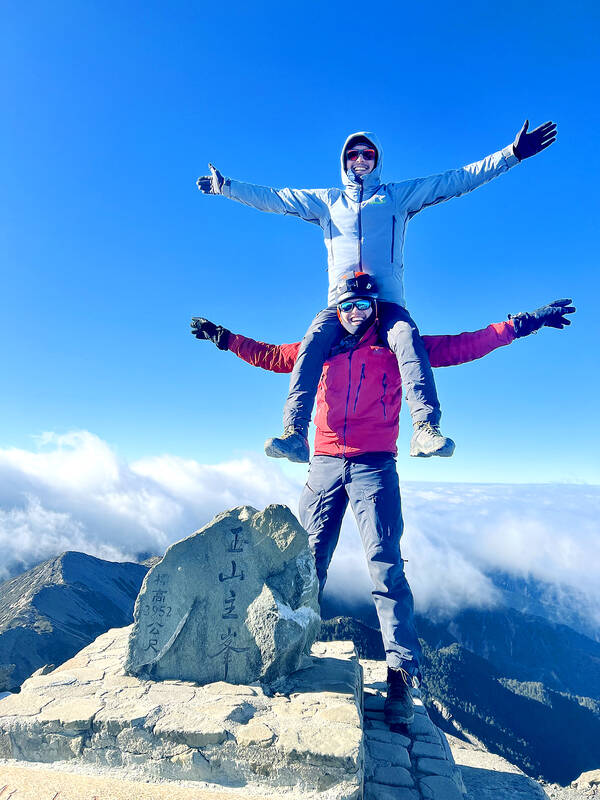 Julian Sandbrink and his Austrian friend Florian on the peak of Taiwan's highest mountain, Yushan.
Photo courtesy of Julian Sandbrink
With the Chinese language as an obstacle to research, Sandbrink relied on advice in English from local residents, obtained beforehand through Facebook groups. With this advice, he made final adjustments to the planned route before starting out, and during the walk. He says he is grateful for the help he received, which made up for his inability to plan well enough on his own and the dearth of English information online.
The language barrier presented some challenges throughout the trip, but Google Translate did save the day on multiple occasions, including one time when it helped convey to Sandbrink why the restaurant he was hoping to eat at couldn't serve him, and why there were moaning sounds emanating from inside: the owner's typed message to him explained that his wife was inside and about to give birth, so he was a little too preoccupied to prepare a meal.
UPS AND DOWNS ALONG THE WAY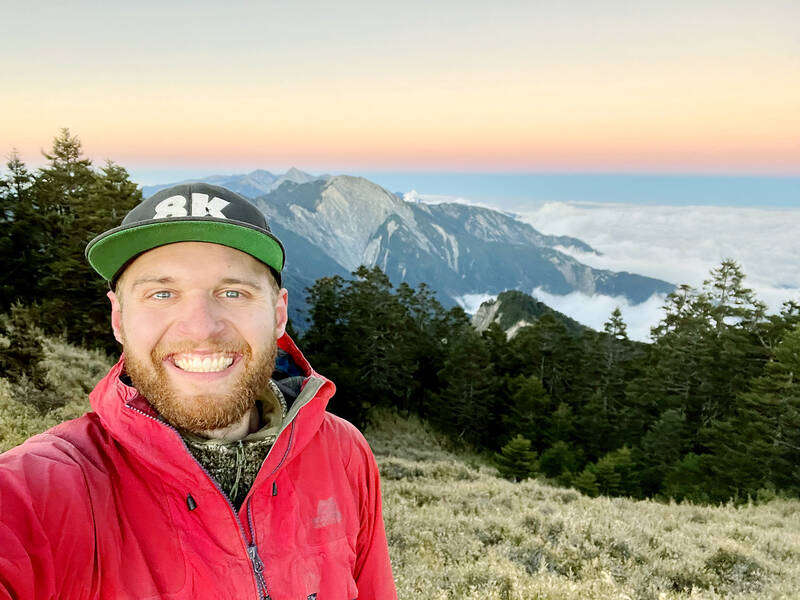 Julian Sandbrink enjoying a sunset near Hehuanshan.
Photo courtesy of Julian Sandbrink
Despite the uncertainty in planning, the TransTaiwan experience was overwhelmingly positive. Reflecting on the trip, Sandbrink says: "The surprise was that there was a surprise every day… The one thing that really stands out is the hospitality, the kindness, the friendliness of people in Taiwan. And I say people in Taiwan because it's not only Taiwanese; it somehow seems to spill over to foreigners living in Taiwan, that they are also incredibly friendly."
This kindness took many forms. One man picked them up in Taitung and took them to a wild hot spring for the night, treating them to cold beer and driving them back the next day to where they had left off. Others helped arrange for a food package to be shuttled to a remote trailhead, saving him and Florian several days of carrying an extra 11kg. When homestays and shops Sandbrink was counting on were unexpectedly closed, people following the trip online quickly stepped in to help, arranging for meals to be left out for him or finding last-minute accommodations. Others opened their homes to Sandbrink, providing a bed or a couch to sleep on and a much-needed shower, while others helped get supplies shipped to a 7-Eleven along his route. For Lunar New Year, he and Florian were even hosted by a local family.
Provincial Highway 14 up to Hehuanshan (合歡山) was one of the most memorable. Sandbrink fondly recalls not only the spectacular scenery, but the countless people shouting Jiayou! (words of encouragement in Chinese) out their car windows at him, and that one person who just shouted, "Banana!" before tossing a banana out the window to him.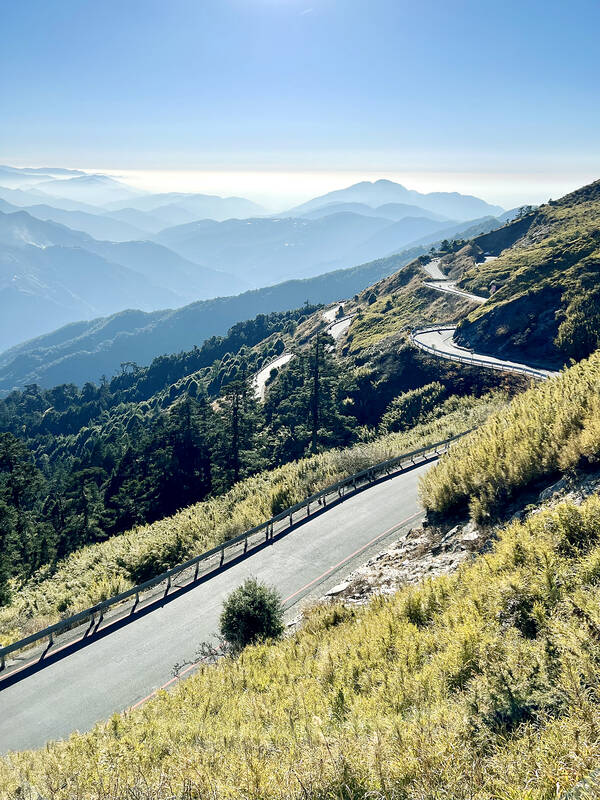 Julian Sandbrink enjoyed Highway 14 up to Hehuanshan, both for the scenery and the words of encouragement from passing drivers.
Photo courtesy of Julian Sandbrink
Then there was the time he had to call his couchsurfing host outside Taroko Gorge to apologize, telling her, "I will be late, and drunk." As he was walking down the road, a group of locals had invited him to join their lunch. They had cooked up several soups that they wanted to share, one of which contained chicken and some sort of alcohol, which they referred to as "Taiwanese whiskey." Perhaps this was a sesame oil chicken (麻油雞) soup, perhaps not. Suffice it to say, Sandbrink greatly appreciated their kindness, and was full of energy and a newfound swagger for the rest of his walk down the gorge.
Sandbrink was surprised that during the entire 45 days of the hike, he never encountered a negative person. That's not to say the whole journey wasn't without its struggles. By the second day, Sandbrink was already experiencing massive blisters on the balls of his feet that threatened to derail the entire trip. Fortunately, with time and rest, his condition improved and it didn't stop him from walking the planned 800km.
Without much local knowledge to go on, it was also perhaps inevitable that some parts of the route he chose were heavily overgrown, sometimes so much so that he was forced to backtrack and find an alternative route. Even entering Taipei didn't go smoothly. He got close enough to see a city road from the trail he was on, but there was no easy descent down to the road, so he ended up sliding unceremoniously down a water pipe into the nation's capital.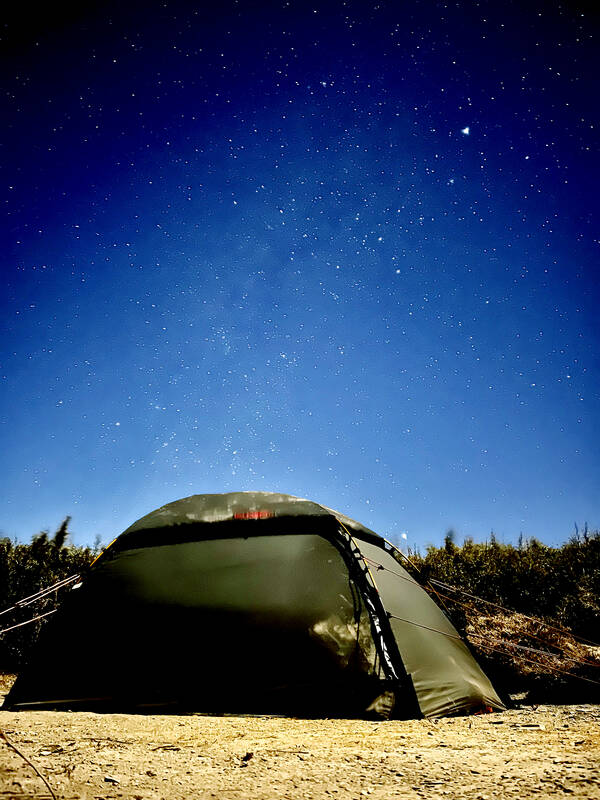 A starry night at one of Julian Sandbrink's high-mountain campsites.
Photo courtesy of Julian Sandbrink
Food was occasionally an issue, too. Most residents of Taiwan have relied on convenience stores for a quick bite during weekend getaways. After 45 days on the road, however, it's a different story.
"I'm sick of every single product you can find at 7-Eleven and Family Mart," Sandbrink says.
What's more, he often arrived in a village looking for food in the middle of the afternoon, between "regular" meal times, when most shops aren't open. This threw an unexpected wrench into his plans. Still, more often than not, he was helped by someone online or someone on the ground when the next meal was uncertain.
Julian Sandbrink learned several Chinese characters along his journey, helpful when hitchhiking or finding his way.
Photo courtesy of Julian Sandbrink
When asked what the hardest part of the whole trip was, Sandbrink confesses: "[It] was the night before I finished the hike, when I realized that from tomorrow onwards, everything will be over."
After 44 days with a clear mission in mind, the sudden change in routine was less than welcome. What's more, it meant that it would be soon time to leave Taiwan. How does Sandbrink feel about leaving this island he just spent a month and a half exploring?
WHAT'S NEXT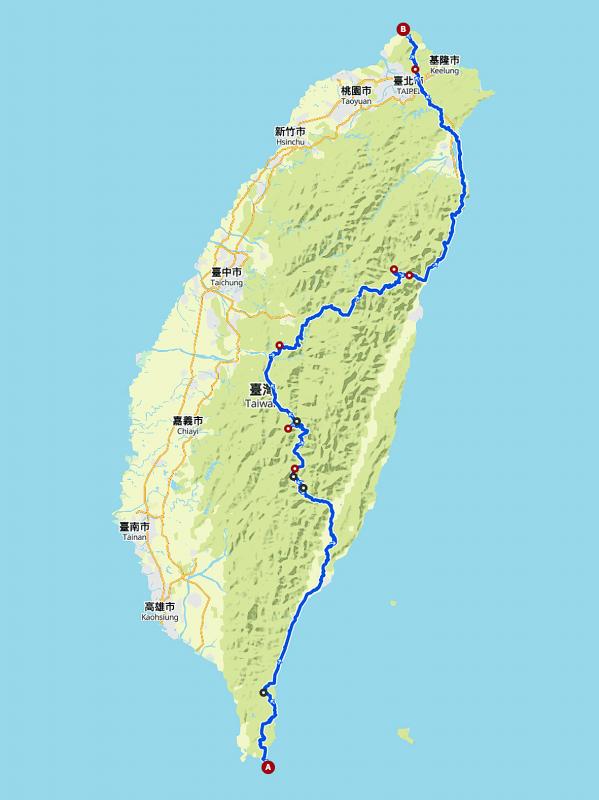 Image rendered on komoot.com
"I'm 100 percent sure that I will come back," he says. "I could imagine living in Taiwan, and I never said that before [about anywhere] in Asia. . . . You have this perfect infrastructure to do everything you want in a safe place."
Sandbrink sees a lot of potential in the island and hopes more foreigners will consider Taiwan as a recreation destination. Perhaps one day someone will attempt to finish the 100 Peaks of Taiwan in under 100 days without the use of any motorized transport in between, similar to what Ueli Steck did in the Alps. Perhaps others will execute their own version of a TransTaiwan hike, and regular long-distance thru-hikes could be developed, like the Appalachian Trail in the US.
As for Sandbrink himself, when he comes back, he plans to do something a little more straightforward, like SCUBA diving near the outlying islands, or a bicycle trip around Taiwan. And if possible, perhaps he will have the chance to pay back some of the kindness he experienced to the next TransTaiwan hikers, whoever they may be.
Follow Sandbrink on Instagram and YouTube at juliantothewild, where people can follow his future adventures.'
THE ROUTE:
>> The map above shows the initially planned route. Some minor adjustments were made, and the final route ended up as follows: After celebrating a friend's birthday with her on the first day's walk, Sandbrink and Florian made their way to the east coast, went up the South Cross-Island Highway and crossed Yushan National Park from south to north, hitting Jade Mountain along the way. From there they went to Sun Moon Lake and took some time off to celebrate Lunar New Year. Florian had to leave then, but Sandbrink continued solo up through the backwoods to Wushe (霧社), and then on the highway over to Taroko Gorge via Hehuanshan and another high mountain side trip. After walking up the east coast as far as Waiao (外澳), he then made his way to Taipei via Pingsi (平溪), and finally northward through Yangmingshan to Fuguijiao Lighthouse.
Publication Notes
AT A GLANCE:
Start point: Cape Eluanbi, Pingtung County End point: Cape Fuguei, New Taipei City Total time: 45 days (Jan. 5 to Feb. 18) Total distance: 800km Highest elevation: 3,952 m (Jade Mountain) Lowest elevation: Sea level Total elevation gain: 25,000m National Parks: 4 (Kenting, Yushan, Taroko and Yangmingshan) Hiking days: 41 Rest days: 4 Tenting: 31 nights Mountain hut: 3 nights Guest in a local's house: 7 nights Hotel: 3 nights Hot springs: 7 Showers: 10
Comments will be moderated. Keep comments relevant to the article. Remarks containing abusive and obscene language, personal attacks of any kind or promotion will be removed and the user banned. Final decision will be at the discretion of the Taipei Times.