Taiwan's COVID-19 response and human rights
Although it is generally agreed that the pandemic was handled well, examples abound of government policies that overrode basic democratic rights, freedoms, speech, movement and participation
Speaking before an international gathering of activists and political figures in October 2022, President Tsai Ing-wen (蔡英文) cited the country's democracy as crucial to its COVID-19 success.
"Our democratic ideals are at the heart of our effective pandemic response," Tsai told the 11th Global Assembly of the World Movement for Democracy (WMD) in Taipei.
Such principles, Tsai said, had also improved government transparency and empowered people as stakeholders who served as "an active, mobilized and effective check on government."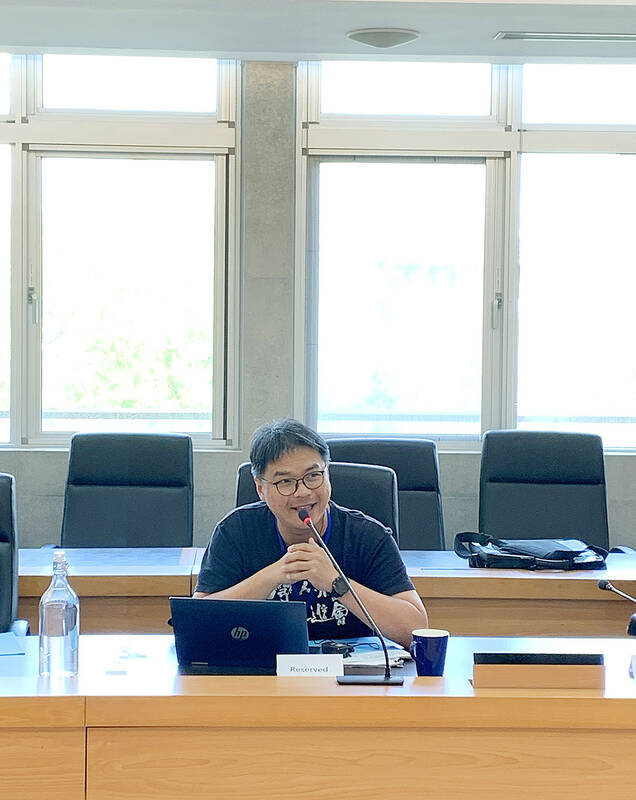 Taiwan Association of Human Rights Secretary General Shih Yi-hsiang on Friday last week speaks at a launch event for a report titled Collaborative Governance in Taiwan's COVID-19 Pandemic Response, at National Taiwan University's College of Social Sciences, March 3, 2023.
Photo courtesy of Huang Yi-ning
Taiwan's civil society participation in governance, Tsai added, "is unparalleled in the region."
But to what extent were these values compromised during the COVID-19 pandemic period? A new report, Collaborative Governance in Taiwan's COVID-19 Pandemic Response, tackles this question. Published by the International Center for Not-for-Profit Law (ICNL), the report attempts to gauge how successful Taiwan's government was in balancing humans rights with public health measures. Drawing on Tsai's remarks on democracy and civil society, the report's author Shawn Shieh (謝世宏) focuses on three areas: transparency, accountability and collaboration.
The report was an opportunity to share best practices and understand where things fell short from a human rights perspective.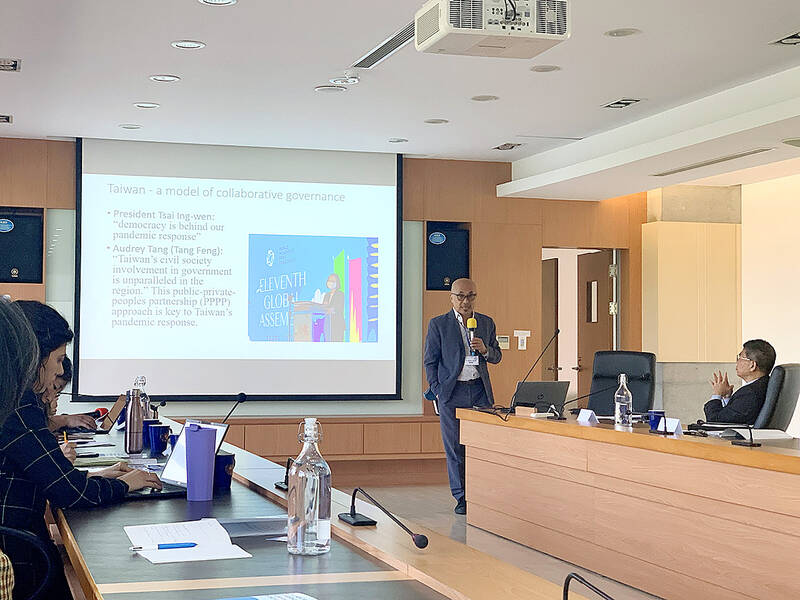 Shawn Shieh on Friday last week presents his report on Taiwan's COVID-19 response during a launch event at National Taiwan University's College of Social Sciences, as NTU professor Chan Chang-chuan, right, looks on, March 3, 2023.
Photo courtesy Liya Yu
Presenting the report's findings, Shieh highlighted "social trust" as key to effective responses to national emergencies.
"Collaborative governance is a way to build social trust," said Shieh, a civil society expert with years of experience in China and Hong Kong. "Governments can build that by being transparent and providing public access to information, and also by being accountable and responsive to feedback and criticism."
In general, Taiwan performed admirably, with "many good practices that others could learn from," said Shieh, who is in the process of founding an NGO called the Freshwater Institute, which aims to help human rights organizations in Taiwan develop more sustainable sources of funding.
SUPPORTING THE VULNERABLE
Shieh cites government communications through Central Epidemic Command Center (CECC) briefings and social media, and coordination between the private sector and civil society on mask manufacturing, vaccine procurement and quarantine services as examples of effective collaboration. Cooperation between government and the "civic tech community" on maps showing mask availability and fact-checking to combat misinformation were other notable achievements.
Local governments assisted NGOs in supporting to vulnerable groups, Shieh notes. One outstanding case was the redeployment of a civil society organization called the Taiwan Taxi Academy Association, which worked with the New Taipei City government to offer services to indigenous groups in remoter areas. Donations from local businesses and private individuals helped fund it.
Perhaps most importantly, Taiwan did not impose a state of emergency.
"All these pandemic responses [in other places], required that the executive branch have more power," Shieh says. "But Taiwan chose not to overdo it. They decided to work through the legislature with the special COVID-19 act in 2020, following judicial interpretations from the SARS period [in 2003-2004]."
Shieh notes that the act's passage led to lawsuits related to quarantine and loss of earnings, with the courts ruling that compensation for people in quarantine was required.
POLITICAL DIVISIONS
However, Taiwan's experience "also showed problems that make it hard to say whether it is a model" for collaborative governance. This was particularly the case in what Shieh calls the "pharmaceutical phase," when political divisions arose, exacerbated by claims that the government had dithered on vaccine procurement. Shieh says this weakened trust in and cooperation with government policies.
Other issues included "a lack of consultation with human rights groups, a lack of transparency about data privacy and vaccines and also discriminatory treatment against different groups," most notably migrant workers who, in some cases, were unjustly confined to dormitories.
Other speakers also referred to discrimination.
Noting that "99 percent of people should not have been quarantined at all," Chan Chang-chuan (詹長權), distinguished professor at NTU's Institute of Environmental and Occupational Health Sciences, queried why foreigners had been targeted.
"When we have a ratio of 100 or even 500 to 1 domestic cases to imported cases, are we treating them together or are we treating the issues that catch the cycle of Taiwan media [namely that] everything foreign is evil?"
Chan noted that people had been deprived of voting rights while in quarantine, while other governments had ensured these rights were respected.
"There was no discussion of this — that's very sad," Chan said.
He suggested social trust had eroded as people lost faith in the messaging at the daily press conferences. Speculation over whether then-health minister and CECC head Chen Shih-chung (陳時中) would run for Taipei mayor had not helped matters, Chan argued.
DEEP-ROOTED ISSUES
More recently, reluctance to abandon masking suggested public and government were no longer on the same page.
"[In the early stages of the pandemic], Taiwanese waited in line for hours for masks — the kind of compliance you cannot see everywhere," Chan said. "But now the government says you don't need to wear masks, most people keep wearing them."
Taiwan Association of Human Rights Secretary General Shih Yi-hsiang (施逸翔) echoed concerns about the treatment of immigrants and the issue of voting rights. He pointed to the deeper roots of such problems.
"Foreign migrant workers have been in Taiwan for 30 years, and everyone knows their dormitories are crowded and crude," Shih said. "The Ministry of Labor knew during the epidemic alert level 3, that the dormitories didn't meet regulations."
Because of its early success in controlling the virus, Shih says the government had ample time to implement measures to protect migrant workers.
"But it was completely unprepared," he says. "It wasn't until the outbreak in Miaoli that anything was done, and then they just took another discriminatory approach," he says, referring to the Miaoli County government's illegal imposition of a lockdown at factory dormitories in Jhunan Science Park (竹南科學園區) in June 2021.
The Central Election Committee, says Shih, was also caught napping.
CAPACITY BUILDING
Jonathan Schwartz, director of Asian Studies at the State University of New York at New Paltz, agreed that readiness was key to an effective response.
"I'm pleased to see the report talking about preparedness — so not just reacting ad hoc but building capacity," said Schwartz, whose work on collaborative pandemic response models in Taiwan is drawn on in Shieh's report.
Schwartz supported Shieh's conclusions regarding the importance of human rights and civil society for "indirectly strengthening pandemic response capability."
However, like the other speakers, he emphasized that Taiwan should not rest on it laurels.
"Even in democratic Taiwan you see examples of government policies that override basic democratic rights, freedoms, speech, movement, participation," said Schwartz. "We can ask 'Does it matter? Who cares?' To answer that, all we have to do is look across the Taiwan Strait."
Comments will be moderated. Keep comments relevant to the article. Remarks containing abusive and obscene language, personal attacks of any kind or promotion will be removed and the user banned. Final decision will be at the discretion of the Taipei Times.