Notes from Central Taiwan: The long fall of Shih Ming-teh
Like the KMT, the former DPP politician has come full circle in his relations with China, following a self-defeating trajectory that's in alignment with the imperialism he once opposed
Last week Shih Ming-teh (施明德) popped up again on the nation's media radar. Shih is conventionally presented in the media as a "former Democratic Progressive Party (DPP) Chairman," a shallow clickbait position which exists to give his vapid ideas a spurious moral force, and obscures the difficult reality that he switched sides at the end of the 1990s, forming the Mountain Alliance with another turncoat and former DPP chairman, Hsu Hsin-liang (許信良). They ran in campaigns against the DPP, apparently to act as vote sinks for pro-Taiwan votes. This information, freely available on the Internet, continues to elude reporters.
Shih appeared as the leader in August 2006 of the faux pan-Blue protests in Taipei against then-president Chen Shui-bian (陳水扁), disappearing when sued by his followers for misuse of funds. He resurfaced again in 2011 during the DPP presidential primary, demanding that Tsai Ing-wen (蔡英文) "clarify" her sexual orientation, and backing Hsu Hsin-liang in the DPP primary that year. Shih's attack on Tsai was met with general scorn, with a KMT politician accusing him of doing it to boost her chances in the primary. He then faded out again.
SHIH'S 'BRILLIANT' PLAN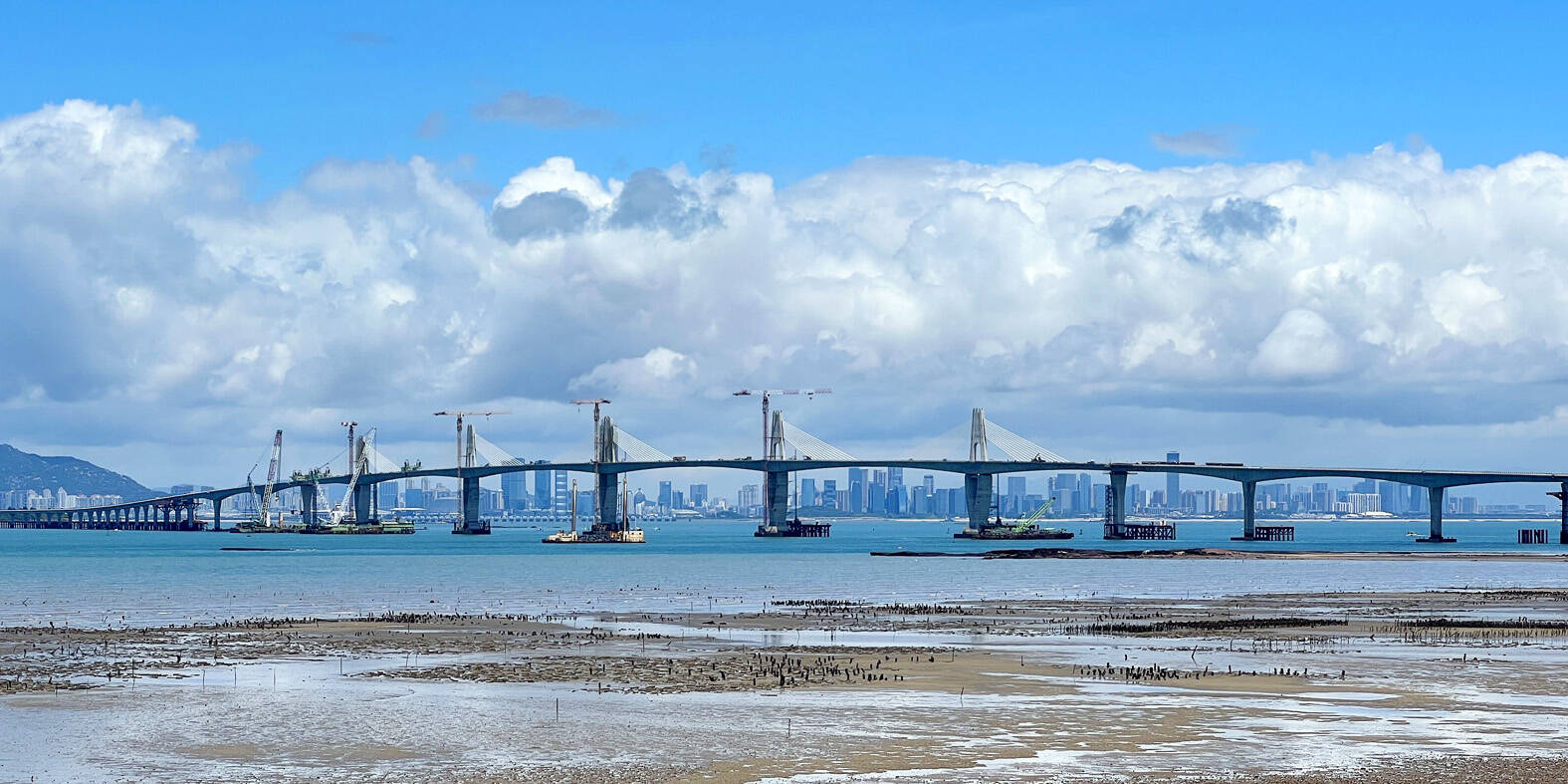 A picture taken on Jinmen with a clear view of Xiamen in China across the strait. Shih Ming-teh has called for the demilitarization of Kinmen and Matsu and the withdrawal of troops, to create "a peaceful cross-strait buffer zone."
Photo: Wu Cheng-ting, Taipei Times
As General William Tecumseh Sherman of US Civil War fame once remarked of the grifters surrounding Union General John C. Fremont, wherever there are vultures, there is bound to be a corpse. Shih once again descended from circling far above the mortals last week to inform the nation of his brilliant plan for Kinmen and Matsu, one which he first suggested back in 1994 when he was the DPP chairman, and repeatedly since: the demilitarization of Kinmen and Matsu and the withdrawal of troops, to create "a peaceful cross-strait buffer zone," as he wrote in an open letter in December last year to the DPP.
In those days, with Chen running for Taipei mayor, Shih's bizarre idea sparked a crisis within the DPP. Chen and other heavyweights ran out to Kinmen to reassure voters there that they would not be abandoned.
Shih has long complained that Tsai, Su Tseng-chang (蘇貞昌) and other prominent DPP politicians are reaping rewards that others fought for, claiming that they were not present in the old days when people like he and Hsu fought for the nation's democracy (it was Shih who argued, in the 1980 trials for the Kaohsiung Incident, that the nation had already been independent for 30 years).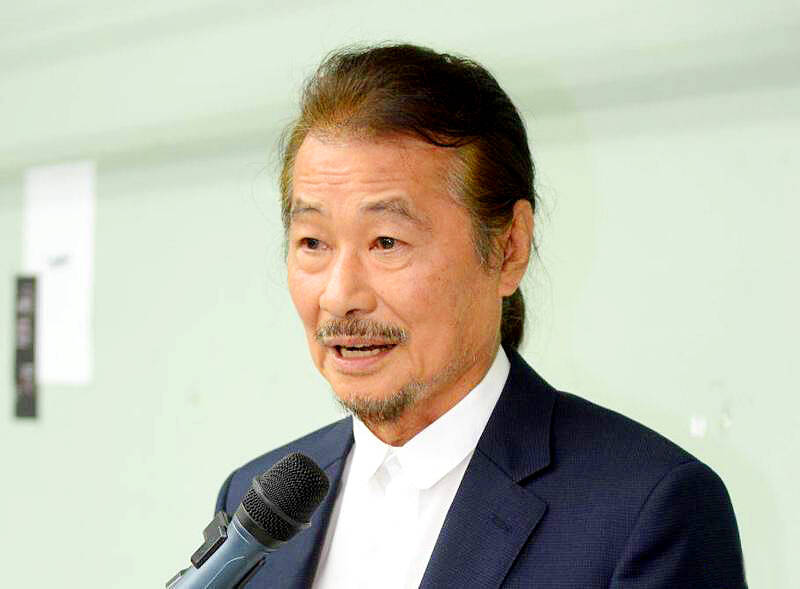 Shih Ming-teh.
Photo: File photograph
Linda Arrigo, his former wife and longtime democracy activist, explained in a 2006 statement responding to Shih's demand that Chen resign that Shih was not temperamentally suited to the hard work of running a party, and was soon upstaged by workaholic lawyers who understood teamwork, early hours, law and policy.
"I think it was this ineffectuality that left him to seek the limelight with statements that were striking but not team-coordinated," Arrigo observed.
SWITCHING SIDES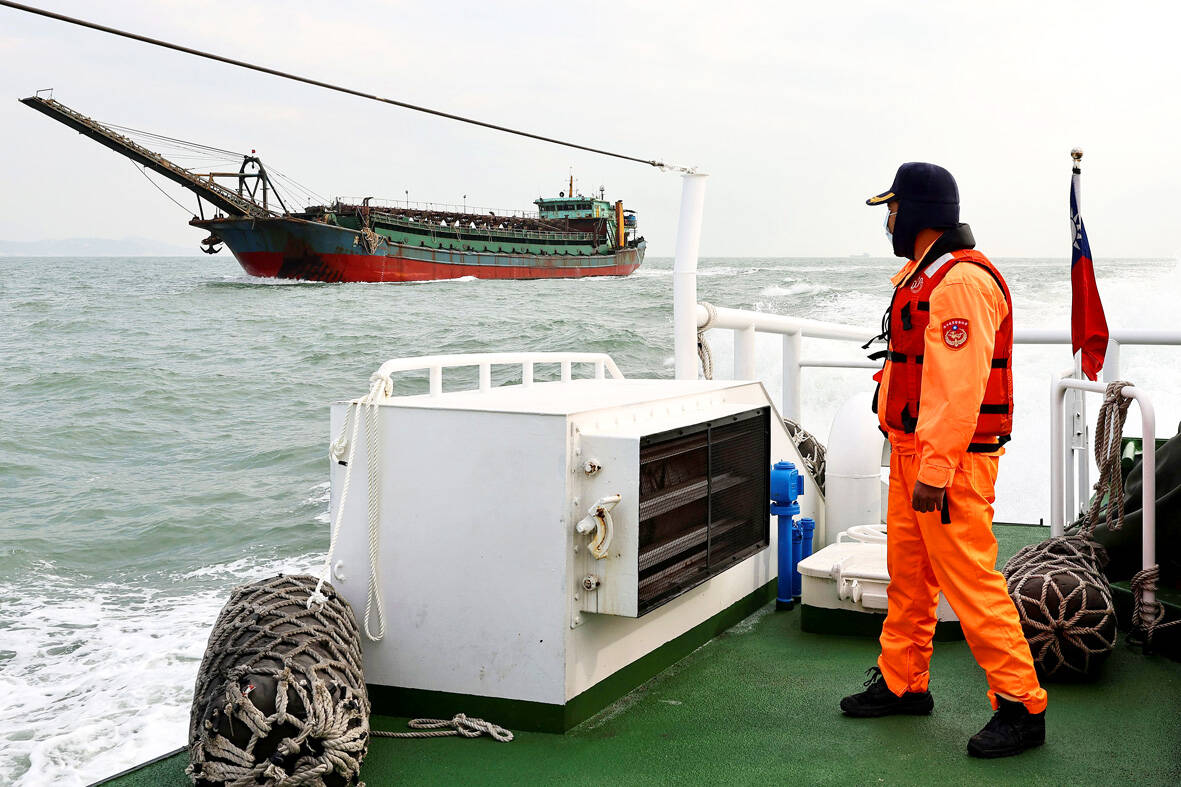 A coast guard in February 2021 looks at a sand dredger with a Chinese flag in waters off the Matsu Islands.
Photo: Ann Wang, Reuters
By the mid-1990s he was already reaching out to the pan-Blue parties, ostensibly to further the independence cause, and by 2000 he had switched sides completely, refusing to support Chen in the 2000 presidential election.
Over the years Shih's positions have by astonishing coincidence aligned with those of the Chinese Nationalist Party (KMT). This latest foray into public policy coincides with a pan-Blue campaign to get the three mini-links to the islands (postal services, commerce and transportation) re-opened, with calls by KMT Vice Chairman Andrew Hsia (夏立言) for a re-opening in August. Hsia is currently in China hobnobbing with officials there. Similarly, the Taiwan People's Party Chairman and then-Taipei Mayor Ko Wen-je (柯文哲) called for a bridge to be built between China and Kinmen in a visit there in July last year.
The DPP government did permit a temporary and cautious re-opening of ferry services between China and the offshore islands for the Lunar New Year holiday.
This month a group of Kinmen city councilors formed two groups, a cross-party and a non-partisan group (longtime Taiwan observers will understand what the term "non-partisan" means in the local context) that called for closer ties with Xiamen across the strait, a position long advocated for by pro-China politicians on Kinmen, and for turning the island into a demilitarized zone. The Taipei Times reported that the councilors said that local residents have reached a "consensus" that no wars should happen in Kinmen. How quaint, and how Blue.
Shih, seeing his long-advocated positions resurface, immediately contacted KMT councilor Hung Hung-pin (洪鴻斌) about visiting the island.
Previous calls for demilitarization have been in some ways successful. The islands have close links to China, and few troops are stationed there now.
A onetime US official pointed out in one of the online discussion groups that the Taiwan Relations Act (TRA) covers Taiwan and Penghu but not the offshore islands. The US might well view de-militarizing them as placing them under China's sovereignty.
As National Quemoy University scholar Lu Cheng-fung observed last August in a piece at the Global Taiwan Institute, in January of 2019 Chinese President Xi Jinping (習近平) called for the "New Four Links" (新四通) of water, electricity, oil and bridges between Fujian and Kinmen and Matsu, clearly seeing them as routes to influence Taiwan.
Interestingly, Lu surveyed Kinmen residents, finding a recognizable pattern: "middle and senior-aged people still consider themselves Chinese, but younger people generally consider themselves Taiwanese."
Regardless of age, all see integration with China as economically attractive.
This formal policy call by Xi is the "white" side of the PRC's gray zone warfare against Taiwan, which includes a range of activities such as "lawfare," claiming that the Taiwan Strait is Chinese waters, cyber warfare, sand dredging, the ADIZ overflights and others. These should be viewed as a package, one that pan-Blue politicians of various shades have aligned themselves with, in part or whole.
The KMT has come full circle in its relations with the PRC and the Communist Party. Shih has followed this sad, self-defeating trajectory that has brought him into alignment with the imperialism he once opposed, picking over the corpses of old ideas for some last, desperate morsel of the limelight.
Notes from Central Taiwan is a column written by long-term resident Michael Turton, who provides incisive commentary informed by three decades of living in and writing about his adoptive country. The views expressed here are his own.
Comments will be moderated. Keep comments relevant to the article. Remarks containing abusive and obscene language, personal attacks of any kind or promotion will be removed and the user banned. Final decision will be at the discretion of the Taipei Times.