The God collector
Jim McClanahan has collected statues for years and says that they've brought him prosperity and good luck
For Jim McClanahan, it all started in 2001 with one of China's classic novels, Journey to the West (西遊記).
Back then, the Ohio-native immersed himself in an English-language translation of the 16th-century epic. He's since read bits of the story — which was inspired by a famous pilgrimage to India by the Buddhist monk Xuan Zang (玄奘, 602-664) — in Chinese.
Around 2004, McClanahan's obsession with the novel led him to buy an idol of the Monkey King, who's also known as Sun Wukong (孫悟空) and is equipped with supernatural powers.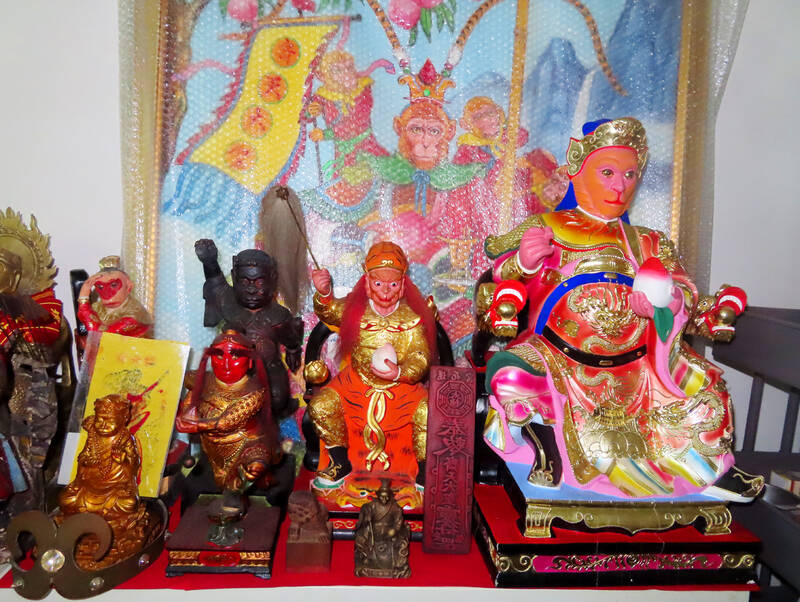 Some of the Sun Wukong effigies and artifacts collected by Taipei-based Journey to the West enthusiast Jim McClanahan.
Photo courtesy of Jim McClanahan
The first statue he owned depicted the Monkey King wearing armor and seated on a tiger skin-draped throne.
"It was magnificent," McClanahan says. "Unfortunately, it was lost in a move several years ago."
REBEL DEITY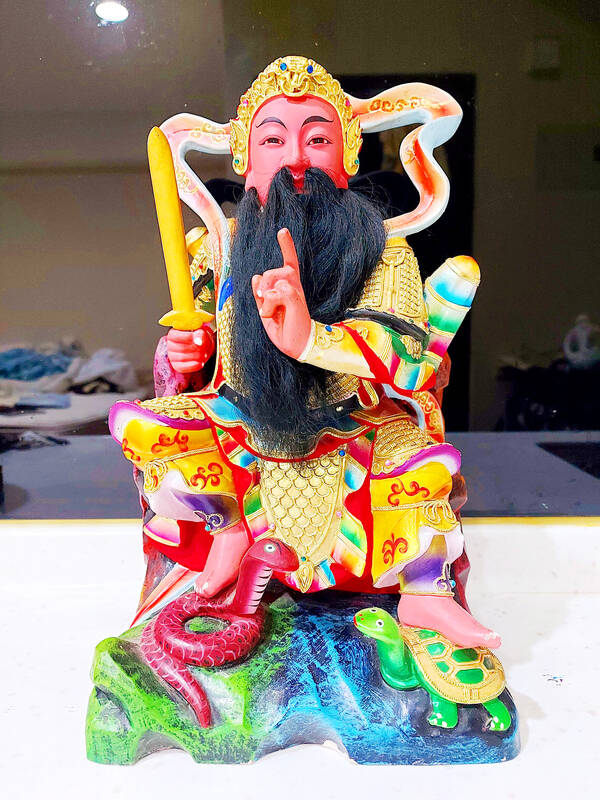 A recent addition to Jim McClanahan's collection, which he purchased from Singapore: The Lord on High of the Dark Heavens (aka Xuantian Shangdi), a minor character in Journey to the West.
Photo courtesy of Jim McClanahan
McClanahan says that a key reason he collects idols of Sun Wukong is because "his religion is rare compared to other gods… it never received royal patronage in the past due to his penchant for rebelling against authority. So I feel it's important to safeguard these statues for posterity."
He'll likely donate his collection when he gets too old to care for them, he adds.
McClanahan also uses the statues to educate "the legions of people abroad who are themselves obsessed with the Monkey King. Few of them are aware of his faith, and they're always blown away when they learn this fact," he says.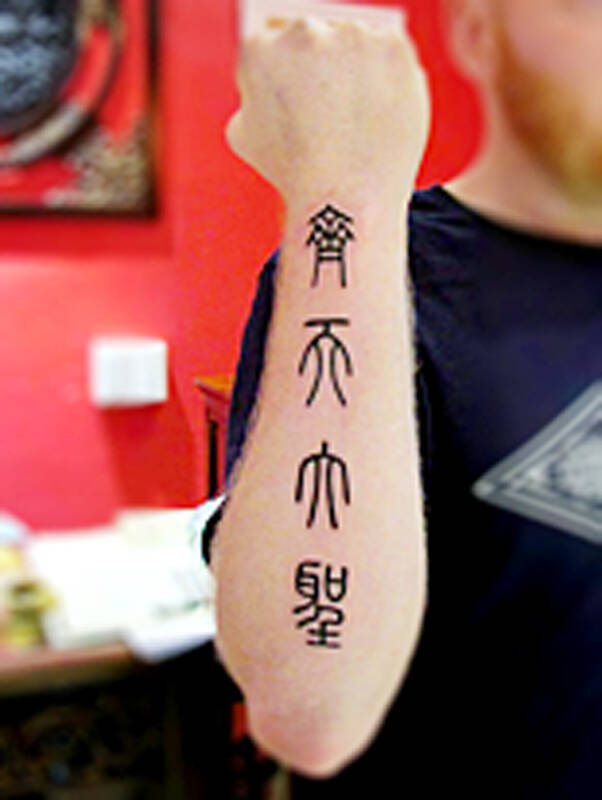 Jim McClanahan shows off his forearm tattoo of one of the Monkey King's alternative names, Great Sage Equaling Heaven.
Photo courtesy of Jim McClanahan
McClanahan himself is not religious.
The first icon McClanahan purchased after relocating to Taiwan in 2017 features Lei Gong (雷公, "Sire Thunder") and Dian Mu (電母, "Mother of Lighting").
"I bought it because I was writing a paper at the time which explored the Hindo-Buddhist origins of a Garuda monster in Journey to the West. In the course of my research, I learned that Lei Gong's modern bird-like appearance was likely influenced by Garuda," he says.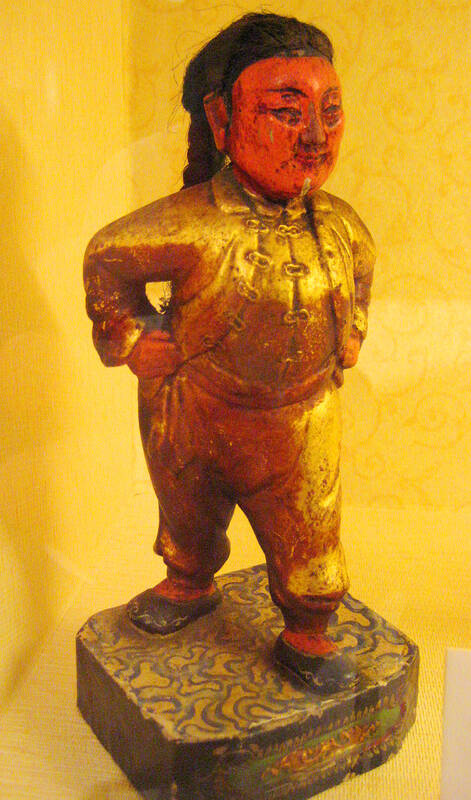 An effigy removed from the altar: An early 20th-century image of Liao Tian-ding, a Robin Hood-type figure deified after his death in 1909, displayed in the Kaohsiung Museum of History.
Photo: Steven Crook
Since then, McClanahan's collection has steadily grown. Of his 40-plus religious statues, 17 depict the Monkey King, while several are of Hindu deities. They come from countries including China, Taiwan and Singapore.
"I'm still actively acquiring idols. I get them mostly from Facebook's Taiwan Marketplace and via a seller-collector friend in Singapore," he says.
While he regards certain other effigies he owns as more visually appealing, his favorite Monkey King statuette is a brass icon from Thailand.
"The worship of Sun Wukong in Thailand is not widely known, so it's pretty rare for someone outside of the country to have one. I purchased it from a small shrine in that country that was raising funds to buy land for a future temple," McClanahan says.
DISCONCERTING HOBBY?
McClanahan admits that collecting religious images is an unusual hobby, and one that some Taiwanese might find disconcerting. While he's not met any other foreigners in Taiwan who acquire effigies of the kind venerated in thousands of local temples, he is familiar with the name Neal Donnelly.
A US Information Service employee who was posted to Kaohsiung from 1966 to 1972, and then to Taipei from 1975 to 1981, Donnelly acquired more than 200 statues of religious personalities, as well as dozens of related artifacts. Most are 17cm to 31cm in height. Some have been loaned to museums in the US.
Donnelly purchased his first god image at a woodcarver's shop in Chiayi. Negotiations for a brand-new statuette were going nowhere, when he spotted an old effigy half-hidden on a shelf. A price was quickly agreed, but, once he got home, the American realized he'd forgotten to ask the god's name.
Depictions of well-known deities, such as the sea goddess Matsu (媽祖) and the Buddhist goddess of mercy Guanyin (觀音), are usually recognizable. Donnelly's statue, however, remained a mystery for two years. Visitors from overseas will understand this problem. Due to similarities in pose and attire, deity images are often hard for non-specialists to tell apart.
Most are seated, but a notable exception is Zhong Tan Yuan Shuai (中壇元帥), also known as San Tai Zi (三太子, "The Third Prince"). According to Donnelly, he's "usually standing with one foot on a fire wheel, holding either a spear or a sword in one hand and a golden bracelet in the other."
The oldest icon in the Donnelly collection is a 25 cm-high statuette of Zhong Tan Yuan Shuai that was probably carved in China's Fujian province in the mid-19th century.
Donnelly's interest in local religion helped him forge several friendships during his stays in Taiwan. McClanahan shares pictures of his collection on social media, but doesn't advertise his hobby to people he meets in real life.
"Only three Taiwanese people have seen it. The first two were my building manager and his friend. They saw me carrying a statue home one day, and insisted on coming up to my apartment to look at the rest. I only had eight or so statues at that time. They definitely considered it an oddity, especially since all of them were of deities from Journey to the West," he says.
"They became fixated on how much I'd spent on each idol, and their questions hound me even to this day. I think they're trying to gauge whether or not I'm rich. That's why I've chosen to keep any recent purchases a secret," he adds.
Lots of people have seen McClanahan's forearm tattoo — seal script characters of the Monkey King's religious title, Great Sage Equaling Heaven (齊天大聖).
He's noticed that, while many younger people roll their eyes or laugh, "probably because they think I don't know what it means," older folks are often thrilled to see the tattoo, "and even more excited when they discover I know the meaning."
ANCIENT DEITIES, NEW CONTEXTS
Given that several local museums display religious icons, "a private, secularized collection like McClanahan's should not come as a shock to anyone in this day and age," says Stephen Flanigan, who has studied popular religion in Taiwan for more than a decade, and holds a PhD in the history of ritual-master texts and ceremony from the Song Dynasty to modern Tainan from the University of Hawaii at Manoa.
"Both museums and collectors are creating a new context for appreciating and contemplating cultural artifacts precisely by removing them from their natural habitat. By removing the sacred aura, with its taboos and mysteries, collection makes these highly charged spirit-images accessible and tangible in ways that would normally be impossible," he says.
Flanigan adds that the principal religious concern would be whether idols purchased by a collector have been "deactivated" through a rite known as tuishen (退神, "withdrawing the spirit"). Because sacred items are hedged with taboos, even a deactivated spirit-image, if encountered in a non-sacred setting, has the potential to arouse fear and anxiety among traditionally-minded people.
On the plus side, private collectors, "especially if they're foreigners," showing admiration for such images might help strengthen the appreciation of folk art and popular culture.
"Far too many Taiwanese display a curious prejudice, reflexively devaluing local folk arts while instinctively privileging high culture — especially Western art and music — as more worthy of esteem and admiration," Flanigan says.
He adds that "Taiwan's unbelievably rich artistic traditions may be doing far more to foster creativity and innovation than the education system or official institutions."
Comments will be moderated. Keep comments relevant to the article. Remarks containing abusive and obscene language, personal attacks of any kind or promotion will be removed and the user banned. Final decision will be at the discretion of the Taipei Times.