Taiwan in Time: The last aerial battle's missing pilot
Major Yang Ching-tsung mysteriously disappeared on the way home after clashing with Chinese MiG-19s on Jan. 13, 1967
Jan. 9 to Jan. 15
The ROC Air Force's third brigade received emergency orders to send four fighter jets toward China in the early afternoon of Jan. 13, 1967. A reconnaissance plane snapping photos of submarines at the Xiamen Naval Base had come under attack, and was being chased by 12 MiG-19 fighters from the People's Liberation Army (PLA).
The two sides had almost clashed earlier that day during a different spy mission, but no fire was exchanged. This time was different. The four Lockheed F-104G Starfighters soon spotted two enemy planes, and squadron leader Lieutenant Colonial Hsiao Ya-min (蕭亞民) received permission to fire — but his Sidewinder missile failed to initiate. Captain Hu Shih-lin (胡仕霖) immediately stepped in and shot the target down. The other MiG tried to get away, but found itself directly in front of Captain Shih Pei-po's (石貝波) plane. Shih chased after it and shot it down before discovering he had entered Chinese territory, and hurriedly regrouped.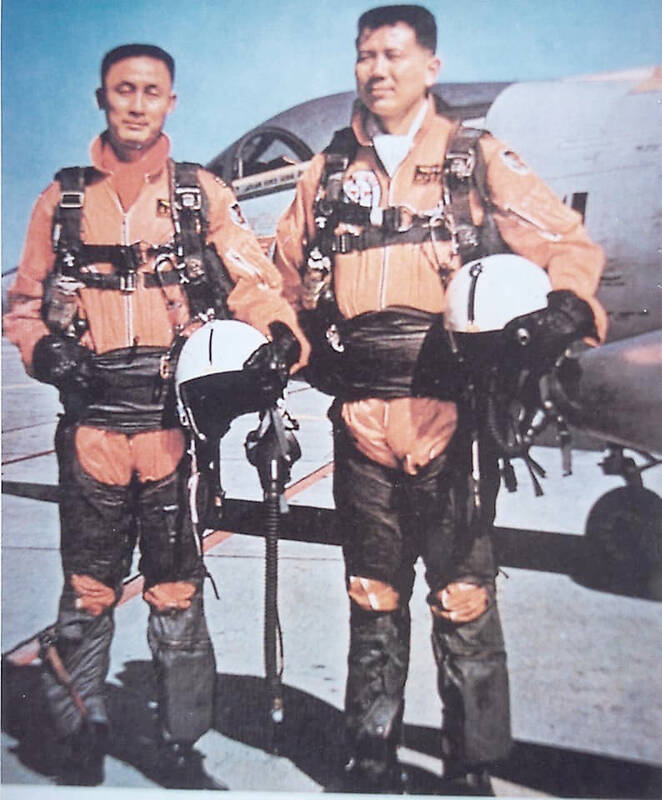 Air Force pilots Shih Pei-po, left, and Hu Shih-lin pose for a photo after the 113 Air Battle.
Photo courtesy of ROC Air Force
This was the first and last time the Air Force used a Starfighter in combat, as the 113 Air Battle became known as the last direct military clash between Taiwan and China.
The pilots all responded to Hsiao's call to check in, and they headed back toward Taiwan to be honored as heroes. However, only three planes landed at Ching Chuan Kang air base — Major Yang Ching-tsung (楊敬宗) never made it.
"This was the most controversial air battle during the Air Force's time in Taiwan, because the government covered up the fact that one of our planes went missing," Air Force enthusiast Wang Li-chen (王立楨) writes in the 2005 book, Pilot Stories (飛行員的故事). "More than 30 years later, people are still discussing in the media how Yang Ching-tsung's plane disappeared. Or who shot it down."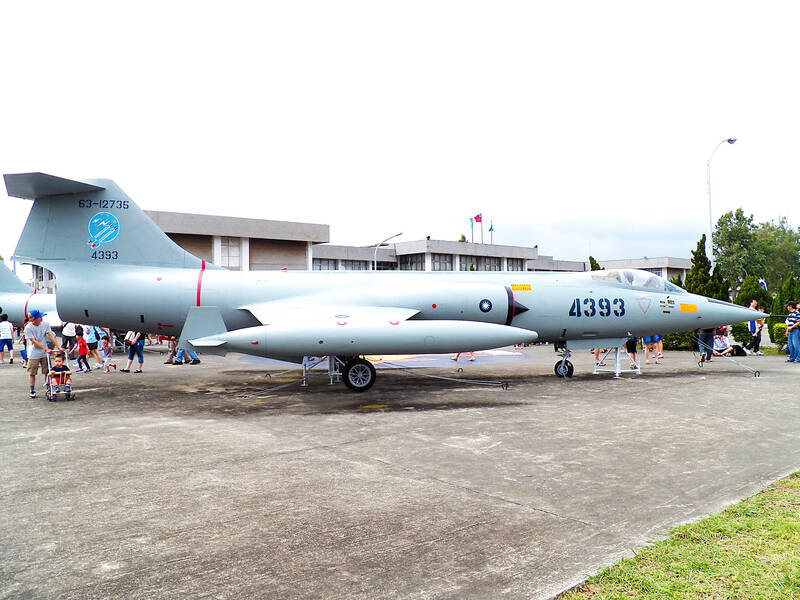 The 113 Air Battle was the last time the ROC Air Force's F-109G Starfighter saw direct combat.
Photo courtesy of Wikimedia Commons
AERIAL BATTLES
During the 1950s and 1960s, ROC Air Force incursions into China were common as pilots flew inland to gather intel and drop propaganda leaflets. These efforts were backed by the US, who wanted Chinese military information for its Cold War anti-communism efforts, leading to the formation of the Black Cat (34th) and Black Bat (35th) squadrons.
Air battles often broke out between PLA interceptors and ROC fighter jets covering for the reconnaissance planes. A 2016 Air Force Bimonthly Journal (空軍學術雙月刊) article tallies 21 clashes between 1955 and 1967, although 13 of them took place during the 823 Artillery Bombardment of 1958, also known as the Second Taiwan Strait Crisis. Nine were due to Taiwanese reconnaissance activities.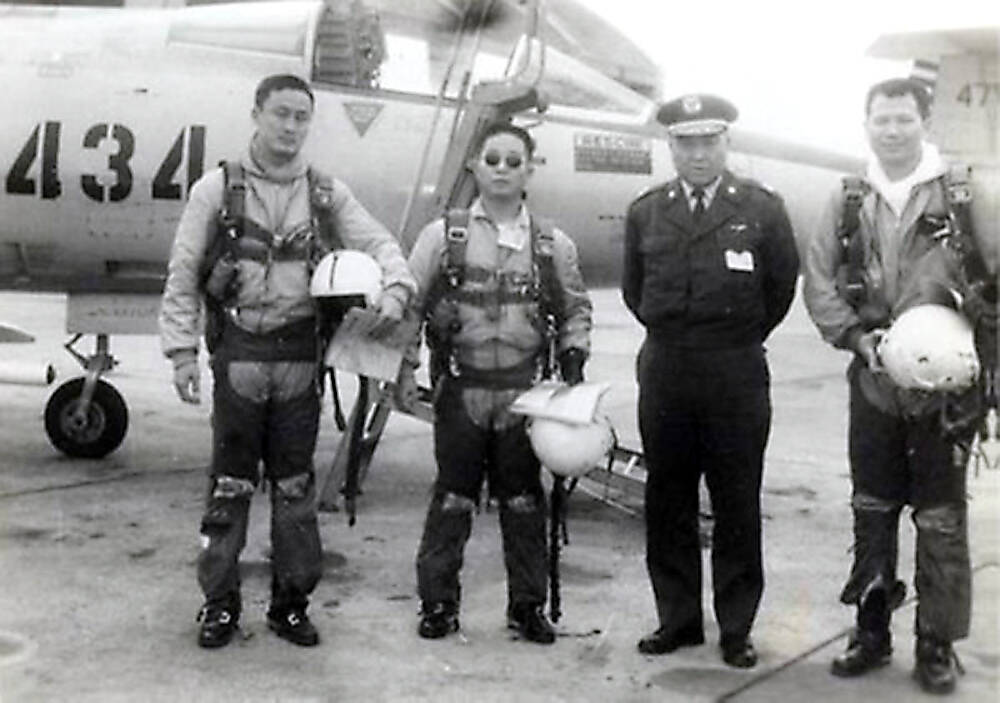 Air Force pilots Shih Pei-po, left, and Hu Shih-lin are welcomed by their comrades after the 113 Air Battle.
Photo courtesy of ROC Air Force
The first such skirmish broke out in July 1956, when sixth brigade deputy commander Chi Jung-chun (戚榮春) flew his RF-86F over a PLA airbase in the inland Jiangxi Province to get photos of its new MiG 17-PF fighters. One ROC fighter jet shadowed Chi's aircraft, while eight planes from two other squadrons hovered along the Fujian coast. Chi completed the mission, but encountered 28 enemy planes on his way back. He fled toward the backup fighters, who managed to shoot down four MiGs and damage two. Amidst the chaos, and with radio communications down, Chi managed to fly back to Taiwan to great fanfare.
This incident was widely celebrated as a national victory, and was dubbed the "First Taiwan Strait Aerial Battle" (台海第一次空戰).
There were very few aerial battles between 1958 and 1967, and none related to reconnaissance activities. However, spying was still dangerous. In 1963, Chi, who had been promoted to colonel by then, was sent on a mission over Guangdong's Shadi Air Base. Since the PLA had trouble intercepting the new RF-101 aircraft, the ROC Air Force received intel that they had placed large numbers of anti-aircraft artillery around the air base.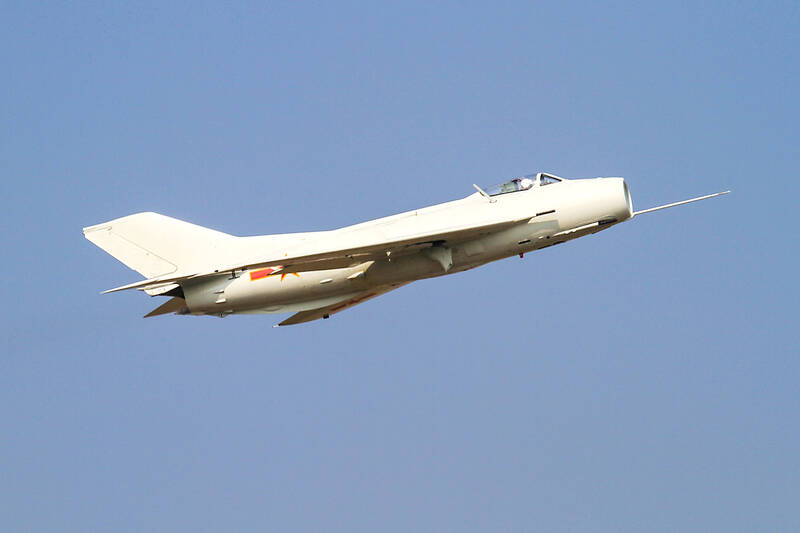 This Chinese version of the MiG-19 saw action during the 113 Air Battle.
Photo courtesy of Wikimedia Commons
Chi's job was to test if this was true. Once he reached his destination, his plane was immediately bombarded. With a large hole in the vertical tail, damaged engines and no radio communication, he somehow made it home. He reported four MiG-17s and 156 anti-aircraft guns on the base.
LINGERING MYSTERY
One reason that aerial battles decreased during this time was the disastrous Great Leap Forward and Great Famine, which diverted Chinese attention from coastal air patrols, write Lee Chiun-rong (李俊融) and Lee Ching-yi (李靜宜) in "Comparing the Development and Battle Results of the Nationalist and Communist Air Forces" (國共空軍發展及戰果差異之比較). Taiwan's expeditions across the strait also tailed off as it became increasingly evident that retaking China was a pipe dream.
It's still unclear what exactly happened to Yang, as the pilots could not see each other on the way back due to inclement weather. Yang was still responsive at 1:07pm. But two minutes later, the other pilots and ground control all heard an urgent but short "aiya!" but they could not tell which plane it came from, Wang writes.
The nightly news reported that four fighter planes carrying Hsiao, Shih, Hu and Song Chun-hua (宋俊華) returned safely after downing two enemies — without mentioning Yang at all, Wang writes. Song was actually piloting the reconnaissance craft, but the government fudged the truth.
Of course, rumors spread, and at one point some were even saying that Shih accidentally hit Yang instead of a MiG. Yang's wife was furious because her husband had given his life for the country, but instead of honoring him, the government seemed to be covering up his death. She threatened to hold a press conference in Taipei, and the Air Force officers in Taichung had to rush north to stop her.
"We're preparing to retake China and revive our country, and we have to maintain the morale of our people and military. It's best that we don't announce any negative news," they told her while promising to take good care of her and her family.
The military acknowledges the incident today, but the reason varies. In a 2016 article for the Air Force Bimonthly Journal, former Air Force commander-in-chief and former minister of national defense Tang Fei (唐飛) writes that Yang's plane crashed due to a malfunction, but in a 2020 article he writes that Yang lost communication on the way back and "disappeared."
Shih soon retired from the Air Force and became a businessman, but he returned to aviation during the 1990s as a flight engineer for TransAsia Airways. He died in July 2020.
Taiwan in Time, a column about Taiwan's history that is published every Sunday, spotlights important or interesting events around the nation that either have anniversaries this week or are tied to current events.
Comments will be moderated. Keep comments relevant to the article. Remarks containing abusive and obscene language, personal attacks of any kind or promotion will be removed and the user banned. Final decision will be at the discretion of the Taipei Times.