Environmental Impact Assessment: What makes a university green?
Taiwan's universities can play a pivotal role in educating future generations about sustainability by leading by example. Here's a look at what they can do
Visitors to its campuses in Tainan may not notice it, but National Cheng Kung University (NCKU) could well be East Asia's greenest university.
The 2022 Times Higher Education (THE) Impact Rankings, which assessed universities' efforts to deliver on the UN's Sustainable Development Goals (SDGs), ranked NCKU joint 57th out of the 1,406 surveyed institutions for SDG No. 13, Climate Action. In Asia, only Thailand's Chiang Mai University placed higher.
THE's climate-action rankings were calculated by weighing each university's commitment to carbon neutrality, the extent to which its energy needs are met by low-carbon sources, its environmental education efforts on and beyond the campus and the quantity of published research which relates to climate action.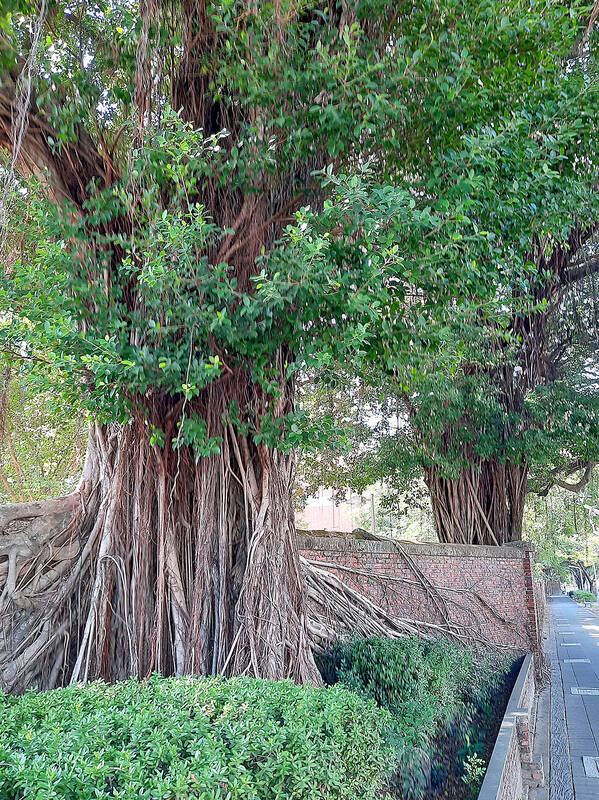 NCKU's leafy campus includes banyans planted during the 1895-1945 period of Japanese colonial rule.
Photo: Steven Crook
Three other local universities placed in THE's global top 200 for climate action: National Taiwan University (NTU), National Pingtung University of Science and Technology (NPUST) and National Tsing Hua University.
NCKU aims to be carbon neutral by 2041. NTU's target for carbon neutrality is 2048.
When assessing progress toward all 17 of the SDGs — several of which are unconnected to environmental issues — NCKU placed 33rd worldwide, equal with Michigan State University and York University in Canada, and just ahead of NTU at 37th.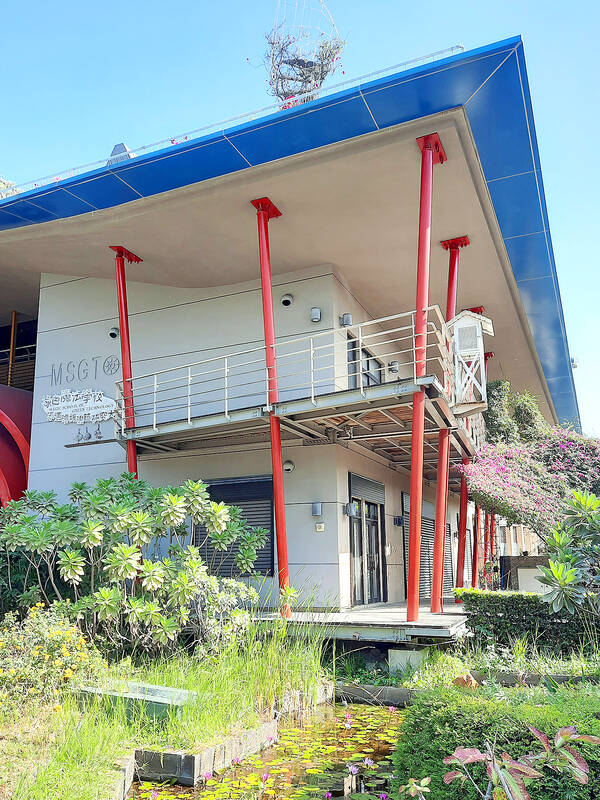 The Magic School of Green Technology was built on the NCKU campus as a demonstration of sustainable architecture.
Photo: Steven Crook
According to a different index, however, NCKU's progress hasn't been quite so impressive.
The Universitas Indonesia GreenMetric World University Rankings, which looks at 39 indicators in six categories, has for the past eight years rated NPUST as Taiwan's most sustainable place of higher education. This year, NPUST had a global ranking of 27th. NCKU was 9th in Taiwan and 87th in the world. NTU, which since 2020 has been issuing an annual Social Responsibility and Sustainability Report, wasn't among the 1,050 schools in 85 countries covered by the index.
Those who dismiss such rankings, saying they're of minimal real-world consequence, have a point. Compared to industry, education doesn't have a destructive impact on the local environment.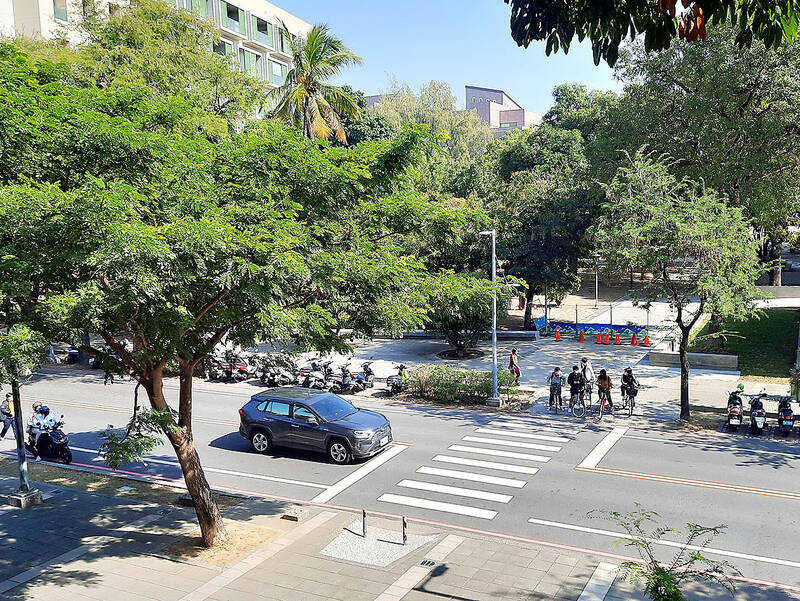 Students on bicycles wait to cross Shengli Road in Tainan, which divides two parts of NCKU's main campus.
Photo: Steven Crook
That said, institutions like NCKU, NTU and NPUST have unique responsibilities. They should be demonstrating best practices to society, while ensuring that the next generation of political and business leaders has a thorough understanding of environmental problems and solutions.
These indices can reveal areas where improvements could be made.
Several of NCKU's rooftops sport photovoltaic arrays which generate clean electricity. According to the Impact Rankings, NCKU is 8th in the world for SDG No. 7, Affordable and Clean Energy. Every institution ranked higher than NCKU (and 12 of the world's top 20) is in a country less developed than Taiwan. This could mean that the weightings don't recognize efforts to enhance efficiency and switch over to renewables, so much as the innate frugality of poorer societies.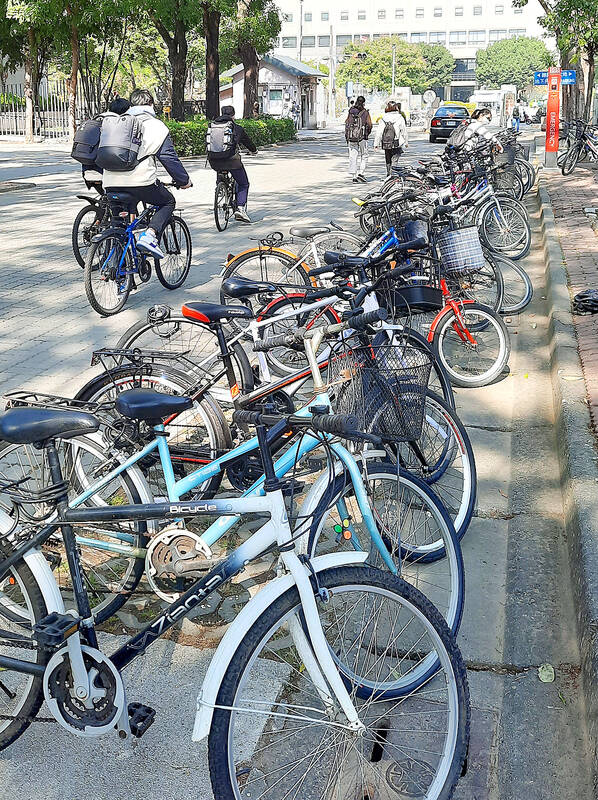 Every semester, NCKU gathers up bicycles abandoned on its campuses and distributes them free-of-charge to freshmen, to provide convenient and eco-friendly transportation.
Photo: Steven Crook
By contrast, NPUST's SDG No. 7 ranking is dismal by both local and global standards. Is the school not making the most of Pingtung's abundant sunshine?
SOCIAL RESPONSIBILITY
In 2017, five years before the Ministry of Education (MOE) began requiring universities to formally link their social responsibility plans with the 17 SDGs, NCKU announced that the goals would serve "as a frame of reference" in its strategic planning.
The university has been able to lead on sustainability issues, in part because it enjoys an unusual degree of financial independence, says NCKU President Huey-jen Jenny Su (蘇慧貞).
The MOE contributes less than a fifth of NCKU's total budget, Su explains. Most of the remainder comes not from tuition fees, but from collaborations with industry. And because so many companies hope to partner with NCKU, it can reject those whose values don't align with the university's, she says.
Much of the research being done at NCKU — including that on green energy materials and urban heat islands (see "Turning down Taiwan's heat" in the Dec. 14 edition of this newspaper) — is directly relevant to efforts to curb climate change or mitigate its effects.
"Shortening the time between the completion of research and applying its results to the real world should be a key objective," Su says.
When asked about the university's more unusual environmental initiatives, NCKU Secretary-General Lu Pei-jung (呂佩融), points to Taiwan's first-ever carbon-negative factory, the Marine Biology and Cetacean Research Center and the NCKU School for Sustainability.
The carbon-negative factory, which was inaugurated last year, takes carbon dioxide and carbon monoxide from the atmosphere, and purifies and transforms them into ethane, propane, methane, urea and fixed-carbon products for industrial use. Around the world, fewer than 20 such facilities are operational.
The School for Sustainability, established this year, was created to provide what Lu calls "interdisciplinary and solutions-oriented programs and initiatives that not only introduce students to complex sustainability challenges and help them develop the knowledge and skills needed to implement solutions, but also allow faculty and students to delve deeper into specific areas of sustainability."
ELIMINATING PAPER CONSUMPTION
Cheng Tsu-jui (鄭祖睿), an assistant professor in NCKU's Department of Transportation and Communication Management Science, says digitalization and the tech-savviness of the younger generation has allowed the university to achieve big reductions in paper consumption.
"Professors don't print out so many handouts. Everything's on the cloud, and assignments are submitted via Moodle," says Cheng, who was an undergraduate at NCKU from 2002 to 2006.
On Oct. 26, the university signed a memorandum of cooperation with several tech companies to further develop its Paperless Sustainable Campus Project.
Cheng also thinks the main campus is greener, in the most literal sense of the word, compared to two decades ago.
"There are more buildings now, but also more trees and plants, and none of the desert-like patches I remember," he says. Students and staff show a far greater awareness of the need to recycle, and people are encouraged to use their own utensils, he adds.
Online presentations at conferences should be normalized, to reduce the number of international flights academics take, he says.
Because NCKU's main site is severed by busy roads, it's not as conducive for getting around on foot or by bike as, say, that of NTU, Cheng says. He's seen countless students ride motorcycles very short distances. He'd support a policy of "parking maximums" (providing fewer than expected parking slots for both cars and motorcycles) to encourage more environmentally-friendly ways of getting around.
NCKU is close to Tainan TRA Station and several bus stops, yet staff and students don't make the most of existing rail and bus services, Cheng says. Unlike some British campuses he's familiar with, which serve as public transportation hubs, "these networks don't seem to be deeply integrated into people's everyday commute."
A survey of staff and students who live off-campus, to find out exactly where they're traveling from, would be helpful when planning shuttle buses and communicating with Tainan City Government, Cheng says. Subsidized transit passes could boost the use of public transportation, he adds.
If the city government could improve Tainan's notoriously narrow and cluttered (and often nonexistent) sidewalks, more students might be willing to walk to the campus, Cheng says. This would also benefit senior citizens, those pushing baby strollers and other residents.
Cheng believes NCKU could have an even greater positive impact on the surrounding community that it currently does. One way to do this would be to use procurement rules to influence its supply chain.
"Many events are hosted here, and they should be sustainable in terms of logistics, catering, and energy consumption," he says. NCKU is a popular venue, "so it has the upper hand."
But this is where the university's best intentions could run up against business realities, Cheng concedes. The policy would only succeed if there are event organizers willing and able to meet such requirements.
Steven Crook, the author or co-author of four books about Taiwan, has been following environmental issues since he arrived in the country in 1991. He drives a hybrid and carries his own chopsticks. The views expressed here are his own.
Comments will be moderated. Keep comments relevant to the article. Remarks containing abusive and obscene language, personal attacks of any kind or promotion will be removed and the user banned. Final decision will be at the discretion of the Taipei Times.