Recapturing a brother's memories in Taiwan
After exploring a personal family tragedy in 'For My Country,' Algerian-French director Rachid Hami reimagines his late sibling's life as an NTU student in a new short film created through Taiwan Pitch
Rachid Hami didn't think he'd have one more chance to bring his younger brother back to life. Especially in Taiwan, where Jallal, who died during an initiation ritual at France's prestigious Saint-Cyr Military Academy, spent a brief part of his life as a National Taiwan University student.
The Algerian-French director's feature film For My Country, which is based on the tragedy, was partially shot in Taiwan and made its Asia premiere at the Golden Horse Film Festival last week. But through the new Taiwan Pitch initiative, he was able to further explore his brother's journey by creating Aissa (Jallal's fictional name), a subdued, melancholy 20-minute piece that imagines his life when he first arrived in Taipei.
On a personal level, Taiwan is an important place to Hami because while visiting Jallal here over a decade ago, he felt that they "learned to become brothers for the first time."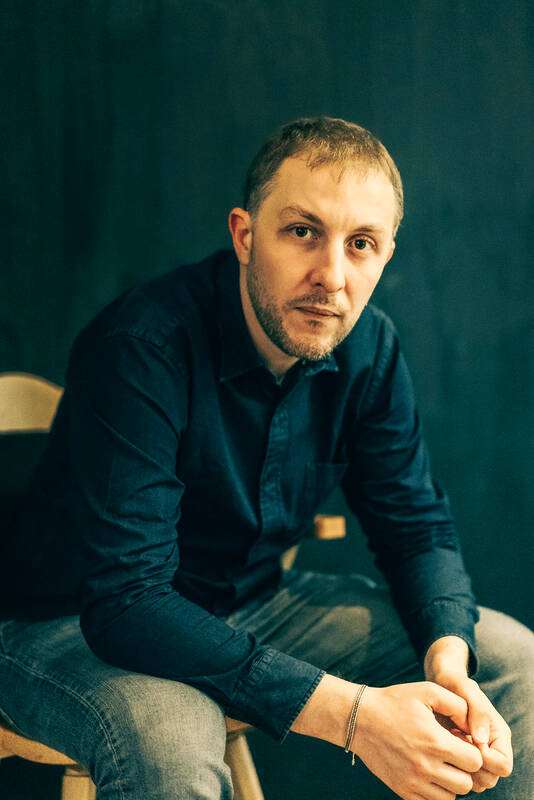 Rachid Hami poses for a photo on Monday in a Taipei coffee shop.
Photo courtesy of Taiwan Pitch
"For me, I want to see him alive … I want to see him swim, see him walk, see him eat, see him kiss a girl, because all these small things are the parts that make up life," Hami tells the Taipei Times. "It was a selfish thing to do … but I'm doing it for myself, for closure."
Taiwan Pitch was launched by the CNEX Foundation, which supports Chinese-language documentaries, with the goal of encouraging Taiwan-related content and developing talent. The program invites foreign creators — students, social media influencers and established professionals — to visit and create projects in Taiwan. The works will be shown on government-run streaming platform TaiwanPlus.
"This kind of opportunity for filmmakers is very rare," Hami says, grateful for the immense, round-the-clock support CNEX provided. "You just get to go have fun doing something that is worth it."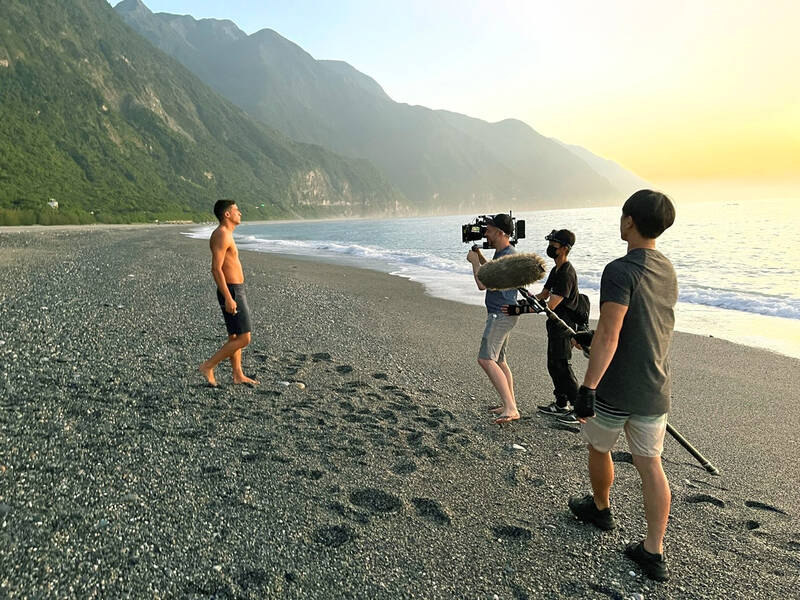 Rachid Hami and his crew shoot a scene of Aissa on a beach in Hualien.
Photo courtesy of Taiwan Pitch
TAIWAN TIES
Growing up in Paris after his family fled the Algerian Civil War, a teenage Hami found solace in Taiwan New Cinema from the 1980s and 90s. He found it hard to relate to the French New Wave, he says, which he found more light-hearted and "very far away from the personal experiences of my life."
Taiwanese cinema, he found, was more introspective and focused more on emotional connection.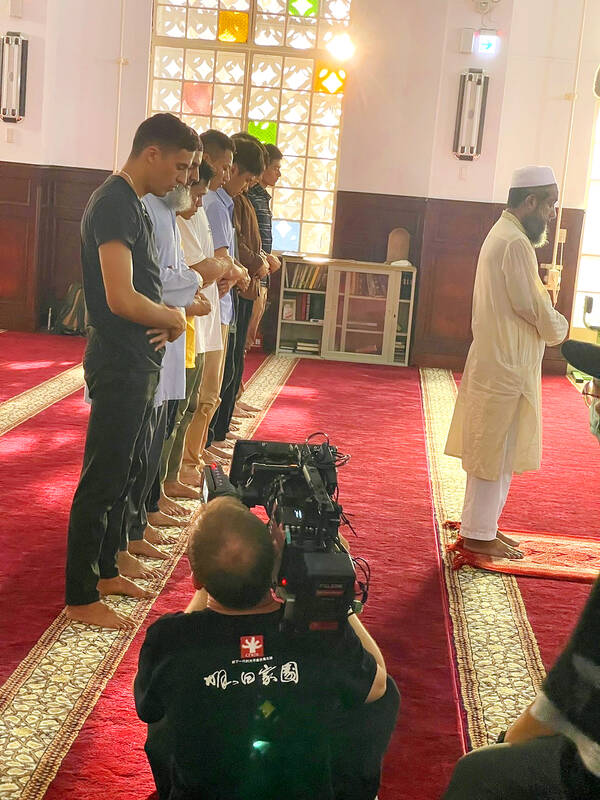 Rachid Hami and his crew shoots a scene of Aissa at the Taipei Grand Mosque.
Photo courtesy of Taiwan Pitch
"They looked back to their past and sought to understand through cinema where they are in this world," Hami says. "In A Brighter Summer Day, Edward Yang (楊德昌) is trying to digest, recreate and redeliver to the audience a part of his personal history."
Hami does that through his work as well, albeit in his own way.
"I don't copy the people I admire, I try to understand their questions," he says.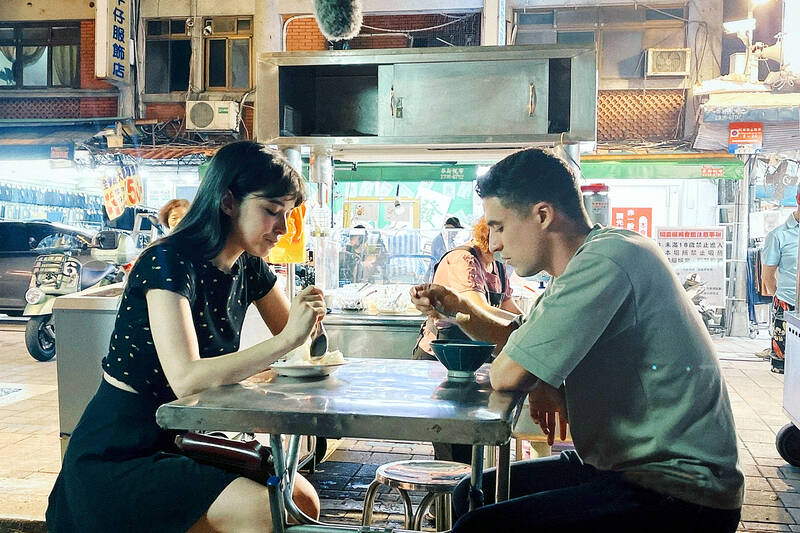 A scene from Rachid Hami's short film, Aissa.
Photo courtesy of Taiwan Pitch
After his brother's death, Hami lived in Taiwan for two years.
"I don't know why, but I needed to go there," he says.
Despite the events of For My Country mostly happening in Algeria and France, Hami was determined to shoot part of it in Taiwan. Like Taiwan, Algeria was under colonial rule and its people still grapple with their modern identity, Hami says, and he believes these parallels are what drew Jallal to study here.
"There was something linking him here, and for me, telling the story in Taiwan is absolutely needed, because we were questioning our countries, where we are from, how we belong, who we are in this world," he says.
BACK TO EXPERIMENTING
Aissa opens with the silhouette of the titular character facing the sunrise on a beach in Hualien.
"It's like I'm bringing to life a ghost," he says. "This ghost, in some ways, is what I see when I'm walking around in Taipei. Anywhere I go, there's always the memory of my brother."
Hami was in Taiwan wrapping up postproduction for For The Country when Taiwan Pitch approached him. He jumped at the chance.
Despite initial difficulties finding participants for its first season, Taiwan Pitch ended up supporting 40 local and foreign student projects, six social media influencers as well as six established "headliners."
Ideally, they would already have ties or interest in Taiwan. For example, fellow headliner Tamara Rosenfeld had visited Taiwan before while directing and producing Netflix's Street Food: Asia. Her Taiwan Pitch project is an apocalyptic comedy shot in several abandoned locations.
Taiwan Pitch allowed Hami the creative freedom to explore what he couldn't with For My Country, which he says was very structured and with a precise script and story revolving around his family seeking justice for Jallal.
"For me, it was a space where I could get out of my usual routine and go back to experimenting," Hami says. "I felt like I was back in school, with the same eagerness, willingness and desire to try things, but now I have a bit of experience so I could still do what's required for the project to work."
He decided to continue with the Aissa character for the new project as a prelude to the movie, exploring the loneliness of a stranger in a new land.
"I like shooting something I have an emotional link to, even if it's more of a free piece of experimentation, it has to be something sincere first," Hami says.
The project, which sees Aissa visiting the Taipei Grand Mosque, the east coast and other locales in Taiwan, brings a certain sense of closure to Hami's remembrances of his brother here.
"I feel like I'm coming to an end with my Taiwan story, maybe," he says.
Comments will be moderated. Keep comments relevant to the article. Remarks containing abusive and obscene language, personal attacks of any kind or promotion will be removed and the user banned. Final decision will be at the discretion of the Taipei Times.