Notes from central Taiwan:Taiwan's 'diplomatic allies' fiction
Taiwan's pay-for-play diplomacy simply means that our relations last as long as the money does and forces the nation to maintain formal contacts with unsavory, exploitative leaders
"Your absence has gone through me/Like thread through a needle" wrote W.S. Merwin in "Separation," finishing: "Everything I do is stitched with its color." The same could be said of the nation's diplomatic relations, in which our "Republic of China (ROC)" identity colors everything, yet is best for Taiwan when it is absent.
As September waned into October, media reports said that Paraguay had sent word that it wanted another billion US dollars in investments. Big agriculture producers there wanted a crack at the China market, which that nation gave up to accommodate relations with Taiwan.
According to the Financial Times report, Paraguay said the ROC gives US$6 billion in aid to its "diplomatic allies," and it wanted a bigger taste. Fortunately, Paraguay's president was later quoted as saying that there were no conditions for a continued relationship.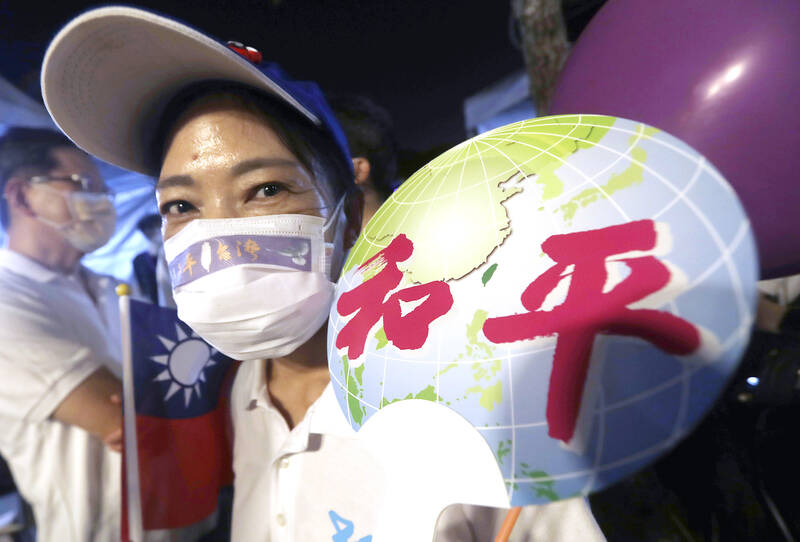 A woman on Sept. 21 holds a fan with a slogan ''Peace'' printed on it during a rally for ''Love, Peace and Protect Taiwan'' in Taipei.
Photo: AP
Still, commentators were almost unanimous in remarking "good riddance" to the thought of Paraguay going.
PAY-FOR-PLAY DIPLOMACY
What do we get for our money? Eswatini, the Vatican, Guatemala, Haiti, Honduras, Paraguay, Belize, and island states in the Caribbean and Pacific, including St. Christopher and Nevis, St. Vincent and the Grenadines, St. Lucia, Marshall Islands, Palau, Tuvalu and Nauru. Imagine what that money would do if spent on less grandiose, more normal relations.
Taiwanese on Sept. 18 hold up a welcome sign near a Republic of China (ROC) flag in Taichung.
Photo: AP
Critics have long targeted Taiwan's ROC-flavored diplomacy. The pay-for-play diplomacy that Taiwan is forced to engage in simply means that our relations last as long as the money does. It also breeds corruption at both ends of the relationship.
It means these relationships are inherently unstable, vulnerable whenever China decides to spend the resources to displace Taiwan. This means that every few years, whenever China wants to stir up local politics, it can poach a "diplomatic ally."
It has other negative consequences for Taiwan. The diplomatic corps appears to have transmitted downward the institutional belief that it houses the representatives of a vast imperial state, rather than the diplomats of a medium-sized power desperately in need of friends. The desperate maintenance of the ROC formality in diplomatic relations reinforces this.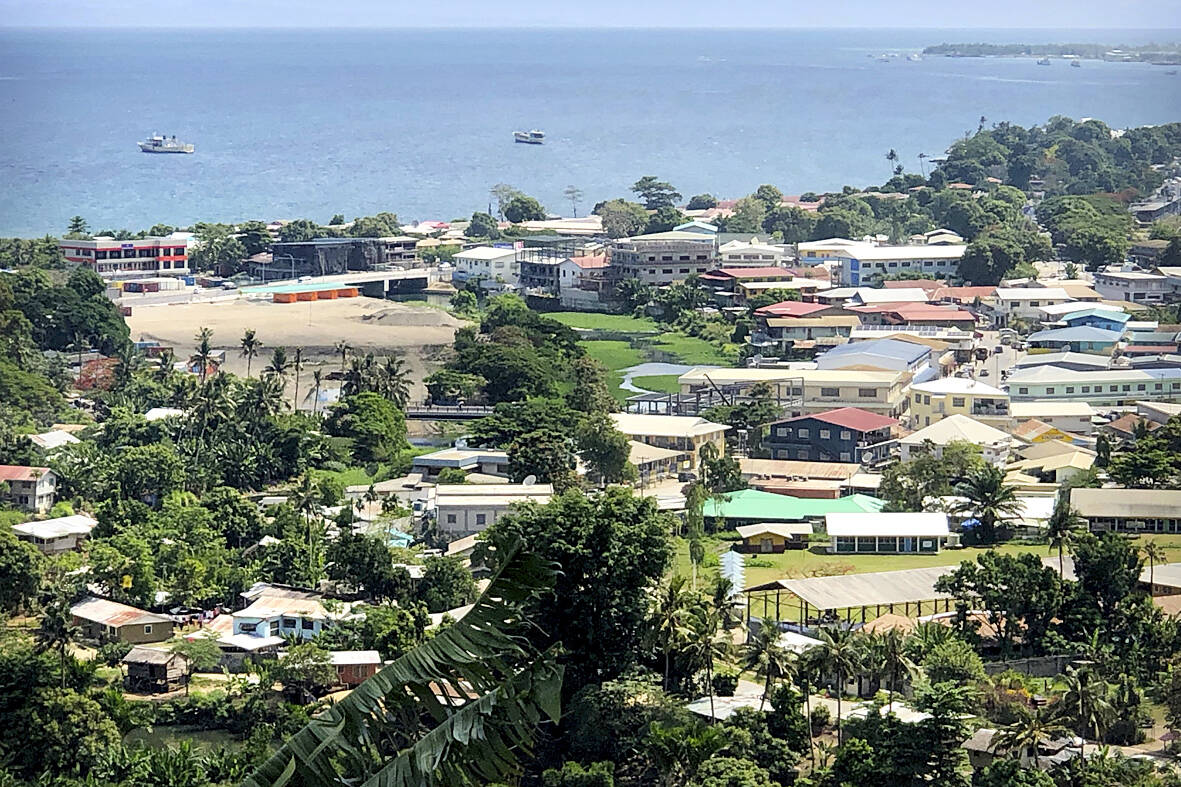 Ships are docked offshore in November 2018 in Honiara, the capital of the Solomon Islands. The nation switched diplomatic recognition from Taiwan to China on Sept. 16, 2019.
Photo: AP
The "diplomatic allies" fiction also forces Taiwan to maintain formal contacts with unsavory, exploitative leaders, and to go through public rituals with them, leveraging Taiwan's legitimacy in the service of their tyranny. One tiny advantage of having only informal relations with most states is that Taiwan's presidents can avoid public appearances with their leaders.
More importantly, a diplomacy that constantly enacts the rituals of the ROC is keeping that identity alive and influencing Taiwan's politics. Taiwan's diplomacy and its claims on the South China Seas and the Diaoyutai Islands (釣魚台) — known as the Senkaku Islands in Japan — are among the last places in public life where the ROC remains a living, breathing state.
That is one reason ROC nationalists at home make loud noises about the Diaoyutai Islands and South China Sea. Through pushing the idea that the ROC and Taiwan are the same, they can create trouble with potential allies of Taiwan, while getting locals to identify with the national identity that oppressed them. Fortunately, thus far, this strategy has failed.
Games that everyone knows are fake, like the horrible Russian referendum in Ukraine, still have their political effects.
UNNECESSARY FRICTION
There are other pernicious, complicated ramifications of keeping the "mostly dead" ROC alive with the great bellows of diplomacy, like the Dread Pirate Roberts lying on Miracle Max's table. For example, the ROC's claims in the South China Seas are more or less the same as China. People often joke about the infamous nine-dash line, but that line and Chinese expansion in the South China Sea are an ROC invention.
This means that the ROC claims are a constant source of friction with needed allies. Taiwan cannot ask for the support of nations whose territory its ROC identity is seeking to annex.
Of course, the international media routinely says that "Taiwan claims…" though none of those claims relate to Taiwan. They stem from the imperial state — the ROC — that colonized Taiwan and promptly lost a civil war. This reiteration of "Taiwan claims…" with respect to the ROC's island fantasies simply muddies things further.
Imagine, if China decides to pick off Itu Aba in the Spratlys, how would its allies react when they are defending a Chinese claim against a Chinese attacker? In that case, both intervention and non-intervention legitimate a Chinese claim!
Yet there are Taiwanese soldiers on that island, costly resources almost certain to be lost in a war, there to assert a claim to an island that has never been part of Taiwan.
Conversely, reducing the presence of the ROC identity in Taiwan's international life would encourage foreign nations to upgrade the names of Taiwan's representative offices to include the word "Taiwan," as many are already considering.
It would mean less conflation of Taiwan with China and lower budget outlays for essentially meaningless diplomatic relations. The expenditure of precious foreign affairs budgets on the ROC window dressing is just another way that Taiwanese transfer resources to the ROC identity, a ghostly colonial parasite.
Imagine a world in which Taiwan had no "diplomatic allies." In that world, which would closely resemble our current world, we'd still have relations with over 190 nations. We'd still be a major export power. We could still sign agreements, like we did last week as Paraguay tottered, on judicial cooperation with our "diplomatic ally" St. Vincent and the Grenadines. Very little would change.
The administration of Tsai Ing-wen (蔡英文) has shifted Taiwan's diplomacy away from an emphasis on diplomatic allies. In the last few years, the US has been intervening when a diplomatic ally wavers. Is that really the best use of US diplomatic resources in the Taiwan context?
Yet for years officials and commentators in Taiwan have repeatedly contended that if all our allies were lost, it would leave Taiwan as just Taiwan, a prerequisite for true independence. For that reason, some Taiwan watchers have argued, China permits Taiwan to have relations with small states.
If that is true, then our ROC games are helping, not hurting Beijing. It might be a good test of China and its stance to give up those completely, to let them whither away.
The arguments against having ROC allies are right, but not completely. The loss of our allies would not have much effect on Taiwan and is a necessary step in shedding the ROC identity. But the ROC would still linger, with its relic claims and military presence in the South China Sea, and in the claim to the Diaoyutai.
"I wear the chain I forged in life," Marley's ghost told Scrooge. "I made it link by link, and yard by yard; I girded it on of my own free will, and of my own free will I wore it."
We may not have worn the ghostly chains of the ROC of our own will, but we can certainly stop forging those links.
Notes from Central Taiwan is a column written by long-term resident Michael Turton, who provides incisive commentary informed by three decades of living in and writing about his adoptive country. The views expressed here are his own.
Comments will be moderated. Keep comments relevant to the article. Remarks containing abusive and obscene language, personal attacks of any kind or promotion will be removed and the user banned. Final decision will be at the discretion of the Taipei Times.