Taiwan in Time: Civilians enter the Martyrs' Shrine
Lin Ching-chuan, a kindergarten teacher who died in 1992 rescuing children from a tour bus fire, became on Sept. 3, 1999 the first civilian to be honored
Aug. 29 to Sept 4
After leading six students to safety, preschool teacher Lin Ching-chuan (林靖娟) rushed once more toward the burning bus.
The vehicle carrying 53 preschool students, teachers and parents to Leofoo Safari Wildlife Zoo had suddenly caught fire due to a short circuiting transformer, and things were exacerbated by a malfunctioning emergency exit and long-expired fire extinguisher. They were in a relatively remote area with few avenues to call for immediate help.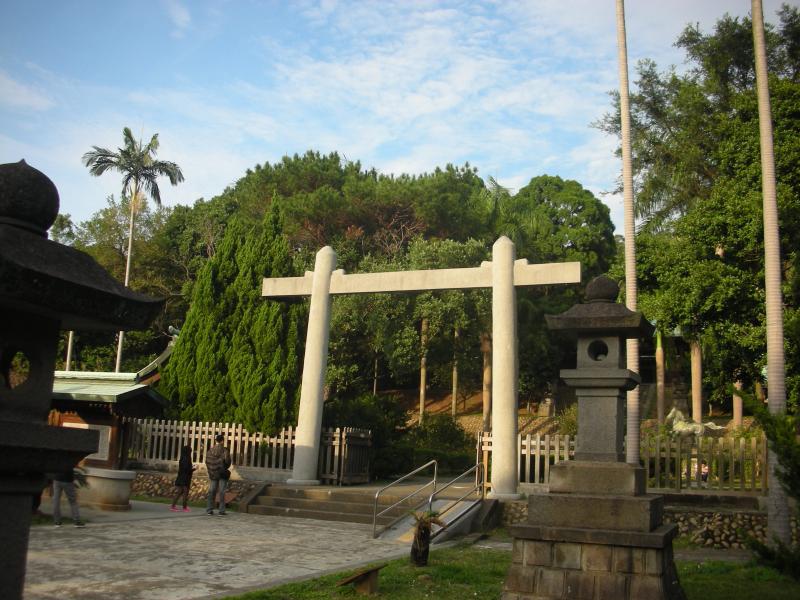 The Taoyuan Martyrs' Shrine is the best-preserved Shinto shrine in Taiwan.
Photo courtesy of Wikimedia Commons
The 33-year-old Lin was back on board when passersby finally helped smash one of the windows, and she tossed several children out before succumbing to the flames.
Her body was found in the completely charred bus, still clutching four dead students in her arms. A total of 20 children and three adults died in this disaster on May 15, 1992, prompting much discussion about field trip regulations and vehicular safety.
On Sept. 3, 1999, Lin became the first civilian to be inducted into the Martyrs' Shrine after the Ministry of the Interior revised the laws a year earlier to allow non-military personnel to receive such honors. Her spirit tablet was placed in the Taipei Martyrs' Shrine in Nankang District (南港).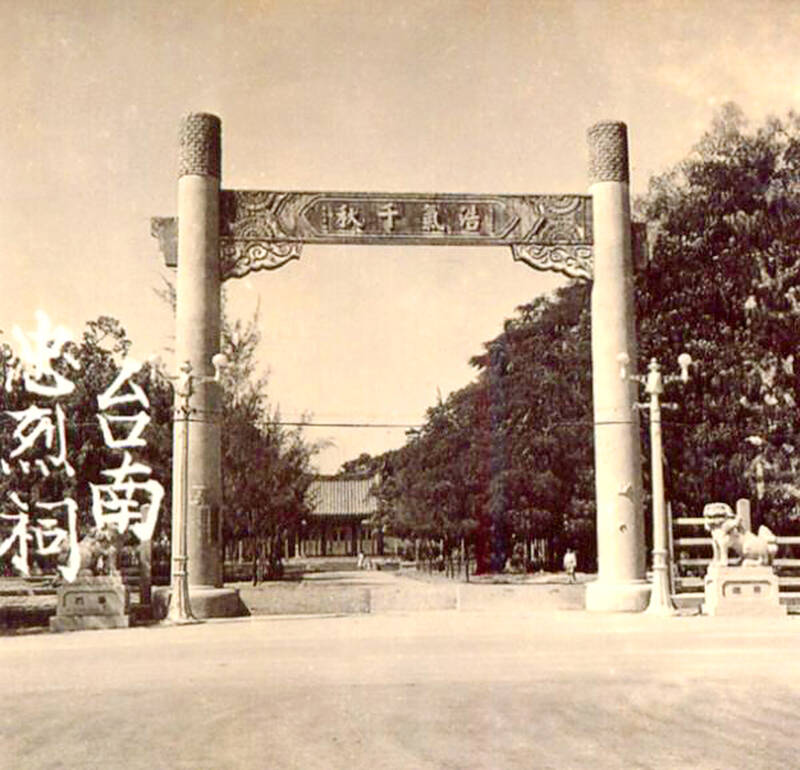 An old photo of the Tainan Martyrs' Shrine.
Photo courtesy of Wikimedia Commons
Most inductees since then have been police officers and firefighters killed in the line of duty, but notable civilian cases include the health workers and staff who died in the Hoping Hospital lockdown during the 2003 SARS epidemic, as well as Wen Yung-nan (溫勇男), who was swept away in 1973 while attempting to deliver mail in the aftermath of Typhoon Nora.
Wen managed to toss his bag of letters to the other side of the shore before being engulfed by the floodwaters, and in 2000 became the first postal worker to be enshrined.
QUESTIONABLE MARTYRS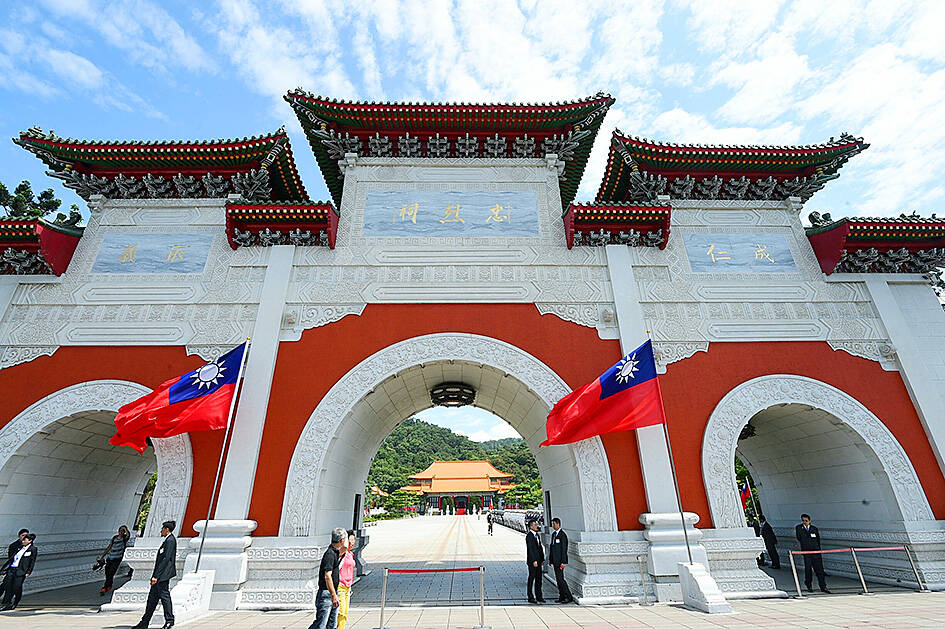 A photo of the main gate at the at the National Revolutionary Martyrs' Shrine.
Photo: Liao Chen-hui, Taipei Times
On Nov. 16, 1945, the newly-arrived Chinese Nationalist Party (KMT) ordered each county and city to compile a list of people who lost their lives fighting the Japanese and to build Martyrs' Shrines to honor them. Tsai Chin-tang (蔡錦堂) writes in the book, From Shinto Shrine to Martyrs' Shrine: The Transformation of Taiwan's National Worship (從神社到忠烈祠:臺灣國家宗祀的轉換) that the earliest to comply was Hsinchu's Chuolan Township (卓蘭, transferred to Miaoli in 1950), which on May 29, 1946 submitted a list of 12 candidates.
Then-Hsinchu County magistrate Liu Chi-kuang (劉啟光), who was on a national Martyrs' Shrine committee, suggested that Taiwan's rituals should be unique. He proposed holding the spring ceremony on April 17, the anniversary of the Qing Dynasty's ceding of Taiwan to Japan in 1895, and the fall event on Oct. 25, the day of formal Japanese surrender. The main deity should be Cheng Cheng-kung (鄭成功, or Koxinga), who expelled the Dutch from Taiwan in 1662 and established the first Han-led government in present day Tainan.
Most of the nation's Martyrs' Shrines were converted from former Shinto shrines. Hsinchu's was established in the former Taoyuan Shinto Shrine (Taoyuan was also part of Hsinchu then) on June 17, 1946 with a large ceremony and parade. Almost demolished in 1985, this structure is considered the best-preserved Shinto shrine in Taiwan.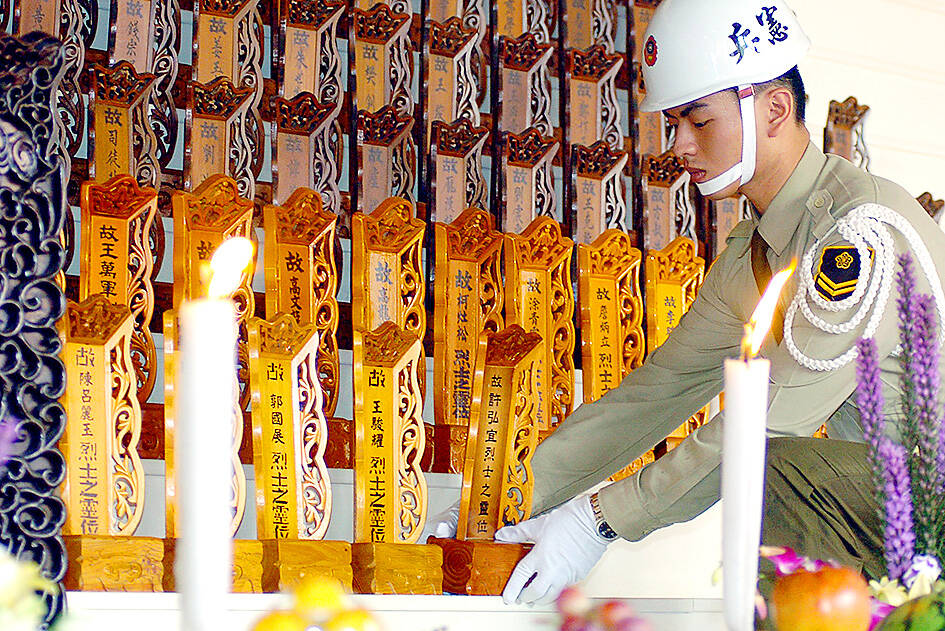 A soldier places the spirit tablets of new inductees at the Taipei Martyrs' Shrine in 2004.
Photo: Liao Chen-hui, Taipei Times
Seventy-three souls were enshrined that day, with Cheng, Republic of Formosa vice-president Chiu Feng-chia (丘逢甲) and general Liu Yung-fu (劉永福) as the main deities.
It's a curious roster, Tsai writes. Chiu and Liu both fled to China in 1895 without seeing combat against the arriving Japanese, and both died from illness in their homes. The other inductees were either leaders of anti-Japanese uprisings such as Yu Ching-fang (余清芳) and Mona Rudao, or political activists such as Chiang Wei-shui (蔣謂水), and the majority had no ties to Hsinchu. Although Chiang devoted his life to fighting for Taiwanese autonomy, he also never took up arms and died from typhoid fever. However, several future Martyrs' Shrines roughly followed this list.
A number of people on this roster had leftist leanings, and were later expelled from the shrine. Famous writer and political activist Lai Ho (賴和) was removed seven years after his inclusion for suspected communist ties, and reinstated 26 years later.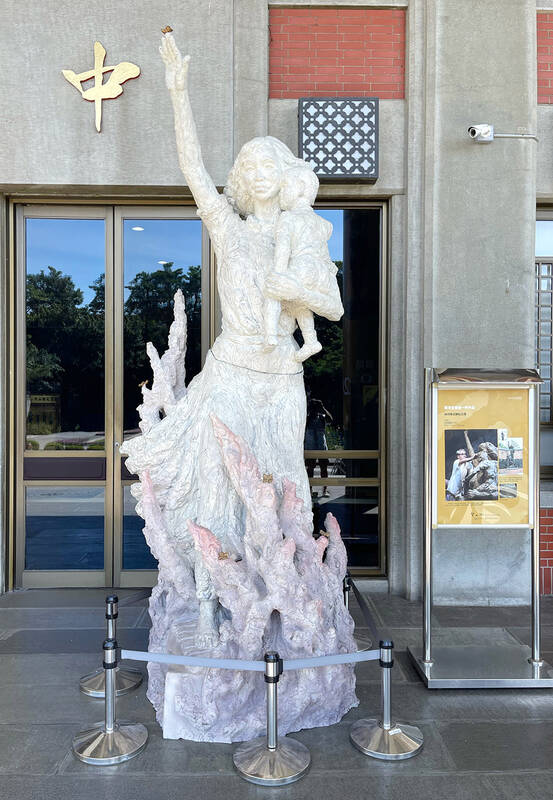 Pu Tian-sheng's sculpture of Lin Ching-chuan, the first civilian to be honored in the Martyrs' Shrine.
Photo: CNA
The nation's highest-ranking National Revolutionary Martyr's Shrine in Taipei's Yuanshan area was built on top of the Taiwan Gokoku Shrine, which was established in 1942 by the Japanese to honor military personnel who died in Taiwan and to strengthen the people's allegiance to the emperor.
At time of establishment, all inductees were Japanese except for one indigenous Taiwanese and one Korean, and many fought against those who would be inducted on the same grounds after 1949. But as the war went on, Taiwanese who served in the Japanese Army were included. The KMT used the original structure until 1967, when they razed it to build a Beijing-style palace complex that was completed in 1969.
In addition to Taiwanese who died resisting Japanese rule, this shrine included people who fought for the KMT cause while it was still based in China, from the Xinhai Revolution of 1911 to the Chinese Civil War of 1945.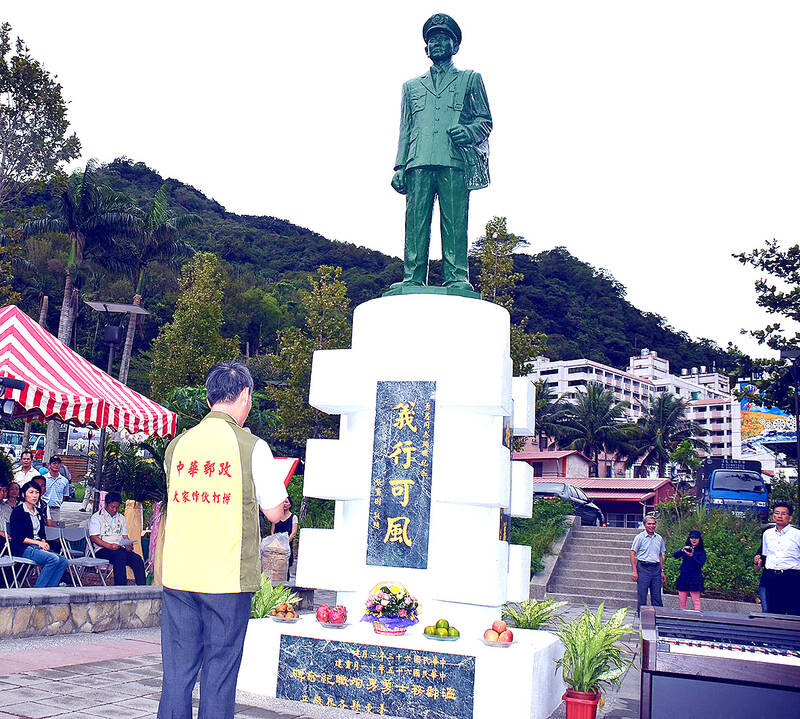 Wen Yung-nan was the first postal worker to be inducted into the Martyrs' Shrine.
Photo: Chen Hsien-yi, Taipei Times
NEW LAW
The Martyrs' Shrine began to lose its significance after the lifting of martial law in 1987, Tsai writes. Anti-Japanese sentiment had waned, and relationships were thawing between the two sides of the Taiwan Strait. There hadn't been direct clashes in decades.
"When people feel that war is not about to happen again, the original intention or historical significance of the Martyrs' Shrines become lost to them," Tsai writes.
However, violent crime was on the rise. After policeman Tsao Li-min (曹立民) died in a gunfight in 1997 while pursuing the culprits who kidnapped and murdered entertainer Pai Ping-ping's daughter (白冰冰) Pai Hsiao-yen (白曉燕), the National Police Agency began calling for officers to be included in the Martyrs' Shrine.
During discussions with the Ministry of Interior, the National Fire Agency asserted that their jobs were no less dangerous and that they should be included too.
In 1998, the law was amended so that police officers and firefighters who sacrificed their lives in the line of duty and civilians who died while trying to save the lives of others could be honored in the Martyrs' Shrines.
Four firemen and six policemen were inducted into the Taipei Martyrs' Shrine in March 1999, the first group under the new rules. A notable officer was Yang Chi-chang (楊季章), who died in the infamous McDonalds bombing attacks in April 1992.
Lin Ching-chuan was enshrined during that year's autumn ceremony on Armed Forces Day.
The second civilian to enter Taipei's Martyrs' Shrine was Lee Hao-wei (李浩偉), who drowned after saving two out of three people who fell into the Waishuang River (外雙溪).
Eight medical workers who died fighting SARS were honored in the Taipei and Kaoshiung shrines in 2003: Hoping Hospital nurses Chen Ching-chiu (陳靜秋) and Lin Chia-ling (林佳鈴), lab technician Tsai Chiao-miao (蔡巧妙), custodians Lu Li-yu (呂麗玉) and Yang Shu-chen (楊淑媜), Jen Chi Hospital nurse Hu Kuei-fang (胡貴芳), Kuo Kuo-chan (郭國展), who transported patients to the hospital and Kaohsiung Chang Gung Memorial Hospital doctor Lin Yung-hsiang (林永祥).
An interesting addition to the Taipei shrine are the Qing soldiers who arrived in Taiwan to repel the invading French in 1884. They were honored on the 120th anniversary of the battle.
Taiwan in Time, a column about Taiwan's history that is published every Sunday, spotlights important or interesting events around the nation that either have anniversaries this week or are tied to current events.
Comments will be moderated. Keep comments relevant to the article. Remarks containing abusive and obscene language, personal attacks of any kind or promotion will be removed and the user banned. Final decision will be at the discretion of the Taipei Times.