A coffee-lover's guide to Taiwanese cafes
Drink in the history behind your cup of coffee
You can hardly walk down a street in Taipei without seeing a cafe these days.
In the capital alone, there are 869 cafes. More than 40 percent of the poplation drinks at least one cup of coffee a day, with lattes the beverage of choice, according to a recent survey by Food Next (食力) magazine.
Next weekend, Taipei will host the World Coffee Roasting Championship at the Taiwan International Coffee Show. The nation's love for coffee runs deep, but before Taiwan came around, cafes here had a much more storied, even sordid, history.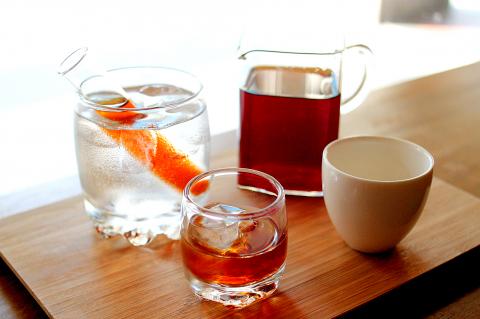 San Coffee exclusively stocks locally-grown coffee beans.
Photo: Davina Tham, Taipei Times
DARK ARTS
Cafes first started appearing in Taiwan just over a century ago, influenced by lifestyle trends from the Japanese metropole. The earliest on record, Cafe Lion, opened in 1911 next to Taipei New Park (台北新公園), precursor to the 228 Peace Memorial Park (二二八和平紀念公園).
Before World War II, present-day Hengyang Road (衡陽路) near Ximending (西門町) was a hub for Japanese-owned cafes. Locals who had spent time overseas also opened their own establishments further east, on Dihua Street (迪化街).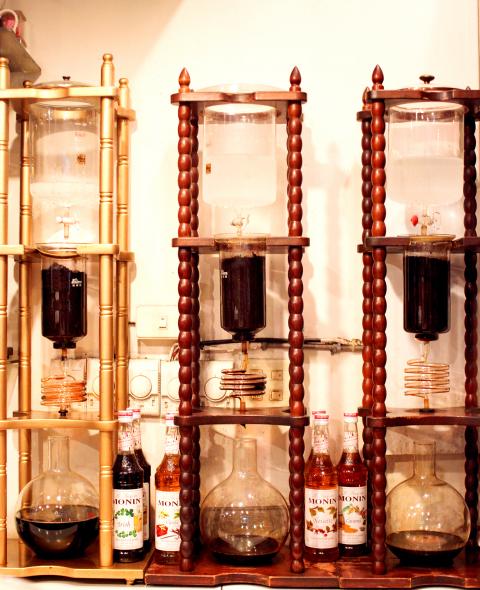 Vintage drip towers line the interior of Fong Da, which opened in 1956.
Photo: Davina Tham, Taipei Times
The defining trait of a cafe at the time was a place with Western-style drink or food and furnishings. This meant a loosely-defined group of businesses that encompassed coffeehouses, bars serving other beverages and full-service restaurants. In the 1930s, more than 400 such establishments were listed in Taiwan. One of the oldest in Taipei, Bolero (波麗路), opened in 1934 and is still in operation today as a steakhouse.
But aside from electrical lighting and Western furniture, Japanese patrons also favored a particular aesthetic for cafes, with indoor plants that showed off the colony's sub-tropical climate and created an air of exoticism. Yongle Cafe (永樂咖啡館) became famous for its ferns, according to a 2008 exhibition on Early Taiwanese Coffee Culture by the National Museum of History.
Over time, cafes became symbols of modernity and Westernization unto themselves. In Becoming Taiwanese: Ethnogenesis in a Colonial City, 1880s — 1950s, historian Evan Dawley writes that in 1933, a newspaper in Keelung sponsored a contest to pick the most popular cafe waitress in the city.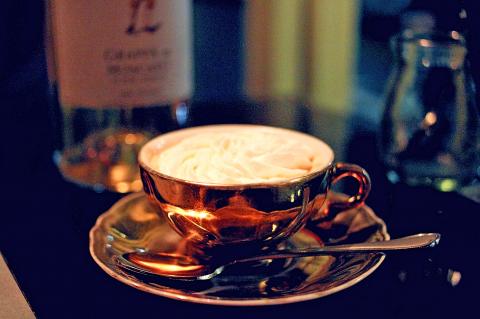 At Alone Together, this con panna, or an espresso shot with sweetened whipped cream, is mixed with whiskey.
Photo: Davina Tham, Taipei Times
The contest drew 107 women from 24 cafes. The winner, who went by Emiko, received more than 18,000 votes and appeared in pictures as the embodiment of a "modern girl" — the Japanese term for a Westernized woman — with a flapper-style bob haircut.
For many decades, servers in cafes were exclusively female and served a function akin to that of a bar hostess or geisha, serving drinks, accompanying the mostly male customers and occasionally performing. A key difference was that the position drew a fixed salary, instead of unreliable tips, attracting many young women who wanted to work in the city.
"Yanping South Road (延平南路) became a place where girls went after their dreams. Many girls who came from the countryside with nowhere to go — bus ticket sellers, salesgirls — they all went there to find a job as a waitress," said Hsieh Chin-lan (謝金蘭), who started working in a cafe in 1930, in an oral history of Taiwanese women.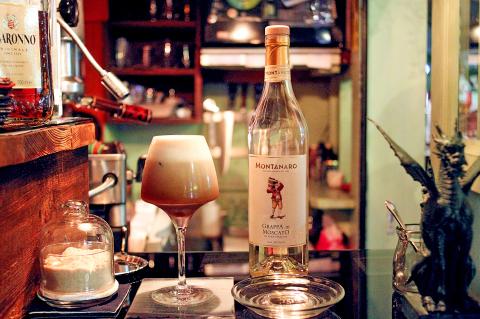 Creamy Black is an espresso and Moscato cocktail at Alone Together.
Photo: Davina Tham, Taipei Times
From the 1950s to 1970s, cafes grew into disrepute as they became embroiled in crimes of passion by jealous patrons, which often also revealed the mistreatment of young women who had run away from home to work in cafes. More innocently, cafes were also a place where young people could get away from the confines of home and explore romantic possibilities in relative privacy.
The 1960s saw a series of government measures on cafes to prevent the perceived corruption of social mores. These included rules about prohibition of private rooms in cafes and the number of lamps there had to be in any given area, since authorities were worried about dim lighting making people do bad things.
The rules were eventually relaxed. Since the arrival of the first international cafe franchise — not Starbucks, but Japan's Honey Mitsubachi Coffee (蜜蜂咖啡) in 1974 — Taiwan's coffee scene has gained a lot of personality, which can be seen in these three cafes around Taipei.
FONG DA COFFEE
This old maid first opened in 1956, and continues to provide an atmospheric shot of retro Taipei, from its drinks down to its decor.
Fong Da's claim to fame is being the first in Taiwan to offer iced coffee. The tradition continues to this day with several vintage drip towers that filter ice water through coffee grounds. It takes hours to make a cup, so the cafe keeps several drip towers going at once.
The resulting cold drip coffee (NT$100) is robust without being too bitter. It pairs perfectly with old-fashioned confections like a crumbly, lardy walnut cookie (NT$20) and the rare jizai biscuit (雞仔餅, NT$15), a salty-sweet confection that contains meat.
Service can be tricky here. Order any biscuits outside, before heading inside and taking a seat to order your coffee. There's also a second floor with more seating and a selection of fresh cakes.
■ Fong Da Coffee (蜂大咖啡), 42, Chengdu Rd, Taipei City (台北市成都路42號); open daily, 8am to 10pm
SAN COFFEE
The earliest documentation of local coffee farming was initiated by the British trading company Tait and Co in 1884, although that venture did not last long. Though not in large quantities, coffee cultivation has continued to take place in Taiwan, except for breaks during World War II and for a period after US aid ended in 1965.
If you're curious about locally-grown coffee beans, this cafe in a historic building near Dadaocheng (大稻埕) will sort you out. San Coffee stocks an extensive selection of single-origin coffees that show how widely coffee has come to be grown in Taiwan. I count 14 roasts from nine counties on my visit.
All coffees are prepared as pourovers. The menu, in Chinese, provides detailed tasting notes, but staff will also make helpful recommendations based on your preferences.
I choose a variety called Jioufener Mountain (九份二山), named after the peak in Nantou County's Guosing Township (國姓鄉) where the bean is grown. A hot cup of this roast (NT$220) arrives together with a test-tube portion submerged in ice water, meant to allow me to compare the flavors at different temperatures.
It's a satisfying drink — slightly acidic, but not too much so, as my server described — that leaves me feeling good about supporting local producers. The cafe also sells drip coffee bags (NT$650 for 10), which make great souvenirs.
■ San Coffee (森高砂咖啡館), 1, Yanping N Rd Sec 2, Taipei City (台北市延平北路二段1號); open daily, 12pm to 9pm, until 10pm on Fridays and Saturdays
ALONE TOGETHER
Alone Together opens after the sun has set and has only one seat, which tells you all you need to know about its owner's unconventional approach to cafe culture.
Drinks are brewed with precision, and often mixed with real alcohol or fruits. Con panna (NT$150 to NT$220), a shot of espresso topped with sweetened whipped cream, can be complemented with whiskey or strawberry. Creamy Black (NT$200 to NT$250) is a coffee cocktail with a lofty crema drawn from the bean's natural oils, accentuated by fragrant Moscato.
Given the tiny shop space, about the size of three phone booths, customers and friends of the cafe inevitably take their drinks out into the balmy air. Here, coffee is not just an infusion of caffeine to get through your day, but a moment to be savored.
Alone Together will close in July next year, when the lease that it shares with its neighbor, Japanese curry diner Torarakuya, ends. But there are still seven good months to make a visit.
■ Alone Together (一席), 24, Yanji St, Taipei City (台北市延吉街294號); open Mondays, Wednesdays, Fridays and Saturdays, 6pm to 10pm
Comments will be moderated. Keep comments relevant to the article. Remarks containing abusive and obscene language, personal attacks of any kind or promotion will be removed and the user banned. Final decision will be at the discretion of the Taipei Times.