Highways and Byways: Tramping around central Taichung
On this walking tour, you will visit an old winery, the campus of Taiwan's oldest missionary organization and a culture and art park
Taichung's recent growth spurt has made it Taiwan's second most populous municipality. With 2.8 million residents, it has overtaken both Taipei and the southern harbor city of Kaohsiung. Only New Taipei City has a greater number of people.
Much of Taichung's expansion in the 21st century can be attributed to the success of Central Taiwan Science Park (中部科學園區). Yet even before the central government had approved the park's creation, the city's center of gravity had shifted away from the railway station. The main city government building, the National Museum of Natural Science (國立自然科學博物館), the National Taiwan Museum of Fine Arts (國立台灣美術館) and the major department stores and hotels, all lie a few kilometers northwest of Taichung main train station.
Even though the neighborhoods nearest the station are visibly less prosperous than those around National Taichung Theater (臺中國家歌劇院), the old downtown contains more than enough to occupy history-inclined tourists for an entire day.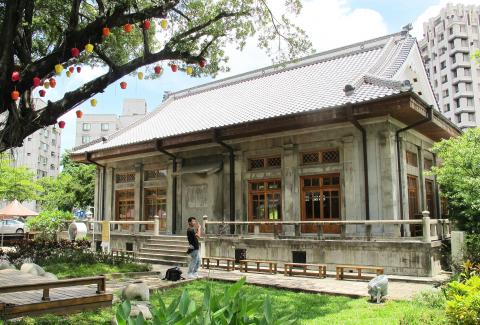 The reconstructed dojo at Natural Six Ways Arts Cultural Center.
Photo: Steven Crook
Taichung's bus network isn't as good as Taipei's, and the first line of its MRT system isn't expected to be operational before 2020. Visitors planning to cycle from one attraction to the next can locate bike-share stations via i.youbike.com.tw. However, because the total distance of the route outlined in this article is less than 5km, walking is a viable option.
OLD TAICHUNG WINERY And ALCOHOL PRODUCTION
Few day-trippers exit Taichung station via Fusing Road (復興路) to the south, but this is most direct way to the Cultural Heritage Park (文化部文化資產園區), a 5.6-hectare repurposed industrial site that will intrigue anyone interested in alcohol production.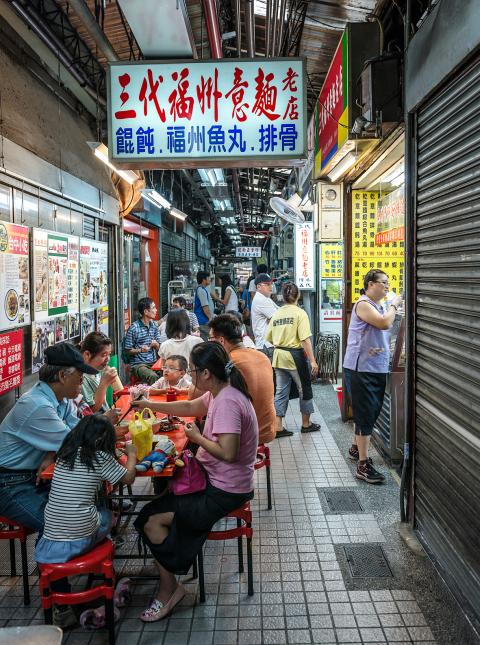 The lunchtime crowd at Taichung Number Two Market.
Photo: Steven Crook
Known until last summer as Taichung Cultural and Creative Industry Park (台中文資園區) and today known as Cultural Heritage Park (文化資產園區), the winery that operated here between 1916 and 1998 was founded by a Japanese businessman who'd arrived in Taiwan in 1895 wearing an Imperial Japanese Army uniform. Many locals still refer to the place as the Old Taichung Winery (台中舊酒廠).
In 1922, the colonial authorities took control of alcohol-production facilities here (the park's official address is 362 Fusing Road Section 3, 復興路3段 362 號) and elsewhere in Taiwan. Overriding owners' objections, the Japanese government decided that a state-run liquor monopoly would help fund infrastructure projects. The colonial government already had monopolies on camphor, opium, salt, and tobacco.
After World War II, the winery became part of the Taiwan Provincial Tobacco and Alcohol Marketing Bureau. The Japanese technicians and managers were replaced with Republic of China citizens, and the Shinto shrine in the center of the winery was demolished.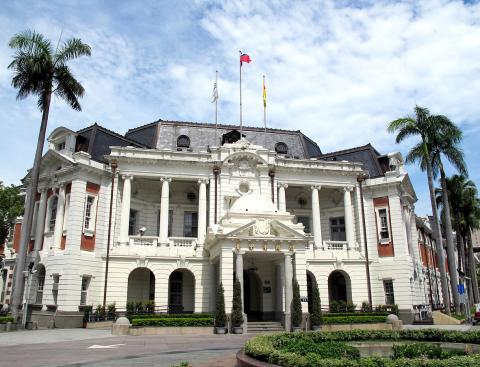 The whitewashed frontage of Taichung Prefecture Hall.
Photo: Steven Crook
In the 1960s, in response to changing drinking habits, sake production ended. Shaoxing wine and other liquors made from rice were produced in large quantities. Unfortunately, as Taichung developed, the population close to the winery grew. People living nearby complained about air and water pollution, and in 1998 the old winery was replaced by a new facility in an industrial zone on the city's southern outskirts.
The park's 21 buildings are now managed by the Ministry of Culture. Several are used as exhibition or performance spaces, and some contain permanent bilingual displays about the alcohol-production processes that once went on here.
Continuing southwest along Fusing Road to the police station, then turning right on Hsuehfu Road (學府路), will take you under the now-elevated railroad. If you follow Gongyuan Road (公館路) northwest for nearly 300m, then turn the corner onto Sanmin Road (三民路), you'll see a cluster of low-rise redbrick buildings.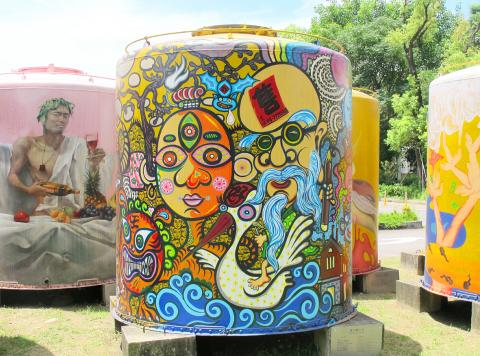 Storage tanks at the Cultural Heritage Park have become artists' canvases.
Photo: Steven Crook
MISSIONARIES IN TAIWAN
This is the Maryknoll Society House (瑪利諾會館), the headquarters in Taiwan of the Catholic Foreign Mission Society of America. This organization — also known as the Maryknoll Fathers and Brothers, and based in Maryknoll, New York — has been sending missionaries to Taiwan since the late 1940s.
Part of the campus is used by Maryknoll Language Service Center (MLSC), founded in 1951 and the oldest institution in the country offering Hoklo-language (more commonly know as Taiwanese) classes. MLSC has helped several hundred church personnel, not all of them Maryknollers or even Catholic achieve proficiency in Taiwanese. Over the years, the center has developed its own teaching materials, plus a very detailed English/Taiwanese dictionary available for free online at www.taiwanesedictionary.org.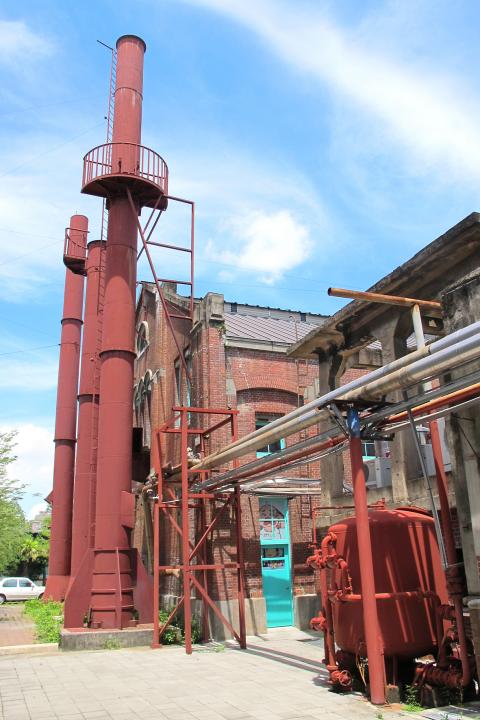 Taichung's Cultural Heritage Park preserves a major part of the city's old winery.
Photo: Steven Crook
During the Martial Law period, the center's use of Taiwanese came into conflict with the Chinese Nationalist Party (KMT) government's Mandarin policy. When I visited the center in 2002, the elderly administrator told me that Maryknollers had hidden books printed in romanized Taiwanese from government inspectors, lest they be confiscated. An Irish-American like many Maryknollers of his generation, he invited me to join him and a few other missionaries for lunch. We ate meat and potatoes with knives and forks, which wasn't what I expected of men who'd devoted themselves to Taiwan for so many years.
CONFUCIAN EDUCATION, JAPANESE ARCHITECTURE
A few hundred meters away, at 33 Linsen Road (林森路), the Natural Ways Six Arts Cultural Center (道禾六藝文化館—台中刑務所演武場) features a sublime reconstruction of a dojo and an office which formed part of Taichung's prison from 1937 until 1992. The center's name alludes to the six disciplines Confucius regarded as key to a good education. The buildings are closed on Mondays, but that doesn't matter to the many visitors who devote their time to taking photos of the exterior.
The next two stops on this walking tour lie to the northeast, and are also fine examples of Japanese-era architecture.
Taichung Prefectural Hall (台中州廳) at 99 Mincyuan Road (民權路) was designed by Moriyama Matsunosuke, the man behind what's now the National Museum of Taiwan Literature (國立臺灣文學館) in Tainan. Built in stages between 1913 and 1934, it continues to function as a local government office. If you want to look inside, you'll need to sign in with the security guard.
A few minutes' walk away at 20 Jhongshan Road (中山路) stands Miyahara Ophthalmology (宫原眼科). Built for Takekuma Miyahara, a Japanese ophthalmologist, this 1927 red-brick structure served for decades as an eye hospital. A decade ago, when it was in an awful state due to typhoons and earthquakes, a confectionary company bought it. The renovation-reimagining they bankrolled was inspired, it seems, by Harry Potter and steampunk. The interior is utterly charming; lots of people come here for the ice cream, or to buy gift boxes of pineapple cakes and oolong tea.
Before returning to Taichung main train station where the original 1917 renaissance-style station building is being preserved in the shadow of its vast successor, there's one more attraction you might think is worth a detour, especially if you've a hankering for some typical Taiwanese street food.
Taichung Number Two Market (台中第二市場), on the corner of Taiwan Boulevard (台灣大道) and Sanmin Road, has several cheap eats. My favorite is the shallow-fried "turnip cake" (菜頭粿) from vendor number 175. It's filling, but as walking from the market to the station takes around 15 minutes, those are calories you'll soon burn.
Steven Crook has been writing about travel, culture, and business in Taiwan since 1996. Having recently co-authored A Culinary History of Taipei: Beyond Pork and Ponlai, he is now updating Taiwan: The Bradt Travel Guide.
Publication Notes
IF YOU GO
Getting there Thanks to the Puyuma Express train that links Taipei with southern Taiwan, from the capital it's now possible to reach central Taichung in less than one hour and 40 minutes. From Taipei, the high-speed (HSR) train takes around 47 minutes to reach Taichung, but getting into the downtown means walking from the HSR station to Xinwuri Station (allow at least eight minutes), then waiting for a northbound local train. Xinwuri to Taichung main station takes 12 minutes.
Comments will be moderated. Keep comments relevant to the article. Remarks containing abusive and obscene language, personal attacks of any kind or promotion will be removed and the user banned. Final decision will be at the discretion of the Taipei Times.