Migrant workers honored for their contributions to Taiwan
From sharing culture to picking up trash to fighting for labor rights, 10 migrant workers were honored on Sunday at the inaugural 'Migrant Stars' award ceremony
Pindy was saddened to hear Taiwanese denouncing events at Taipei Main Station held by Indonesians. Not only did they complain of congestion, but many comments were directed those who left trash behind.
In March, the Indonesian caregiver shared her thoughts on Facebook and asked if any of her compatriots would like to help clean up Taichung's Central District (中區). To her surprise, 40 people showed up. Despite initially drawing stares and negative comments due to the stereotype of Indonesians being unsanitary, the community eventually accepted them after months of hard work.
"Some of us indeed do bad things, but their actions are often magnified," Pindy says. "And many people are doing good things, but they are seldom discussed."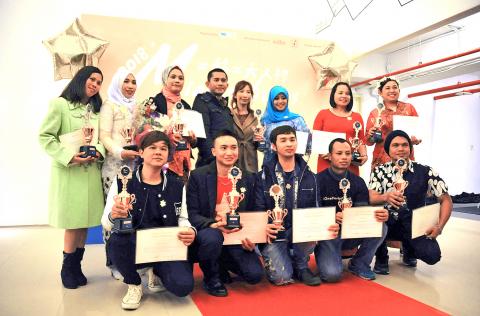 This year's Migrant Stars and Migrant Star Role Models pose for a photo after the inaugural Migrant Stars award ceremony on Sunday.
Photo: Han Cheung, Taipei Times
One-Forty, a nonprofit dedicated to providing skills training to migrant workers and facilitating intercultural understanding, is trying to change that. Pindy was one of 10 Southeast Asians honored at the first Migrant Stars Award Ceremony on Sunday, a joint effort between One-Forty and similar organizations in Hong Kong and Singapore. The opening video set the tone, with domestic caregivers from throughout the country discussing their passions, whether it be baking, painting or fashion, and dreams beyond the long hours they work.
One-Forty cofounder Kevin Chen (陳凱翔) says that the awards have two purposes: to help people see the migrant workers in a different light and to empower migrant workers to become more active in their community. The categories include talent, community leadership, education and social care.
"It's a shame that we're the only ones who know about many of the inspiring things that they do," he says. "There's so much that deserves to be shared."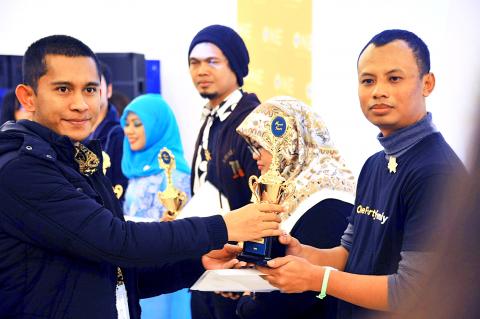 Halim, right, poses for a photo after accepting his Migrant Star Role Model trophy.
Photo: Han Cheung, Taipei Times
CLEANING UP TAIWAN
Chen and his team have heard many moving tales from the 400 or so students that have passed through One-Forty since its inception in 2015, and he hopes to uncover more from the 680,000 Southeast Asian migrant workers that are currently in Taiwan.
Before the Migrant Stars were honored on Sunday, 10 current and former students also received trophies as Migrant Stars Role Models. A video spotlighted Halim, a curtain factory worker from Indonesia who, in addition to being an avid hiker, has spent time cleaning up Taiwan's mountains and beaches. After attending a recent event at Taipei 101, he and a group of Indonesian friends went to Elephant Mountain (象山) to pick up cigarette butts. They have also done cleanups at Laomei Park (老梅綠石槽) and recycled fallen sky lanterns near Pingxi (平溪).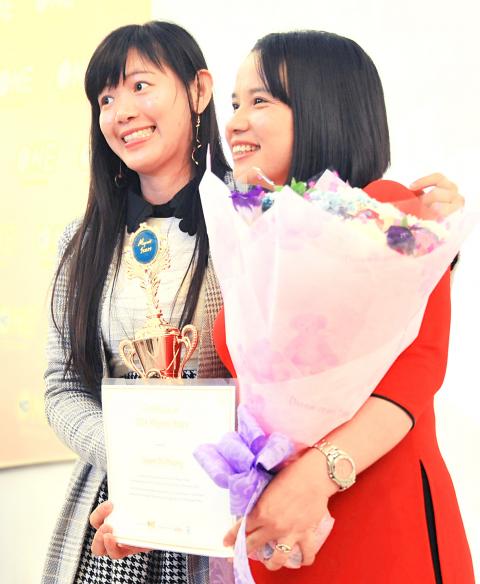 Nguyen Thi Phuong, right, poses for a photo after receiving her Migrant Star trophy.
Photo: Han Cheung, Taipei Times
However, it wasn't always easy. At first, Halim and his friends would often receive strange looks from Taiwanese, some of whom even made fun of them, as Pindy also experienced.
"Some of our group speak poor Chinese so they couldn't explain what they were doing," he says. "But I told them, we can't stop just because of some hurtful comments. Eventually our efforts were picked up by the news... Now people thank us."
Pindy says Taiwanese treat migrant workers much better today than when she first arrived about 12 years ago. Much of the poor treatment experienced by migrant works stems from a lack of cultural understanding. For example, some employers would forbid them to pray, while others would serve them pork. Brokers warned them never to speak out.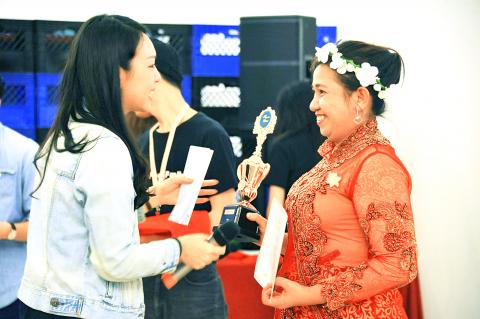 Dessy Riana, right, receives her Migrant Star trophy from One-Forty cofounder Sophie Wu.
Photo: Han Cheung, Taipei Times
"I barely had any time off because the boss thought we would get up to no good if we had free time," she says. "So I wanted show Taiwan that this is not true."
After finally getting regular time off, Pindy started putting on events to promote Indonesian culture, and encouraged others to learn Mandarin. She also developed a passion for making dough figurines, a skill she learned from an artisan whose mother shared the same hospital room as the person she looked after. Her Indonesian-style creations were exhibited in Taichung last year.
"Yes, we're here in Taiwan to make money, but we're also here to live," Pindy says. "We want to take care of Taiwan too. I tell people, 'You don't need to wait until you return to Indonesia to start volunteering.'"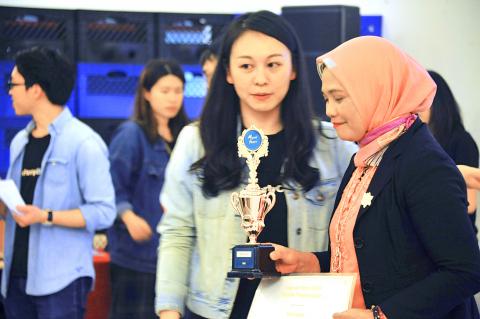 Tantri Sakhina, right, accepts her Migrant Star trophy from One-Forty cofounder Sophia Wu.
Photo: Han Cheung, Taipei Times
NEWSMAKERS
Three of the 10 Migrant Stars have been featured in the Taipei Times before. Filipino factory worker Melinda Babaran [Celebrating migrant voices, Oct. 3, 2018] was honored at the Taiwan Literature Awards for Migrants in September for her poignant short story that described her tumultuous relationship with her father because of her homosexuality. Tantri Sakhina [How to grow a community in under a year, Nov. 9, 2016] is the co-founder of the "mobile library," which appears every Sunday at Taipei Main Station. She also spends her days off helping fellow migrants who have run into problems, including abuse. Haris [Southbound rock policy, Sept. 20, 2018] is a singer-songwriter who rocked the stage at this year's Daniel Pearl World Music Day with his band, Relix and Fresh.
Others have also made headlines in the Chinese language media, such as Nguyen Thi Phuong, who was named a Kaohsiung City Model Migrant Worker (模範勞工) in April. Nguyen arrived in Taiwan with little education, but due to communication difficulties with her employer — even running away at one point — she started learning Chinese on her own, one word in the morning and one at night, she says.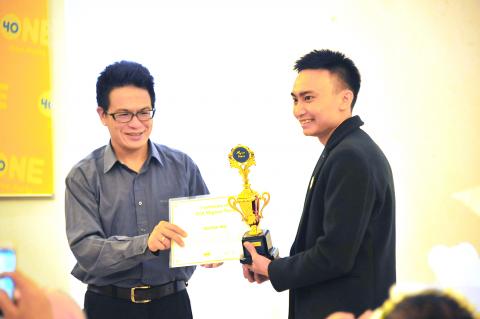 Bui Khac Hua, right, receives his Migrant Star trophy from Lennon Wong, labor activist and director of the Serve the People Association.
Photo: Han Cheung, Taipei Times
Today, she translates during educational events for other Vietnamese caregivers at Kaohsiung Veterans General Hospital's Home Care Office, and uses her language skills to help other migrant workers in need.
Nguyen also became involved with Jenay Angels (臻愛天使), a nonprofit that provides support to disadvantaged children, single parents, women and new immigrants — donating her prize money to the organization despite her financial struggles.
"I can still work, but many of them can't," she says.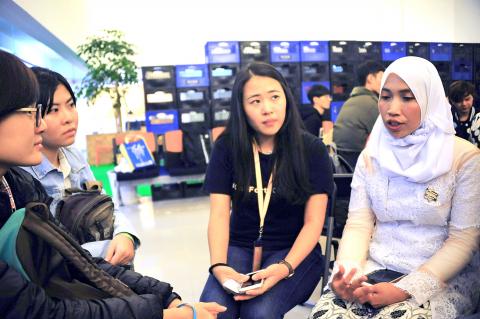 Pindy, right, shares her experiences with Taiwanese attendees at One-Forty's inaugural Migrant Stars award ceremony on Sunday.
Photo: Han Cheung, Taipei Times
Bui Khac Hoa, meanwhile, is a Vietnamese factory worker who in September won top place in Dream Warrior (夢想勇士), a contest for new immigrants and migrant workers sponsored by the Taoyuan Department of Cultural Affairs.
Bui hopes to use the NT$8,000 he received to further his Mandarin studies as well as get better at cooking Taiwanese food so he can teach people back home. Bui enjoys spending his free time teaching Taiwanese how to cook Vietnamese food, and also serves as translator and consultant for various migrant worker groups.
"It's really important to learn Chinese so I can communicate with locals here," he says in Mandarin. "People who are unfamiliar with migrant workers often think we're bad people who steal and fight and are only interested in making money. I want to do more than just work and sleep. I want to help more Taiwanese understand us."
And Francia Balderama, a labor activist with the National Home-based Workers Union and Migrante International and formerly abused worker, has one simple dream: for domestic caretakers to be included in the Labor Standards Act. She dedicated her award to her two children, who are still in the Philippines.
"My father is asking me, 'What are you doing there, why do you receive an award?'" she laughs. "I'm so proud that the first time I got an award, it's here in Taiwan."
Comments will be moderated. Keep comments relevant to the article. Remarks containing abusive and obscene language, personal attacks of any kind or promotion will be removed and the user banned. Final decision will be at the discretion of the Taipei Times.