Reflections of times gone by, and reminders of the present
Cloud Gate Dance Theatre's '45th Anniversary Gala Program' is a stunning reminder of what makes the dance company so great
The National Theater complex was the place to be last weekend for two beautiful shows, the simplicity of which belied their hidden strengths.
While there was never any doubt that Cloud Gate Dance Theatre's (雲門舞集) 45th Anniversary Gala Program was going to be a hit with audiences, it was a still a little surprising just how satisfying the show was.
The program was a reminder that while many of artistic director Lin Hwai-min's (林懷民) works over the past two decades have been stunning visually through the use of video projections and other props, at the heart of his work is delicate sensitivity and quiet beauty that sometimes needs to be seen in isolation to be truly appreciated.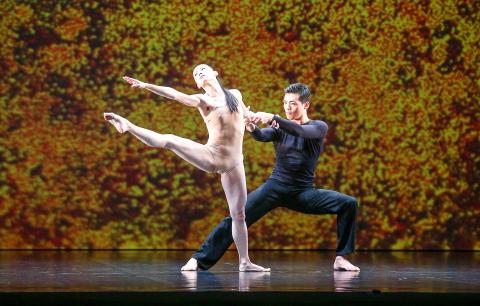 Huang Mei-ya and Huang Li-chieh perform Autumn Path from Lin Hwai-min's 2001 Bamboo Dream as part of the Cloud Gate Dance Theatre's 45th Anniversary Gala Program during a press photo call at the National Theater on Thursday last week.
Photo: CNA
Such is the case with the romantic and balletic Autumn Path duet from 2001's Bamboo Dream (竹夢), wonderfully danced by Huang Mei-ya (黃媺雅) and Huang Li-chieh (黃立捷), which moved several in the audience to tears, and the sensual Pollen duet from 2013's Rice (稻禾), danced by Tsai Ming-yuan (蔡銘元) and Huang Pei-hua (黃珮華), both of whom will be sorely missed after their retirement from the company, as well as other senior members who are stepping down.
Also delightful was seeing the six-dancer Sunlight segment from Rice, set against the beautiful backdrop of rippling rice stalks in Ethan Wang (王奕盛) video projections, a peaceful idyll that sharply ended by the firecracker visuals of Cai Guoqiang's (蔡國強) for the Black Angel scene from 2006's Wind Shadow (風.影).
The power of Lin's historical tributes to Taiwan was demonstrated by the White Dress segment from 1997's Portrait of the Families (家族合唱), with stark black and white photographs from the late 1940s and 1950s looming over the dancers.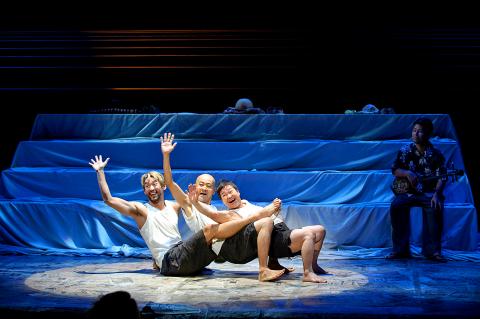 Chong Wishing's wordless play, Children of the Ocean, was a hit with audiences at the National Experimental Theater in Taipei last weekend.
Photo courtesy of Lim Young-hwan
The entire company was onstage for the finale from 2003's Pine Smoke (松煙), and the repeated curtain calls were proof that Friday night's audience did not want the evening to end.
Upstairs in the National Experimental Theater, Children of the Ocean (海的孩子們) was a poignant reminder of the universality of childhood games, the bonds of friendship and the horrors of war.
Korean-Japanese playwright and director Chong Wishing obviously has a way with words, given his track record of plays, films and television shows in Japan, but with Children of the Ocean he shows he is also a master of wordless fantasy.
With three extremely talented mime artist and actors — Fusayo Hashimoto, Hideshiro Suzuki and Lee Jun-young — plus occasional input from samisen player Etsuro Ono, Chong was able to remind the audience of the fun, the fights and the meltdowns of childhood, whether playing with your best friends or siblings.
There were disputes over a paper hat, playing dress-up, a fly interrupting a picnic — which necessitated a giant flyswatter — a great game of ping-pong with the bald-headed Suzuki as the ball. When the trio played soldiers, including fake wounds that led to such gory details as twirling a spilled length of intestines like a jump rope or makeshift brain surgery using scoops of sand to fill in missing brain matter, the action was much easier to deal when there was actually no gore.
It was all lighthearted, with plenty of interaction with the audience, right up until the game of soldiers turned deadly real, Chong's reference to the Battle of Okinawa and the island's Suicide Cliffs, which brought to mind my mother's — and I'm sure moms everywhere — caution: "It's fun up until someone gets hurt."
The coda was a lovely scene of the three friends all grown up, a ramen shop owner, a dentist and a fishmonger, who do not recognize each other at first, but are thrilled when they finally do.
Children of the Ocean was a great pick for the National Theater Concert Hall's ninth International Theatre Festival.
Comments will be moderated. Keep comments relevant to the article. Remarks containing abusive and obscene language, personal attacks of any kind or promotion will be removed and the user banned. Final decision will be at the discretion of the Taipei Times.