Art exhibition listings
There are only two days left for In the Matter of Color, a group exhibition by four Italian painters who have been active since the 1950s. The gallery ties the four disparate practices together by a central theme of color, describing their use of chromatics as "an identity and primary element" that has been cultivated throughout their careers. Color, according to curator Matteo Galbiati, is a tool of resistance that the artists use to "launch [themselves] into an autonomous independence [from academicism]." Through color analysis, interpretation and translation, the four artists present recent works that continue their pursuit of contemporaneity. Natale Addamiano's I Cieli stellati, literally translated as "the starry skies," is a series of abstract paintings of misty, layered atmospheres that resonate with a traditional sense of romanticism. Alberto Biasi's Agli estremi depicts an interplay of three rectangular forms that continue the artist's engagement with Programmed Art, an Italian art movement sparked by interests in technology and art. Turi Simeti's oval paintings create distinct optical effects by manipulating the physicality of the painting surface. Pino Pinelli's Pittura G is a yellow monochromatic painting that explores the tactility and form of color.
■ White Stone Gallery (白石畫廊), 1, Jihu Rd, Taipei (台北市基湖路1號), tel: (02) 8751-1183. Open Tuesdays to Sundays from 11am to 9pm
■ Until Sunday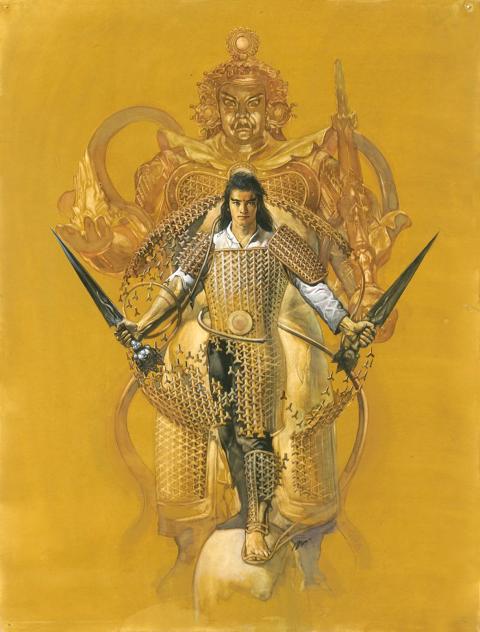 Chen Uen, from the series Abi-Sword.
Photo Courtesy of Chen Uen Studio
Indifferent Idols, currently on view at Taipei Contemporary Art Center, is a process-based exhibition that evolves over the course of two weeks. Organized by Singaporean writer and curator Wong Bing-hao (黃炳豪), the show is the first iteration in a long-term curatorial and editorial project called Indifferent Idols. The project regularly features thinkers and creators who address the concept of difference in the context of body, identity and representation. Through exhibitions, events and publications, the project "proposes a sobering indifference to the recent unexamined and excessive idolization of identity and cultural difference," writes Wong. The Taipei exhibition presents the work of Victoria Sin, a London-based artist who explores ideas of "desire, identification and objectification within performance, moving image and writing," writes Wong. Sin often engages with fictional narratives inspired by personal experiences and encounters. A selection of her works will be on view both at the art space and its Instagram feed, while a performance by Sin is scheduled for tomorrow. The show is part of a series of two week exhibitions centered around the space's theme for this year, "Art Lab," which explores the potential of performativity, narrative and multiple ways of seeing.
■ Taipei Contemporary Art Center (台北當代藝術中心), 11, Ln 49, Baoan St, Taipei City (台北市保安街49巷11號), tel: (02) 8501-2138. Open Tuesdays to Sundays from 1pm to 7pm
■ Until July 1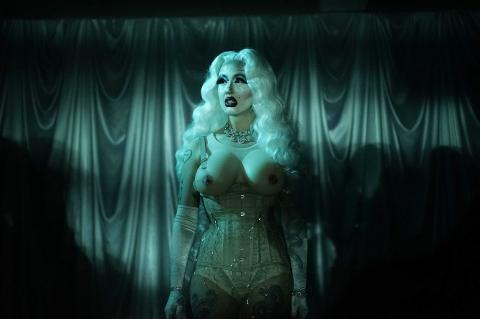 Victoria Sin ft Whiskey Chow and Shy One, A View From Elsewhere (2018).
Photo by Anne Tetzlaff
Ikuhana Niiro is a popular adult anime artist who has in the past three years gained a rapid following through his regular contributions to Japanese adult comic magazines. Niiro's drawings elaborate on the world of heterosexual desires, erotica and intimate psychological dynamics. He often creates complex characters involved in mundane and relatable daily events. Works from his recently published monograph Ikunichi is on view at d/art Taipei. The gallery's press release quotes Taiwanese writer Vannzi, who describes Niiro's cartoons as poignant illustrations of loneliness. Loneliness, according to Vaanzi, is an emotional response to one's surrounding environment and social circle. "To have your love unrequited, to be forgotten by colleagues or to be complained by one's family, [are situations] that produce loneliness," writes Vaanzi. The Taipei exhibition features several female characters with disparate personalities. The furious, the shy, rebellious or the lively—these temperaments construct different imaginations of the female from a heterosexual male standpoint. This weekend, the artist himself will be present for a book signing and illustration workshop, which requires prior registration. Niiro's monograph Ikunichi is also available for purchase at the gallery. This exhibition is open to visitors aged 18 and above.
■ d/art Taipei, 2F, 14 Wuchang St Sec 2, Taipei City (台北市武昌街二段14號2F), tel: (02) 2383-0060. Open Tuesdays to Sundays from 1pm to 10pm
■ Until July 15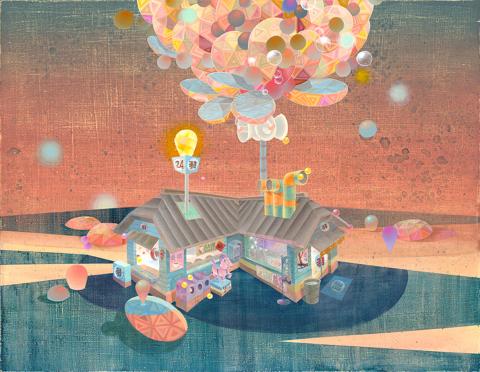 Huang Po-hsun, Shining Days (2018).
Photo Courtesy of Gaiart
Huang Po-hsun (黃柏勳) is a Taiwanese artist whose paintings are characterized by decorative forms, imaginative narratives and a pictorial flatness. Art writer Chen Kuang-yi (陳貺怡) ascribes influences of Japanese otaku culture to his distinct aesthetics, although Huang has not explicitly spoken of such references. According to Chen, Huang began his artistic career in a time when Taiwanese popular culture was influenced by comics, anime, toys, video games and movies. "The pink, sweet, fluorescent colors and the special shapes in his paintings are like the [special qualities] presented in anime, comic [and video] games," writes Chen in a preface to Huang's solo exhibition, Silent Dateline, presented at Gaiart. The show features a selection of new works on canvas that reveal Huang's endeavors for a heightened sense of decoration. His new paintings draw elements from the 18th century Japanese painting and print style Ukiyo-e, patterns from Japanese craft paper, as well as organic form from natural life. Silent Dateline depicts an abstract landscape of geometrical shapes against a background of clouds and a dark, ultramarine sea. Shining Days, meanwhile, features two toy-like stores overcast by a cluster of pink diamond shapes.
■ Gaiart ?藝術), 9-4, Pucheng St, Taipei City (台北市浦城街9之4號), tel: (02) 2363-2000. Open Tuesdays to Sundays from 1:30pm to 7pm.
■ Until July 22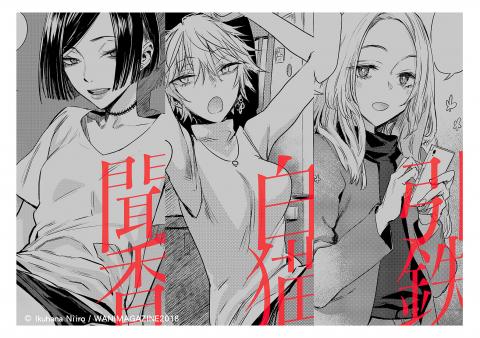 Ikuhana Niiro, 007 (2018).
Photo Courtesy of d/art Taipei
The National Palace Museum presents The Legacy of Chen Uen-Art Life and Philosophy, a retrospective of the late Taiwanese cartoonist Chen Uen (鄭問) who passed away last year. Chen began creating cartoons in the late 70s and rose to gradual fame in the mid 80s. He became the first internationally known Taiwanese cartoonist who received numerous international awards and critical praise, especially in Hong Kong and Japan. In his lifetime, Chen taught many cartoonists and game artists who have become active members of the animation industry. Chen's distinct style draws upon both Chinese and Western drawing techniques. Incorporating skills from Chinese ink painting with Western acrylic painting, Chen produced unusually detailed and dramatic compositions, seeking to generate a new aesthetic for comics. His narratives are often inspired by historical events, legends and fictional tales. The museum retrospective features a rich selection of Chen's original drawings and illustrations, character sketches, storyboards, handcrafted models, sculptures and documentaries about Chen's craft. Chen Uen's Three Kingdom is a series of over 100 original sketches for the Japanese video game company GameArts.
■ National Palace Museum (國立故宮博物院), 221 Zhishan Rd Sec 2, Taipei City (台北市至善路二段221號), tel: (02) 2881-2021. Open daily from 8:30am to 6:30pm; closes at 9pm on Fridays and Saturdays
■ Until Sept. 17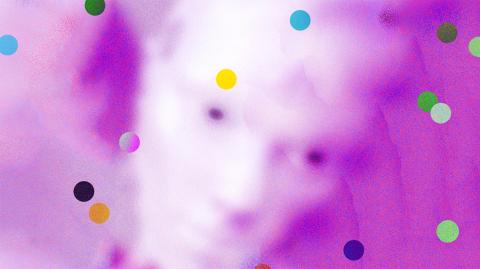 Vanessa Ban, Image for Indifferent Idols, (2018).
Photo Courtesy of Taipei Contemporary Art Center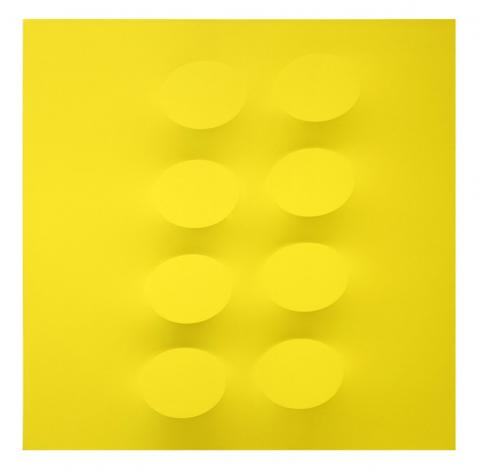 Pino Pinelli, Pittura G (2005).
Photo Courtesy of White Stone Gallery
Comments will be moderated. Keep comments relevant to the article. Remarks containing abusive and obscene language, personal attacks of any kind or promotion will be removed and the user banned. Final decision will be at the discretion of the Taipei Times.