Taiwan in Time: After 228: The governor-general's last days
Chen Yi, who was governor general of Taiwan during the 228 Incident, was given another chance with his appointment as governor of Zhejiang Province — but his actions there led to him being dragged back to Taiwan and executed in 1950
June 18 to June 24
Neatly clad in a suit and tie, Chen Yi (陳儀) appears calm as the military judge in Taipei says "[t]he President has personally ordered your execution. Do you have anything to say?"
The signal is given, and Chen walks forward before two bullets strike him in his back. He collapses, but is still breathing. The executioner walks over and delivers the fatal shot. On June 18, 1950, Chen died in the place where his name would forever be tied to in history. He remains the highest-ranking military officer executed by the Chinese Nationalist Party (KMT).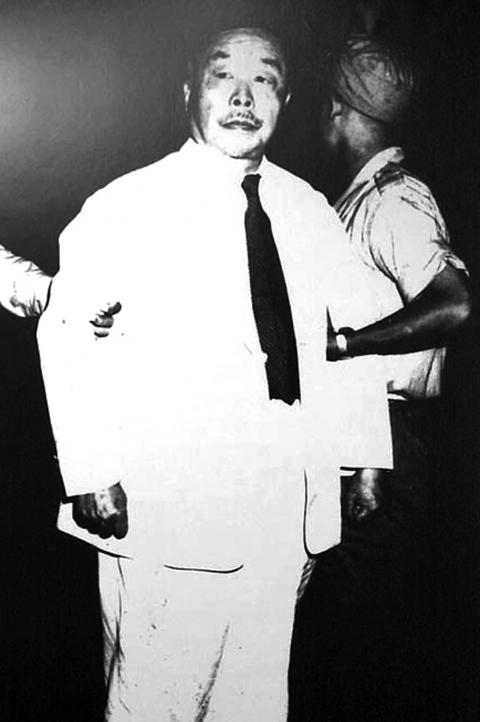 Former Taiwan governor-general Chen Yi is pictured just before his execution on June 18, 1950.
Photo courtesy of National Central Library
"My body may die but my spirit will live on," Chen is recorded to have said after his sentencing. "My death will be for our citizens; my blood will inspire the young people of Taiwan; my blood will wash away these stubborn cliques. I don't have any will; just cremate me after I'm dead."
'ONCE-A-GENERATION VILLAIN'
Chen's execution ran as the top story on the front page of the state-run Central Daily News (中央日報) for two straight days. The story, "Colluding with communist bandits and plotting rebellion, the traitorous Chen Yi is executed today," was printed on June 18, and on June 19 the paper (and several others) ran a follow-up story complete with graphic photos of the execution. Even his cremation was mocked, with the paper writing, "this once-a-generation villain should be reduced to ashes within the next eight hours."

The state-run Central Daily News ran the headline, "Colluding with communist bandits and plotting rebellion, the traitorous Chen Yi is executed today" on June 18, 1950.
Photo courtesy of National Central Library
The initial report was less than kind, as it even bashes Chen's early days: "Chen began his career with the [Chinese] warlords, but he was an opportunistic man and left them to join the KMT revolutionaries. Our government decided to overlook his past and treated him well, hoping that he could turn a new leaf and devote himself to our cause. He enjoyed his status as high-ranking official for most of his life, but who would have thought that his brain was still full of bureaucratic warlord ideals?"
"His rule of Taiwan was reckless and ill-advised, and at the moment of crisis for our country, he was only looking out for himself. He has no understanding of our revolutionary spirit, and had absolutely no confidence in our battle against the communist bandits," the Central Daily News wrote.
Chen is an often vilified figure as he was presiding over Taiwan when the 228 Incident, an anti-government uprising that was violently suppressed, broke out on Feb. 28, 1947, although his exact role in the incident is still debated. However, he was also known for his unwavering patriotism toward the Republic of China, idealistic political views and loyalty to the KMT. So what did he do to earn the wrath of Chiang Kai-shek (蔣介石)?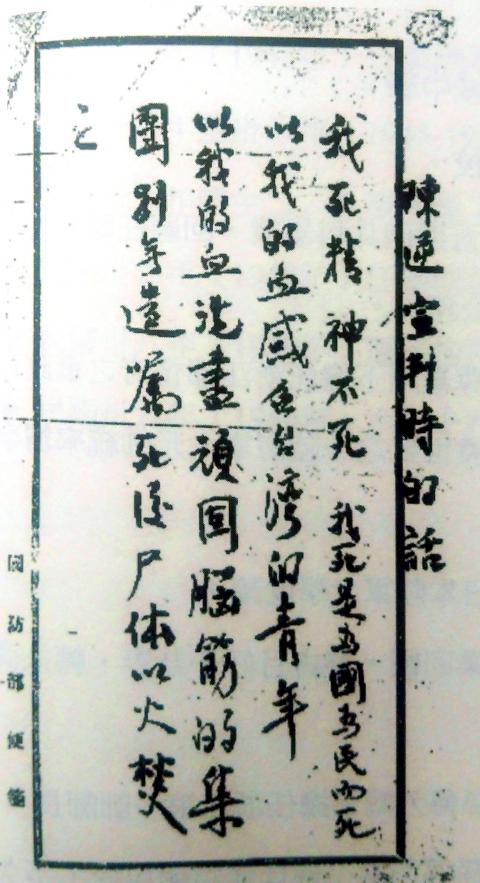 This paper is a record of Chen Yi's response to being sentenced to death in June 1950. In it, he says: "Even if I die, my spirit will live on."
Photo courtesy of National Central Library
After the 228 Incident, international pressure, especially from the US, called for Chiang to dismiss Chen, who resigned from his post on March 18, 1947. Chiang not only lamented Chen's departure, but assigned him another post as provincial governor of his native Zhejiang Province, where the Chinese Civil War was still raging on. However, Chiang's diary shows otherwise — he was furious about Chen's mishandling of the event.
The Central Daily News article accuses Chen of betraying the KMT forces in Beijing, Shanghai and Hangzhou and surrendering to the advancing People's Liberation Army troops in the winter of 1948, allowing them to cross the Yangtze River the following year. It listed three major pieces of evidence to Chen's betrayal, including letters he wrote to his subordinates that included various terms of surrender.
The second-page editorial in the same edition, "The fate of the treasonous," goes into more detail, stating that Chen tried to persuade general Tang Enbo (湯恩伯) to regionally surrender to the communists, but Tang instead apprehended Chen and escorted him to Taiwan for a year-long investigation.
"Chen has committed the most heinous crime and more than deserves to die," the editorial states. "We believe that the decision by the highest military court is justified."
PEACE SEEKER?
"Everything I did was for the troops and civilians of Beijing, Shanghai and Hangzhou," Chen is reported to have said right before his execution. What did he mean?
There are two books that attempt to tell Chen's story from a more balanced, or even favorable perspective, examining his entire life and career and what led to his downfall: The True Face of Chen Yi (陳儀本來的面目) by Chen Chao-hsi (陳兆熙) and An Elegy for Chen Yi:Giving His All for His Ideas (陳儀: 為理想一生懸命的悲歌) by Wang Chih-hsiang (王之湘).
Wang writes that upon his return to China, Chen realized that the outcome of the war was pretty much determined and that engaging further would only harm the people of his homeland.
"Chen believed that he needed to restore order to the masses, which indicates that he opposed the war and sought peace. For Chiang, however, that would mean handing the entire country to the enemy. There was no room for peace in his eyes," Wang writes.
When Chiang temporarily stepped down temporarily during peace talks with the communists in January 1949, Chen wrote a letter to Tang informing him his plans to maintain "regional peace," including releasing prisoners of war and halting the army's advance, but Tang turned these in to Chiang's agents, and Chen was relieved from his post and placed under house arrest.
Chen was detained for over a year, eventually being transferred to Taiwan in April 1949. His old friends urged him to apologize to Chiang but Chen refused, denying any wrongdoing. Even Tang begged Chiang to spare Chen's life.
Chen Chao-hsi confirms Wang's claims, that as a career military man Chen knew about the devastation of war and wanted to spare his people from further suffering. In a letter written to his daughter, Chen Yi states that he was too old to have any personal ambition and he approached the communists solely so that she — and other young people — in China would have a chance for a better life.
Chen Chao-hsi adds that Chiang did not want to execute Chen Yi, but that with everything going wrong for the KMT, Chiang needed to kill someone of Chen's stature to make a statement. He adds that Chiang may also have executed Chen to pacify the Taiwanese, who still deeply mistrusted the KMT due to the 228 Incident. Thus, the execution would be killing two birds with one stone.
"Also, Chen Yi never admitted his wrongdoings to Chiang, so Chiang finally had him killed," Chen Chao-hsi concludes.
An untitled poem by Chen Yi aptly sums up his fate: "My life and career has been full of tragedy, how will I be seen in the cycle of history?"
Taiwan in Time, a column about Taiwan's history that is published every Sunday, spotlights important or interesting events around the nation that have anniversaries this week.
Comments will be moderated. Keep comments relevant to the article. Remarks containing abusive and obscene language, personal attacks of any kind or promotion will be removed and the user banned. Final decision will be at the discretion of the Taipei Times.