Movie Review: Little Forest
This South Korean drama about a young woman who moves to the countryside from the city is a feel-good foodie flick about the simpler pleasures in life
In Little Forest, a young woman moves back to her childhood farming village in the countryside to escape the hardships and disappointments of city life. Even though it doesn't offer any surprises, this slice-of-life drama by South Korean director Yim Soon-rye is an endearing and understated celebration of nature, food, friendship and family.
The film's protagonist is Hye-won (Kim Tae-ri), a 20-something-year-old who aspires to be a teacher. She has just failed her teaching certification exam in Seoul, works a deadbeat part-time job at a convenience store and is on rocky terms with her boyfriend. Disenchanted and exhausted, she decides to return to her farming roots in the countryside, inhabiting her old, empty house which her mother (Moon So-ri) left behind after mysteriously vanishing years ago. Besides having a pet dog named Ogu for company, Hye-won reconnects with two childhood friends, fruits and vegetables farmer Jae-ha (Ryu Jun-yeol) and Eun-sook (Jin Ki-joo), who work in a nearby town as a bank teller.
Little Forest plays out in a slow, unhurried pace that beckons audiences to focus on the journey instead of the destination. It falls right into the mould of your typical, feel-good cinematic fare, but the film proves that a threadbare plot can still be effective with stellar execution. While the narrative mostly revolves around Hye-won re-adjusting to the country life, this is a small film with a very big heart, thanks to Yim's meticulous direction and attention paid to the finest details.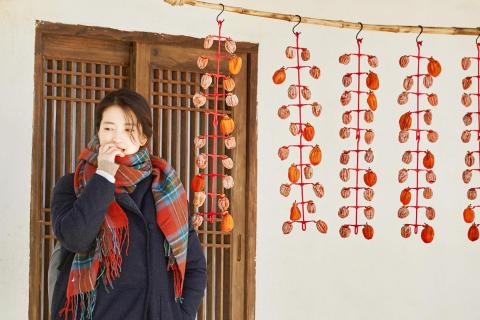 Kim Tae-ri plays Hye-won, a young jaded woman who moves back to her home in the countryside after growing tired of the city life.
Photo courtesy of Far East Film
Not only does the film's four-act structure chronicle the changing of the seasons with vivid aesthetics, the climate transitions and growth of crops symbolically parallel Hye-won's own year-long emotional renewal. In the opening scenes she begins rebuilding her life with uncertainty in a sparse, cold wintry environment; only in summer does she begin to reap the fruits of her labor with a plentiful harvest.
Audiences should be warned not to watch the film on an empty stomach — much of Little Forest is dedicated to attractive cooking scenes which demonstrate the redemptive power of homecooked comfort food. "I came back because I'm hungry," quips Hye-won, lamenting how the instant convenience store meals in the city never filled her up.
Yim films these foodie scenes with tender, loving care: extended close-ups — including some Instagram-worthy flat lays — intricately detail the step-by-step process in preparing a spread of cuisines. Hye-won uses fresh ingredients from the natural environment to create Korean dishes such as kimchi sujebi (hand torn noodle soup) and makgeolli (rice wine), as well as edible plant items like fried acacia flower fritters.
Kim Tae-ri, far right, plays Hye-won, a young jaded woman who reconnects with her childhood friends, Ryu Jun-yeol, left, and Jin Ki-joo, center, after moving back to the countryside.
Photo courtesy of Far East
It's an assault of the senses all around: there's something strangely therapeutic about watching (and listening to) Hye-won knead chewy dough, squelch rice grains in a bowl and delicately assemble layers of coloured flour to create a red bean steamed rice cake.
But far from being an indulgent display of food porn, cooking also serves as a conduit for our protagonist to revisit her past shared memories with her enigmatic mother, who passed down her boundless recipes and love for cooking to her. Veteran actress Moon as the absent matriarch appears in recurring flashbacks that offer glimpses of their sweet, bickering mother-daughter relationship, which also ultimately forms the emotional core of Little Forest.
Kim Tae-ri, who was last seen in political thriller 1987: When the Day Comes, is an absolute delight as the hardy, stubborn Hye-won determined to overcome the trials and tribulations in her life. Having a young actress carry an entire film is no mean feat, but Kim does it easily with her naturally likeable screen presence, managing to remain engaging onscreen even when she's just shovelling snow off a driveway.
Popular actor Ryu Jun-yeol and newcomer Jin Ki-joo also deliver as her best friends, with the trio exuding winning chemistry as they squabble over jugs of milky-white makgeolli and candlelit bentos by the river.
"When things are hard, remember the scent of the sun, wind and rain," muses Hye-won's mother in a handwritten letter. With plenty of escapist appeal, Little Forest no doubt romanticizes the countryside as a rich, rural idyll where problems are easily solved, conveniently bypassing the share of difficulties faced by the farming community too.
Still, there's something to be learned from the film's humble appreciation of the simpler, tiny pleasures in life, be it staring out of a window listening to the sound of raindrops, fishing in the river bank in the dead of the night, or relishing the taste of dried persimmons in winter. It's a much-needed reminder for all of us to stop and smell the roses every once in a while.
Publication Notes
Film Notes
LITTLE FOREST DIRECTED BY:Yim Soon-rye STARRING:Kim Tae-ri, Ryu Jun-yeol, Jin Ki-joo, Moon So-ri RUNNING TIME:103 Minutes TAIWAN RELEASE:Tomorrow
Comments will be moderated. Keep comments relevant to the article. Remarks containing abusive and obscene language, personal attacks of any kind or promotion will be removed and the user banned. Final decision will be at the discretion of the Taipei Times.