Groove for light
In the lead up to Urban Nomad Opening Freakout, which takes place this weekend at Taipei's Tiger Mountain, Angelo Moore talks to the 'Taipei Times' about music, his new band and the US president
There's a moment in the new Netflix documentary series, The Defiant Ones, about the rise of producer/record company guru Jimmy Iovine and rap icon Dr Dre, when Dre's band mate in World Class Wreckin' Cru, Alonzo Williams, describes the first time he laid a new school beat over an old school R&B jam at his Compton club, Eve After Dark.
On the decks one night, Dre mashed up Please Mr Postman by the Marvelettes and the 122 BPM cut off the B side of Jive Rhythm Trax by Willesden Dodgers.
"People was still groovin,' they was groovin' confused though," Williams says.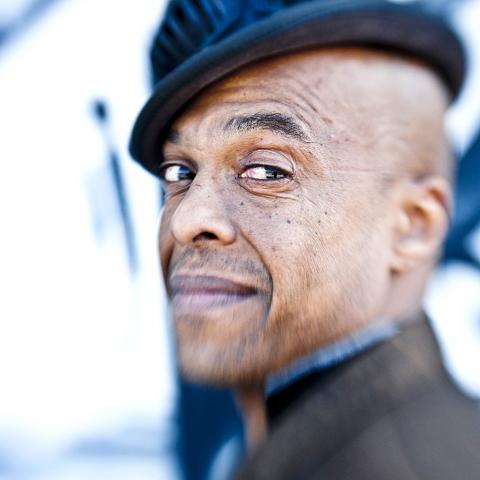 Over a long and storied career, Angelo Moore has mastered the art of melding varied musical styles. He will perform on Sunday as part of the Urban Nomad Opening Freakout at Tiger Mountain.
Photo courtesy of ZonaFoto
Confusion often comes with innovation. Dre and Iovine were innovators. Studio warriors who fought through trial, error, self-doubt and strife to find their place in the music universe. It was never easy. But this eventually made both of them very famous and very rich men.
There's a poem by another whose name deserves mention with the likes of these great innovators of 20th and 21st century music; another man who made people "groovin' confused." That poem is Famous But Not Rich, and the musician, icon, writer and poet is Angelo Moore, who will perform in Taipei this weekend as part of the Urban Nomad Opening Freakout (遊牧影展怪奇音樂祭) music festival at Tiger Mountain.
In that poem the singer and sax player of mad seminal fusion tribe, Fishbone, Dr Madd Vibe and the Missing Links, and most recently Angelo Moore and the Brand New Step, waxes lyrical on the often uneven dichotomy of wealth and fame.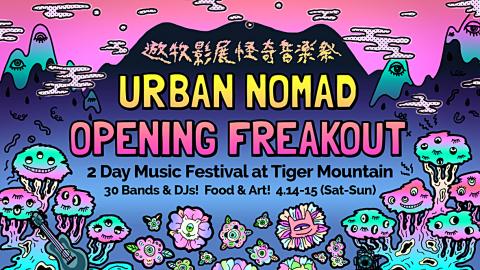 Urban Nomad.
I live the lifestyle of the famous but not rich
This road to stardom is one big grand illusion
Lights, camera, action and without a lot of chips
Sometimes I wonder what the hell I'm doing
What Moore and his various bands over the years have been doing is the same thing most anyone who changed the game has done — taking the old and making it new. Moore as alter ego Dr Madd Vibe as Dr Frankenstein, putting all the parts together in the lab.
With Fishbone, Moore and what is perhaps the tightest group of performers since the Miles Davis Quintet, walked the razor's edge between funk, punk, reggae and ska. Fans didn't know whether to dance or mosh and stage dive — so they just did it all. The band did it right along with them.
Now, with the Brand New Step, Moore is back to his old tricks. This time he and a rotating cast of California's finest — a killer's row of live and studio musicians plucked from the ranks of bands like The Coup and Thievery Corporation — along with the Bay Area production team the Rondo Brothers, combine funk, soul, jazz, avant garde and pop with electronic dance music.
ANGELO MOORE IN TAIPEI
Angelo Moore and the Brand New Step are set to make their debut outside the US in Taipei on Sunday, playing the Urban Nomad Opening Freakout alongside acts such as Tokyo garage band The Minnesota Voodoo Men and hard rocking Japanese funksters Walkings, as well as local favorites like pop punk power quartet Destroyers (擊沈女孩), high-energy ska ensemble Funky Brothers (放客兄弟) and southern simian punk rockers Ape Apocalypse (末日之猩).
In addition to two stages' worth of bands and DJs spread out over the weekend, a third Circus Stage will feature burlesque, contortionists, fire breathers, jugglers and stilt walkers.
Moore himself has been all over the world with his music, but this will be his first visit to Taiwan.
"I am excited. I'm always excited," says Moore of his first foray to these shores, on the phone from Los Angeles, in between meetings as the Brand New Step preps the release of new music through Ropeadope Records later this year.
"[W]e didn't name it [the Brand New Step] for nothing, man, because it is presenting me with new possibilities to expand my territory as far as being a touring artist and musician," Moore says.
In Moore's younger days with Fishbone shows could take on a wild and at times violent nature. A middle-aged New Jersey woman sued the band, the venue and their booking agent for US$1.4 million for injuries she claimed to have sustained at one of the band's shows in 2010.
Moore, who in a recent documentary on Fishbone was revealed to still live with his mother, pleaded poverty in a crowdfunding campaign to cover the band's legal fees in the drawn-out case.
Now in his early fifties, with many a stage dive behind him, Moore takes a slightly more measured approach to the live performance with the Brand New Step — a new way of doing things that comes along with the expanded humility and knowledge of advancing years.
"Yeah, I look at things different man. Shit. I was born November 5th, 1965. I'm 52 years old. I still feel young at heart, which is the most important thing," he says earnestly, voice wavering between the bombast of the showman and the thoughtfulness of the sage.
"But, you know, you always have to watch your step a little more than you did before. But I still get just as excited, and I get free-spirited and high-spirited when I'm playing my music."
When it comes to lyrical content, Moore has covered ground from horror films to making babies to politics with his bands. With the current social and political climate in his US being so divisive, its varied peoples caught up in the midst of an ongoing and escalating war at the intersection of class, culture and race, the question is how has the election of a certain megalomaniac reality television star to the highest office in the country affected his creative process?
MOORE TRUMP
Moore mentions a new track, slated for release in the summer, called Pendulum Swing, which contains the lyric "Pendulum swings from halos to nooses."
"America has elected a president,— I don't consider him my president — but [Donald] Trump inspired me to write these lyrics," says Moore. "You know, Trump is a big inspiration for a lot of people these days, and my perspective is it's not a positive inspiration," he adds.
"He's always got some shady shit going on. It would be funny as hell if it wasn't real life. I always give the analogy like, everybody likes to watch Godzilla. But nobody wants to see Godzilla step out of the TV into your living room. And that's what's happening with Donald Trump in office."
The conversation turns darkly political. Moore says Trump is bringing his country — a country built on the backs of his people, he emphasizes — back to the days of enslavement. It's understandable considering the dark times America is currently mired in, particularly for people of color such as Moore.
Still, the positive mental attitude of bands that inspired him — bands that would become contemporaries — is never far from his mind.
"If you put your music and your art first, and you write about some of these people, like that asshole in the White House," Moore says, raising up out of the muck of several minutes' worth of hashing out the worst of the situation, "you come up with some real good music and art. It could be a golden time for this, as far as creators."
No matter what the world may throw at him, and in spite of the fact that he might still be famous but not rich, Moore remains at heart a bearer of light and a seeker of truths found in intoxication and in sobriety. Neither corner the market on what is real. Each is simply part of the same puzzle where all the pieces may never reveal themselves. Music and art, they just help us find more of them.
"It's a lot of fun on The Brand New Step," he says as the conversation draws to a close on a high when it could so easily have remained focused on the negative, a microcosm of the way Moore has always managed to coax sunshine from the shadows.
"As a matter of fact, with the Brand New Step, I got some of the most positive batch of lyrics, more than I did with Fishbone or the Missing Link. It's the brightest I've ever got," he says.
Comments will be moderated. Keep comments relevant to the article. Remarks containing abusive and obscene language, personal attacks of any kind or promotion will be removed and the user banned. Final decision will be at the discretion of the Taipei Times.