Taiwan in Time: Life after the Wild Lily
The student protest in March 1990 was a pivotal moment in Taiwan's democracy movement, with many of its members still active in politics and activism
March 12 to March 18
Entering the 21st century, many believed that Taiwan would not see another student protest on the scale of the Wild Lily Student Movement (野百合學運) of March 1990.
"When I published Student Movement Generation (學運時代) in 2001, most people saw the Wild Lily Student Movement as something legendary, something that wouldn't happen again on such a large scale in democratized Taiwan," journalist Ho Jung-hsing (何榮幸) writes in the 2014 update to the book.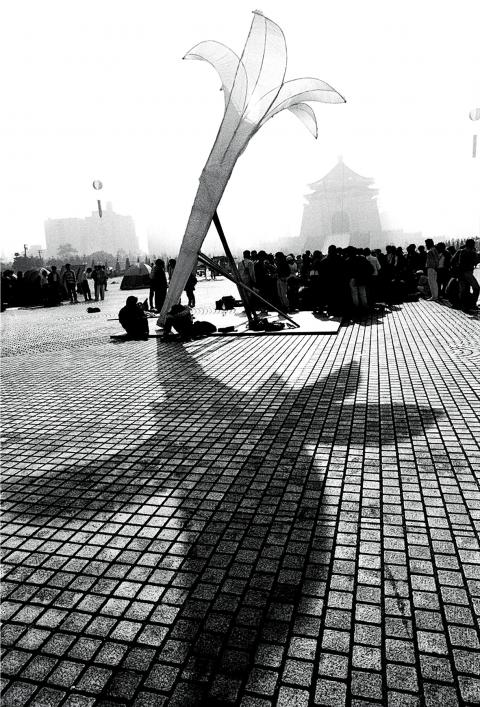 A sculpture of a lily flower was constructed at today's Liberty Square during the Wild Lily Student Movement of 1990.
Photo courtesy of Wikimedia Commons
Initiated by university students, thousands of protesters occupied today's Liberty Square from March 16 to March 22, 1990, calling for items such as the dissolution of the National Assembly (which had not held general elections since 1947), direct presidential elections and the lifting of the Temporary Provisions Effective During the Period of National Mobilization for Suppression of the Communist Rebellion (動員戡亂時期臨時條款), which greatly restricted civil and political freedoms.
Their demands were mostly met, and the event is seen today as a critical point in Taiwan's democratization process. But Ho was pleasantly surprised when the Sunflower movement happened in 2014, whose scale far surpassed the 1990 events. This prompted him to rerelease the book with material from the Sunflower movement as well as updates from a number of Wild Lily Student Movement veterans.
RISE AGAINST SHAM ELECTIONS
A scene from the Wild Lily Student Movement of 1990 where thousands of protesters occupied Chiang Kai-shek Memorial Hall.
Photo courtesy of Wikimedia Commons
While social and political movements exploded with the lifting of martial law in 1987, Taiwan was no closer to democracy in 1990. Citizens still weren't allowed to vote in the March 1990 presidential "elections," which consisted of only one candidate — Lee Teng-hui (李登輝) — who was voted in by members of the antiquated National Assembly, some of which were so old they attended the meetings in wheelchairs.
Student voices had remained mostly quiet throughout the White Terror era, ever since police cracked down on young protesters on April 6, 1949. The next mass public incident would not take place until 1985, as students marched for direct elections for National Taiwan University president.
About a week before the 1990 sham elections, the National Assembly amended the Temporary Provisions to extend the terms for their new members added in 1986 and also proposed other provisions that would expand their power and privileges, causing an uproar in a society that was already on edge due to earlier factional clashes in the KMT over who would "run" for president.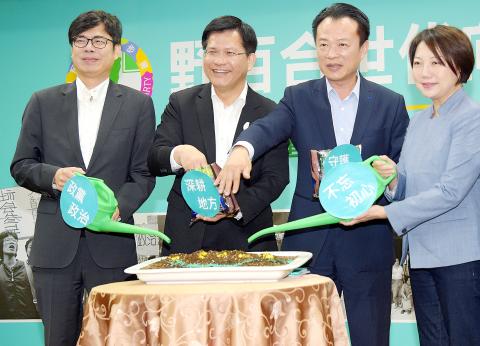 Former Wild Lily Student Movement comrades Fan Yun, right, Lin Chia-lung, second left and Chen Chi-mai, left, appear at a press conference held by Weng Chang-liang, second right, regarding his decision to run for Chiayi county commissioner.
Photo: Huang yao-Cheng, Taipei TImes
The opposition Democratic Progressive Party (DPP) staged a mock popular election to satirize Taiwan's lack of democracy, nominating Huang Hua (黃華), who was in jail for proposing Taiwanese independence, as their candidate.
On March 16, nine students from today's National Taiwan University of Science and Technology staged a sit-in at Chiang Kai-shek Memorial Hall, holding a banner that stated, "Compatriots, how can we tolerate the oppression of 700 more emperors?"
The crowd ballooned over the next few days with many going on hunger strike, but on March 21, the "election" took place as scheduled, with Lee as the obvious winner. He did not ignore the students, however, meeting with representatives the day of his inauguration and promising to hold a national affairs conference in June where reforms would be discussed.
According to the Taiwan Communique, the students voluntarily dispersed on March 22. They believed in Lee's sincerity, and they did not want the protest to get out of hand as the numbers broke 10,000. They also heard that pro-KMT students and military advisers had infiltrated the crowd and were planning to cause trouble.
Lee made good on his word, holding the conference from June 28 to July 4. In the following year, the Temporary Provisions were abolished, and the National Assembly members finally stepped down after 44 years in power with new elections held at the end of the year. And at the end of Lee's term in 1996, Taiwan saw its first general presidential election.
WHERE ARE THEY NOW?
After the Wild Lily Student Movement, Ho writes that many student protesters entered politics, mainly serving the DPP. It wasn't a happy ending for everyone — for example, Yen Wan-chin (嚴萬進) rose up the ranks to deputy minister of the interior, but was later convicted in a corruption scandal and remains in jail.
Many remain in politics to this day. In addition to several legislators, current Taoyuan Mayor Cheng Wen-tsan (鄭文燦) and Taichung Mayor Lin Chia-lung (林佳龍) both played key roles during the student movement, and so did Tsai Chi-chang (蔡其昌), who serves as the deputy speaker of the Legislative Yuan. In addition, former Council of Agriculture deputy minister Weng Chang-liang (翁章梁), who was the general commander in 1990, is running for Chiayi county commissioner in November.
Fan Yun (范雲), one of the few female leaders during the protest, spearheaded a call for then president Chen Shui-bian (陳水扁) to step down in 2006 and later formed the Social Democratic Party (社會民主黨) in 2015, unsuccessfully running for a legislative seat in 2016. She was present during the occupation of the Executive Yuan during the Sunflower Movement, after which she quipped, "I did not think that I would be carried out of the building by riot police at over 40 years old."
Others continued on as activists or continued working for society's betterment through civil organizations, most notably Ku Yu-ling (顧玉玲), a prominent figure in migrant worker rights.
Lawyer Lai Chung-chiang (賴中強) became an outspoken figure on cross-strait policy — especially that of the Ma Ying-jeou (馬英九) administration — and human rights. Most notably, he founded the Democratic Front Against Cross-Strait Trade in Services Agreement (反黑箱服貿民主陣線, today's Economic Democracy Union (經濟民主連合)) in 2013.
An interesting case is Lo Ming-yung (駱明永), an engineer who dedicated his life to the protection and recovery of actual wild lily flowers in Taiwan.
"From the 921 Earthquake to the flooding caused by Typhoon Morakot, environmental issues, women's rights, Aboriginal rights, media and legal reform as well as the abolishment of the death penalty — we can see members of the Wild Lily Student Movement putting in long term work into these issues," Ho writes.
Taiwan in Time, a column about Taiwan's history that is published every Sunday, spotlights important or interesting events around the nation that have anniversaries this week.
Comments will be moderated. Keep comments relevant to the article. Remarks containing abusive and obscene language, personal attacks of any kind or promotion will be removed and the user banned. Final decision will be at the discretion of the Taipei Times.