Highlight: From human specks to infinity and beyond
Cross-cultural collaboration and scientific research once again form the heart of Taiwanese choreographer Su Wen-chi's (蘇文琪) latest work, Infinity Minus One (從無止境回首), which will be performed this weekend at the National Experimental Theater in Taipei.
Infinity Minus One, part of the National Theater Concert Hall's (NTCH) Taiwan International Festival of Arts, is the second installment of Su's "Rainbow Trilogy" sparked by her month-long residency at the European Organization for Nuclear Research (CERN) in Geneva, Switzerland, in 2016. She won the residency as part of the "ACCELERATE Taiwan | Arts@CERN" program to pair a digital programmer/artist and a choreographer for a dance project that would explore the digital realm and the world of particle physics.
While at CERN, Su was able to observe experiments with a Cloud Chamber, which is a particle detector used to visualize the passage of ionizing radiation.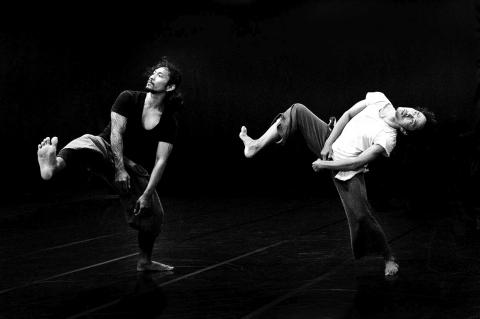 Indonesian dancer/choreographers Luluk Ari Prasetyo, left, and Danang Pamungkas, right, will perform this weekend at the National Experimental Theater in Taipei in Infinity Minus One, a collaboration with Taiwanese choreographer Su Wen-chi.
Photo courtesy of Jean-Lu Tanghe
Part one of Su's trilogy, After Unconditional Love and Fact (全然的愛與真實), was performed in the Experimental Theater in October last year as part of the NTCH's Dancing in Autumn series.
For Infinity Minus One, she teamed up with four Indonesians — modern dancer/choregraphers Luluk Ari Prasetyo and Danang Pamungkas, experimental musicians Rully Shabara and Wukir Suryadi of the duo Senyawa — Japanese light designer Ryoya Fudetani and Taiwanese artist Chiu Chao-tsai (邱昭財), videographer Chang Huei-ming (張暉明) and his frequent collaborator, Liao Chi-yu (廖祈羽).
Su, the founder of the YiLab (一當代舞團) troupe, said she was interested in how artists could present the two extremes of scale — a particle and the universe — in human terms and in terms of physical energy. Can one sense infinity or is it simply a feeling of uncertainty?
With those kinds of questions, one can see why Su would have tapped Chiu for the multi-media portion of Infinity Minus One. He used a telescope and a microscope to create extraterrestrial-like installations for his Light‧Scape (光‧景) gallery show last fall.
Su said she also wanted to explore how traditional gestures can be transformed and incorporated into modern artistic concepts.
The show is about an hour long, with no intermission. The TIFA Web site notes that the show includes partial nudity, smoke and loud voices and that latecomers will not be admitted.
■ Experimental Theater (國家戲劇院實驗劇場), 21-1 Zhongshan N Rd, Taipei City (台北市中山南路21-1號) tonight and tomorrow at 7:30pm and tomorrow and Sunday at 2:30pm
■ Tickets are NT$800, available at NTCH box offices, online at www.artsticket.com.tw and at convenience store ticketing kiosks
Comments will be moderated. Keep comments relevant to the article. Remarks containing abusive and obscene language, personal attacks of any kind or promotion will be removed and the user banned. Final decision will be at the discretion of the Taipei Times.