Something's Brewing in Taichung
Taichung sees rise in craft beer market
If it's Wednesday night you're likely to find Arlan Bonwick saddled up to the bar with his usual after work meal: barbecue chicken wings and a locally-brewed pale ale the color of the sunset.
"I like drinking craft-brewed beer," said Bonwick, a regular at Delicatesses Desmarais in Taichung. "It's got a really unique flavor."
Customers such as Bonwick are exactly what local brewers are hoping for in Taichung's burgeoning craft beer market.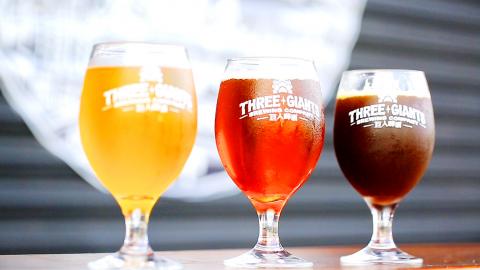 Three varieties of beer from Three Giants Brewing Company.
Photo courtesy of Casper Willemse
Warning: Excessive consumption of alcohol can damage your health.
The source of Bonwick's pale ale lies in Taichung's Fengyuan District (豐原) at Three Giants Brewing Company. The small brewery produces five varieties of beer, mostly in keg form.
Compared to Taipei's already booming craft beer market, Taichung has only recently emerged onto the scene.
MORE SUDS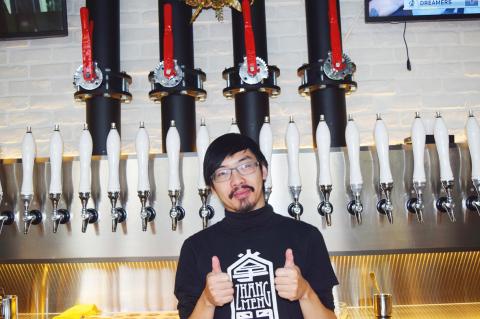 Oscar Lee of Zhang Men Brewing Company stands in front of the company's taps.
Photo by John Evans
As craft beer consumption has risen, so too has the number of breweries. Up from just one a breweries. Up from just one a decade ago, there are currently four craft breweries operating in Taichung. And those in the industry expect that number to grow.
While sales of craft beer have taken off, the nation's most popular beer by far is Taiwan Beer, produced by Taiwan Tobacco & Liquor Corp, which once had a monopoly on the industry.
"It's still a niche market," said Casper Willemse, co-owner of Three Giants brewery. "But to be a cool bar, you have to have craft beer on tap."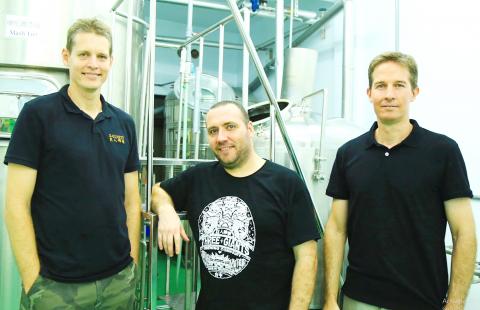 Left to right: Casper Willemse, Kevin Brennan and Adriaan Willemse of Three Giants Brewing Company.
Photo courtesy of Casper Willemse
What began with Willemse and two coworkers making homebrew in plastic tubs on a rooftop three years ago, has turned in an actual brewery. In less than a year since opening, Three Giants brewery supplies nearly 40 bars and restaurants nationwide, up from just a few businesses three months ago.
Willemse and his partners are hopeful that Taiwanese palates for craft beer will continue to expand. Optimistically, they point to the popularity of recent craft beer festivals where beer enthusiasts and brewers come together.
TAIWAN BEER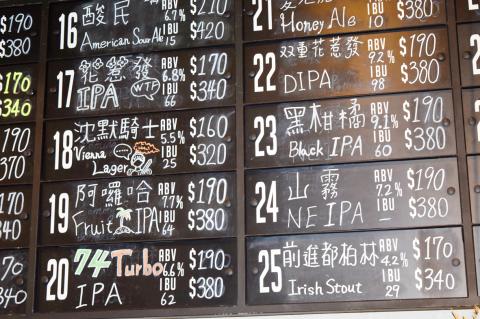 Part of the menu board at Zhang Men Brewing Company.
Photo by John Evans
The challenge, Willemse said, is how to entice long-time drinkers of Taiwan Beer and other lighter lagers to try their bolder, more flavorful beer.
"At first people come out of curiosity," he said. "You have to slowly ween them off the lager and then show them the ale."
To help with this transition, Three Giants Indian Pale Ale is less bitter than traditionally found, Willemse said.
"We try to tailor our beer to local tastes."
"Long-term I can see the feeling is changing in Taiwan," Willemse added.
As an example he points out the demand for high-end coffee, a national trend over the past decade.
BITTERNESS SCALE
At Zhang Men Brewing Company (掌門精釀啤酒) each beer is rated on a bitterness scale. For instance, a honey ale, low in bitterness, has a 10, while a double IPA has a 98. With 32 beers on tap, customers can sample beers of varying flavors, from fruity to hoppy.
"You work your way up to the stout," said Oscar Lee (李奕德), an employee and beer aficionado at Taichung's Zhang Men brewery, one of the company's nine taprooms in the nation.
Lee's advice to those new to drinking craft beer is to lose the ice, which is traditionally dropped into small glasses of lighter beers.
"I tell them if it's too cold you can't smell it," said Lee, whose appreciation for craft beer started by making homebrew in college. "I've learned how to taste the differences in beer, like there is in whiskey."
His other tip: "You don't ganbei (drain the glass, 乾杯) craft beer."
First-time customer Weng Shou-de (翁守德) listened to Lee's advice on bitterness and alcohol content before ordering a beer flight, small samples of six varieties.
"We just wanted to try something new," said Weng, who brought his family to the Zhang Men taproom.
It was the smoothness of the German wheat beer that caught Weng's attention. Intrigued by the subtle differences in craft beers, Weng said he'd return to try other varieties.
HIPSTER BEER CULTURE
Aside from offering drinkers new options, craft beer has a certain hipness in Taiwanese culture.
"People treat craft beer like a cocktail," said Brian Desmarais, whose deli has benefited from offering four kinds of Three Giants beer on tap. Since switching from European bottled beer to locally-brewed craft beer nine months ago he estimates his beer sales have doubled.
Beer drinkers want a distinct flavor, he added, and they patronize places that offer that product.
"Neighbors come in and try one, then come back with a friend," Desmarais said. "It's their treat for the week. They have a sandwich and a couple of lagers."
Desmarais and others have welcomed the change in drinking culture from a few years ago when it was more common to see people drinking outside convenient stores.
But some wonder whether there are too many restaurants and bars jumping on the craft beer bandwagon.
"They need to attract more and more customers," said Ray Huang (黃晁偉), who operates Wuller Homebrew Supply in Taichung County's Wufeng District (霧峰).
While most glasses of craft beer are in the NT$150 range, some brands go for more than double that amount. Huang points to this high price as a hurdle for attracting younger customers.
"I really wish the price was cheaper," Huang said.
As a way to enjoy craft beer, but at a lower cost, Huang said he would like to see more people making their own beer.
With a surge in craft beer sales in the last two years, most say the trend is here to stay.
"The industry is growing and everyone wants to get involved," said Weng Yi-chung (翁詒君), owner of ChangeX Beer in Taichung, which offers 300 varieties of craft beer.
An early player in the city's craft beer market, Weng said he anticipates larger businesses to push their way into the market.
Taking a philosophical approach to craft beer's evolution from being obscure to stylish, Weng said, everything changes, even people's appreciation for craft beer.
Comments will be moderated. Keep comments relevant to the article. Remarks containing abusive and obscene language, personal attacks of any kind or promotion will be removed and the user banned. Final decision will be at the discretion of the Taipei Times.