Movie review: The Bold, the Corrupt and the Beautiful
With nobody really meaning what they say, this film may be initially confusing for some, but the superb acting and chilling plot make it a must see — even if you have to watch it twice
If you are not an expert in reading between the lines or decoding sentences that have layers of meaning, you might have trouble following this movie, which is drowning in cold blood with lies, backstabbing and underhanded dealings.
Further complicating things is the director Yang Ya-che's (楊雅喆) use of fabricated memories, subtle imagery, metaphors and implied events, leaving much open to interpretation (it's mostly explained eventually, though). It's the kind of film you might want to watch twice, as you'll probably be oohing and ahhing with new revelations the second time around.
Whether you get the film immediately or have to look on the Internet for answers afterward, it can't be denied that the acting, in general, is off the charts. Fourteen-year-old Vicky Chen (陳文淇) fully deserves her Golden Horse award for best supporting actress — but Patty Wu (吳可熙) feels just as legitimate for consideration.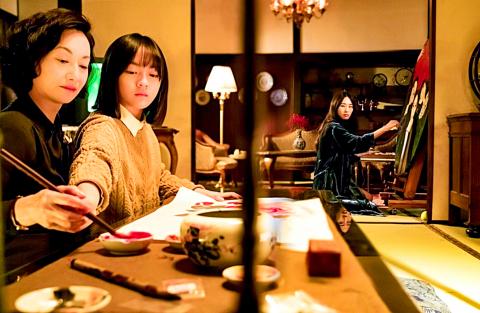 Kara Hui, left, Vicky Chen, center and Patty Wu play the three main characters in The Bold, the Corrupt and the Beautiful.
Photo courtesy of atmovies.com
Kara Hui (惠英紅) won best actress with her role as Tang Yue-ying (棠月影), a conniving matriarch who will do anything to maintain her power and wealth — but if feels that the director went overboard with her lines as each one is as loaded with metaphors and hidden daggers. Sure, we all know that she's not being genuine to her "friends" in the film, but her delivery makes her intentions too obvious to the point where it's a bit unrealistic. It's still hard to pull off such a character, who maintains her grace and dignity despite oozing with vileness, and Hui's performance is chilling and unsettling nevertheless.
Her "friends," played by Moon Wang (王月), Sally Chen (陳莎莉), Wen Chen-ling (溫貞菱) and Mariko Okubo are no better. They all appear to be polite and amicable but all of them have ulterior motives and sinister sides lurking underneath that manifest in different ways. It's all about using each other, and psychological warfare is way scarier than a gunfight.
Chen and Wu take on rather complex roles as Tang Yue-ying's daughters, and their stories are just as important to the film. Chen's portrayal of the younger Tang Chen (棠真) is even more unnerving than that of Hui's, but we can't say more without giving away the film. Wu's character, Tang Ning (棠寧), on the other hand provides a counterpoint to Hui's as the tortured pawn who takes on the bad-on-the-outside role. She also speaks in circles and often metaphorically as well.
Although the other actresses turn in decent performances, these three single-handedly drive the film as it revolves around their intertwined but separate fates as the story progresses.
An understanding of Taiwanese politics and history is helpful for this film, as there are references to former president Chiang Kai-shek (蔣介石) and his Chinese Nationalist Party (KMT) elites, land speculation schemes involving government officials and good-old Taiwanese-style bribery with lavish banquets and Guanyin (觀音) statuettes. But corruption is universal, and it's probably not that hard to catch what's going on. And the dealings are just plot devices anyway — the real themes here are human depravity — love and the lack of it. That's what makes this film more than just soap opera melodrama.
A curious device is the use of traditional Hoklo-speaking (also known as Taiwanese) storytellers to narrate parts of the film, featuring the renowned 82-year-old Yang Hsiu-ching (楊秀卿) on the yueqin, or moon lute. Wearing sunglasses and sitting in some sort of television-studio looking room of judgement in the Buddhist afterlife, she and her partner sing out parts of the story while related news reports flash across nearby reflective surfaces.
Yang should be applauded for trying to infuse additional elements of Taiwanese culture in to the movie, but the surreal and cartoonish imagery clashes with the rest of the film, and also she only appears a handful of times, which makes it seem like a tacked-on addition.
Other than that, the cinematography in subdued tones is atmospheric and just as haunting as the acting. There's a lot of imagery to take note of, such as Tang Ning's eerie oil portraits of the three main characters versus Tang Yueying and Tang Chen working on a traditional ink painting together. This is not the easiest movie to make, and kudos to Yang for taking on a refreshing departure from the normal Taiwanese fare — but maybe simplifying things just a tad would have made the film more enjoyable.
Publication Notes
Film Note
The Bold, the Corrupt and the Beautiful (血觀音) DIRECTED BY: Yang Ya-che (楊雅喆) STARRING: Kara Hui (惠英紅) as Tang Yueying, Vicky Chou (文淇) as Tang Chen and Patty Wu (吳可熙) as Tang Ning RUNNING TIME: 112 minutes TAIWAN RELEASE: In theaters LANGUAGE: Mandarin and Hoklo with Chinese and English subtitles
Comments will be moderated. Keep comments relevant to the article. Remarks containing abusive and obscene language, personal attacks of any kind or promotion will be removed and the user banned. Final decision will be at the discretion of the Taipei Times.