Pulima Art Festival opts for south
After the first two biennual events were held in Taipei, organizers decided to hold this year's festival highlighting Aboriginal and Indigenous artists in Kaohsiung
The biennial Pulima Art Festival (Pulima藝術節2016), a showcase for contemporary indigenous art and cultures, has moved south for its third installment after the first two were held in Taipei.
The festival, which opened on Saturday last week, runs through Feb. 5, with a multitude of dance, music and theater productions as well as art exhibitions and forums with contributions from Taiwan's 14 Aboriginal communities, Austronesian-speaking areas and other indigenous peoples.
Organizers say the festival, the largest Aboriginal contemporary art event in the nation, is an important platform to showcase the power of Aboriginal cultural communication and to expose Aboriginal children to arts and cultural performances that are rooted in their own cultures.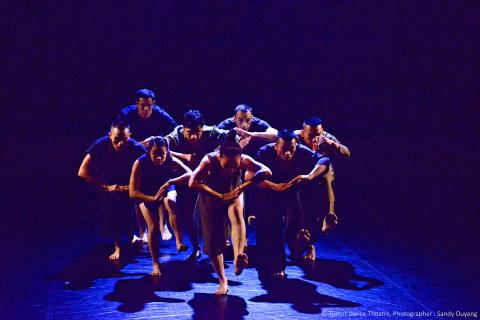 The Pingtung County-based Tjimur Dance Theatre and New Zealand's Black Grace will perform their coproduction, 2_Gather as part of the Pulima Art Festival in Kaohsiung this weekend.
Photo courtesy of Tjimur Dance Theatre
"Pulima" is a Paiwan word meaning creative or highly skilled people.
This year's theme is "O loma no adingo," which means "Home, where the spirit dwells." The idea is to encourage young Aboriginals, especially artists, to have the courage to explore their own life experiences.
The festival, and the attendant Pulima Art Prize, is supported by the Indigenous Peoples Cultural Foundation, which took its initial inspiration for the event from the Edinburgh Art Festival and the Festival d'Avignon in France.
Groups that are members of the Taiwan Indigenous Performing Arts Connection, including the Pingtung County-based Tjimur Dance Theatre (蒂摩爾古薪舞集) and Taitung-based Bulareyaung Dance Company (布拉瑞揚舞團) are among those giving shows, along with the Atamira Dance Company and Black Grace from New Zealand and B2M (Bathurst to Melville), a seven-member band from the Tiwi Islands in Australia.
Tjimur and Black Grace will be performing their coproduction, 2_Gather (在一起), which premiered at the Taipei Arts Festival in September, this weekend.
The Hualien County-based Langasan Theatre (冉而山劇場), whose members are artists, farmers, blue-collar workers and academics from the Amis, Rukai and Sakizaya communities as well as Hakka and Hoklo, will present its new production, Mayaw Kakalawan (星星 — 颯旮啦旦老) for three shows at the Pier-2 Arts Center on Nov. 19 and Nov. 20
The festival events are being held around the city, at the Dadong Culture and Art Center, the Kaohsiung Experimental Theater, Pier-2 Arts Center and the Kaohsiung Museum of Fine Arts.
More information is available at the festival's Web site (www.pulima.com.tw), though it is predominately in Mandarin.
Comments will be moderated. Keep comments relevant to the article. Remarks containing abusive and obscene language, personal attacks of any kind or promotion will be removed and the user banned. Final decision will be at the discretion of the Taipei Times.