Restaurant review: Heritage Bakery & Cafe
The choice of location came easy for Sally Song (宋友齡) when she opened Heritage Bakery & Cafe on Hankou Street (漢口街) in western Taipei last month.
"All of my neighbors asked me, 'but why here?'" the San Francisco native laughs.
The only eatery on a street selling cameras, the establishment is a modern rustic addition in an area of town that is reminiscent of another era. Surrounding the narrow five-story bakery are vertical signboards advertising Sony, Nikon and Canon — jutting out from drab buildings that evoke a lost charm.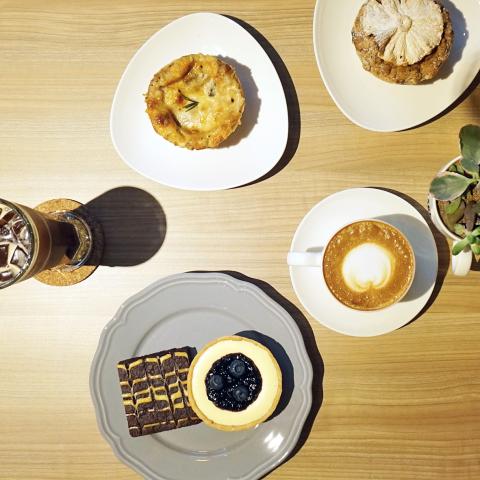 Heritage Bakery & Cafe's cream cheese brownie and blueberry cheese tart.
Photo: Dana Ter, Taipei Times
In 1950, Song's grandfather finished constructing the building that now houses the bakery. The following year, the family moved into the upper three floors, renting out the first two floors to a business selling — what else — cameras. Before moving to Taipei, Song worked at the kitchenware retail company Williams-Sonoma in San Francisco. Opening her own bakery was a way to reconnect with her family's history.
The interior is furnished with antique trunks, cabinets and suitcases — all of which belonged to Song's grandparents. Old floor fans are painted over in gray paint, while the original red brick walls are left exposed. Tiny potted plants sit on the window sill, which offers diners a cozy area to peer out at life on the streets. On the morning I visit, there's a lady giving an old woman a haircut on a makeshift stool on the sidewalk. I can't help but smile — this is not something I would see in my buzzing neighborhood of Xinyi.
Song's greatest pride is the "antique wall" — an assemblage of old drawers, picture frames and window grilles refurbished and glossed over with white paint. They were all "odds and ends," she says, things she had "no idea what to do with."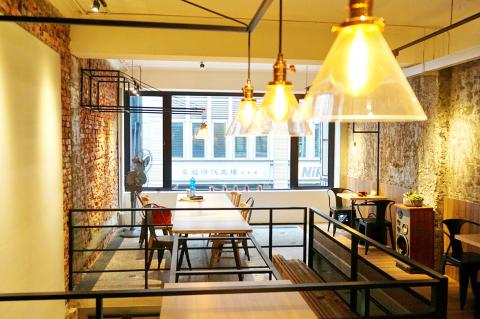 Interior views of Taipei's Heritage Bakery & Cafe.
Photo: Dana Ter, Taipei Times
Though it was Song's intention to create an ambiance that fuses both old and new Taipei, she was adamant about one thing when it came to the actual pastries: they were to be American-style desserts.
"It's kind of hard to explain to people here what American pastries are," Song tells me.
While Taipei has quite a few French and Japanese bakeries — and an absurd number of cafes selling over-the-top sweet desserts, a good portion of which are also furnished in faux European decor — the American pastries which Song missed and yearned for are few and far between. She insisted on not adding a lot of a sugar to cater to local palates. The menu is scattered with savory options and even the sweeter-sounding choices rely on the natural sweetness of the ingredients.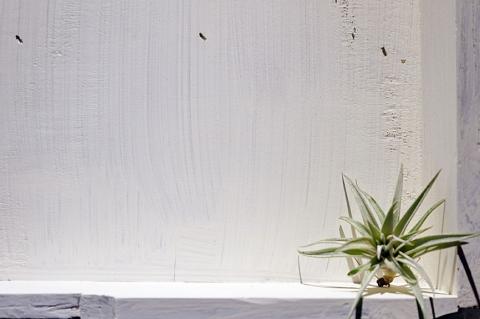 Interior views of Taipei's Heritage Bakery & Cafe.
Photo: Dana Ter, Taipei Times
Take, for example, the pineapple pie (NT$180). Inside is a generous amount of sliced pineapple (all sourced from Taiwan), which gives the pie a natural sweetness. This is complemented with a warm, crusty pastry shell. The dried pineapple on top is a nice touch as it gives you something to nibble on in between spoonfuls of pie.
For an American classic, try the cream cheese brownie (NT$80). The flavor is reminiscent of dark chocolate — complex, enticing, a little bitter, though this is offset by small dollops of cream cheese.
I recommend the bacon and mushroom potato pie (NT$180) for a savory treat. It's evocative of chowder: creamy, frothy and runny. The bits of sauteed mushrooms and crispy bacon add a delightful touch to the potato base, complementing the crisp, slightly charred crust.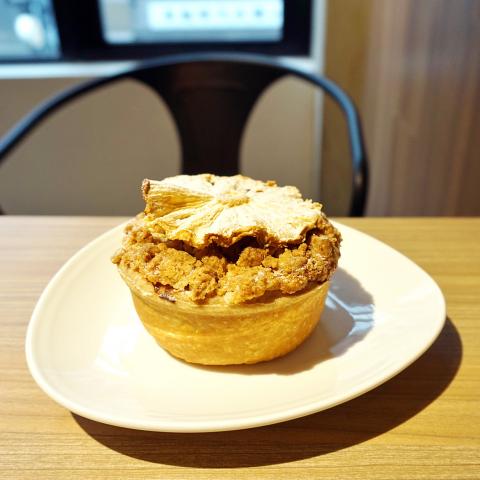 The cafe's pineapple pie topped with dried pineapple.
Photo: Dana Ter, Taipei Times
Another savory favorite is the blueberry cheese tart (NT$180). I'm not a big fan of tarts, finding them thick and filling, but this is creamy, runny and pleasant, and the cheese isn't overpowering. The shell being soft and crumbly certainly helps, though the stand-out ingredient here is the homemade blueberry jam, which adds a tinge of sophisticated sweetness. I appreciated the topping of blueberries as well. It's the little details that count.
Before I leave I notice tiny gemstones tucked in between cracks in the brick wall. In a sweet-toothed city that's home to way too many faux European-themed cafes, Heritage Bakery is a gem, one that makes patrons feel truly at home.
Interior views of Taipei's Heritage Bakery & Cafe.
Photo: Dana Ter, Taipei Times
Publication Notes
Heritage Bakery & Cafe
Address: 73-2 Hankou St Sec 1, Taipei City (台北市漢口街一段73號之2) Telephone: (02) 2311-1079 Open: Tuesdays to Sundays from 11am to 6pm Average meal: NT$180 to NT$400 Details: Details: Menu in English and Chinese On the net: www.facebook.com/heritagetaipei
Comments will be moderated. Keep comments relevant to the article. Remarks containing abusive and obscene language, personal attacks of any kind or promotion will be removed and the user banned. Final decision will be at the discretion of the Taipei Times.