Non-organic,farm-fresh dinosaurs
A Taichung-based toy artist 'genetically' combines Taiwanese fruit and dinosaurs in his 'Jurassic Orchard' series, partnering with local fruit farmers to promote their products
When artist Ho Chia-hsin (何佳信) started to mass produce a raptor bust he created for an art studio to use as an example in a sculpting class, he noticed that the factory had placed each piece into a basket.
"It felt like the pieces were fruit," he says.
Fruit has been a significant part of Ho's life, as his grandmother is a sugar apple farmer and he spent his working holiday in Australia picking fruit. He now lives and works in a traditional three-section compound in rural Taichung with a yard full of fruit trees. He was also a huge Jurassic Park fan growing up — and as an artist who draws his creativity from his surroundings and experiences, it all hit home and his Jurassic Orchard (龍夫果園) series of collectible toys was born.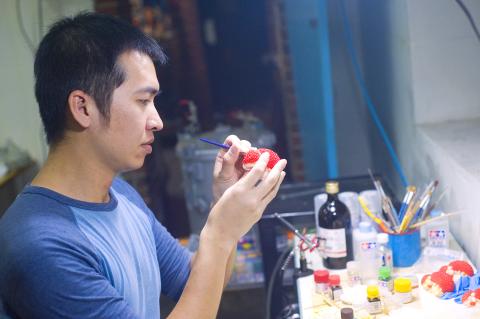 Ho Chia-Hsin paints a lychee Ankylosaurus in his home studio in Taichung.
Photo: Han Cheung, Taipei TImes
Ho would hang dinosaur busts in trees — as though they were fruit — photograph them and package them in "Raptor Fruit" boxes. For another creation, he decided to take the fruit element a step further by combining Taiwanese fruit products and dinosaurs — an idea inspired by the genetic engineering featured in Jurassic Park.
Ho has two such products so far: a sleeping lychee Ankylosaurus and, because his house is surrounded by betel nut stands, a betel nut raptor fetus. He even bought plastic bags and boxes adorned with scantily clad women from the vendors for the packaging.
The original idea was to time each creation in accordance to the actual fruit's season so Ho could partner with various fruit farmers. However, by the time he finished the lychee dinosaur, lychee season was over. Instead, he worked with an orchard that made preserves and provided a bag of dried lychee to the first 30 buyers.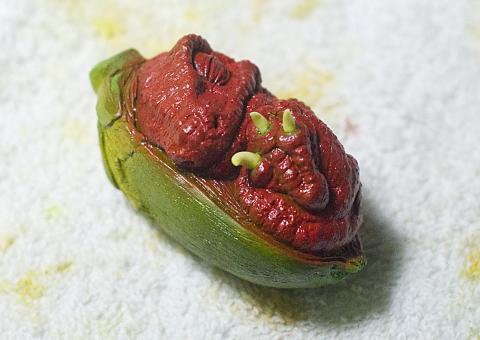 A red betel nut dinosaur created by Ho Chia-Hsin.
Photo: Han Cheung, Taipei TImes
"There can be different modes of partnership," Ho says. "In this case, I purchased the dried lychees to give away because I wanted to promote the product. They really are delicious."
He eventually hopes to make a sugar apple dinosaur and partner with his grandmother, but he says her crop was destroyed in the recent typhoon and will not recover until next year.
COLLABORATING AND COLLECTING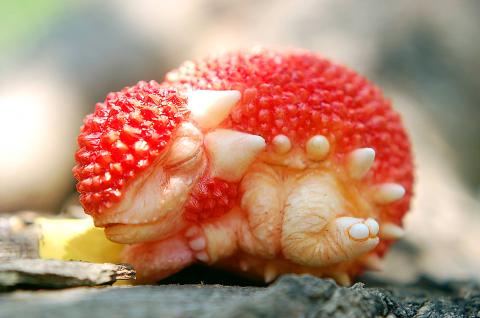 Ankylosaurus in its natural habitat.
Photo courtesy of Ho Chia-hsin
Ho says the development of his art has been a process, starting with simply creating his own take of his favorite characters or toys while studying plastic arts at Dayeh University (大葉大學). Later, he tried to give new meaning to existing things, such as molding a collectable figurine package out of pottery.
He first worked for Lin Chien-jung (林建榮), best known for his "light bulb man" series, before deciding to stake out on his own. Since then, Ho has mostly focused on similar fusion products, such as his his bat-dog fusion sculpture for Chinese New Year.
"It's like turning a spring couplet into animal form," he says. "The bat represents good fortune, while the dog guards the house."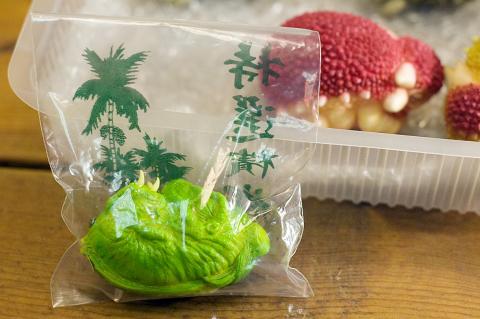 A betel nut raptor fetus packed in an actual betel nut bag that Ho Chia-Hsin purchased from neighboring vendors.
Photo: Han Cheung, Taipei TImes
And he continues his penchant for collaboration, working with a designer to produce actual spring couplets to go with the piece. Other artworks include a fusion of the Kewpie doll and a three-faced Indian deity (Ho visits the country frequently) and real false teeth carved into Darth Vader and Stormtrooper shapes.
"I like to create using existing objects," he says. "I don't make originals, but I fuse original concepts things to make something new," he says.
Ho will be a first-time participant at the Taipei Toy Festival this weekend, and the current batch of dinosaurs he is making will be geared to the toy collector's market, with the products made using resin casting and hand painted in different colors. The lychee has two varieties — the common red color and the yuhebao (玉荷包) variety which contains shades of yellow and green.
The hand-painted resin lychee dinosaur sells for NT$1,780, which Ho says may be too expensive for students but too cheap for serious art collectors. So he created a higher-end bronze version and also an unpainted white variety.
"I hope everyone can be able to own one," he says.
Ho feels fortunate to be selected to the Toy Festival, as he says there is a strict selection process for newcomers. Now in its 13th year, the event will feature 108 booths featuring international artists, two exhibitions and a toy auction along with various events such as live painting, autograph sessions and clay molding demonstrations. This year's theme is "The World Only Monsters Know," with the main visuals by South Korea's Sticky Monster Lab.
For more information on Ho's work, visit www.facebook.com/Art-of-Hsin-Ho-836432829784797.
Publication Notes
Event Notes
What: Taipei Toy Festival When: 10am to 8:30pm, Friday to Monday Where: Huashan 1914 Creative Park, East Second Hall (東二館), 1, Bade Road Sec 1, Taipei City (台北市八德路一段1號) Admission: NT$200 for one, NT$350 for two, NT$175 per ticket for over three people On the Net: www.taipei-toyfestival.com/
Comments will be moderated. Keep comments relevant to the article. Remarks containing abusive and obscene language, personal attacks of any kind or promotion will be removed and the user banned. Final decision will be at the discretion of the Taipei Times.