Taiwan in Time: Rebels of heaven and earth
Lin Shuang-wen's uprising against the Qing Dynasty is considered the largest of the three major rebellions during Chinese imperial rule of Taiwan
Taiwan in Time: April 18 to April 24
It had been a year since Lin Shuang-wen (林爽文) and his Heaven and Earth Society (天地會) brethren attacked a government troop camp, igniting the largest rebellion under Qing Dynasty-ruled Taiwan.
The Qianlong emperor had sent reinforcements earlier, but they made little progress, shifting into a defensive stance, especially as Lin's troops had surrounded Chuluo (諸羅, today's Chiayi) for the previous six months, relentlessly trying to recapture the city they had lost.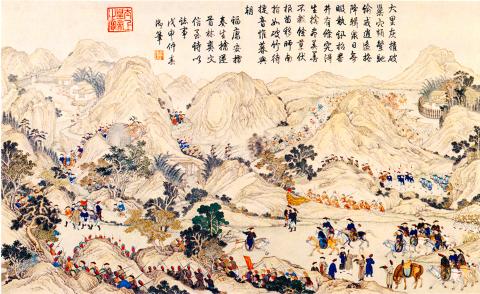 Official Qing Dynasty battle scenes from the pacification of the Lin Shuang-wen Incident.
Photo courtesy of Wikimedia Commons
Finally, the emperor sent one of his favorite officials and military commanders, Fukangan (福康安), across the strait, bringing with him more than 120 elite baturu, Manchu and Mongol warriors, and 9,000 specially chosen soldiers from across China.
Their orders: end the siege of Chuluo and capture Lin alive and bring him back to Beijing.
It had been 66 years since the Qing Dynasty sent troops across the Taiwan Strait to quell a rebellion by "Duck King" (鴨母王) Chu Yi-kuei (朱一貴), a man who shared a surname with the Ming Dynasty royal house and, it was said, rose up due to civilian mistreatment by local officials. Chu, a duck farmer from what is today Kaohsiung, drove out local Qing troops and declared himself Ming Emperor — ruling over today's Kaohsiung, Tainan and Chiayi.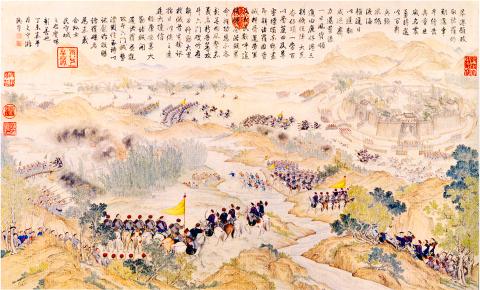 Official Qing Dynasty battle scenes from the pacification of the Lin Shuang-wen Incident.
Photo courtesy of Wikimedia Commons
His empire lasted two months — it is said they did not even have time to make Ming-style court clothing and instead borrowed from performance troupes — as reinforcements from China decimated his troops within two weeks of their arrival.
Lin's rebellion, in contrast, took over a year to pacify. Liu Ni-ling (劉妮玲) writes in her Study of Civil Uprisings in Taiwan During the Qing Dynasty (清代台灣民變研究) that it cost the Qing the most troops and money.
Back then, the Qing Dynasty paid little attention to Taiwan, which it had considered its territory since 1683. It sent officials and troops, but was unwilling to actively develop the area.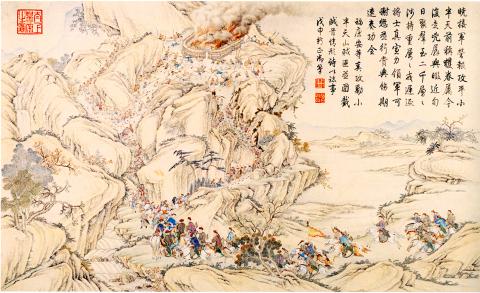 Official Qing Dynasty battle scenes from the pacification of the Lin Shuang-wen Incident.
Photo courtesy of Wikimedia Commons
ISLAND OF REBELLIONS
One of these officials, Yao Ying (姚瑩), once said that Taiwan was plagued by "bandits, armed conflict [between various Han Chinese groups] and rebellion." Many sources claim that most of the officials were incompetent and corrupt as well, contributing to a vicious cycle. Liu counts a total of 73 uprisings during roughly 200 years of Qing rule — about 20 of them taking place before Lin's.
Despite migration restrictions, many people illegally made the cross-strait journey to seek a better living. Lin was one of them, arriving with his father in 1773 from Fujian Province.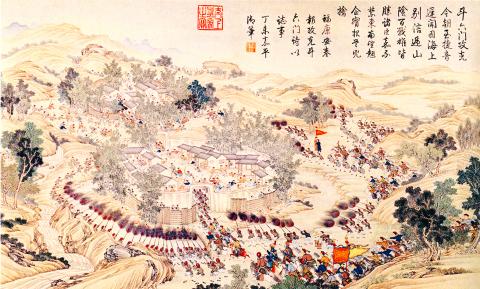 Official Qing Dynasty battle scenes from the pacification of the Lin Shuang-wen Incident.
Photo courtesy of Wikimedia Commons
Many arrivals could not find land to farm, often becoming wandering bandits or other criminals. Fukangan says in the official Qing account of the rebellion that much of Lin's army consisted of these people.
In 1784, Lin became the leader of the local Heaven and Earth Society (天地會), which was rumored to have been started by Ming loyalist Cheng Cheng-kung (鄭成功), also known as Koxinga, who drove the Dutch out of Taiwan in the 1600s.
Liu writes that by Lin's time, such societies had lost their original anti-Qing purpose and became a way for people to unite and protect each other in a lawless society where armed conflict and blood feuds were common. However, they also served as muscle for people to attack other groups.
The incident began, Liu writes, with a seemingly unrelated dispute between two brothers which, as was common in those days, erupted into armed conflict. After the government arrested the brothers, it started hunting down those involved — many of which sought out Lin's society for protection.
ROOTING OUT THE 'BANDITS'
Officials had been wary of Lin's influence before, but now they had an excuse to investigate and they began actively arresting and executing Heaven and Earth Society members. The troops eventually entered Lin's territory of Changhua to find him, allegedly burning down entire villages that did not comply.
Lin's comrades decided to fight back, and asked him to come out of hiding. They won the first battle, destroying the government camp and capturing Changhua's county seat.
By the time they turned toward Chuluo a week later, their forces numbered in the tens of thousands. Their actions caused a chain reaction as leaders in other localities also took up arms, such as Chuang Ta-tian (莊大田) who captured Fengshan (鳳山).
Despite their success, Liu writes that the rebels lacked a clear purpose and organizational structure.
"The rebellion was not out of ethnic [or national] interest, and there was little desire for the rebels to pursue political power," she writes. "They appeared to be anti-Qing, but in reality they were more against government officials, and caused more social strife than political chaos."
The rebels' success was short-lived, as Qing troops, aided by yimin (義民, righteous citizens) — locals who helped fight the rebels to protect their own interests — held on to the government seat of Tainan.
Liu writes that these yimin helped reconquer Changhua twice and played a significant role in keeping the rebels at bay during the siege of Chuluo. As a reward, the Qianlong Emperor gave Chuluo the name "Chiayi" (literally: commendable righteousness). However, Liu writes that many yimin also took the opportunity to loot and pillage.
Liu adds that historical tensions and infighting between ethnic groups also impeded the rebels' efforts. Reinforcements from China quickly retook Fengshan and Chuluo — but they were unable to make any more progress as Chuang captured Fengshan for the second time and Lin relentlessly besieged Chuluo.
Things finally changed when Fukangan arrived. In just a month, he and his troops ended things, and Lin was taken to Beijing, tried and executed.
The Qianlong emperor would later list this battle as one of his "10 great campaigns" — not bad for a little island the government did not care about.
Taiwan in Time, a column about Taiwan's history that is published every Sunday, spotlights important or interesting events around the nation that have anniversaries this week.
Comments will be moderated. Keep comments relevant to the article. Remarks containing abusive and obscene language, personal attacks of any kind or promotion will be removed and the user banned. Final decision will be at the discretion of the Taipei Times.