Mid-Autumn Fruit
Taiwan is justly proud of the quality of its pomelos, which are a popular food during the Mid-Autumn Festival, and can be put to many uses in the weeks following the holiday
The pomelo is traditionally associated with the Mid-Autumn Festival (中秋節), which took place earlier this week. Although the festival has passed, the pomelo season is still in full swing, and it is a happy fact that if you have an excess of pomelos stacked around the house — they are one of the gifts of choice for the festival, along with various styles of moon cake— they will actually be improving in flavor for the next week or so, as freshly picked pomelos are not regarded as at their peak for eating.
Pomelos are currently stacked in great heaps in traditional markets, roadside stalls and even supermarkets, and some are selling at cheap prices. A degree of wariness is advised as wholesalers try and offload inferior fruit on the unsuspecting. Quality can vary, and poor quality fruit can be so dry and flavorless as to be virtually inedible. The best, on the other hand, have enormous subtlety of flavor: they are less intensely sour than the grapefruit, which is more familiar in western markets, and have a delicate citrus aroma.
The pomelo's scientific name is Citrus maxima, a reference to its very substantial size, and in my childhood was often referred to as shaddock, though this appellation is now rarely heard. It has many similarities to the grapefruit, which is in fact a hybrid of the pomelo and the mandarin. It is indigenous to Southeast Asia, and Taiwan prides itself on the outstanding quality of its pomelos, which are recognized throughout the region. The most highly prized fruit come from Madou (麻豆) in Tainan, Hegang (鶴崗) in Hualien County and Douliou (斗六) in Yunlin. Crops of top quality pomelo from these locations are often sold out weeks before the Mid-Autumn Festival, as connoisseurs around the country take to the Internet to order directly from established producers.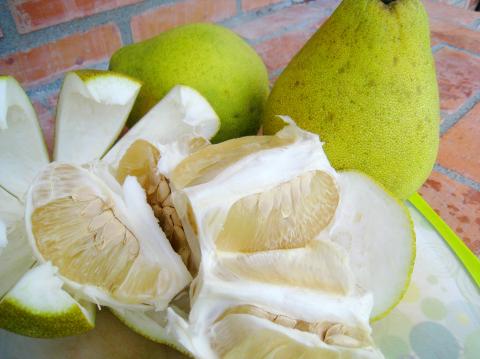 The pomelo, often referred to as "wendan" in Taiwan, is an integral part of the traditions associated with the Mid-Autumn Festival.
Photo: Ian Bartholomew
Pomelos range in color from pale yellow to green and are shaped a little like a pear, with a rounded base and pointy top. They are not as tart as grapefruit, and are easily segmented, making them much easier to prepare and eat than the Peiyu (Citrus grandis Osbeck, 大白柚), a rounder more juicy version of the pomelo, which is just about to come into season.
The association of the pomelo with the Mid-Autumn Festival seems to be based on one of those auspicious homophones so much beloved of Taiwanese. The common name for the pomelo is youzi (柚子), which has echoes of the word youzi (佑子), with connotations of some talismanic protection, very much in keeping with the aspirations of family unity that are integral to the festival. They are also popularly called wendan (文旦) in Taiwan, purportedly in commemoration of the Chinese boat captain who introduced the fruit into Japan.
The pomelo certainly can protect health, and is notable for packing lots of nutrition and fiber into a particularly low calorie package, making it a favorite with people on a diet. If you believe all that is written about the pomelo, then it clearly has almost magical properties, with claims that it has the ability to boost the immune system, improve digestion, lower blood pressure, reduce cramping, prevent anemia, boost bone strength, reduce signs of premature aging, prevent cancer, protect heart health and boost oral and dental health. That is pretty impressive, but suffice to say, eating pomelos clearly does your body good.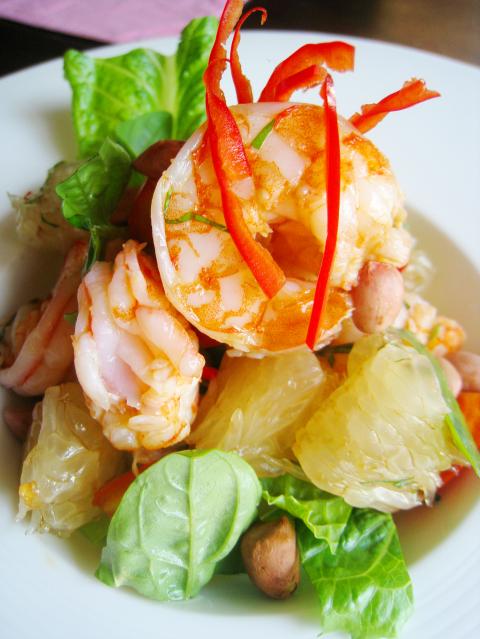 This Shrimp and Pomelo Salad is a simple salad packed with exotic flavors, the citrus of the fruit highlighting the sweetness of the shrimp.
Photo: Ian Bartholomew
It can also be good for the environment, and the outer skin of the pomelo can be used to make a highly effective natural cleaning fluid. All this needs is a little effort peeling off the outer layer of skin that contains the fruit's essential oils and discarding the thick white pith. After that, add medical alcohol, some salt and a foaming agent. Voila! Your own natural household cleaner for a fraction of the price of commercial brands that claim to be "all natural." There is plenty of information about the quantities and proportions on the Internet, with a particularly helpful — and nicely illustrated — version located at www.newsmarket.com.tw/blog/76469/ (Chinese only). If that is too much work, the skin of the pomelo is popularly shaped into a cap, which can be worn during the festival period. Kids seem to love it, though the reason for this custom has yet to be adequately explained to me.
This is a simple Thai-inspired dish that highlights the qualities of Taiwan's pomelos.
Shrimp and Pomelo Salad
(serves four)
Ingredients
The Salad
1 pomelo
16 medium shrimp, peeled and deveined
1 small cucumber, diced
8 cherry tomatoes, quartered
4 stems spring onion
4 cloves garlic
1 tbsp peanut oil (or olive oil)
Small bunch fresh basil
1/4 cup dry-roasted unsalted peanuts
2 tbsp unsweetened desiccated coconut (optional)
1 red chili, minced (optional)
Romaine or other salad leaves (optional)
The Dressing
1/3 cup fresh-squeezed lime juice
3 tbsp fish sauce
1 tbsp soy sauce
2 tbsp brown sugar (or palm sugar if available)
1-2 tsp chili sauce *
* I use the homemade Singapore chili sauce that was featured in the Taipei Times on July 25 ("Turn up the heat," page 12), which works very well with this dish. Other styles of mild chili sauce should also work well, though you might need to adjust proportions accordingly. For example, some sweet Thai chili sauces might require a reduction in sugar.
Process
1. Peel the pomelo, removing its thick outer skin. Break the fruit apart and take out the fruit segments, removing all of the bitter translucent membrane and pith. Break any large segments into bit sized pieces. Set aside.
2. Boil a pot of water. Add the peeled and deveined shrimp. Return to a boil and cook for one minute. The shrimp should have turned pink and be firm to the touch. Drain and set aside to cool.
3. Preheat oven to 160 degrees Celsius. Put the shredded coconut in a dry frying pan or on a thick baking sheet. Place in the oven for about 12 minutes, shaking once or twice, until the coconut turns golden brown. Tip out into a bowl to cool. This process can also be done on the stovetop, but requires greater vigilance.
4. In a frying pan, heat some olive oil and then gently saute the spring onions and garlic over low heat until wilted. Set aside.
5. Combine all the ingredients for a dressing and mix vigorously until sugar has dissolved.
6. Place the pomelo segments together with the cucumber, tomato, spring onion and garlic mixture, basil and fresh chili (if using).
7. Add the shrimp and pour over the dressing. Toss well to combine. Add half of the toasted coconut and half of the peanuts and toss again, keeping the remainder for garnish.
8. Taste and adjust the seasoning, adding more sugar, lime, fish sauce or chili sauce to suit your taste.
9. Place on a bed of salad leaves. Top with the remaining coconut, peanuts and basil leaves and serve immediately.
Ian Bartholomew runs Ian's Table, a small guesthouse in Hualien. He has lived in Taiwan for many years writing about the food scene and has decided that until you look at farming, you know nothing about the food you eat. He can be contacted at Hualien202@gmail.com.
Comments will be moderated. Keep comments relevant to the article. Remarks containing abusive and obscene language, personal attacks of any kind or promotion will be removed and the user banned. Final decision will be at the discretion of the Taipei Times.