Bittersweet concoction
R&D Cocktail Lab serves delectable infusions made from locally-sourced ingredients and liquors collected from around the world in a modern apothecary setting
There are no windows on the ground floor of R&D Cocktail Lab. The outside of the bar on 178 Yanji Street is a simple dark gray wall with the ethanol molecule carved in the right-hand corner. The molecule is also the only spot where curious passersby can sneak a peek.
Inside, medicine cabinets line the wall behind a narrow wooden bar. Displayed on the shelves are bourbons, bitters and a row of infusions with labels such as "black tea vodka" and "green tea gin." On the wall are four characters: 詩朋酒侶 (shi peng jiu lu), which means to enjoy good alcohol with good friends.
Books about alcohol line the shelves on the upper level, which is more 1930s Shanghai than apothecary-esque. Old Chinese-style sliding doors portion off the room, and a partly shielded window with intricate engravings look out into a small balcony where fresh herbs such as rosemary and marigold are grown. In some ways, it's easy to imagine the original set-up of the 80-year-old building, which was one of Taipei's first lottery houses.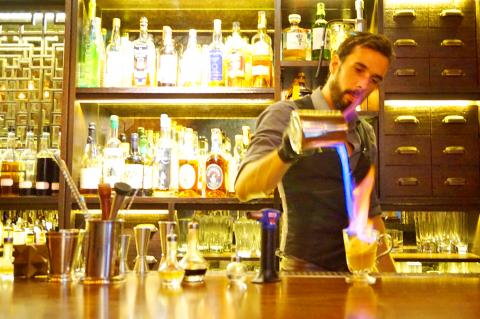 Bartender Yann Gueroult makes a Burning Cane using a flaming blue blazer technique.
Photo: Dana Ter, Taipei Times
R&D, which stands for "Research & Development," is the brainchild of three entrepreneurs united by their nerdy fascination with liquors — Spencer Huang (黃勝斌), who is half American and half Taiwanese, Yann Gueroult from France and Dale Kung (孔柏仁) from Taiwan. Kung was Huang's language professor at National Taiwan University. Hungover from previous nights' shenanigans, Huang would design his one-on-one classes with Kung in such a way that they were talking about alcohol each class. He eventually convinced Kung to leave his teaching position and join him and his friend Gueroult, who was a chef back in France, to open R&D in January this year.
Huang and Gueroult were bartenders at Ounce, another speakeasy-type bar, where Huang says they "became obsessed with infusions." At R&D, like at Ounce, everything is "built to spec" which means there's no menu. Customers simply tell the bartender the flavors they like, and he'll whip up a cocktail using whatever fresh ingredients are available. But that's where the similarities with Ounce and other craft cocktail bars end.
Gueroult says that there's the assumption in Taiwan that if a bar is owned by expats, or even if it's an upscale establishment, it has to have a Western theme.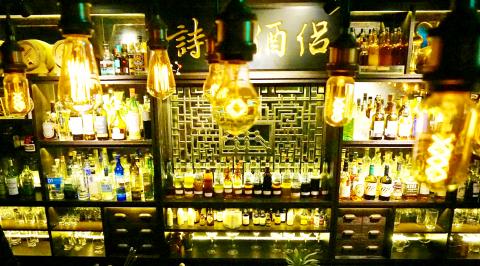 R&D Cocktail Lab boasts a modern Chinese-style decor with an apothecary touch.
Photo: Dana Ter, Taipei Times
Huang thinks this is silly. "We're white guys," he says, referring to him and Gueroult. "So we decided to open an Asian-themed bar."
Although many of the bitters and bourbons are collected from their travels around the world, the fruits, spices and herbs are locally sourced. Huang travels to Pingtung to buy fresh fruit from farmers, and his friends sometimes bring ingredients, such as lemon thyme, from their gardens to the bar. The ingredients available at the bar match the growing season, so while the summer months have seen more mango-rum infusions, drinks with strawberries and passion fruit will start popping up during the winter.
"There's a lot of under-valued fresh ingredients in Taiwan," Huang says.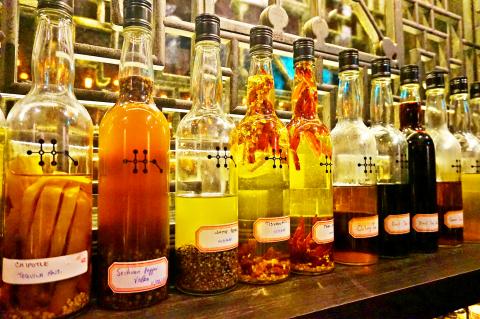 Infusions made with fresh herbs and spices are seen behind the bar at R&D Cocktail Lab.
Photo: Dana Ter, Taipei Times
During the daytime, Huang is usually experimenting with new concoctions because, as he says, "the cost of playing around is negligible."
But it's not as easy as it seems. When I ask for a recipe to whip up my own cocktail from home, Gueroult looks at me as if I'm mad.
"To bartend, you need a bar," Gueroult says.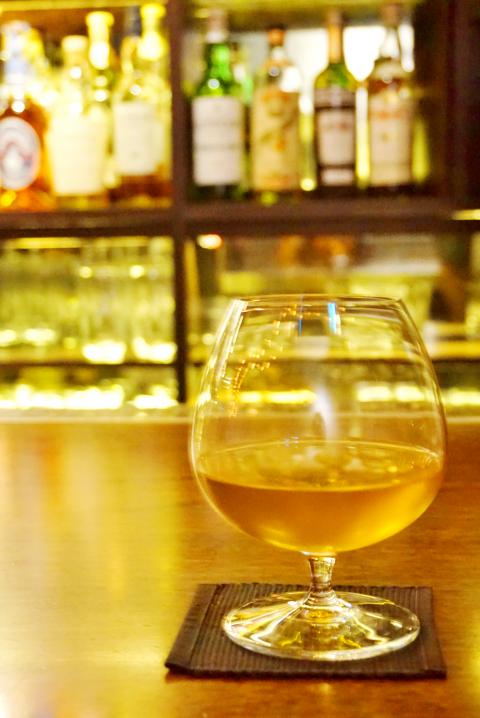 Aaron's Gambit.
Photo: Dana Ter, Taipei Times
Infusions are tricky — not so much in the preparation, as that simply requires a lot of patience waiting for weeks for the ingredients to sink in to the alcohol — but more so in getting the balance of flavors right.
"Infusions are active and living, so you have to know when to kill them," Huang says.
Despite the detailed craftsmanship that goes into making each cocktail, the founders insist that they're not trying to be fancy. R&D isn't the type of place to go if you're looking to get intoxicated fast, but neither is it a place to put up airs. Rather, it's about enjoying the flavors in the drinks — which can range from a mocktail to a smoky scotch.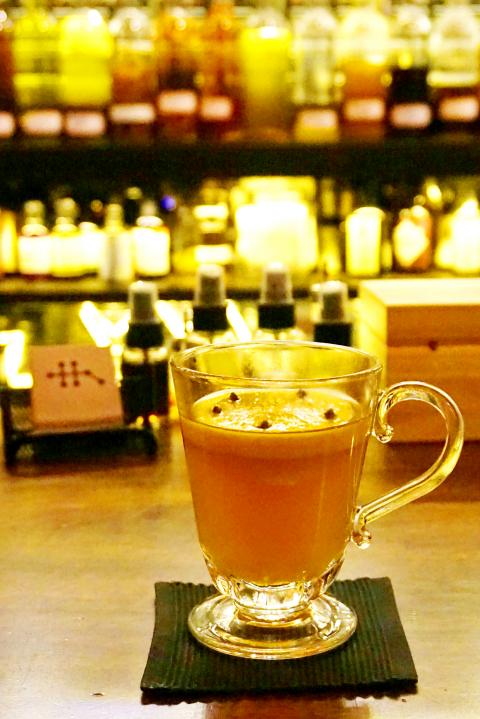 Burning Cane.
Photo: Dana Ter, Taipei Times
In fact, Gueroult sees the bar as being part of the recent healthy eating/farm-to-table movement, which has recently expanded to encompass alcohol.
"It's not to say that alcohol is healthy," Gueroult says. "But it's more about appreciating the craft, as well as the quality of the drink."
He adds that he's hesitant to give their cocktails fancy names or to embellish them with garnishing since bartending to him is a craft, not an art.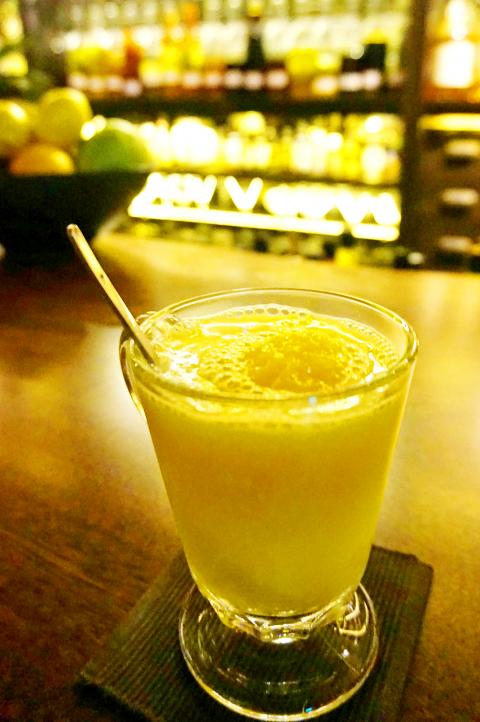 Mango Agogo
Photo: Dana Ter, Taipei Times
Huang thinks it's because of their philosophy that the bar tends to attract a crowd closer to middle age — notably patrons in their 30s and 40s, although they do see some fellow jetsetters in their 20s.
"If you've traveled, you have to add 10 years to your age," Huang says.
Although, looking around at the infusions and bitters resting atop Chinese medicine cabinets, while taking in a whiff of whiskey, R&D seems timeless at the very least.
TOP PICKS
Mango Agogo
This mango-rum infusion topped with a mango sorbet and a dollop of mango syrup is thirst-quenching and not too strong, making it an ideal summer drink.
Aaron's Gambit
Aaron's gambit is a drink for heavy Scotch drinkers. Made with a smoke gun technique, and consisting of a mixture of Talisker, an Oban 14-year-old whiskey, and a Dry Curacao, it has a smoky texture with a hint of hickory wood.
Burning Cane
The burning cane is made out of vanilla liquor, cinnamon, honey, bitters and rum which is heated at 57°C using a flaming blue blazer technique. While its warm and heavy taste gives the burning cane a festive flair, it's also a suitable drink to mark the start of fall. With a hint of acidity, it pairs well with orange, chocolate or chestnut-based desserts. Another surprising quality that the burning cane has is that it's soothing for your throat.
Taipei is a city that has positioned itself as being cheap and fast,but the revolution for craft drinks is taking wind and alcohol aficionados are thirsty for more. Thirsty in Taipei is a monthly column devoted to spotlighting chic, conceptual bars that aren't your typical watering hole.
Publication Notes
R&D Cocktail Lab
Address: 178, Yanji St, Taipei City (台北市延吉街178號) Open: Tuesdays to Thursdays 7pm to 2am, Fridays to Saturdays 7pm to 3am, Sundays 6:30pm to 12:30am Average drink: NT$350 to NT$450 On the net: www.facebook.com/rdtpe
Comments will be moderated. Keep comments relevant to the article. Remarks containing abusive and obscene language, personal attacks of any kind or promotion will be removed and the user banned. Final decision will be at the discretion of the Taipei Times.