Muddy Basin Ramblers Grammy bound
The jug band, nominated for Best Recording Package for 'Formosa Medicine Show,' will compete against albums designed for Pearl Jam, the Pixies and FKA Twigs
When the Grammy Awards ceremony takes place on Sunday in Los Angeles, Taiwan will have two hopefuls in the audience. Along with Taylor Swift, Pharrell Williams and Iggy Azalea, Ohio-born blues guitarist and former Taipei Times features writer David Chen and Hong Kongese graphic designer Andrew Wong (黃家賢) — both longtime Taiwan residents — will sit in the Los Angeles Convention Center and wait anxiously for the opening of the envelopes. Chen and Wong are nominated for Best Recording Package Design for the album design of The Formosa Medicine Show, a 2014 recording by the swing blues band the Muddy Basin Ramblers.
This is Taiwan's sixth Grammy nomination, and all have been for music packaging. Designer Xiao Qing-yang (蕭青陽) was Taiwan's first Grammy nominee in 2005, and has been nominated a total of four times. Then Cheng Szu-wei (鄭司維), another graphic designer, was nominated in 2009. But no Taiwanese nominee has ever taken home the trophy.
"It seems almost impossible. The other nominees are all really famous, and it's hard to compete with that," says Wang.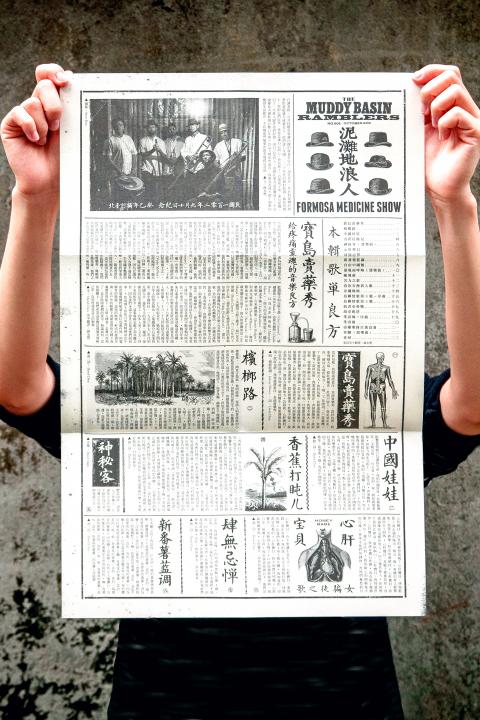 Illustrations that accompany one of the CD's inserts.
Photo courtesy of the band
This year's other nominees for packaging include designers of albums for the Pixies, Pearl Jam, FKA Twigs and a British singer-songwriter who goes by the name of Passenger.
Recent packaging awards have mostly gone to albums by big name artists, including Metallica, Bjork, Arcade Fire and The Black Keys. Last year's award, however, went to a dark horse, an indie alt-country band called Reckless Kelly.
The Formosa Medicine Show is a 23-song CD that is packaged to look like a vintage medicine container from the 1920s. The fold-open cardstock package is the size of an old 45 rpm record sleeve, and includes fold-out liner notes modeled on early 20th century medicine boxes. Most remarkably, the design elements manage to fuse styles from the US, Taiwan and Taiwan's colonial master of the early 20th century, Japan.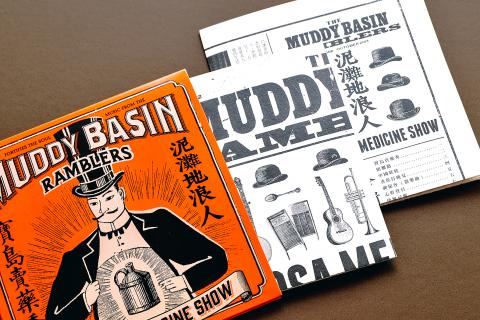 CD art and inserts for Formosa Medicine Show (detail).
Photo courtesy of the band
The album is a visual distillation of the Muddy Basin Ramblers trans-cultural project. Formed in 2002, the six-piece band is composed of expats who've made Taiwan their home, and have devoted themselves to recreating authentic American music of the 1920s, including blues minstrels, swing jazz and jug band folk.
Players include Chen on guitar and vocals, Sandy Murray on saxophone and ukelele, Tim Hogan on washboard and percussion, Will "Slim" Thelin on vocals, trombone and tap shoes, TC Lin on washtub bass and harmonica and Conor Prunty on harmonica.
The Muddy Basin Ramblers, named for the rainy Taipei basin, have also created swing arrangements for Taiwanese classics, including the song Wang Chun Feng (望春風), which in 1933 became one of the earliest albums pressed in Taiwan.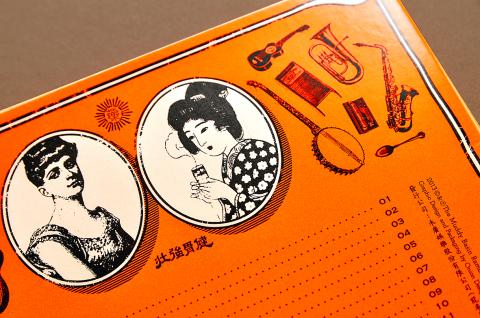 CD art and inserts for Formosa Medicine Show (detail).
Photo courtesy of the band
ANATOMY OF DESIGN
"The design concept simply came from the album," says Chen. "The stories of the songs imagined early 20th century American medicine show performers on 'Formosa,' and so I wanted the album cover to reflect this."
"We had already finished the recording, and gave Andrew and Yang Fong-ming (楊豐銘) — the other principal designer — the tracks from the album to listen to. In the meantime we had already spent a couple of months scouring the Web and advertising/design books covering the 18th century to the early 20th century to get inspiration for a visual look. We gorged ourselves on a lot of medicine ads from the US, old cigarette and tea posters from China and Japanese matchbox ads from the 20s and 30s, and then distilled that aesthetic into something that fit the album concept and the band. We spent a lot of time showing each other images we liked, and Andrew, amazingly, digested it all, and came up with the look of the CD."
The cover's main graphic is a top-hatted salesman, taken from the packaging of The Ikatsu, a Japanese stomach medicine brand founded in 1899.
Chen describes the Ikatsu logo as a "medicine man, with a wink, selling his medicine — which you could say is our music."
"Before this, I had no idea what 'jug music' was," laughed Wong, speaking with me in his design studio in Muzha. "But both David and I had a big interest in Americana and Victorian design, and in Taiwan, I hardly ever get to use this style. So for me, this project was a lot of fun."
Wong was born and raised in Hong Kong and studied design in the US at the University of Houston. He has lived in Taiwan since 1997, and his Onion Design (洋蔥設計) firm has done work for major corporate clients from BenQ and Acer to Coca Cola. Onion has also designed at least a half dozen indie album covers, with a 2013 album for the indie shoegaze band Sorry Youth nominated for a Golden Melody Award, Taiwan's top music industry award.
JUG BANDS
Wong also used to play in bands, and that's how he came to know Chen. They met at the 2004 Ho-Hai-Yan Music Festival, when Wong's band of that time, Passiwali (巴西瓦里), invited Chen onstage to perform with them.
Once Wong started listening seriously to jug music, he decided to mimic the Muddy Basin Ramblers' recording process — in which the whole band plays in a big room into a single condenser microphone — and take an analog approach to the design.
"One cool example of the work they did," says Chen, "the Chinese characters used were taken from cheap old books he bought at a street market in Japan. For the typeface on the album's newspaper inserts, he did not use Photoshop or Illustrator."
Wong and his team used more than 30 vintage fonts, all of them scanned and placed manually within their editing programs.
"Also, since the printing in that era was not so exact, we would print it out, then wrinkle or damage the printout, and then re-scan it."
The effect mimics the imperfections of old lead-type printing presses. Registration is imperfect. Some layers are smudged, and not all the areas are perfectly inked.
The Forumosa Medicine Show was originally self-released in Taiwan, and is distributed in the US through CD Baby. To be eligible for a Grammy, an applicant must either be a member of The Recording Academy or apply as a "media company," such as a record label. Taiwanese applicants, including Chen, have taken the second route. There is also a US$200 application fee.
Wong and Chen will now travel to Los Angeles for the Grammy Awards Ceremony, with travel expenses supported by the Ministry of Culture.
"I applied for the award, thinking it would be a longshot," says Chen. "I almost didn't apply, but my wife Robyn kept insisting that I do it, and I'm glad she did."
Comments will be moderated. Keep comments relevant to the article. Remarks containing abusive and obscene language, personal attacks of any kind or promotion will be removed and the user banned. Final decision will be at the discretion of the Taipei Times.