Book Review: Sons of the Republic
JW Henley's debut crime novel offers a ghastly but realistic glimpse into the underbelly of cross-strait relations
The Canadian-born JW Henley, who has spent nearly a decade as a freelance writer (he's a contributor to the Taipei Times) and musician in Taiwan has proven himself to be a formidable crime novelist. The best part of reading his debut novel, Sons of the Republic, is taking pride in knowing all the little details the author uses to describe Taiwan from road names in car chase scenes to the vibe at different neighborhoods such as Taipei's posh Xinyi District (信義) or decadent Zhongxiao Dunhua (忠孝敦化) area.
Yet, one does not need to be an old Taiwan hand or even to step foot in the country to appreciate Henley's message about the current state of cross-strait relations. Although a work of fiction, readers, even apolitical ones, can learn a great deal about Taiwan's side of the equation — something which is often underrepresented or misrepresented in English-language media coverage and academic discourse.
Rather than relying on good vs evil dichotomies, Henley meticulously hashes out how China and Taiwan are inextricably interconnected. This is accomplished mainly through the protagonist, a Taiwanese American named Jason Su. On the surface, Jason is the archetypal rich kid — he lives in a penthouse in the Xinyi District, jets to Thailand on weekends to party, and speaks Mandarin with a strong American accent.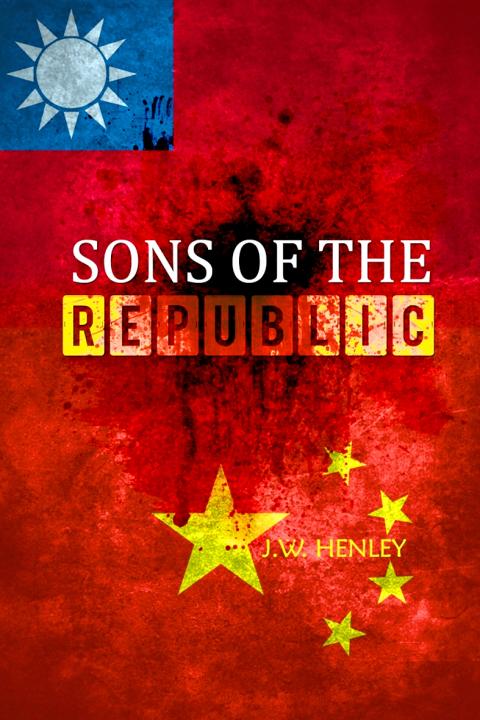 Sons of the Republic, by JW Henley
But Jason's comfortable life suddenly changes when he gets mixed up with a dead body that washes up on the shore of Kinmen (金門) and the murderers are suspected to be Chinese nationals. From then on, Jason is unwittingly drawn into a conflict which grows to involve spies and double-agents from both the Chinese and Taiwanese sides.
The messiness of the situation is summed up in a seemingly simple statement by an agent from the Chinese Ministry of State Security who says to Jason as they toast to a bottle of single malt scotch: "You must never forget who your friends are. Chinese, Taiwanese, I believe we are friends, yes? Or at the very least, we are becoming friends."
We later find out that it's a very facetious kind of "friendship," and categories are not as clear-cut as "Chinese" or "Taiwanese." Far from that, characters in Sons of the Republic are multifaceted and confused about their own allegiances.
Along the way, Jason and his counterpart Wang Li-yang, a stocky, six-foot-three private investigator and born-and-bred Taiwanese patriot, encounter a slew of characters — some comical and others more intimidating — who lead them closer and closer to the Kinmen murderers. Henley does a good job at providing readers with a colorful portrait of the wide spectrum of life which roam the streets of Taipei. From the witty street thug to the high-rolling politician who throws away wads of cash at hostess bars, each character represents a particular type of dysfunction in Taiwan's less-than-transparent democracy. Henley is not the least bit shy to point out these discrepancies in wealth, and it's these sorts of nit-picky details that truly bring the story to life.
The author's heavy metal leanings is also fleshed out across the pages of Sons of the Republic. In some ways, the novel reads like a typical young boy's fantasy with a good share of guts, gore and naked women. Warning notes are carved onto the stomachs of corpses, blood and brain tissue spatter across walls in shootouts, and limbs are snapped like twigs. Henley manages to make the slightest details seem gruesome. In one murder scene, the wrinkles below the victim's eyes "were stretched so far in his final scream of anguish that his skin seemed to the point of tearing."
There's nothing wrong with a good dose of gut-wrenching violence to set the scene, but all the characters who commit and bear the brunt of it are male. Female characters, by contrast, are relegated to the status of hostesses who smother their bare breasts in customers' faces in the discreet back rooms of glitzy lounges — although this is more the problem of the reality of high-rolling nightlife in Taipei rather than any fault of the author's.
The plot is far from trite. Henley does not exactly lay it out in a "whodunit" style since we know who the murderers are early on. It's more the case that it's hard to know which characters to trust since the line between confidant and traitor blurs with each subsequent encounter. Someone who may seem like a Democratic Progressive Party (DPP) sympathizer might actually turn out to be a pro-China unificationist and vice versa. As a Chinese general tells Jason and Li-yang, "Pretending to be one thing when you are another is vital to political survival, as is patience and manipulation, shadow play." Overall, Henley makes sure that it's unclear who's a pawn in whose game until the very end.
More than anything else, at the heart of the novel is a nagging, paranoid feeling that political perils are lurking beneath the surface — and they are waiting to be set off any time by the slightest, most insignificant trigger. The result is that readers can't help but wonder how many times both countries have come short of all-out confrontation.
The biggest lesson of all, which we come to learn along with the characters in the novel, is that often in politics, covering up is better than exposing the truth — especially if it means maintaining the status quo between Taiwan and China.
Publication Notes
Publication Notes
Sons of the Republic By JW Henley 247 pages Library Tales Publishing Paperback: US
Comments will be moderated. Keep comments relevant to the article. Remarks containing abusive and obscene language, personal attacks of any kind or promotion will be removed and the user banned. Final decision will be at the discretion of the Taipei Times.