What's next for messaging apps
Snapchat, WeChat and their rivals are placing big bets on what users want — and how to make money from it
Messaging apps are massive. WhatsApp has more than 600 million active users, while its stablemate Facebook Messenger has more than 500 million. Chinese rival WeChat — known as Weixin in its homeland — has another 468 million.
And those are just the 900lb gorillas of the messaging world. Snapchat, Viber, KakaoTalk, Line, Kik, Tango, BBM and others have eight or nine-figure active user totals, while Apple's iMessage serves iOS users.
Meanwhile, new apps like current US college buzz Yik Yak or recent novelty-buzz Yo are popping up all the time with new spins on messaging.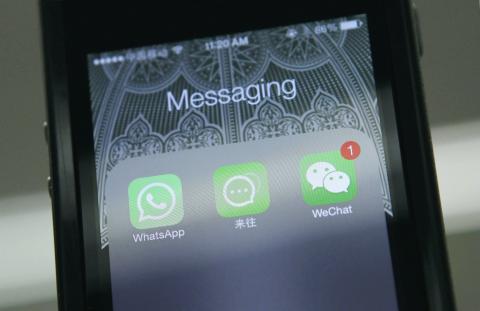 Icons of the applications WhatsApp, left, Laiwang of Alibaba Group, center, and WeChat are seen on the screen of a smartphone in this file photo dated Feb. 24.
Photo: Reuters
So how will these apps evolve? Beyond adding in features like voice calls and video chat, four main paths are emerging, although they're by no means mutually exclusive: privacy, payments, media and ads, with the latter including advertising.
The messaging apps share some simple goals: They want to attract more users, retain the loyalty of the ones they have already, and find ways to make money that don't conflict with the first two aims. Here's a snapshot of how they're approaching this.
PRIVACY AND ENCRYPTION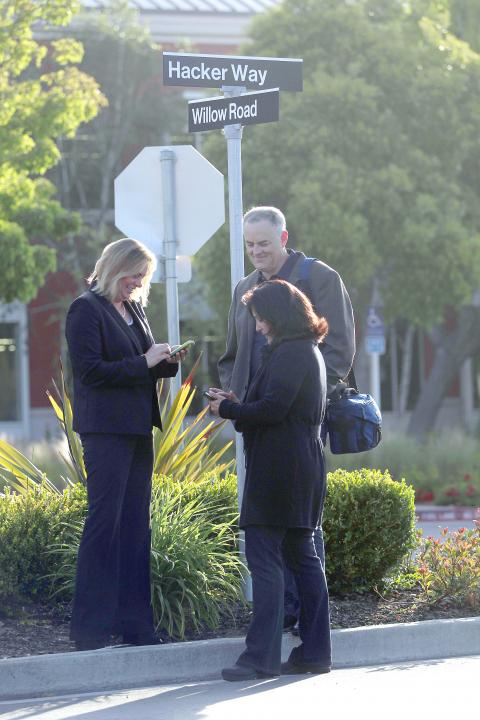 Message apps are red-hot and evolving fast.
Photo: AFP
Until now, there have been two distinct classes of messaging apps: the big, mainstream ones, and the group focusing specifically on encryption and privacy, including TextSecure, Telegram, Hemlis, Threema, Wickr and others.
That may be changing, with the biggest signpost being WhatsApp's recent addition of end-to-end encryption to its Android app with iOS to follow. It's working with the company behind TextSecure, Open Whisper Systems, which described the partnership as "the largest deployment of end-to-end encrypted communication in history."
The aim with this technology is to reassure users that even if the provider of their messaging app wanted to share their messages with intelligence agencies, they wouldn't be able to. That's a point Apple has made about its iMessages system too.
"If the government laid a subpoena to get iMessages, we can't provide it. It's encrypted and we don't have a key," said CEO Tim Cook in a September interview. However, researchers have challenged the company's claims.
This is the other important trend around privacy and messaging apps: not just that the big ones are paying more attention to it, but that they'll be facing scrutiny to check if their claims are true.
That's already happened in the case of Viber, with security a key feature in its app. In April, researchers suggested that it was transmitting images and video without encryption, including storing them online afterwards. The company moved quickly to fix the vulnerability.
Even the WhatsApp announcement, which came with a respected partner, sparked questions about how the metadata from messages — who contacted whom and where — might be dealt with by Facebook. Bodies like the Electronic Frontier Foundation are already active in this debate, as its Secure Messaging Scorecard shows.
PAYMENTS AND SHOPPING
Chatting to friends and swapping photos and videos are the core of messaging apps, but payments — whether to those friends or to companies selling products and services — is one of the new frontiers.
Snapchat got in early recently when it launched Snapcash, a partnership with payments firm Square that will enable people to register their debit cards with the latter company, then send cash to friends' bank accounts within the app.
It's limited to users over 18 in the US for now, with Snapchat's historical association with racy snaps sparking predictable "pay-for-porn" comments about Snapcash's likely use. But the new feature could also be a key part of Snapchat's work with brands and advertising — more on that later.
Facebook is also going to make payments a key part of Facebook Messenger sooner rather than later. The social network hired former PayPal president David Marcus in June to become head of its messaging products.
"I'm looking forward to getting my hands dirty again attempting to build something new and meaningful at scale," he wrote at the time. In October, leaked screenshots suggested that this new and meaningful thing would be the ability to register credit and debit cards with Facebook, then send money to friends through Messenger.
In China, messaging and payments coming together is older news. WeChat has been exploring commerce since 2013, when it added the ability to link bank accounts to the app in China, so that users could buy products from e-commerce sites who had profiles on the service.
It has also been helping people send money to one another, with millions swapping "red envelopes" to celebrate the Spring Festival holiday. Meanwhile, in Japan, Line has its Line Mall, a standalone app that's more of an eBay-style service connecting sellers and buyers.
Expect a flurry of partnerships between messaging and payment companies in the coming months — US app Dasher recently struck a deal with Venmo along these lines — and perhaps some experiments with integrating bitcoin and other crypto-currencies into messaging apps too.
MEDIA PARTNERSHIPS
One of the big trends around messaging apps is the perception that for young people in particular, these are becoming their main social networks: Even if they still have Facebook profiles, it's WhatsApp and Snapchat (in the west) where they're spending their time.
This in turn is fueling efforts to investigate whether those people will also want to get their media through these apps. In Asia, mobile gaming and messaging already go hand-in-hand, with the games networks of Line and KakaoTalk in particular proving lucrative for those companies and their developer partners.
In the west, Snapchat's media ambitions are particularly interesting. The company has been working on a new section of its app that will deliver "disappearing videos, news articles and advertisements" according to a Wall Street Journal scoop in August.
"The product would let users read daily editions of publications as well as watch video clips of TV shows or movies by holding down a finger on the screen, like they do with photos and other messages on the app before disappearing," claimed its report.
It was followed up by a Digiday report in November showing leaked mock-up images of the new feature, complete with media partners from Vice, BuzzFeed and ESPN to Spotify, Cosmopolitan and MailOnline. The sidebar of shame could soon be a messaging thread of shame.
BuzzFeed is at the center of this trend: it has already announced a partnership with WeChat to launch an official account sending people "the most viral things on the web that day," having recruited a staffer to specifically focus on integrations with messaging apps earlier in the year.
"There are so many people using messaging apps — our theory is that large numbers of people will use them to communicate and share media in the future," BuzzFeed's told TechCrunch. "To get involved early and figure out how users share these things is really important for the future of BuzzFeed."
That's the driver for all these companies: experimenting. Witness Spotify working with Tango, first on helping people share music clips with friends within the latter's app, then on a standalone musical photo-sharing app called Tango Music Pix.
Individual public figures are also experimenting. Paul McCartney has more followers on Line than on Twitter, while Viber is trying to sign celebrities up to a new feature called Public Chats, and Kik has been used by the likes of One Direction to communicate with fans.
ADVERTISING
But then there's advertising, which is underpinning the messaging apps' moves into payments/commerce and media alike. Snapchat introduced its ads in October, with a blog post eager to reassure users that they wouldn't be intrusive.
"An advertisement will appear in your Recent Updates from time to time, and you can choose if you want to watch it. No biggie. It goes away after you view it or within 24 hours," explained the company.
"We won't put advertisements in your personal communication — things like Snaps or Chats. That would be totally rude. We want to see if we can deliver an experience that's fun and informative, the way ads used to be, before they got creepy and targeted."
Rival Kik, though, is exploring whether it IS possible to put advertising into people's chats non-intrusively, with a feature called "promoted chats" that launched in November. Users who opt in may see sponsored messages pop up when they mention certain "trigger words" for the brands they follow.
Some messaging apps remain resolutely anti-ads. "We do not believe in plastering our users with advertisements," Viber's boss Talmon Marco said last year, albeit with a quote that leaves the way open to un-plastered ads in the future.
Meanwhile, WhatsApp CEO Jan Koum wrote a blog post titled "Why we don't sell ads" in 2012, which set out his views in no uncertain terms: advertising as a distraction for engineers, as well as "the disruption of aesthetics, the insults to your intelligence and the interruption of your train of thought."
For now, that policy seems to be holding true, even under Facebook's ownership. But one of the key trends around messaging in general over the next few years will be how WhatsApp's rivals approach the sensitive area of brands and advertising without sending their users fleeing.
Comments will be moderated. Keep comments relevant to the article. Remarks containing abusive and obscene language, personal attacks of any kind or promotion will be removed and the user banned. Final decision will be at the discretion of the Taipei Times.