Brewing more than coffee
"Activist" cafes such as the ones owned by former DPP politician Luo Wen-chia and Sunflower movement participant Lan Shi-bo, are part of the growing trend of activism as a fashion
Politics has a way of creeping into our lives whether we like it or not. Especially in Taiwan, where it's commonplace for people to wear their political beliefs on their sleeves, there are signs of this phenomenon everywhere — from snide remarks directed at Chinese tourists by the Taipei 101 to protest art. With the Sunflower movement a few months behind us and the local elections taking place next week, politics has become somewhat of a fad.
Even coffee can have political subtexts. Sipping a latte in a cute cafe in Taipei's Da-an District (大安) for instance, one can't help but notice the turquoise-colored "Taiwanese Independence" (台灣獨立) poster tucked in the wall behind the barista, or a yellow Hong Kong solidarity headband fluttering from a dimly-lit ceiling light. It's tantalizing to wonder about the political concoctions that brew in these sorts of coffee shops.
ACTIVISM AS FASHION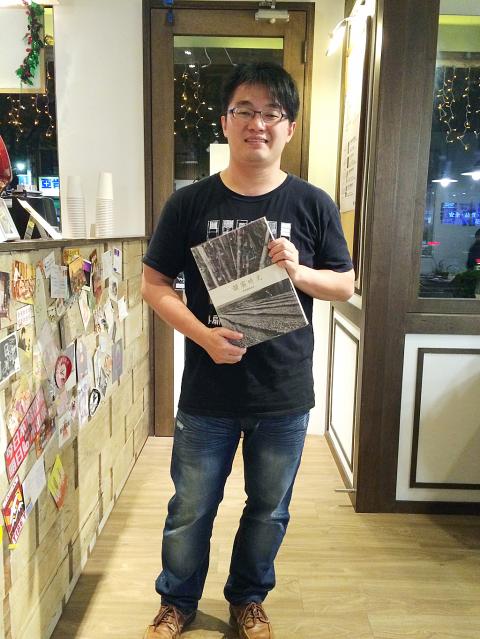 Lan Shi-bo, the owner of Cafe Backstage.
Photo Courtesy of Lan Shi-bo
Individually-owned hipster "activist" cafes are nothing new — they have been sprouting around liberal pockets in Taiwan over the last few years. Or as Lan Shi-bo (藍士博), who owns Cafe Backstage (後門咖啡) near National Taiwan University told the Taipei Times, since the Wild Strawberry movement (野草莓) in 2008. Cafe Philo (慕哲咖啡) on Shaoxing North Street (紹興北街), which opened in 2010, is the most famous of the crop. Known for its Friday night salons, Cafe Philo has been a breeding ground for social and political activism, and they have even expanded their forum overseas.
Lately however, there seems to be a parallel trend as more of these small, individually-owned coffee shops are rebranding themselves. Although they might have been established within a certain political context or with the intention of providing a support base for social movements, oddly enough, politics is sinking into the background.
The Taiwan independence posters and other Sunflower movement regalia are still there, but they are, for the most part, ornamental — mere eye-candy to keep up the hipster vibe and compete with other fashionable "activist" cafes.
The mini library at Cafe Backstage contains books on philosophy and social movements.
Photo: Dana Ter, Taipei Times
Whether these posters, pamphlets or paraphernalia are spurring customers to go on to instigate social change or protest against the government is hard to quantify, since the choice is ultimately up to the individual. The bottom line is that these coffee shops are not directly instructing their patrons to do so. Instead, the vibe increasingly seems to be activism as fashion, rather than action — and perhaps this new direction isn't as bad or as lazy as it sounds.
Cafe Backstage is a little white-and-brown paneled coffee shop on Fuxing North Road (復興南路) with elongated windows to draw attention to their impressive cake display. Inside, the wall of the counter where waitresses brew coffee is covered with stickers of popular slogans from the Sunflower movement like, "If we don't stand up today, we won't be able to stand up tomorrow" (今日不站出來,明日站不出來). Patrons at Backstage love to study as much as they love cake and coffee. The crowd is highly intellectual, comprising mostly of NTU graduate students. At the back, there's a small library on a raised wooden platform with books on philosophy and social movements.
The owner Lan Shi-bo is quite the intellectual himself. A humble and endearing PhD candidate at National Chengchi University, Lan muses over the historical figures who inspired him and his friends from NTU, where he did his undergraduate degree, to open Backstage in June of last year. The list is as diverse as American sociologist Erving Goffmann who coined the "backstage theory" to Taiwanese political activist Su Beng (史明) who has been dubbed the "Che Guevara of Taiwan."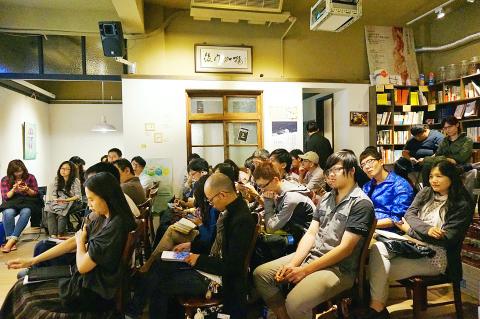 Cafe Backstage holds weekly forums where popular topics of discussion include cross-strait relations.
Photo: Dana Ter, Taipei Times
Lan, who was recently interviewed for the newly-released documentary Sunflower Occupation (太陽,不遠) on his experience occupying the Legislative Yuan, tried to downplay the political nature of Backstage as he thumbed through a thick binder consisting of the names and information of artists, musicians, authors, writers and activists who had performed or gave speeches at the cafe since it first opened.
"We are not choosing to hold events simply because of their political nature, but that doesn't necessarily mean that we will avoid holding events because they are political in nature," Lan said, referring to the weekly evening discussions at Backstage.
A recent talk at Backstage earlier this month centered on the need for Hong Kong and Taiwan to stand up together against China. As such, the cafe was still decorated with yellow Hong Kong solidarity banners and headbands, which initially made Lan's words hard to believe.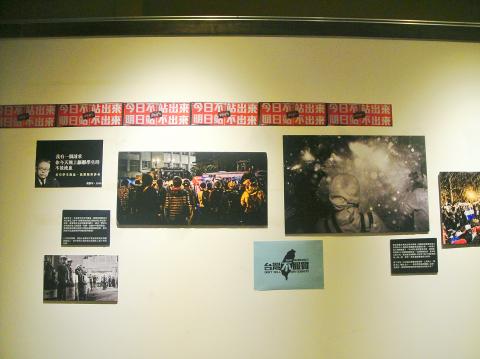 Photos from the Sunflower movement hang on the walls of Cafe Backstage.
Photo: Dana Ter, Taipei Times
Lan spoke with a sincere tone though, saying that "it wasn't because of the Sunflower movement that we decided to put up these posters — in fact, the establishment of our cafe was inspired by Taiwan's long history of social movements."
Formerly an active member of the NTU Dalawasao club (臺大濁水溪社), which churned out a fair batch of "wild strawberries" in 2008, Lan says that the design and atmosphere of Backstage was certainly influenced by these political events and movements.
"However," he adds, "I want the dining experience to be depoliticized and play up the vibe of providing students with a relaxing atmosphere to mingle and study instead."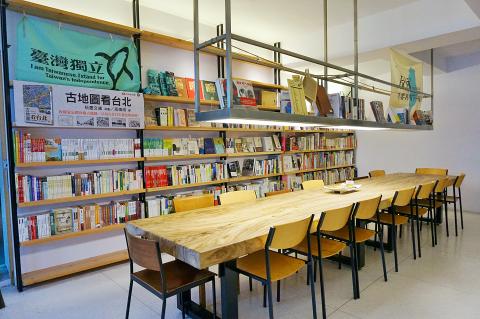 The communal study table at Buffalo Books provides for a cozy reading environment.
Photo: Dana Ter, Taipei Times
BEYOND BOOK-SMARTS
While Backstage could be described as a bookish coffee shop, Buffalo Books, Co (水牛文化事業) is more of a bookstore that's trying to make lofty ideas more relatable to the general public — while selling coffee on the side. The Taipei branch, which opened in September 2012, is a 15-minute walk from Backstage on Ruian Street (瑞安街), and is furnished with comfy swivel chairs and communal study tables. A connecting door opens to the organic food store and restaurant next door and another door at the back of Buffalo Books leads to a massage area complete with various massage oils.
The owner of the bookstore-cafe-spa-organic restaurant is none other than Luo Wen-chia (羅文嘉), famed Democratic Progressive Party (DPP) politician, and one-time assistant to former president Chen Shui-bian (陳水扁). Although in his late 40s, Luo has a baby face and amiable smile which makes him look much younger. He spoke with simple eloquence, articulating his thoughts clearly, without the air that some politicians have.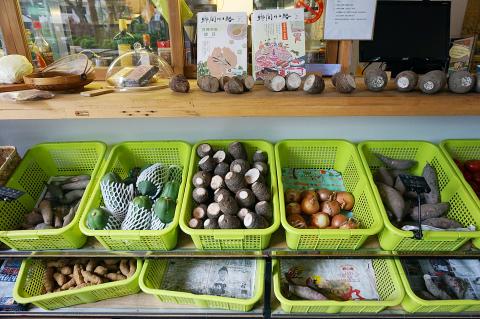 Luo Wen-jia makes sure that his restaurant next to Buffalo Books has a constant supply of fresh produce brought in from Taoyuan.
Photo: Dana Ter, Taipei Times
When asked about the growth of individually-owned "activist" cafes around Taiwan within the latest few years, he said, "democracy is not just a political system, it is an attitude."
Luo added that "the act of opening a coffee shop is like an assertion of one's own democratic right to run a business as you please, and a lot of these coffee shops are evocative of such freedom of expression."
"The atmosphere," he says, "depends on the owner's personal taste and they design it according to whatever social issue influences them the most."
Buffalo Books is like a mish-mash of Luo's personal interests. A Taoyuan native, Luo's passion for farming and agriculture is evident in ways such as using organic produce and freshly harvested rice shipped from their branch in Taoyuan County to supply the Taipei restaurant. A third branch of Buffalo Books in Greater Tainan not only grows rice, but also holds regular English and music classes for underprivileged children.
Whereas Backstage attracts intellectuals, Buffalo Books draws a more diverse crowd especially in terms of age range. Their Taipei branch provides book readings for children as frequently as it holds talks on cross-strait relations, for instance.
Luo's collection of books ranges from agriculture and farming to history and politics — including a section on Taiwanese history and another one on Chinese history.
"Taiwanese want to have a deeper understanding of China, and not just from a political standpoint, but they also want to know about China's people and culture," Luo said.
He adds that "it's not right to simply understand China through our own projections of it or through our misconceptions."
Like Lan, Luo certainly has his own opinions on politics; he chooses, however, to keep them at bay. He says that there is no way to ascertain if his books are converting patrons into social activists, only that he hopes Buffalo Books "will provide a window for people to see a broader view."
Political activism might just be a fad in cafes and bookstores, but it's not a fad that will fade anytime soon. Sure, it's become a sidebar in establishments such as Backstage and Buffalo Books, but it's nevertheless still there. Eventually, these posters and books slip into our subconscious, showing that sometimes, activism as a fashion can be just as powerful as a call for social action.
Comments will be moderated. Keep comments relevant to the article. Remarks containing abusive and obscene language, personal attacks of any kind or promotion will be removed and the user banned. Final decision will be at the discretion of the Taipei Times.