A Youbike over troubled bridges
Bike lanes before Youbike, please
Youbike's expansion to New Taipei City could mean that integrated bicycle transportation between it and Taipei is close at hand. But building too many Youbike stations before a cycling infrastructure — in the form of bike lanes and bike bridges — is in place could possibly result in an unpleasant and dangerous riding experience.
"If the route isn't safe, I won't even consider taking a Youbike through Taipei. There just aren't enough dedicated bike paths," said Lin Chiung-lien (林瓊蓮), a post-graduate student at National Taiwan University (NTU).
"Every time I'm in the city I always feel it's really scary to ride," Lin said.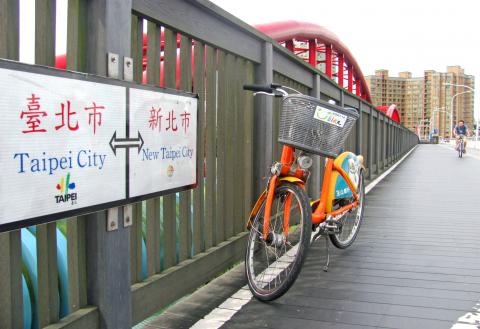 Yongfu Bridge connects Taipei's Zhongzheng District and New Taipei City's Yonghe District.
Photo: Aaron Wytze Wilson
Lin's concerns are legitimate for many who regularly use Youbike, a city government-run bike rental service. Despite convenience of use, and a growing number of Youbike stations around the city, Taipei's biking environment is still missing vital bike lane infrastructure. Without a plan for an overall citywide bike lane system, Taipei may never reach the heights of world-class cycling cities like Amsterdam and Copenhagen.
Taipei and New Taipei City are expanding and integrating their Youbike schemes at a lightning pace, hoping to change car and scooter drivers into cyclists. But without bike lane infrastructure constructed at a simultaneous pace, cyclists could face unsafe riding conditions, squashing efforts to change the cities into a bike rider's paradise.
MY KINGDOM FOR A DEDICATED BIKE LANE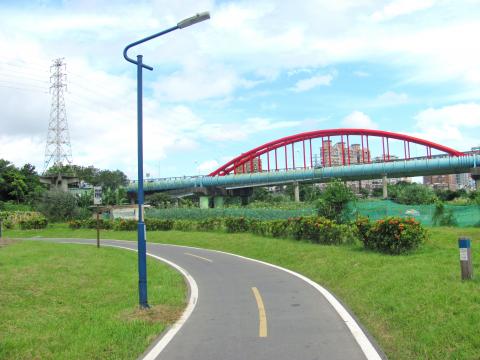 The idyllic Yongfu Bridge in Yonghe, which clearly designates car, scooter, bicycle and pedestrian lanes.
Photo: Aaron Wytze Wilson
Although it took more than two years for Youbike to see a large number of registered users, it is now considered a huge success for both the Taipei City Government and Giant Manufacturing Co Ltd, with over 115,000 registered users. The number of stations in Taipei will soon increase to 162.
This has led other cities in Taiwan to partner with Giant to create their own Youbike public rental schemes, including New Taipei City.
After a false start with New Taipei City's "New Bike," which was widely derided by both citizens of Taipei and New Taipei City for not being compatible with Taipei's Youbike bike rental scheme, New Taipei City's Transportation Bureau has pushed for Youbike to get a fast track introduction to the city, with a pilot project set up in Sijhih (汐止) and Xindian (新店) districts, followed by an additional estimate of 60 new Youbike stations to open by year's end.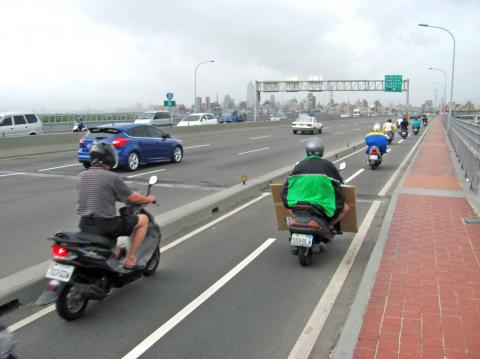 Scooter riders zip by on Banciao's Huajiang Bridge.
Photo: Aaron Wytze Wilson
Within two years, the New Taipei City transportation bureau department estimates a total of 300 stations will open across the city, with a total of 8,000 bicycle units available for use. A representative from New Taipei City's transportation bureau said that they are still doing research right now on how best to integrate their system with Taipei.
But Youbike stations are outpacing the construction of bike infrastructure, leading to a potentially chaotic transition for bikers as demand for bikes continues to outpace dedicated or mixed-use bike lanes and bridges that can give cyclists a pleasant and safe cycling experience.
A TALE OF TWO BRIDGES
Both Taipei and New Taipei City's transportation bureaus said that some Youbike users who enjoy biking for the purposes of commuting will face difficulties crossing bridges and finding connecting dedicated bike lines. New Taipei City's Banciao District's (板橋區) towering Huajiang Bridge (華江橋) is an example of the difficulties integrating the two Youbike systems.
Banciao and Taipei's Wanhua (萬華) districts are connected by four different bridges, with expansive stretches of riverside park on both sides. But crossing to either side of the bridge to reach the park poses a series of problems.
The park is separated from other roadways by a more than 10-meter high cement barricade, and there are no pedestrian or cyclist bridges that facilitate transit between the parks.
Also, the point where Banciao's Huanhe Expressway (新北環河快速道路) and Huajiang Bridge intersect is a mess of intertwining highway bypasses, arterial roads without clear signage, pedestrian walkways halfway under construction and no designated bike lane to cross the river.
Citizens of Banciao who were pining for the day they could ride their Youbike across the river to return it to a Youbike station in Wanhua, may want to reconsider.
There are bridges between Taipei and New Taipei City that do provide designated bike paths, but they are unevenly placed.
Guangfu Bridge (光復橋), the southernmost bridge connecting Banciao to Wanhua, features a separated path for pedestrians and cyclists to use, as does Yongfu Bridge (永福橋), connecting Taipei's Zhongzheng District (中正區) and Yonghe District (永和) in New Taipei City. But Zhongzheng Bridge (中正橋), which connects central Yonghe to Da-an and Zhongzheng is an elevated hot mess of speeding cars, trucks and scooters with an unprotected pedestrian path no wider than one meter.
For Yonghe resident and NTU student Yang Ing-rong (楊營容), taking the Taipei MRT from Dingxi Station, transferring at Guting Station, and getting off at Gongguan Station, is a more convenient way to get to school than taking a bike, despite a short distance of only 1.5km from her home to the university.
"Having to cross the bridge from Yonghe is really inconvenient," Yang said.
Zhongzheng Bridge has passed between various central planning and municipal bureaus over the last decade, which is perhaps why it has no developed cycling infrastructure.
"Frankly speaking, improving Zhongzheng Bridge for bikers to use would be very difficult," said Liu Chia-you (劉嘉祐), a division chief at the department of transportation. He said Yongfu Bridge, and Fuhe Bridge connecting the east bank of Yonghe to Zhongzheng would be a safer choice for cyclists looking to commute from Taipei to New Taipei City.
But Liu also said that many Youbike users would first consider other factors before making the long trek across one of the bridges linking New Taipei City and Taipei. People consider the geographic environment they're at, whether they're close to an MRT station and how much time it would take them to bike the distance, Liu said.
Liu agreed that there are people who use the bike rental service primarily to commute, and is concerned for their safety when they cross the bridge, but he emphasized that most riders currently use Youbike as a way to get to other forms of public transportation.
"We've found that most people use Youbike as part of their trip to or from an MRT station. When Xindian and Sijhih districts requested Youbike in New Taipei City, one of their main reasons was that it would be faster for them to ride a Youbike to Dapinglin or Jingmei MRT stations," Liu said.
But perhaps the lack of cycling infrastructure makes this a foregone conclusion.
Banciao resident Chen Yu-han (陳榆涵) said she won't ride a bike on any of Banciao's bridges to Taipei because there are too many scooters, it's too far and just too dangerous, she said.
TAIPEI: ASIA'S BIKING CAPITAL?
The culture of riding a bike to work instead of a scooter or car is still new in Taiwan. It starts in Taipei, and filters out to other places, Liu said. Getting people used to a biking culture requires cultivation from an early age in elementary and high school.
As for Lin Chiung-lien, crossing any of Taipei or New Taipei's bridges to commute to her class at NTU would be out of the question.
"I've only ever crossed over a bridge with a scooter once. It was really scary, so there's no way I would ever use a Youbike to cross over the bridge from New Taipei City," Lin said.
But Bret Hinsch, professor at Foguang University and a biking enthusiast, is more optimistic about the growing popularity of biking in Taipei.
"Biking in Taipei is totally new. When I first came here in 1985, public transportation was horrible. You look at the trajectory of where Taipei was and is now — it's amazing."
Comments will be moderated. Keep comments relevant to the article. Remarks containing abusive and obscene language, personal attacks of any kind or promotion will be removed and the user banned. Final decision will be at the discretion of the Taipei Times.