Restaurant review: Balle Balle Indian Restaurant & Bar (巴雷巴雷印度餐廳)
Finding a really good Indian restaurant can be a difficult task in Taipei, where choices are limited not so much because of the small number of dining spots, but because of the similar, if not exactly identical, food on offer. Fortunately, progress is occasionally made with the arrival of establishments such as the Balle Balle Indian Restaurant & Bar.
Opened more than one year ago on Guangfu North Road (光復北路) near Bade Road (八德路), the place first caught my attention when I walked past the storefront and saw it was packed with patrons many of whom were Indian. And the reason for its brisk business proves to be self-evident as soon as I took my first bite of the rich flavors from the Indian subcontinent finely rendered at Balle Balle.
Balle Balle's kitchen is fully devoted to Punjabi cuisine from the Punjab region in north India. As it turns out, many of the popular elements of the Indian cuisine such as tandoori cooking is derived from the region. Compared to the often extensive menus that have the weight of a book at similar establishments, the Punjabi-centered eatery has a diner-friendly carte mainly composed of appetizers, tandoori food, curry dishes and breads. Meanwhile, ingredients used by the restaurant's team of Indian chefs directly come from the Indian specialty store which is the owner's other business venture.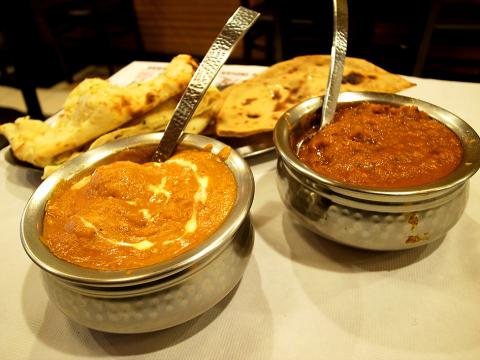 A feast of Punjabi cuisine awaits you at Balle Balle.
Photo: Ho Yi, Taipei Times
As Punjab is also the birthplace of Sikhism, the space is bedecked with ornaments and objects that represent its religious and cultural roots, including a life-size statue of a Sikh greeting diners by the entrance. Apart from the Sikh figurines and dolls, the dining environment is neatly arranged, devoid of gaudy travel photos of South Asian landmarks and exudes a feel of straightforwardness that is strangely comforting.
Equally reassuring is the Indian manager known as GV. Speaking fluently in English and Mandarin, the manager is as friendly as he is helpful in making recommendations and answering patrons' needs.
With the help of GV, my dining partner and I started our meal with murg malai kebab (NT$380), a tandoori starter made up of boneless chicken marinated with cashew paste, homemade cream and spices. We were both won over by the surprisingly tender, succulent meat, accompanied by the slightly charred, lusciously sweet onions.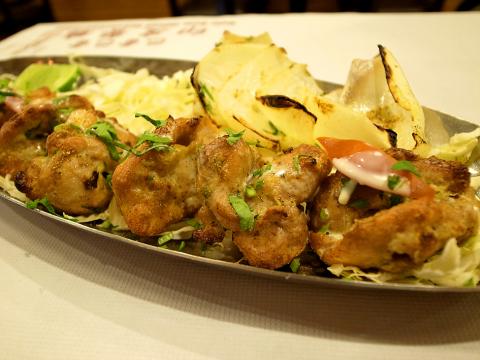 A feast of Punjabi cuisine awaits you at Balle Balle.
Photo: Ho Yi, Taipei Times
The vegetarian alternative to the chicken tandoori snack is paneer tikka, which involves Indian cottage cheese grilled in a clay oven. Among them, hariyali paneer tikka (NT$410) is marinated with yogurt, cashew paste and flavored with mint and spinach.
From the curry section, which comprises choices of chicken, lamb, fish and vegetables, we chose veg kofta (NT$290), featuring soft balls made from mashed potatoes and mixed vegetables and submerged in onion and cashew gravy, while spices including ginger and coriander add punch to the delightfully creamy dish.
The gosht rahra (NT$360) delivered a wow effect with the offering of tender, boneless mutton tossed in onion gravy and makes another mild, smooth curry delicacy.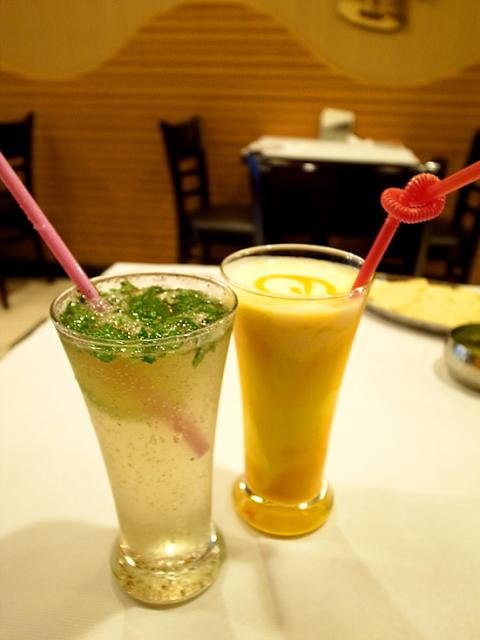 A feast of Punjabi cuisine awaits you at Balle Balle.
Photo: Ho Yi, Taipei Times
The restaurant has a wide variety of naan, roti, kulcha and paratha. Both the garlic naan (NT$75) and tandoori roti (NT$85) we tried were satisfyingly substantial and chewy. Amritsari aloo kulcha (NT$120) particularly impressed with the savory stuffing of mashed potatoes and spices.
For drinks, the restaurant offers the richest and thickest mango lassi (NT$120) I have ever tried. But the best companion to Balle Balle's hearty fare, in my view, is the pudhina nimbu soda (NT$80), that aids digestion with a concoction of mint leaves, lime, black pepper and salt.
With fine food and warm, attentive service, Balle Balle Indian Restaurant & Bar is quickly becoming my favorite spot to quench my thirst for the flavorful South Asian fare.
Publication Notes
Balle Balle Indian Restaurant & Bar (巴雷巴雷印度餐廳)
Address: 12, Guangfu N Rd, Taipei City (台北市光復北路12號)
Telephone: (02) 2570-7265
Open: Daily from 11:30am to 2:30pm and 5:30pm to 10pm.
Closed on Mondays
Average meal: NT$600 to NT$800
Details: Menu in Punjabi, English and Chinese; credit cards accepted
Comments will be moderated. Keep comments relevant to the article. Remarks containing abusive and obscene language, personal attacks of any kind or promotion will be removed and the user banned. Final decision will be at the discretion of the Taipei Times.