Restaurant review: Tonchin Ramen (屯京拉麵)
Yet another foray in the ramen invasion of Taipei, Tonchin Ramen (屯京拉麵) purports to provide authentic ramen not just from Tokyo, but from the Ikebukuro district of that city.
Ikebukuro is a commercial and entertainment district, and the ramen that Tonchin serves up is quite a performance. I had been told that it was the polar opposite of Enishi Ramen (麵屋緣, reviewed in the Taipei Times on July 20, p12), which serves Kyoto style ramen, and that it would be hard to find two establishments serving the same food with such different presentation and ambiance.
Whereas Enishi is stripped down and understated, Tonchin has a big, high-ceilinged glass dining area, a slate-tiled stairway, a roped-off entry and exit lanes to manage the press of people. Although already an established presence, a lunchtime visit had a queue running down to the street.
The spicy Tokyo-style broth with caramelized onions is the dish at Tonchin Ramen that makes it stand out from the crowd.
Photo: Ian Bartholomew, Taipei Times
Despite the crowds, the service was efficient, and those waiting in line in the blistering summer heat were handed glasses of chilled water and paper fans to make the wait more bearable. A subsequent afternoon visit just after 4pm proved that Tonchin could remain three-quarters full even at this unfashionable time.
There is a huge picture menu that offers a wide number of variations on what is actually quite a small number of main dishes. The menu is an explosion of color, and it is easy to become overwhelmed by what seems a multitude of choice.
Exploration of what was on offer began with the super-value Tokyo-style pork ramen (NT$260), which packed an amazing amount of flavor and texture into a single bowl. There was sliced pork, preserved bamboo shoots, a chiffonade of spring onions, two egg halves, kombu and probably much more that could not be sorted from the ostentatious pile atop the bowl. Then there are the noodles, which are made with the unusual inclusion of fish powder into the dough, giving the strands a depth of flavor independent of the broth. This broth was also rich in flavor, with multiple layers revealing themselves as you got to grips with the dish. Screens above the service counter showed a short video about the making of the noodles and the broth, and highlighted the ceaseless crowds that cram Tonchin's Tokyo outlets night and day.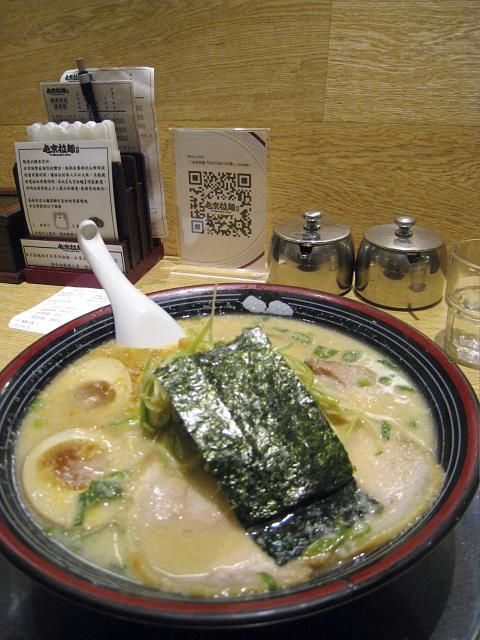 Tonchin Raman does a hearty Tokyo-style pork ramen.
Photo: Ian Bartholomew, Taipei Times
The super-value Tokyo-style pork ramen was good, but it was nothing you would write home about. It ticked all the right boxes for variety of flavor and texture, but there are other places in town that could meet it point for point.
The spicy Tokyo-style broth with caramelized onions (NT$260) was quite a different proposition, and had the kind of impact, if you like spicy food, that gets people coming back for second and third visits. The secret is that it is not super spicy, but generates a gentle slow burn in the gullet that seems particularly soothing in the hot weather. Ordered in the version with additional roast pork (NT$270), it is a meaty, fishy, spicy, salty, bowl of ramen heaven. Well-chilled water is available on the service counter, helping to wash down the heavily-flavored dish.
Servers ask whether you want a medium or large portion of noodles when you order. (Both are the same price.) Portions are generous and a medium serving is probably sufficient for all but the heartiest eaters.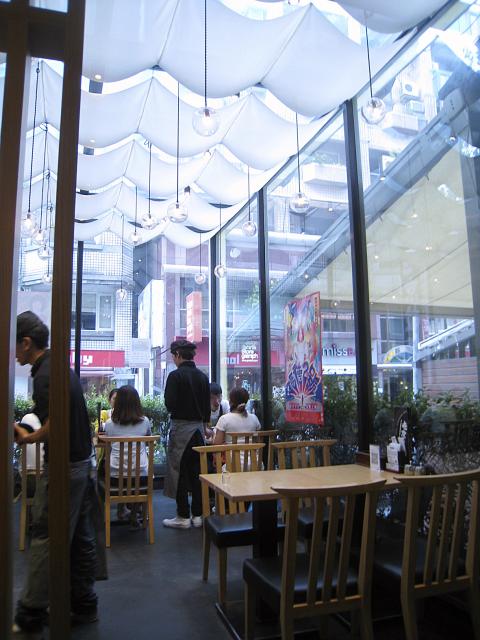 The swanky interior makes Tonchin stand out from conventional ramen houses.
Photo: Ian Bartholomew, Taipei Times
Servers also warn that the restaurant will not do takeout for unfinished noodle dishes.
A number of side dishes are available, ranging from cold tofu to western-style salads (NT$80), but none looked particularly appealing. Almost irresistible though were the deep-fried chicken pieces (NT$180), which are incredibly crunchy and moist, and almost worth the high price, and together with a bowl of noodles, make a blowout meal for one.
As the ramen invasion continues, Tonchin looks like it has already established its beachhead. Get in early or be prepared to wait in line.
Publication Notes
Tonchin Ramen (屯京拉麵) Tonchin Ramen (屯京拉麵) Tonchin Ramen (屯京拉麵)
Address: 36, Ln 187, Sec. 1, Dunhua S Rd, Taipei City (台北市敦化南路一段187巷36號) Telephone: (02) 2731-7897 Open: 11am to 11pm Average meal: NT$350 Details: Menu in Chinese, credit cards accepted, no service charge
Comments will be moderated. Keep comments relevant to the article. Remarks containing abusive and obscene language, personal attacks of any kind or promotion will be removed and the user banned. Final decision will be at the discretion of the Taipei Times.