Movie review: Zone Pro Site
Chen Yu-hsun's first feature after 16 years is a highly entertaining comedy based on bandoh, a unique form of Taiwanese banquet culture
After disappearing from the film scene for 16 years following Tropical Fish (熱帶魚) and Love Go Go (愛情來了), director Chen Yu-hsun (陳玉勳) returns with Zone Pro Site (總舖師), a comedy centered on bandoh (辦桌, lit: setting up table), the traditional Taiwanese outdoor banquet typically held at special events such as weddings, festivals and babies' one-month-old celebrations.
With an ample budget of NT$70 million and seven investors including Warner Bros, Chen Yu-hsun's comedy has the look of a summer blockbuster with an A-list cast of actors, sleek production values and abundant supply of good-natured humor. But what makes the film stand out is its attention to the emotional side of the story, which revolves around the art of the Taiwanese banquet catering.
A long time ago, there were three bandoh master chefs whose names alone evoke awe. However, as times changed, the tradition of banquet catering gradually waned, and the chefs who catered them quietly faded away. On his deathbed, Master Fly Spirit — a master chef played by renowned director Ko Yi-cheng (柯一正) — passed on the family recipes to his daughter Wan (Kimi Hsia, 夏于喬), who desperately wants to escape the catering business. Young and sassy, Wan tries her luck at modeling in Taipei, to little avail.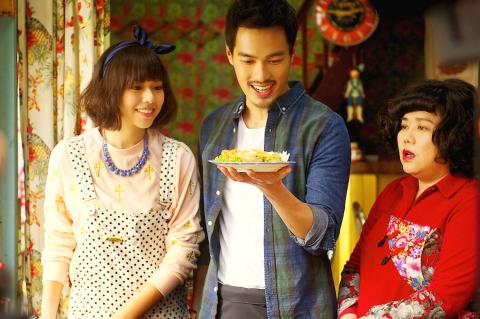 Zone Pro Site scores with a well-chosen cast of veterans, including from left, Kimi Hsia, Yo Yang and Lin Mei-hsiu.
Photo courtesy of Activator Marketing Company
The ill-fated model soon finds herself on the run from two debt collectors, amusingly played by Chen Chu-sheng (陳竹昇) and Chen Wan-hao (陳萬號), who hold Wan responsible for her boyfriend's huge debt. Disillusioned, Wan returns home to Tainan and discovers that the family business has been reduced to a noodle stand after her mother Ai-fong (Lin Mei-hsiu, 林美秀) loses a bid for a big outdoor banquet, and subsequently sinks into debt.
The mother and daughter get a break when a former customer asks them to cook up a table of old bandoh dishes that have long fallen into oblivion. As luck would have it, Hai (Yo Yang, 楊祐寧), a self-proclaimed food doctor who turns unsavory food into delicacies, comes to their rescue. As they learn to recreate the traditional menu, love buds between the two young cooks. Hai, however, disappears one day after a quarrel with Wan.
Meanwhile, with a partially completed menu of traditional bandoh fare, the mother and daughter decide to enter a national bandoh competition to pay off their debts. Facing competition from Master Ghost Head (King Jieh-wen, 喜翔), a master chef recently released from prison, and Hai, the chef's favorite protege, Wan takes up the challenge and discovers the true spirit of bandoh.
A boisterous melange of influences and ideas, the film fluently dabbles in different territories but is never too outstretched that it falls apart. The three master chefs, their legendary prowess and the different paths they choose while searching for the meaning of bandoh, read like a synopsis for a promising martial-arts flick. Crossing over to the realm of Japanese manga, the film playfully features sequences of manga-style hyperbole: An old man recalls youthful puppy love after eating fried rice noodles; another dish is so tasty that it literally blows the assembled gastronomes into outer space. Not to be outdone, a team of zhainan (宅男) — a term that refers to homebound nerdy guys immersed in comics, cartoons, computers and online games — always come to offer assistance to the young heroine the moment she needs help.
The most fantastic setting in the movie is underground, where Master Silly Mortal — the most elusive master chef played by cultural glitterati Wu Nien-chen (吳念真) — dwells and cooks for outcasts and vagabonds. It is one of the rare moments in Taiwanese cinema that make good use of Taipei's subterranean labyrinth of interconnected subway stations, railways and tunnels. The result is a well-crafted fantasy world where large underground murals portray the history and custom of bandoh.
As the delightfully messy script requires, the film enlists a large troop of characters and cameo roles by some of Taiwan's most distinctive talents. Leading man Yang enchants with his deadpan comic delivery, owing much to his character's funky accent, which is ingeniously designed to tone down the actor's good looks. Comedian Lin invests a healthy dose of sprightliness and vigor to her role as the loudmouthed, artless mother, supported by the more farcical humor properly handled by veteran actors Chen Chu-sheng and Chen Wan-hao as the two debt collectors-turned-little helpers.
Despite a large cast of new actors and veterans, performances are surprisingly even; every role is given a moment to shine. Even veteran thespian King's supposed sinister Master Ghost Head is a fun character, apparently hailing from the disco era with his bell-bottom pants, greasy hair and a theme song by Mando-pop legend Liu Wen-zheng (劉文正), who thrived during the 1970s and 1980s.
But Chen Yu-hsun knows well that humor and whimsical characters alone can't touch the heart. Amid constant glee, the film nevertheless clings to grassroots emotions and the central motif which is embodied in Wu's Master Silly Mortal, who believes that bandoh is never about making money or procuring fame but about giving everybody a chance to contribute and connect with each other. Mutual understanding and reconciliation between characters are reached in the grand finale, without which the climax-reaching bandoh competition would merely be an empty spectacle. Ultimately, Zone Pro Site proves that Chen Yu-hsun is a director worth waiting for.
Publication Notes
Film Notes
Zone Pro Site 總舖師 Directed by: Chen Yu-hsun (陳玉勳) Starring: Kimi Hsia (夏于喬) as Wan, Yo Yang (楊祐寧) as Hai, Lin Mei-hsiu (林美秀) as Ai-fong Running time: 145 minutes Language: Mandarin with Chinese and English subtitles Taiwan release: Today
Comments will be moderated. Keep comments relevant to the article. Remarks containing abusive and obscene language, personal attacks of any kind or promotion will be removed and the user banned. Final decision will be at the discretion of the Taipei Times.