Refugees "squatting" on a gold mine
In the first of a two-part series, the 'Taipei Times' examines the history of Huaguang Community and the controversial demolition of the neighborhood from the viewpoint of residents
Derelict houses, walls partially demolished, lie scattered with old family photos, stuffed animals and heaps of torn, well-worn furniture. Some have been razed to the ground. One street away, the grand Chiang Kai-shek Memorial Hall looms in stark contrast to the nearly deserted neighborhood where few households remain standing, inhabited only by those who cannot afford to move elsewhere and are now mired in debt.
Having lost her job during the 2008 economic crisis, 50-year-old Cheng Wei-hui (鄭偉慧) is burdened with fines of NT$1 million for living in the house she was born and raised in. Her neighbor surnamed Chiu (邱), who is now in his 70s, owes more than NT$4 million. Chiu's family has lived in Huaguang for five generations, decades before the Chinese Nationalist Party (KMT) regime's 1949 retreat to Taiwan.
On the other side of the community, 88-year-old Lee I-ching (李義清) ekes out a living by selling odds and ends salvaged from other people's garbage. Like countless boys and young men, the-then teenage Lee was forced from his rural home in Fujian Province by the KMT that desperately needed soldiers to fight its doomed battles against the Communists during the Chinese Civil War. He eventually ended up in Taiwan in 1948. He now lives with his daughter, who works odd jobs from dawn until late at night and is stuck with a fine of NT$900,000.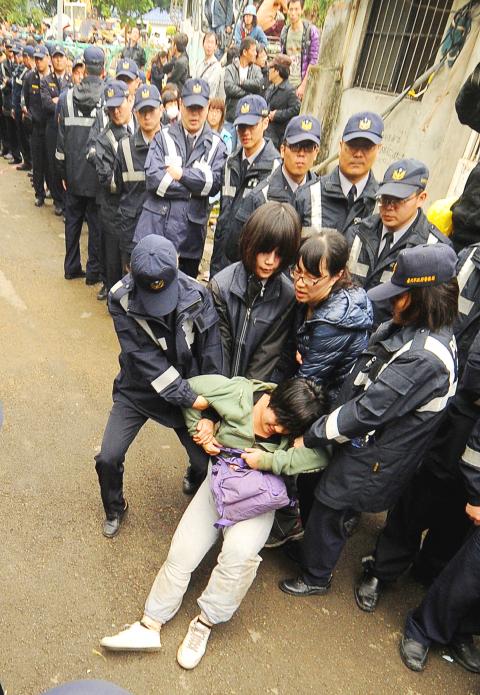 Police drag away a student protesting the demolition of buildings in the Huaguang Community.
Photo: TT
For decades, the 12-hectare Huaguang Community (華光社區), which is located in the heart of Taipei, was home to the poor, the elderly and the disadvantaged — until, that is, it became prime real estate. The area will soon be flattened to make way for a glitzy, upmarket neighborhood inspired by Tokyo's Roppongi district. The process of forced evictions by the central government began a few years ago, and there was no relocation plan for the residents. To facilitate evictions, the Ministry of Justice (MOJ), which owns the land, filed lawsuits against residents for "illegally" occupying state properties, resulting in fines to residents that range from a few hundred thousand New Taiwan dollars to several million. Most inhabitants have been forced to leave. Others have died while fighting for their right to stay.
"I was taught to love my country, but I didn't know the country I loved was like this," Cheng Wei-hui says. "It gives money to big corporations and condemns us people to death."
From prison to palace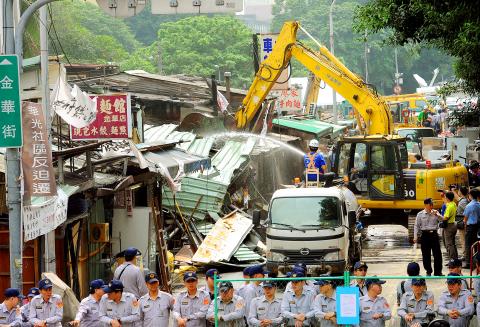 Heavy machinery is used to flatten the Huaguang Community in late april.
Photo: TT
Surrounded by present-day Jinhua Street (金華街), Hangzhou South Road (杭州南路) and Jinshan South Road (金山南路), Huaguang used to be known as the Prison Gate (監獄口). Open in 1904 under the Japanese colonial government, it was one of the country's first modern penitentiaries and was outfitted with on-site dormitories for prison staff. The KMT government took over the facility upon its arrival and continued to use it as a prison and detention center. Prison personnel, courthouses and judicial institutes took over the dormitories, while a large number of low-ranking public servants, unable to obtain living quarters, were allowed to build houses in the area.
Wang Yu-chi's (王禹奇) father came to Taiwan in 1949 and served as a bodyguard for Cheng Yan-fen (鄭彥棻), a politician who later became a minister of justice.
"Back then, civil servants and military personnel were taught to believe that the relocation to Taiwan was only temporary and that buying houses would mean they didn't want to return to China…. When my father married my mother in 1961 and wanted to start a family here, all the available dormitories had been filled. So the minister [Cheng Yan-fen] said to him: 'the land is ours [the ministry's], so don't worry, just build your house here. If you need building materials, take some from the ministry,'" the 51-year-old Wang says.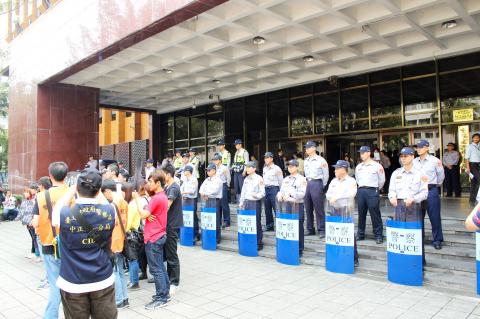 Students protest out front of the Taipei District prosecutor's office while police line up in front of its entrance.
Photo: TT
Apart from public employees, those civilians and soldiers who followed the KMT to Taiwan also made their way to Prison Gate. Brother Lee's (李哥) father, for example, set up ramshackle houses together with his friends.
"There were so many people. They found places to live in whatever way they could. You couldn't let them sleep on the street, could you?" says Brother Lee, who has lived in Huaguang since 1958, when he was born.
The prison and detention center were relocated to the suburbs of Taipei in the 1960s and the 1970s. Meanwhile, Taiwan's economy took off, and the city quickly expanded. Masses of people left the countryside to seek work in the capital, settling in places like Huaguang.
"Poor country folk and KMT veterans couldn't afford to live elsewhere in the city. But they could buy a house here," says resident Mr Lee (李先生), who requested anonymity because he fears for his safety.
For as long as Cheng Wei-hui and Mr Lee can remember, Huaguang has been a forlorn place sealed in against outsiders because no one would want to live in a neighborhood where people were executed and "the clack of shackles was heard at night."
"No one would come, except for the poor and those who worked here," the 56-year-old Mr Lee recalls. "As late as the 1970s, there were still empty plots of land available if people wanted to build houses here."
Long-term residents, newcomers and their families have lived side by side in the humble neighborhood in the decades since then. Little did they know that their home would one day become a "gold bar" in the eyes of politicians and land developers.
urban gold mine
In 2007, the Executive Yuan announced the "Four Gold Bars" (四大金磚) plan, in which Huaguang would be developed into Taipei's Wall Street. Four years later, the plan was changed to Taipei Roppongi (台北六本木), a scheme that aims to transform the shabby neighborhood into a glittery commercial and shopping district.
Hsu Yi-fu (徐亦甫), a leader in the Huaguang Student Team which has been lobbying on behalf of Huaguang residents since last December, estimates that the build-operate-transfer (BOT) project will bring in investment worth close to one hundred billion dollars, though the details of the development program have yet to be made public. Hsu's findings are backed up by a study done by property developer CB Richard Ellis Ltd's (CBRE) Taiwan branch. The only thing that is certain is that the Huaguang residents were never part of the plan.
To facilitate demolition of the community and hand the "cleared" land over to the Ministry of Finance, which manages state-owned properties, the MOJ divided the nearly 700 households into three categories: legal dormitory tenants, illegal dormitory tenants — those who had job transfers — and illegal occupants, which includes those who have lived in the community without "official" permission. Since 2006, the 175 "illegal occupant" households have been slapped with lawsuits by the ministry under the Principles for the Disposal of Occupied National Public Use Real-Estate Managed by Administrative Authorities (各機關經管國有公用被占用不動產處理原則), which allows the government to use civil suits to remove squatters.
The long struggle
Having paid taxes and been provided with electricity, running water and official residency registration, or hukou (戶口), for all their lives, the residents suddenly found themselves considered to be illegal squatters and defendants in court. Except for a few households that reached settlements with the ministry, all the others lost their cases and had to compensate the ministry for "illegally profiting" from their occupation of the land. To make things worse for the economically disadvantaged residents, the government froze their bank accounts and seized one-third of their salaries to make sure that compensation is paid.
To 55-year-old Brother Lee, who ran a breakfast stall that was set up by his father next to their home more than 50 years ago, the forced eviction and fine of NT$700,000 have been devastating.
"They took everything. They sold and cashed my stocks, took the last NT$1,050 in my bank account," he says. Evicted from his childhood home and with his small business uprooted, the unemployed Brother Lee now lives with a friend.
Cheng Wei-hui faces a similarly daunting situation. The government seized her bank account earlier this year. She now works odd jobs, earning NT$10,000 a month.
"I am a middle-aged, single, childless woman who doesn't have a steady job. I am going to take the debt to my grave," she says. "Every morning I wake up, I think of the debt that keeps adding up. But I can't afford to rent a place elsewhere."
Apart from the back rents for the past five years, residents have to pay daily fees for using the land until they tear down their own houses. For the recalcitrant ones, the central government sends in bulldozers to do the job, and charges them demolition costs two or three times higher than the going rate, according to residents.
Cheng Wei-hui says residents are constantly "pestered with phone calls and visits" by prosecutors and staff from the Taipei Detention Center (台北看守所), which owns most of the land in Huaguang, as well as police officers, asking them to move away. Outspoken tenants like Cheng Wei-hui are often "targeted."
"The police have shown up at my door telling me to leave. Everyone has been threatened in one way or another," she says.
Some elderly residents have died from the stress. Due to massive debt incurred by MOJ fines, 72-year-old Hsu Chu-ju (許竹菊) felt she had no other choice and hired demolition workers in January to tear down her soya milk shop that had been in business for more than 50 years. She died of shock on the same day.
Up in smoke
Arson has also been a worrying concern for Huaguang residents as fires often "mysteriously" break out in squatter communities set for demolition and urban renewal projects. Past examples include the KMT veterans' settlement on Linsen North Road (林森北路), which was partly burned down in 1997 before it was turned into Linsen Park (林森公園).
In 2008, a fire destroyed a section of Huaguang. It started in a house without electricity and running water that had been empty for years. The fire investigation report, however, insisted that a faulty electrical circuit caused the blaze. Three years later, a fire broke out in another vacant house on the second day of the Lunar New Year, burning down more than 15 homes. This time, it was arson, but the arsonist was never caught.
For Mr Lee, memories of the fire remain hauntingly vivid.
"It was around midnight. I stood there, watching it burn. Then the power went out. You couldn't see anything except the flames, devouring one house after another," he recalls.
A dealer in stamps and coins, Mr Lee lost his collection — his entire savings — in the fire. He has never restored his half burned-down house and has relied on sleeping pills ever since.
Like Mr Lee, Brother Lee has been given anonymity to protect his privacy. They say that if their true identities are known, they will become the target of government harassment or retaliation. Outspoken individuals are often seen as troublemakers, residents say. One example is the Lin (林) family who ran an auto repair shop for 30 years in Huaguang. They closed the business due to mounting fines of over NT$6 million. But the family kept the shop open as a meeting point for local residents, activists, NGO workers and concerned citizens. It was demolished in April. The Lin family was later sued by the government for fraudulent conveyance.
In tomorrow's story, the Taipei Times will examine the controversies and various issues surrounding the demolition of the Huaguang Community
Comments will be moderated. Keep comments relevant to the article. Remarks containing abusive and obscene language, personal attacks of any kind or promotion will be removed and the user banned. Final decision will be at the discretion of the Taipei Times.