Art exhibition listings
The 32nd Young Designers' Exhibition (YODEX, 新一代設計展) opens today with original fashion, art and advertising, industrial, digital media and interior designs by local students. YODEX, which serves as a recruitment platform, is built around a juried competition. Among the 59 contenders is National Taipei University of Technology's Department of Industrial Design, whose entries include an office chair that pulls out so you can nap face-down, and Flapping Ears (愛犬電動速克達), a contoured scooter that gives your pet a comfortable ride and a great view. Tatung University, another exhibitor with a strong record, has toys like the Walkabout, a mobile-phone powered device that's pushed out from the waterfront to pick up trash a swimmer can't reach.
■ Taipei World Trade Center Hall 1 and Hall 3, 5, Xinyi Rd Sec 5 (北市信義路五段5號) and 6 Songshou Rd (松壽路六號); tel: (02) 2745-8199 ext. 581. General admission: NT$200
■ Until Monday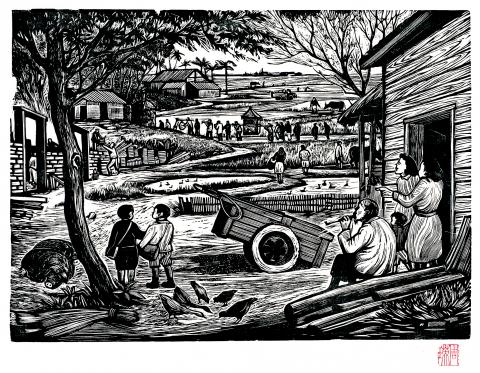 Chou Ying, The Spring of the Year (1949).
Photo courtesy of KdMoFA
Chinese painter Su Xioabai (蘇笑柏) manages conflict with a light touch at Grand Immensity — the Art of Xiaobai Su (大境-蘇笑柏藝術展), his painting and installation exhibition at Taichung's National Taiwan Museum of Fine Arts in Taichung (國立台灣美術館). Su, who trained at Germany's prestigious Dusseldorf Academy of Fine Arts, has developed a visual language that blends Occidental and Chinese aesthetics. He treats the canvas with big shimmery blocks of color like the western expressionists do, but applies classic Eastern iconography and Chinese mediums like lacquer to give his paintings a peculiar luster. Su eschews the symbols of nation, preferring to let his works surpass difference.
■ National Taiwan Museum of Fine Arts in Taichung (國立台灣美術館), 2, Wuquan W Rd Sec 1, Greater Taichung (台中市五權西路一段2號), tel: (04) 2372-3552. Open Tuesdays to Sundays from 9am to 5pm
■ Until July 21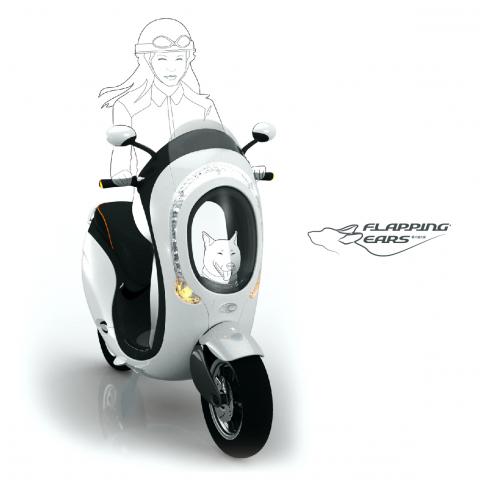 Wang Shih-jung and Chung Hsueh-wei, Flapping Ears (2013).
Photo courtesy of National Taipei University of Technology
The National Museum of History is showing 203 paintings and calligraphy works of artist Pu Xinyu (溥心畬), 50 years after his death. Pu, cousin to China's last emperor Pu Yi (溥儀), won acclaim during the Qing Dynasty for perfecting the trifecta of Chinese arts: poetry, calligraphy and painting. After fleeing to Taiwan in the same year as Chiang Kai-shek (蔣介石), Pu taught at National Taiwan Normal University and continued his work at a studio in Taipei until his death in 1963. The Scholar-Recluse: Painting and Calligraphy by Pu Xinyu (逸筆儒風:溥心畬書畫展) includes calligraphy — Pu excelled at running and clerical script — and classical paintings of nearly every genre: landscapes, birds-and-flowers and subject paintings featuring the mythological Zhong Kuo (鍾馗), an exorcist who wards off demons during the Dragon Boat Festival.
■ National Museum of History (國立歷史博物館), 49 Nanhai Rd, Taipei City (台北市南海路49號), tel: (02) 2361-0270. Open Tuesdays to Sundays from 10am to 6pm. General admission: NT$30
■ Until June 23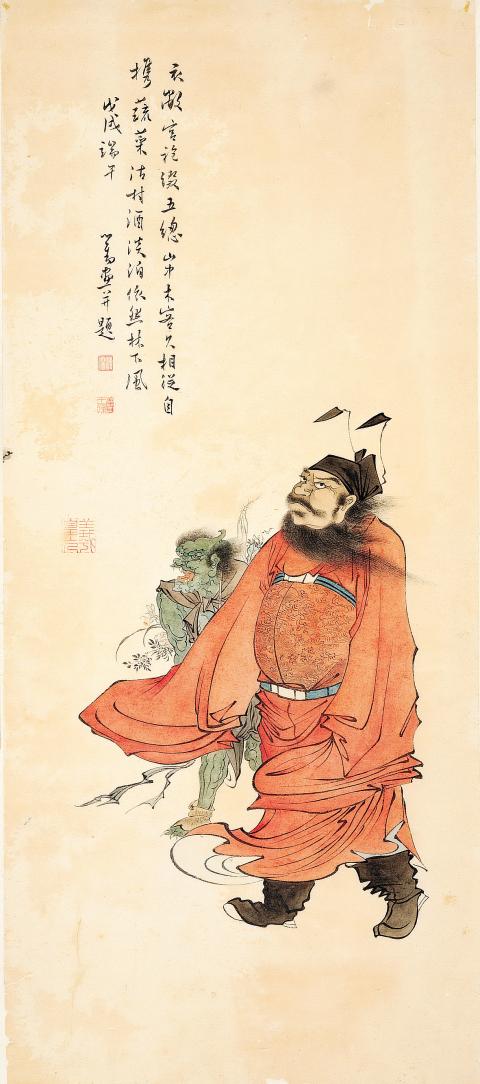 Pu Xinyu, Zhong Kuo (1958).
Photo courtesy of the National Museum of History
An Ode to Printmaking: A Retrospective (周瑛印紀) surveys the late printmaker Chou Ying (周瑛), who cofounded the Taiwan Society of Printmaking in 1970. Chou began his career with classic woodcut prints that rendered country folk in refined and realistic lines. After 1950, he branched out into other mediums such as cane-fiber boards, paper and finally stone. Chou's Ode to Stone, a series on display at the Kuandu Museum of Fine Arts (KdMoFA, 關渡美術館), was created by an innovative rubbing — not carving — technique that makes the cold stones exude warmth and light on prints.
Kuandu, a nine-gallery museum, is also showing works by contemporary artist Hsieh Li-fa (謝里法). Hsieh is a main driver of Taiwan's postwar art scene, and has worked primarily in art criticism and oil painting. In his early years, he was also a prolific printmaker. Old Plates New Prints — A Solo Exhibition by Hsieh Lifa (舊版新印-謝里法版畫作品展) presents a decade of his early printing work, dating from school days in Paris to his New York City apprenticeship in 1974. The prints are linocuts and zincographs that remark on and sometimes deconstruct local art trends, as well as document Hsieh's own evolution as an artist.
■ Kuandu Museum of Fine Arts (KdMoFA, 關渡美術館), 1 Xueyuan Rd, Taipei City (台北市學園路1號), tel: (02) 2896-1000 ext 2432. Open Tuesdays to Sundays from 10am to 5pm
■ Until July 14
Sixty-one galleries from Taiwan, Japan, Singapore and China bring contemporary pieces to the fifth annual Young Art Taipei 2013, a fair that shows artists under the age of 45.
■ Sheraton Taipei Hotel, F9, 12, Zhongxiao E Rd Sec 1, Zhongzheng Dist, Taipei City (台北市忠孝東路一段12號守九樓). Open today from 2pm to 10pm, tomorrow and Sunday from 12pm to 8pm. Admission: NT$250
■ Opening reception today at 8pm. Until Sunday
Comments will be moderated. Keep comments relevant to the article. Remarks containing abusive and obscene language, personal attacks of any kind or promotion will be removed and the user banned. Final decision will be at the discretion of the Taipei Times.