Restaurant review: Whalen's ( 味鄰 )
With the opening of Whalen's last month, the area off Anhe Road (安和路) near the Far Eastern Plaza Hotel suddenly has a crowd of restaurants serving Western-style brunches and sandwiches.
The competition is as tough as ever for the long-standing bar and restaurant Carnegie's, given the presence of the popular chain, The Diner (樂子), and the recent opening of Toast, another Western restaurant run by former Carnegie's employees. The owners of these establishments are probably watching each other with a wary eye, but for diners in the neighborhood, this only means more choices.
Each place has its own unique charm and drawbacks. The Diner comes the closest you can get to authentic American greasy spoon grub in Taipei, but the wait for a table is always too long. Carnegie's food has slid downwards a few notches in terms of quality, but their spacious outdoor patio is hard to beat for a meal with friends. Toast feels like a stylish, upscale neighborhood pub, but its overwhelmingly large menu raises the question of whether they're spreading themselves too thin (I've enjoyed every meal there on my four visits, but various friends have reported hit-or-miss experiences).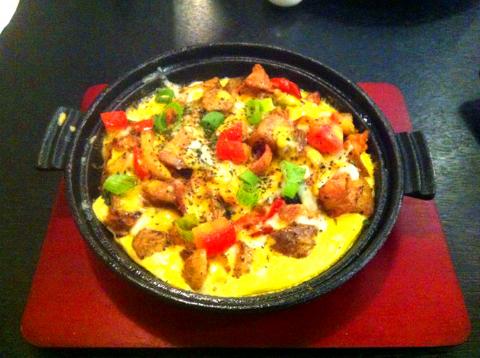 The classic "skillet" at Whalen's, which is eggs, sausage, bacon and fresh veggies baked in an iron-cast pan.
Photo: David Chen, Taipei Times
Whalen's is out to fill a niche of its own. It sports an interior that feels like a cozy European cafe. The walls are painted in earth tone colors and furnished with dark wooden furniture; there's a huge fresco painting on the wall leftover from the previous tenant, an upscale Italian restaurant.
But the food is unabashedly North American. The restaurant, named after Canadian expat owner Alex Whalen, offers plenty of comfort on a plate — almost too much. The selection will be familiar to regular patron's of Bongo's and Forkers, another set of popular burger restaurants started by Canadian expat Andrew Lunman. As "restaurant consultant," Lunman helped create the menu, which revolves around egg breakfasts, sandwiches and poutine (the French-Canadian snack of French Fries topped with gravy and cheese curd).
Like Bongo's and Forkers, Whalen's menu relentlessly pursues guilty pleasures. Cheese, and lots of it, is a staple ingredient across the menu; gouda, cheddar, jack and padano are melted in a variety of sandwiches and burgers stuffed with multiple varieties of meats dressed in creamy sauces (dijon mayo, spicy mayo and hollandaise). Within the selection of 10 omelets, you'll be hard pressed to find one without some kind of guilt-inducing ingredient. For example, the Taste of Chili (NT$270) and The Uneggspected (NT$280), both unusual omelets filled with off-the-wall items such as chili con carne and sun-dried tomatoes, come topped with sour cream.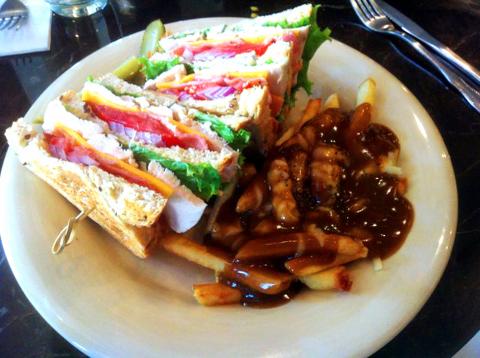 The "Country Club" sandwich at Whalen's.
Photo: David Chen, Taipei Times
When it comes to poutine, Whalen's Canadian Classic (NT$150) will easily fill you up, with goopy brown gravy and melted cheese drowning those freshly made French Fries (which taste exactly the same as Bongo's). If that doesn't do it, there are variations like Philly Steak Poutine (NT$180), which adds sauteed steak and bell peppers to the mix, or The Roughneck Poutine (NT$180), which comes with chili con carne and a dollop of sour cream.
Of course, you can ask the kitchen to go easy on the cheese, as I did when I ordered one of the restaurant's "skillets," or eggs (beaten) and chopped vegetables thrown into an iron skillet, baked in an oven and served hot at the table. I found the original skillet (NT$280) — loaded with potato homefries, chunks of sausage, bacon, bell peppers, onions and Gouda cheese — to be a hearty and satisfying meal. The skillets are a novel idea for Taipei's Western restaurants and somewhat lighter than the omelets. In general, you can customize the toppings or ingredients in the meals, but there are a few odd exceptions — my dining companion wanted a skillet without the home fries in the mix because he didn't want potatoes, but was told that the ingredients were "already prepared," and couldn't be taken out.
Whatever you do, it's best to come to Whalen's with a big appetite. For lighter options, there are two salads (caesar and a house with raspberry vinaigrette, NT$240 each), but they seem like an afterthought at a restaurant that offers a heart-attack-on-a-plate called The Elvis (NT$240), which is banana, bacon and peanut butter pressed between two slices of French toast.
On a second visit, I thought I would play it safe by ordering The Country Club (NT$320), a triple decker sandwich made with toasted wheat bread, bacon, lettuce, cheddar cheese and huge chunks of fresh roasted turkey. Was I wrong! Of all the ingredients, there was more turkey than anything else. After barely finishing this, along with a side of classic poutine (NT$40 extra), I felt like Thanksgiving had arrived early.
Lunman and Whalen are hoping to start attracting the breakfast and busy office worker crowd by offering takeout combos that include a drink with a choice of either bagel, salad, yogurt and cereal, burrito-style wrap and quiche, with prices from NT$180 to NT$220. They're also hoping to eventually make friends with night owls, with plans to eventually be open 24 hours a day.
The average meal at Whalen's is around NT$300, which is pretty much the same price and value you get at Carnegie's, The Diner and Toast. When it comes to the food, all of these restaurants do a good job of catering to the idea that what's "bad" for you can be good. But Whalen's seems to embrace the idea with a bit more zeal.
Publication Notes
Whalen's ( 味鄰 )
Address: 145, Anhe Rd Sec 2, Taipei City (台北市大安區安和路二段145號)
Telephone: (02) 2739-3037
Open: 10am to 9pm
Average meal: NT$300
Details: Credit cards not accepted, 10% service charge
Comments will be moderated. Keep comments relevant to the article. Remarks containing abusive and obscene language, personal attacks of any kind or promotion will be removed and the user banned. Final decision will be at the discretion of the Taipei Times.