Community: Friends in need
Two benefit events are being held this weekend to help two members of Taipei's foreign expatriate community who were recently involved in separate accidents.
Tonight, Carnegie's Taipei holds a fund-raiser for its manager, Kevin Skelly, who is suffering from severe head and internal injuries after a motor scooter accident last week. The 45-year-old UK native is currently in hospital, where he remains in a coma.
The event runs from 6pm to 9pm. The restaurant will serve food and drinks, and collect a minimum donation of NT$1,500 from 6pm to 7pm, NT$1,000 from 7pm to 8pm and NT$500 from 8pm to 9pm. All proceeds go to Skelly and his family.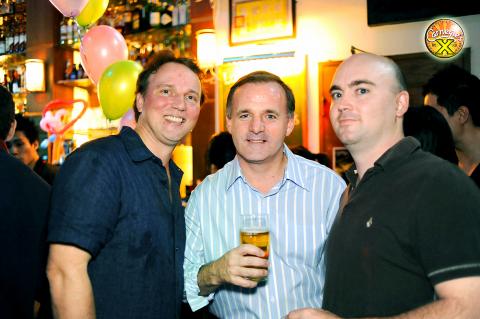 Carnegie's general manager Kevin Skelly, far left, with friends. A fund-raiser will be held tonight at Carnegie's for Skelly, who remains in a coma after a motor scooter accident last week.
Photo Courtesy of Carnegie's Taipei
Businesses run by members of the foreign community have also banded together to help. In addition to Carnegie's, donation boxes for Skelly and his family can be found at the following restaurants and bars in Taipei: Alleycat's Pizza, Brass Monkey, Capone's, Brass Monkey, Grandma Nitti's, KGB, Lutetia, Mayan Grill, Roxy Jr, Saints and Sinners, Sababa, Speakeasy and the Tavern.
Those unable to attend tonight's event can make a donation at any time via bank transfer. Details are listed on Carnegie's Web site (www.carnegies.com.tw), as well as on the Kevin Skelly Support Group's Facebook page, where friends and family are posting updates on Kelly's condition.
Carnegie's is located at 100, Anhe Rd Sec 2, Taipei City (台北市安和路二段100號).
On Sunday, another group of expats is putting on an all-day benefit concert for Ken Lee Danna, a 40-year-old Los Angeles native who has been living in Taipei for two and a half years.
Danna survived a fall from the balcony of his sixth-floor apartment in New Taipei City, and continues to recover in hospital since he was admitted on Jan. 19. He suffered extensive injuries, which include a broken pelvis and broken ribs, as well as a punctured lung and ruptured kidney. Danna is currently unable to walk, though he has started to regain motion in one of his legs.
The Ken Lee Danna Rehabilitation Celebration takes place on Sunday from 1pm to 10pm in Ximending at the Armed Forces Cultural Center (國軍文藝活動中心), 69, Zhonghua Rd Sec 1, Taipei City (台北市中華路一段69號).
Seventeen bands are scheduled to play in honor of Danna, who, in addition to being an English teacher, is known by friends and acquaintances as a musician and occasional busker.
Organizers are asking concertgoers to donate NT$500 to see a lineup that includes emo-rock group The Looking Glass, funk rock band The Kenyatta Trio, metal outfit Greasy Jelly for Mercy Killing and punk band The Deposers.
All proceeds go to Danna to aid him in his recovery, with all of the participating bands playing free of charge.
"[As musicians], they all know what it would feel like if they got injured and maybe they could never play their guitar or play their instrument again," said Karen Pavur, one of the event's organizers.
Though confined to bed, Danna is well enough to post occasional updates online. Those who want to track his progress can join the Ken Lee Danna Support Group on Facebook.
Funds will also be raised at the event through sales of a compilation CD to which each participating band has contributed a track, according to co-organizer Brian Reynolds. There will also be an after-party at Revolver, located at 1-2, Roosevelt Rd Sec 1, Taipei City (台北市羅斯福路一段1-2號). A percentage of the proceeds from the door charge will go to Danna. Donations can also be made online at kenleedannafund.weebly.com.
Comments will be moderated. Keep comments relevant to the article. Remarks containing abusive and obscene language, personal attacks of any kind or promotion will be removed and the user banned. Final decision will be at the discretion of the Taipei Times.