Restaurant review: Namaste Curry 塔美爾異國風
I've visited Namaste Curry, located on the second floor of a building in an alley across the street from the main gate of National Taiwan University, a number of times since it opened a few years back, and I'm always amazed by the disparity between its strengths and weaknesses.
This is immediately apparent in the decor. The restaurant's pleasing front section is large, bright, and uncluttered. Patrons remove their shoes to sit at one of four tables on a raised wooden platform, each of which is located at the corner of a large rug. Several windows provide natural lighting and accentuate a mural of a Buddhist temple.
The rear seating area looks like an entirely different restaurant. Though the walls are tastefully painted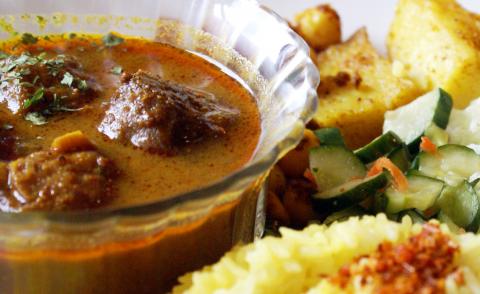 Namaste Curry is hit and miss.
Photo: Noah Buchan, Taipei Times
terra-cotta and the ceilings are yellow, the space is narrow, dark and somewhat stuffy. Kitschy bric-a-brac (a tapestry of deities, ceramic bowls, etc) seems to be an afterthought.
Foodwise, Namaste tends toward the simple and nutritious, with an emphasis on catering to local tastes. Each of the menu's eight dishes comes with a side of curried rice (NT$100 a la carte), coriander chickpeas, pickled cucumbers and seasoned potatoes.
I've never been to Nepal, so I'm not very sure what authentic Nepalese cuisine is supposed to taste like, but Namaste's owner says his curries are made from scratch and contain varying amounts (depending on the curry ordered) of coriander, turmeric, green cardamom, cumin, cloves, anise, chilies, cinnamon and lemon grass. The sauce of the curry with beef balls (NT$150) has a rich and complex flavor with a spicy finish. The meatballs, however, are tasteless and have a bizarre, rubbery texture. Chunks of beef would greatly improve this dish.
The spicy chicken masala curry (NT$150) stands out for its texture and hearty flavor. Made with mashed red lentils, it has a distinctive, slightly sweet, cardamom flavor that I found very appealing. It is great with the chicken or, as I've done on a few occasions, eaten alone as a soup.
As with the decor, Namaste's dishes are a mix of good and bad. The curried rice is said to contain turmeric and coconut milk; I found it somewhat bland. The mushroom and corn chowder (NT$50) tastes as though it comes from a packet and dessert consists of "Nepal pancake" (NT$50), a greasy, naan-style flatbread topped with large granules of white sugar.
Namaste has a lot going for it: delicious homemade curries served with nutritious sides in a space that, in one section at least, is relaxing and tastefully decorated. In other respects, though, it can't seem to decide if it is a night market stall with walls, or a restaurant serving up wholesome Nepalese-style fare.
Publication Notes
Namaste Curry 塔美爾異國風
Address: 2F, 16, Ln 316, Roosevelt Rd Sec 3, Taipei City (台北市羅斯福路三段316巷16號2樓) Telephone: (02) 2362-9538 Open: From 11:30am to 2pm and 5pm to 9pm. Closed on Mondays Average meal: NT$200 Details: Chinese and English menu; 10 percent service charge
Comments will be moderated. Keep comments relevant to the article. Remarks containing abusive and obscene language, personal attacks of any kind or promotion will be removed and the user banned. Final decision will be at the discretion of the Taipei Times.