[SUNDAY PROFILE] Bringing new life to puppets
Jean-Luc Penso puts a European face on traditional Taiwanese glove puppetry
Dusk was falling as Jean-Luc Penso watched a performance by the Hsin Hsi-yuan (新西園) puppet troupe. The puppeteer's skill had the sparse audience gasping with delight, with a flaming sword that seemed in constant danger of setting the little stage on fire.
The Frenchman's own puppet show later that evening was very different, mixing his own language, Chinese and Taiwanese to tell a story of magical happenings in a small country house. Penso, who makes no claims to be a proficient Chinese speaker, was playing to his audience, and they appreciated the effort. It seemed a long way from the Hsin-Hsi-Yuan performance, but in fact both were built using the same technical structure of the northern tradition of Taiwanese glove puppetry.
Penso - who last year received the 11th Taiwan-France Cultural Awards (十一屆台法文化獎) for his contribution to fostering cultural exchange between France and Taiwan - is a disciple of the late puppet master Li Tien-lu (李天祿), in honor of whom the performances were being held, as were many of the other puppeteers gathered around the marquee for this day of performances at the Danshui Metro Station. Six of the local troupes performing at this weekend's event - as well as an American and a Japanese puppeteer - were disciples of Li.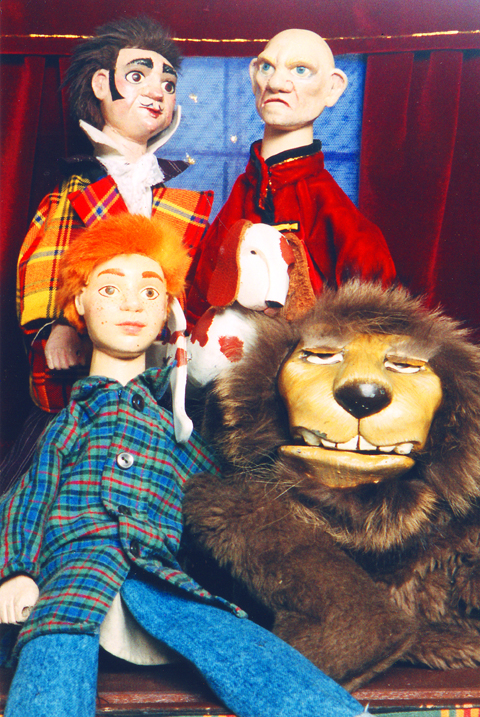 Jean-Luc Penso's puppets. Penso studied under the late Taiwanese master puppeteer Li Tien-lu.
PHOTO COURTESY OF I-WAN-JAN PUPPET THEATER
"I was in France studying Chinese in university and I was already interested in theater," Penso recalled, sitting in the gardens behind the stage, the sounds of demons battling carrying over the evening air. "My teacher was the director of a Chinese opera museum in Paris, and one day I saw two glove puppets from Taiwan on display there. I was absolutely fascinated by them. I don't know why. I still don't know. I then had a chance to see a short 10-minute video of Li Tien-lu performing and it was like a magnet, and I decided to come to Taiwan as quickly as possible, so I quit university and came to Taipei to study puppetry with Master Li."
Li was "an incredible teacher, very good, very patient, but also very fierce," Penso said. "He taught me much more than puppetry. He taught me a way of life, a philosophy. But he never opened a book of philosophy ... it was just his personality."
"Now, each time I am doing a puppet show, I will think about what my teacher (Li) would do," he said. "He would never do effects for the sake of effect. The story was always very important, there was never one motion that was beautiful but useless."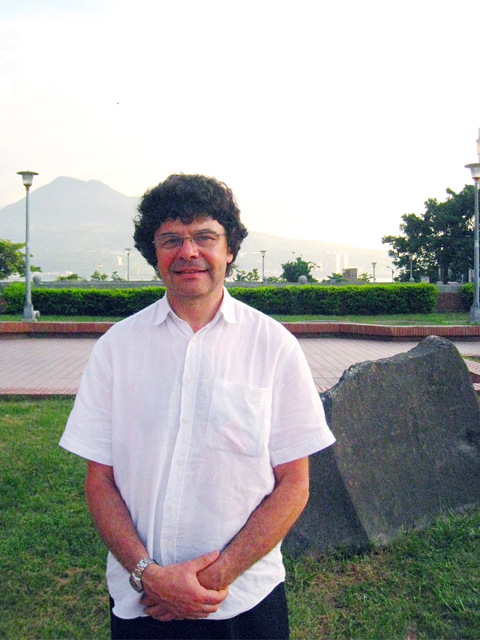 Jean-Luc Penso.
PHOTO: IAN BARTHOLOMEW, TAIPEI TIMES
Although Penso was happy to follow in Li's footsteps, Li didn't see it that way. Initially Penso's Theatre du Petit Miroir (法國小宛然), the troupe he established in 1978, performed the repertoire he had learned from Li: classics such as Journey to the West (西遊記) and Legend of the White Snake (白蛇傳). But when Li accepted an invitation from Penso to perform in France, the master made it clear that he expected his pupil to embark on his own creative venture.
"We were in the Army Museum [in Paris] and we visited the room with the weapons and armor from the middle ages. Suddenly [Li] became very angry. What happened? He said: 'You have been studying Taiwan puppets and performing Taiwan puppet stories ... but I am sure that in France you have many stories that you can tell by yourself. Why do you only do Taiwan puppet (stories)? Do your own show, make creation by yourself'," Penso recalled.
Penso still marvels at the degree to which he was accepted into Li's family. "When I came to Taipei I asked if I could study puppetry with him, and I think he was quite astonished to see a foreigner coming (to study with him). This was in 1974, and his art was already vanishing. He feels very strange, I guess, because this was a time when Westerners in Taiwan were (language) students, missionaries, businessmen or US military personnel. There were very few foreigners. There were only 15 French students in Taiwan."
"The beautiful thing was that he accepted me very quickly and very deeply. At the beginning he was very cold, of course, he was inquiring about what I was doing, why I was there. And then I thought I should pay him, so I give him an envelope (with money) and he put the envelope to one side and then nobody talks more about this, and one month later he gives me back the envelope."
After Li died, his son asked Penso if he remembered the incident and if he knew that, at the time, the family really needed the money. Penso asked why Li didn't take it. Li's son said the children told their father he should teach Penso as seriously as he had taught them, as if her were his own child. Since they did not pay Li, neither should Penso.
"So it was the whole family that accepted me. It took me 25 years to know," Penso recalled, almost tearing up.
Penso embarked on a taxing schedule of study, financed by teaching French at Tamkang University (淡江大學), where he has entered into student lore as the teacher who fell asleep while teaching.
"I studied every morning for two hours, studying how to move the puppets. I did this for months and months. When he was performing in the afternoon I was following his troupe at many shrines, watching at first, then he put a puppet on my hand and told all the audience that there was a foreigner performing ... And so everybody rushed backstage, for they were more interested in my nose than in what I was performing," Penso said.
At the performance on Friday, Penso's nose was not what was attracting attention. Rather, it was his own unique take on Taiwanese glove puppet theater.
"In Taiwan, puppets are important, they are the symbol of the island, but many of the traditional troupes like I-Wan-Jan (亦宛然掌中劇團) perform almost more abroad than in Taiwan. The Taiwanese love puppets, but they love it more as a symbol ... and there is a problem with the lack of creation and the very small number of troupes," Penso said. "In France it is quite the reverse. We have 720 puppet troupes. They all make creation, but (their work) depends more on imagination than on technique."
"I come from another world, another culture, where creativity is venerated, ... we have 80 percent of bullshit, but also 20 percent of nice things ... Traditional arts in Taiwan still need to find their way, because if you do not touch the traditional arts, they will become a museum and they will die," he said.
Penso is participating in the 2008 Taipei International Puppetry Festival (第一屆大台北國際偶戲節), which was created to commemorate Li on the 10th anniversary of his death. He will perform today at 3pm at Hsinchuang Stadium (台北縣立新莊體育館), 66 Hehsing Rd, Hsinchuang City, Taipei County (台北縣新莊市和興街66號).
Comments will be moderated. Keep comments relevant to the article. Remarks containing abusive and obscene language, personal attacks of any kind or promotion will be removed and the user banned. Final decision will be at the discretion of the Taipei Times.