'In the Valley of Elah' leaves no one innocent
A man tries to solve the mystery of his son's murder in this critically-acclaimed film, but finds no easy, clear-cut answers
Viewed from one angle - straight on, from the ground level of its busy plot - In the Valley of Elah might be mistaken for a tidy crime procedural. A retired military police officer named Hank Deerfield (played by Tommy Lee Jones with his usual brisk, gruff economy) learns that his son Mike (Jonathan Tucker), an Army specialist recently returned from Iraq, has gone AWOL from his base in New Mexico.
Before long, the young man's charred and dismembered remains are found in the desert, and Hank joins Emily Sanders, a local detective played by Charlize Theron, in trying to figure out who could have done such a terrible thing to his boy.
As in an episode of Law & Order, suspicion veers one way and then another as new information comes to light. Paul Haggis, the writer and director, obeys the rules of the whodunit genre by providing answers to some of the basic, questions at the center of the film.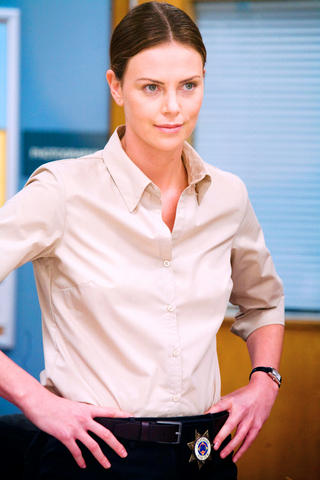 PHOTO: COURTESY OF LONG SHONG
But an air of irresolution nonetheless lingers around it, a sorrowful, frustrated sense that the deepest mysteries cannot be contained within any narrative framework. Underneath its deceptively quiet surface is a raw, angry, earnest attempt to grasp the moral consequences of the war in Iraq, and to stare without blinking into the chasm that divides those who are fighting it from their families, their fellow citizens and one another.
This is not to say that the detective story, suggested by the actual murder of Specialist Richard Davis in 2003, is entirely beside the point. Rather, the mechanics of the plot - the forensic discoveries, the squabbles over jurisdiction between military and civilian authority, the rounds of paperwork and the squad-room arguments - serve as the scaffolding for a more unsettling, open-ended inquiry. As much as Hank wants to know what happened to Mike the night he died, his real quest is to find out who his son was, and what happened to him in Iraq.
The only clues he has are some JPEGs his son e-mailed him, the memory of a desperate late-night phone call from the war zone and some smeary, scrambled video recovered from Mike's cell phone. These hectic, unfocused clips stand in jarring, pointed contrast to the neatly composed frames and carefully paced shots that make up most of Haggis' film, and they pose an agonizing challenge: How do you extract meaning from such chaos?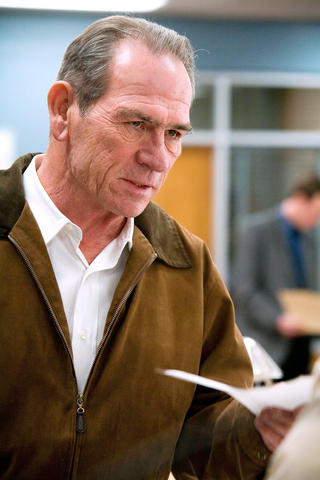 In the Valley of Elah casts Tommy Lee Jones as father of a murdered son, while Charlize Theron plays a detective trying to find the killer.
To his great credit, Haggis tries to coax an answer out of his story rather than imposing one on it from the start, as he did in Crash. That film, which owes its best picture Oscar to the dedication of its cast and the obviousness of its themes, turned racial intolerance into fodder for a self-righteous, schematic allegory.
While In the Valley of Elah has its share of overreaching and throat clearing - including clumsy references to the biblical story of David and Goliath, the source of its title - it is mostly free of moral grandstanding. (A brief scene in which Hank gives voice to some of his half-buried ethnic bigotry is more credible than any of the similar moments that make up most of Crash.)
Not that the message of In the Valley of Elah is ambiguous or unclear. The message is that the war in Iraq has damaged this country in ways we have only begun to grasp. For some people this will seem like old news. Others - in particular those who pretend that railing against movies they haven't seen is a form of rational political discourse - may persuade themselves that it is provocative or controversial.
But however you judge the movie's politics, and whatever its flaws, there is something inarguable, something irreducibly honest and right, about Jones' performance. Hank exists on a continuum with the other lawmen he has recently played, in particular the Texas sheriffs in The Three Burials of Melquiades Estrada, which he directed, and Joel and Ethan Coen's No Country for Old Men, which will be released later this fall.
Like them, Hank carries around an innate sense of right and wrong, and Jones's creased face, at once kindly and severe, is a manifest sign of his old-school temperament. Hank is the kind of man who shines his shoes every night, says grace before each meal and makes his motel-room bed according to military standards.
At every point, as Hank nags and pushes Emily in her investigation, the movie registers the panic and dread that he fights to keep down. These feelings come through to some extent in the reactions of his wife, Joan (Susan Sarandon), whom he tries to protect, but more decisively, and more hauntingly, through the moods Haggis creates (with the crucial assistance of Roger Deakins, the cinematographer responsible for the movie's austere, washed-out look, and Mark Isham, who wrote the eerie, sparingly applied musical score).
Almost no violence takes place on screen, but there are times when In the Valley of Elah feels almost like a horror film. Its steady crescendo of suspense builds toward the revelation - and vanquishing - of some unspeakable, monstrous evil.
But since the monster has no identifiable physical shape, it is not so easily defeated. While there are killers, liars and sadists to be found in this movie, there are not really any villains. And there is no reassuring conclusion. If it is anguished, even despairing, In the Valley of Elah is also compassionate. At heart it is a somber ballad about young men who remain lost in a dangerous, confusing place even after they come home.
Publication Notes
Film Notes:
IN THE VALLEY OF ELAH
DIRECTED BY: Paul Haggis
STARRING:
Tommy Lee Jones (Hank Deerfield), Charlize Theron (Emily Sanders), Susan Sarandon (Joan Deerfield), James Franco (Sergeant Carnelli), Jonathan Tucker (Mike Deerfield), Frances Fisher (Evie), Jason Patric (Lieutenant Kirklander)
RUNNING TIME: 120 MINUTES
TAIWAN RELEASE: TODAY
Comments will be moderated. Keep comments relevant to the article. Remarks containing abusive and obscene language, personal attacks of any kind or promotion will be removed and the user banned. Final decision will be at the discretion of the Taipei Times.