If looking like a million bucks isn't enough,how abouta billion?
Hedge-fund hotties fill designers' order books and fuel style changes. All hail the new era of 'preppy deluxe'
"Hedge funds, hedge funds, hedge funds," Richard David Story, the editor of Departures, the magazine for American Express premium cardholders, said before the Ferragamo show on Sunday when asked to account for the current mood in men's fashion and what looks like newly set markers for giddy excess.
To judge from all the US$700 cotton poplin trousers (Bottega Veneta), US$250 flip-flops (Hermes) and US$20,000 satchels in matte tobacco crocodile (Tod's) on offer, the fractional-jet-share crowd has coffers so deep that there'll be plenty left over for chronographs or John Currin paintings.
Whether these customers are real or imagined, the idealized notion of them appeared to dominate many designers' offerings for spring 2008, all pitched to a guy with both a high net worth and a 30-inch waist.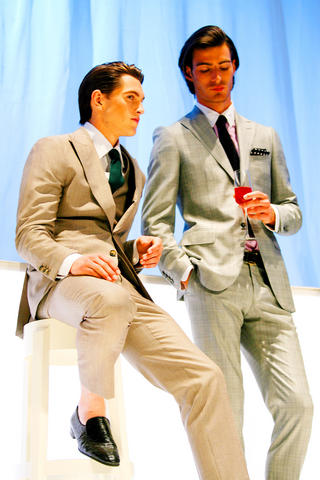 Models display creations, clockwise from left, by Etro, Gucci, Enrico Coveri, Valentino and Fendi, shown during the 2008 spring/summer men's collection at Milan's fashion week.
PHOTO: AGENCIES
"Preppy deluxe," is how one editor characterized Tomas Maier's solid collection of high-end slouch-wear for Bottega Veneta: glazed linen three-piece suits; rumpled jackets with zippered detachable sleeves; and soft bags in crocodile, ostrich and deerskin, which, the designer indicated, "reflect the careless elegance of the clothing."
As in seasons past, Maier's clothes were an elaboration of the insouciant formality that characterizes good Neapolitan tailoring. Still, they could also be mistaken for a billionaire's version of the stuff from a J. Peterman catalog.
That some version of that Bottega Veneta man - lithe, young, carefree in his moneyed assurance - seemed to be everywhere said something about the generally buoyant economic mood in Milan.
His spirit was to be seen in Frida Giannini's slick and well-orchestrated show for Gucci, which presented a tautened version of that same fellow and put him in graphic suits with madras cloth checks rendered in black and white, and trousers that sat just above the pubic bone and biker jackets with grommets and shoes with lethally pointed toes.
He appeared again in shiny trench coats, knife-slim suits and a muted palette at the Versace show, designed this season by the Russian-born Alexandre Plokhov, formerly of Cloak. He was spotted at Roberto Cavalli's unexpectedly restrained show held in a cavernous disco near Linate Airport wearing not the leopard spots and junky rocker paraphernalia one expects from this designer, but instead the subdued suits and the slouchy suede driving shoes favored by the Maserati crowd.
Another avatar of the hedge-fund hottie turned out at Valentino's brand-consistent presentation, notable as usual for natty Roman tailoring styled in a way that is often more than a little bit campy. Wasn't that double-breasted white jacket nipped at the waist once a uniform of sorts among the high-end gigolos populating the piazzetta in Capri?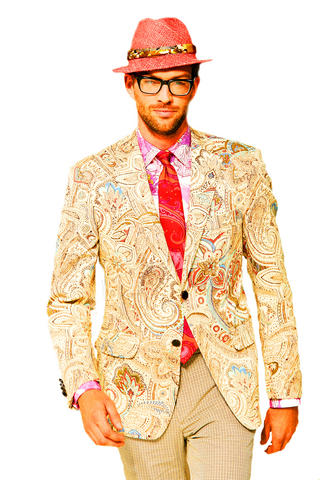 Bigbucks was here again at the Salvatore Ferragamo show, conjured this time wearing sharp-edged suits of white cotton (with accompanying gloves), handsome tweedlike cotton blazers or faintly feminine evening clothes (a kind of shiny hoodie) that suggested a time in the future when it will be the man who needs help with his zipper before leaving the house.
"It's more cool now to be refined," said Massimiliano Giornetti, the young Ferragamo designer. "It's cool to wear a jacket again on the weekend and in the evening and in your spare time."
It is particularly cool if you happen to be in Milan when, in a not-altogether-accountable spirit of optimism, the city cracks open the oaken doors to its fabled palaces and cloisters and turns them into party rooms.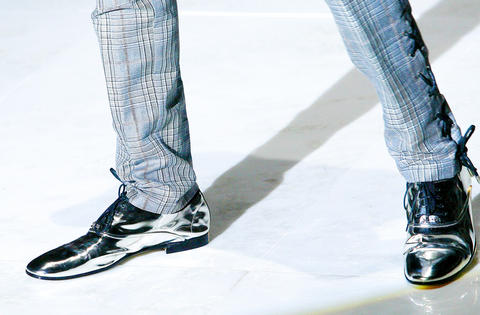 On Saturday night a dinner was held for Nicolas Ghesquiere of Balenciaga beneath Tiepolo's hallucinatory and superpopulated ceiling at the Palazzo Clerici. This was followed the next evening by a vast alfresco feast whose host was Franca Sozzani, the editor of Italian Vogue, honoring the painter Julian Schnabel, who is enjoying a retrospective here. The dinner drew from the worlds of fashion and politics and also from what is left of the local aristocracy, and was served at a series of long tables set inside the arcade of what at one time was a hospital for sufferers of the plague.
For his first men's wear show in Milan, the Belgian designer Dries van Noten took over the Caryatid Room at the Palazzo Reale, illuminated it with 1,500 candles and served guests plates of pasta before offering them a moody selection of clothes shown on models who paraded like sleepwalkers through a low-lying bank of manufactured fog.
There were diaphanous raincoats of parachute silk and side-belted blouson shirts that vaguely recalled Russian Tea Room waiters. There were also boxing shorts and judo trousers, remade in matte satin and jewel colors that, however romantic they looked in the setting, would not be much help if our man found himself looking to get lucky or, for that matter, trying to flag down a taxi at 3am.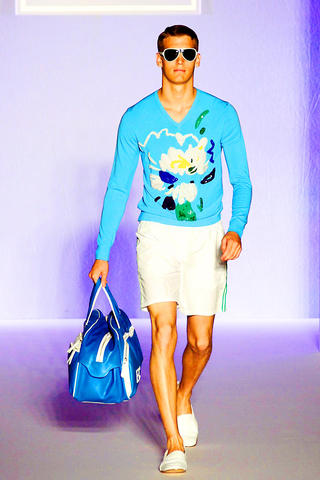 If, on the other hand, he had it in mind to slip on an apricot-colored parachute-silk skimmer, hop into a time machine and set the dial for New Haven circa 1984, he might glide to a graceful landing at a Yale seminar where earnest brainy sorts were ardently discussing something quaint like the butch-femme dyad or the future of men.
Gender studies, of course, have gone the way of the dodo. Yet like that bygone creature they have an insistent way of insinuating themselves into our consciousness and our collective dreams. "The concept of duality so dear to psychoanalysis and art in general," read a press handout at Versace. "This is the challenge facing the Versace man in the coming spring/summer 2008 season."
You don't say. Even before the Versace man got there, many of us were puzzling over what to make of the tension between masculine and feminine dualities in sartorial self-expression and also wondering why it is that, for a lot of designers, Peter Pan seems to be the ideal man. How, for example, do you rationalize the success of Thom Browne, who won a men's wear award from the Council of Fashion Designers of America in 2006 and who was recently hired by Brooks Brothers to help revamp the brand?
You can't argue with the influence Browne's clothes have had on the industry, although he was surely not the first to make suits that suggested a Pee-wee Herman romp along Savile Row. At a garden party staged for a pictorial in the July/August issue of Departures, Euan Rellie, the husband of the fashion gadfly Lucy Sykes, is seen wearing a Thom Browne suit that has all of that designer's trademark details: cropped jacket piped at the collar, lapel, hem and pocket; shirttails left hanging; bow tie.
A caption identifies Rellie as an investment banker, and one would certainly have to be making a bundle to afford a get-up that cost US$6,170, not including underwear, socks and shoes. Yet far from embodying a model of fiscal authority or contemporary chic, Rellie comes across in the picture as the man hired by the caterers to make balloon animals.
With the notable exceptions of Dsquared and Armani, labels whose designers are unabashed in their appetite for manly types, a lot of shows this week cast models that looked as goofy as Rellie did and also far too young. This is probably as good a place as any to remark that, by returning to the clean tailoring, body-hugging lines and gimmick-free forms of his early career, Giorgio Armani produced his best show in a long time, one that had nothing to do with our general cultural infantilism, or what sometimes seems like a plot by the fashion cabal to get the Centrum Silver set to relinquish all hopes of growing old stylishly and to accept the inevitable orthotic inserts and elastic waists.
Easily the most aesthetically charged shows of the week were at Prada and Jil Sander, both labels by designers of intellectual agility, technical know-how and aesthetic quirkiness. Raf Simons at Sander recently narrowed his already-slim silhouette to the point where his models look like calligraphic brush strokes.
His palette this season was cool and maritime: the pale greens of dunes covered in beach grass, the flat blank blue of a Low Country sky. Somehow, though, while declining to flout the visual vocabulary created by the label's founding designer - often mischaracterized as minimalism - Simons has managed to articulate a visual idiom of his own. It is terse, direct and, as probably befits the son of a professional soldier, disciplined.
No sentimentalist, Miuccia Prada nevertheless remains a romantic, her work driven by her highly singular notion of social engagement in all kinds of media (art, architecture, music, clothes). It may seem like a far-fetched assertion to make about a designer who turns out a collection built around boiler suits, mad scientist lab coats, pajama sets in muted floral patterns, and skinny shirts over skinnier trousers in patterns that collide nearsighted geeks, but Prada has once again come up with her own alternative to the scrawny, unconvincing bad boys that have dominated men's fashion since Hedi Slimane first saw Pete Doherty play. It is not exactly that she makes emo fashion. But that's the general idea.
Comments will be moderated. Keep comments relevant to the article. Remarks containing abusive and obscene language, personal attacks of any kind or promotion will be removed and the user banned. Final decision will be at the discretion of the Taipei Times.