Reel News
Veteran director Johnnie To (杜琪峰) is the man to beat at this year's Hong Kong Film Awards — one of the top honors in the Chinese-language movie industry.
To's two gangsters films, Election 2 (黑社會以和為貴) and Exiled (放逐), racked up nine nominations — mostly in key categories — in a shortlist announced Thursday.
Most impressively, To's films picked up nominations in best film, best director and the best supporting actor categories.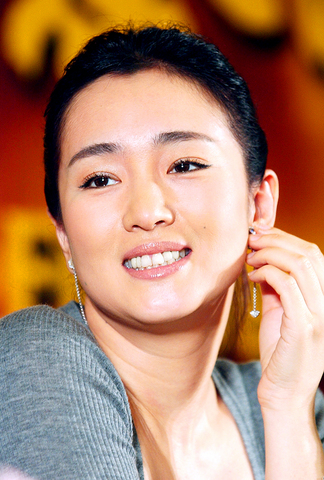 Reel News: Gong Li is favored to win best actress at the Hong Kong Film Awards.
PHOTO: AP
He is up against stiff competition, including famed Chinese director Zhang Yimou (張藝謀), action star Jet Li (李連杰), and fellow Hong Kong director Patrick Tam (譚家明).
Zhang's imperial drama Curse of the Golden Flower (滿城盡帶黃金甲), nominated for an Oscar for best costume design, Li's biopic of kung fu master Huo Yuanjia (霍元甲), Fearless (霍元甲), and Tam's meticulous story of a deadbeat father, After This Our Exile (父子), are also competing for best movie honors.
The nominations mark a successful year for To, who crafted two entertaining and stylish movies.
Exiled, the story of a group of gangsters ordered to kill a former colleague, featured sophisticated gunfight sequences, while Election 2 uses a mobster story to convey smart political commentary on China's growing influence in Hong Kong.
To's two films, however, missed out in the top acting categories.
The best actor competition features the cream of the crop of Chinese film. Shortlisted are Chow Yun-fat (周潤發) for Curse of the Golden Flower, Li for Fearless and former Cannes best actor winner Tony Leung (梁朝偉), who was nominated for playing an introverted police officer who seeks revenge in Confession of Pain (傷城). Pop star Aaron Kwok (郭富城) is another key contender. Kwok won the best actor prize last year at the Golden Horse Awards for his performance as an abusive father in After This Our Exile. The best actress field is comparatively weak. Chinese movie star Gong Li (鞏俐) from Curse is the favorite, with the rest of the field made up by second-tier actresses nominated for movies that haven't generated much attention.
In other awards news, Helen Mirren of The Queen and Forest Whitaker of The Last King of Scotland won Screen Actors Guild Awards on Sunday as best lead players, their latest prizes on the road to the Academy Awards.
The road-trip romp Little Miss Sunshine won the prize for best film ensemble, the guild's equivalent of a best-picture award.
Solidifying their positions as Oscar favorites, Mirren won for playing British monarch Elizabeth II and Whitaker for starring as Ugandan dictator Idi Amin.
It seemed the soft-spoken Whitaker was struck speechless, rambling through some awkward words of gratitude.
The 57th Berlinale will screen movies directed by actors Antonio Banderas, Steve Buscemi and Julie Delpy and see stars like Isabella Rossellini add glamour to the film festival, organizers said.
French actress Delpy, who won audiences' hearts with her romantic turn alongside Ethan Hawke in Before Sunset and its sequel Before Sunrise nine years later, is showing her directorial debut.
Playing true to type, Delpy, who co-wrote the script for Before Sunrise with Hawke, has delivered a romantic comedy entitled Deux Jours (Two Days in Paris).
Spanish heartthrob Banderas is giving directing another try, this time in his mother tongue, after critics gave his first attempt, Crazy in Alabama, a lukewarm reception.
His new film El Camino de los Ingleses (Summer Rain) features acclaimed Spanish actress Victoria Abril, with whom he starred in Pedro Almodovar's Tie Me Up, Tie Me Down, and Alberto Amarilla.
DreamWorks Animation SKG and UK-based Aardman Animations Ltd. on Tuesday ended their seven-year partnership to make animated films, saying the companies' "ambitions have moved apart."
The split comes as Wall Street prepares for a loss from the two studios' latest collaboration, Flushed Away, which has taken in US$170 million at worldwide box offices.
Some analysts expect DreamWorks to take a loss of up to US$105 million on the project.
DreamWorks and Aardman have been unable to parlay the success of their 2000 joint production, the claymation stop-motion film Chicken Run, into subsequent projects.
The studios' second film, Wallace and Gromit: Curse of the Were-Rabbit, was released in 2005 to critical acclaim but a weaker-than-expected box office performance of US$192.5 million.
Comments will be moderated. Keep comments relevant to the article. Remarks containing abusive and obscene language, personal attacks of any kind or promotion will be removed and the user banned. Final decision will be at the discretion of the Taipei Times.