Technology Review
TAKE A STAND WHEN THAT NOTEBOOK NEEDS TO BE BIG
While the small size of a laptop may feel great when you have to haul it through the airport, hunching over that petite PC for hours may lead to neck aches — or hand cramps from the compact keyboard. While most laptops can be connected to a docking station or bigger monitor, the Logitech Alto portable notebook stand lets you anchor a laptop at eye level and work more comfortably at a table or desk.
The Alto includes a full-size keyboard with extra programmable keys for things like starting programs or controlling the computer's volume. A USB port is required to connect the Alto to the laptop, but a small hub built into the stand provides three more USB 2.0 ports for use in connecting other devices.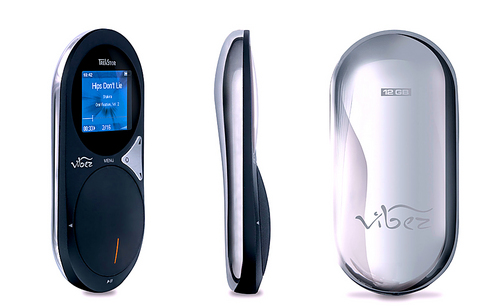 The TrekStor Vibez.
PHOTOS: NY TIMES NEWS SERVICE
The Alto sells for about US$100 and will be available in stores next month; product details are at www.logitech.com. It works with most Windows and Mac OS X laptops weighing less than 4kg. When not propping up your portable, the Alto folds down to about 22.5cm by 43cm and less than 4cm thick. Then, unlike a desktop computer, it can be shoved out of sight.
A SIMPLE ADD-ON KEEPS AN IPOD HANGING AROUND
Yet another accessory for the iPod? Thankfully, the Hangman from Neat Products offers a clever twist.
The Hangman for the iPod from Neat Products.
This tiny piece of plastic connects to the synching and charging port on the bottom of the iPod and has a stainless steel link that hooks onto a belt loop or backpack.
You then wrap the slack of the headphone cable around the Hangman and let the iPod dangle in the wind. To remove the Hangman, you press a button and it pops off.
The Hangman keeps your iPod close at hand and away from the clutter at the bottom of your bag, where it can be scratched and cracked. It fits third-, fourth- and fifth-generation iPods, along with the Mini and the Nano. It is just about a quarter of an inch thick and weighs less than 15g.
The Hangman comes in black or gray and is available for US$19.95 at www.neatproducts.com.
Fans of wearable technology — if they exist — could feasibly wear a Hangman-connected iPod as a fancy medallion. It could happen.
FOR GAMES AND VIDEOS, A LAPTOP MADE TO IMPRESS
Fans of high-definition video have a friend in the Dell XPS M1710, a monster laptop that in its most expensive configuration can read and write the new Blu-Ray high-definition discs. But does that warrant its US$3,699 price tag?
Well, there are other high-end features in the package, including a 17-inch screen, a 2.4-gigahertz Intel Core 2 Duo T7600 processor and an Nvidia GeForce Go 7950 GTX graphics chip. A full gigabyte of memory and 80 gigabytes of hard drive space are also inside.
The laptop has an ExpressCard slot and six USB ports. A DVI-out port lets you connect this beast to an HD television.
All of that means the M1710 is almost perfectly suited to play the latest games and to play and record HD video in its full glory.
Aimed at the die-hard gamer and media fanatic, the M1710 is obviously not for everyone. At 4kg, this laptop is less portable than luggable, but its high-style features — particularly the colored lights on the brushed-metal case, which comes in red or black — will make quite an impression at the cybercafe.
FOR CRITICAL DATA, THE THUMB DRIVE THAT PASSED THE ROAD TEST
Key-chain thumb drives that pop into a computer's USB port, carrying hundreds of documents, songs or pictures, are suddenly everywhere. Their convenience and shrinking price — some sell for less than US$10 — have made them standard operating equipment for academics and businesspeople taking their homework home. But their small size and sheer ubiquity create a security hole big enough to drive a car through.
That may be what inspired a recent experiment by engineers at Kingston Technology. One backed his Nissan 350Z over the company's new Data Traveler Secure Privacy Edition to test its waterproof titanium case. It survived with the data intact, but needed a session with some pliers to mate it with a PC again.
The 7.6cm device, priced from US$53 to US$297 in sizes from 512 megabytes to 4 gigabytes, will be available at major online retailers this week. The data inside is not just password-protected but also scrambled using high-strength 256-bit encryption.
In a feature reminiscent of Mission: Impossible, an onboard 32-bit processor erases the drive if there are 10 consecutive failed attempts to log in. After the data has been destroyed, the unit can be reset and reused, but those secrets are gone.
EUROPEAN MP3 PLAYER IS MORE THAN A PRETTY FACE AND WHEEL
In the world of MP3 players, there's the iPod and then there's everything else. The TrekStor Vibez is a player that stands out even among the dozens of "everything elses" on the market.
The German-designed Vibez plays MP3 and Windows Media files and displays cover art and photos on its 1.25-inch-by-1-inch screen. The eight-gigabyte version holds about 2,000 songs; the 12-gigabyte model holds about 3,000.
What separates the Vibez from the rest of the pack are its clean lines and unusual scroll wheel. The front of the player is clad in rubberized plastic, while the back is chromed metal. The wheel actually spins, unlike the touch-sensitive version on recent iPod models, and it has a lighted marker that increases in brightness as it approaches the four cardinal points.
The Vibez generates playlists based on variables like the number of times played, and has a "cover version" feature that finds songs re-recorded by other artists.
Originally sold in Europe, the Vibez is available from online retailers. While it won't knock the iPod off its pedestal, the streamlined Vibez might just be the belle of the ball.
Comments will be moderated. Keep comments relevant to the article. Remarks containing abusive and obscene language, personal attacks of any kind or promotion will be removed and the user banned. Final decision will be at the discretion of the Taipei Times.