Jeff Hsieh squares off
While many people stuggle to complete a tree-by-three Rubik's Cube without switching the stickers round, Jeff Hsieh can tackle a five-by-five puzzle in under six minutes
Jeff Hsieh (謝佑揚) is a 16-year-old high school student in Santa Rosa, California who can solve Rubik's Cube puzzles at incredible speeds. He hopes to help teach the art of "speedcubing" — solving a Rubik cube puzzle as quickly as possible — to youngsters in Taiwan.
"I have been speedcubing for a little over a year now, and I average about 24 seconds per solve," the high school junior recently wrote in an e-mail interview. "My specialty is the 5x5x5 Professor Cube speedsolve, for which I hold the Taiwanese National Record."
In speedcubing, solving a Rubik's Cube puzzle is defined as "performing a series of moves that result in each of the cube's faces being one single, solid color."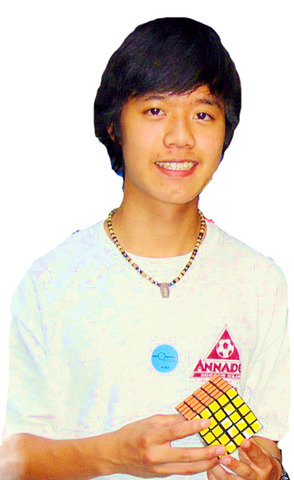 Jeff Hsieh, 16, holds a 5x5x5 Professor Cube at the US National Speedcubing Games in San Francisco last month.
PHOTO COURTESY OF JEFF HSIEH
The Rubik's Cube was invented in 1974 by Hungarian professor of architecture Erno Rubik. His puzzle became a global craze, fueled by international media reports, and the result, 30 odd years later, is the international "sport" of speedcubing.
Hsieh, who was born in Taipei in 1990, holds an ROC passport and a Canadian passport, although his family moved to the US six years ago. In addition to speedcubing, he said he likes to play soccer and badminton, and enjoys playing the flute.
"I also like to fiddle with the computer and make short movies or trailers," he said.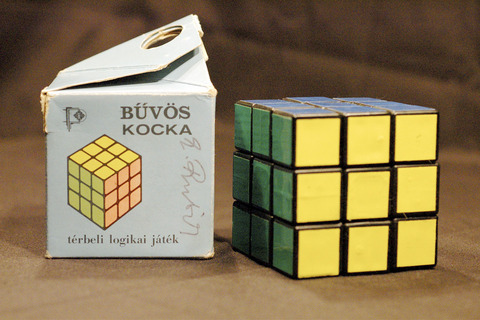 An original Rubik Cube signed by the Hungarian mathematician Erno Rubik.
PHOTO: NY TIMES NEWS SERVICE
Hsieh said speedcubing is emerging as a popular hobby, not only in North America but also in Taiwan. Late last month Taichung hosted a Taiwanese Speedcubing Championship (rubiks.tw/contest2006).
As in many sports or puzzle competitions, speedcubing statistics come fast and furious. In the recent US Nationals Leyan Lo won top honors by solving 3x3x3 Rubik's Cube in an average of 15.5 seconds, while Ryan Patricio came in second with an average of 15.61 seconds and Toby Mao (毛台勝) was third at 15.89 seconds.
You want world records? There's Toby Mao, who did a 3x3x3 single solve in 10.48 seconds, Frank Morris who did a 5x5x5 solve in an average of one minute and 58.66 seconds, while Chris Hardwick did it blindfolded, solving a 5x5x5 cube in 28 minutes and 28.22 seconds.
When asked what attracts him to speedcubing, Mao, a 22-year-old California Institute of Technolgoy graduate who majored in astrophysics, wrote in a recent e-mail: "I'm fascinated by speedcubing because it illustrates the extraordinary accomplishments capable by (sic) humans through a combination of hard work, creativity, and stubborn addiction."
American speedcuber Ryan Patricio solved a 3x3x3 cube in 24.03 seconds using only one hand. A world record worth noting is the one reserved for youngest speedcuber, and that honor goes to Yui Tomita of Japan, who solved a 3x3x3 cube in one minute and 48.28 seconds when he was just four years old (and 256 days).
In the Tokyo Open Championship last month, Yuki Hayashi won top honors with a speed solve in an average of 16.13 seconds.
When Hsieh was asked what his parents thought about his interest in speedcubing, the teenager said: "In the beginning, my mom and dad had different views about speedcubing. My mother has always been very supportive, while my father at first thought I was wasting my time. However, now that he has seen me do well in the competitions, he is fully supportive. In addition, I started a speedcubing club at my high school, and it's been a great learning experience for me to be a club leader."
When asked about the history of speedcubing, Hsieh noted that most cube puzzles are Rubik's products. "People often associate the words 'Rubik's Cube' with the orginal 3x3x3 cube. Now, there are 2x2x2, 4x4x4, and 5x5x5 cubes. I can solve all of them, ... all within six minutes, consistently. However, I think that in order to become a successful speedcuber, a person has to find his or her own specialty. My specialty is the 5x5x5 Professor Cube, which I plan to work extensively on in the future to become one of the top five in the world. I already hold the national record for Taiwan, and I am ranked 12th in the US."
He also noted that cube competitions do not only focus on speedcubing, or solving a cube puzzle as fast as one can, but that there are also one-handed and blindfolded contests.
Hsieh said that because of his Taiwanese heritage, he would like to visit the island as an ambassador of speedcubing and help teach other young people about his hobby.
"I went back to Taiwan last summer and taught my cousin how to solve the cube. He was very interested and learned, without much difficulty, in about two weeks," Hsieh said. "I would be honored and thrilled to teach young people in Taiwan how to solve the cube. If I happen to be invited to be an ambassador of speedcubing for Taiwan from North America, I would be more than willing to do so."
Being ranked 22nd this year with an average time of 24.45 seconds in a national speedcubing competition in the US was one of the highlights of his life so far, he said.
He shares the same kind of excitement, he said, as fellow speedcuber Chris Hardwick, who likes to compete blindfolded and holds a world record for his skills. After the 2004 US Nationals were over and it was time to go home to the everyday world, Hardwick wrote on his blog, "Well, it stinks that the competition and all the cube get-togethers are over. I had an awesome time, so I''m hoping to see everyone again ... at the next world competition."
Comments will be moderated. Keep comments relevant to the article. Remarks containing abusive and obscene language, personal attacks of any kind or promotion will be removed and the user banned. Final decision will be at the discretion of the Taipei Times.