Radiohead rejuvenated
As pop grows ever more fickle, rock's most experimental Top 10 band has held onto a huge following and is now the industry's most coveted free agent
Thom Yorke is a study in asymmetry. A small, wiry man in neatly patched blue jeans, gray T-shirt and dark blazer, he sits with wary courtesy for an interview in a midtown Manhattan hotel room that attempts a sleekly pretentious minimalism, "but on the cheap," he says with a snicker.
Yorke's coppery blond hair is cut at precisely unbalanced angles, and in his sharp, foxlike face his right eye is clearly larger than his left. His forehead occasionally creases above his left eyebrow, giving him a slightly conspiratorial look. Asymmetry also pervades the music he makes on his first solo album, The Eraser, and the music he has made for more than a decade with Radiohead, rock's most experimental Top 10 band.
Inner tension reigns in Radiohead songs, as the rhythms undermine rock's standard 4/4 time, melodies are assaulted by intrusive noise, and the sweet ache of Yorke's voice carries tidings of deep malaise. And now, because the band chose not to make a new recording deal after finishing its contract in 2003, Radiohead is rock's most coveted free agent.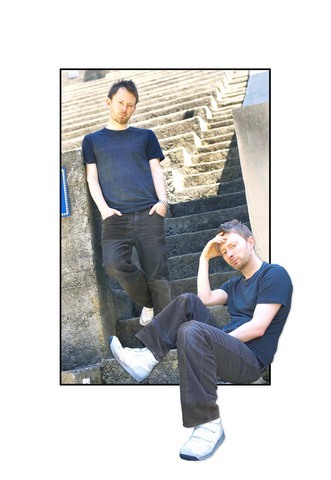 Asymmetry pervades the music Thom Yorke makes on his first solo album, The Eraser, and the music he has made for more than a decade with Radiohead.
PHOTO: NY TIMES NEWS SERVICE
As pop grows ever more fickle, Radiohead has held onto a huge following, large enough to make albums zoom to No. 1 and devoted enough to plaster the Internet with Radiohead fan sites, blogs, song discussions and bootleg recordings. The band has held on to its fans not by polishing a formula but by regularly dismantling it: Each Radiohead album arrives from a new angle, with new conundrums.
Radiohead's members -- Yorke, Phil Selway on drums, Colin Greenwood on bass, Ed O'Brien on guitar and Jonny Greenwood on guitars, keyboards and unlikely sounds -- met when they were at a boys' school near Oxford, England. When they started Radiohead in the early 1990s, the songs adopted the Beatlesque grandeur of Britpop but sabotaged it with sentiments like the one in Creep, Radiohead's first hit, which has Yorke sullenly crooning, "I'm a creep, I'm a weirdo/What the hell am I doing here?"
Popularity only made the band's alienation more sweeping. In 1997 Radiohead unveiled the dystopian majesty of its first masterpiece, OK Computer, full of dire thoughts about dehumanization. Then, instead of making a sequel, Radiohead disassembled its sound, supplanting guitars with keyboards and electronic cross-rhythms on the ominous, disorienting, fascinating Kid A and Amnesiac. With Hail to the Thief in 2003 Radiohead brought the two strands back together, reintegrating rock guitars into its jagged electronic soundscapes.
The 21st-century Radiohead makes music of constant, sophisticated discord. With and without Radiohead, Yorke is a purveyor of beautiful anxieties.
"It annoys me how pretty my voice is," Yorke says. "That sounds incredibly immodest, but it annoys me how polite it can sound when perhaps what I'm singing is deeply acidic."
Radiohead's next album may not arrive for some time. Hail to the Thief fulfilled Radiohead's contract with EMI, and while companies large and small would be eager to sign the band, it has still not decided what to do next, staying in a commercial limbo that has been both liberating and unsettling.
"Why would you want to sign a six-album deal with a business that is imploding?" Yorke says.
The tour that followed Hail to the Thief sold out arenas on four continents, ending at the Coachella Festival in 2004. And then, after the triumph, there was no next step. No recording deadline, no more tour dates. As band members returned to their families, Radiohead went silent.
"We lost all momentum and it's very, very difficult to get momentum back," Yorke says. "When I say momentum, I don't just mean the physically working every day, I mean just hanging out and playing each other music and swapping ideas and stuff. It's something that you take for granted until it's gone. And then you're like: `What's wrong? There's something wrong here.'"
As he had between OK Computer and Kid A, Yorke plunged toward depression. "I lost my confidence in all of it, I mean for about a year," he says, and then dismisses the topic. "I used to bore my friends stupid in the pub."
The music on The Eraser sounds intensely solitary. Keyboards, synthesizer sounds and spatters of percussion well up and loop around Yorke's sustained voice as he sings a depressive's litany. "There's no spark, no light in the dark/It gets you down," he sings in Analyse, while in Skip Divided, he repeats, "You are a fool for sticking 'round." So many of the songs are addressed to "you" that it sometimes sounds as if Yorke is staring into a mirror, singing comfortless lullabies to himself.
"There was a lot of me trying to pick myself up off the floor," he says. "Because I really sort of dropped -- what's the word? sunk -- dropped down and went into this big lull and couldn't do anything. There's a lot of internal monologue stuff going on. But it's never literally. What ends up in the song tends to be what the song wants to have, rather than `I'm going to put this amount of garbage from my life into this particular song.'"
Yorke doesn't consider The Eraser entirely a solo album. Many of the sounds on it had been made by Radiohead members through the years. In the library of sounds Yorke used for The Eraser, he no longer has any idea who played what. "Part of our method is we tend to record everything we're doing," he says. "It's as much about discovering the accidents and compiling them as anything else."
Yorke began going through his accumulated sounds with Nigel Godrich, Radiohead's longtime producer, as an adviser and editor. "It was a matter of listening through to stuff and taking parts and arranging those blocks into things that could be bits of music, so then he could write melodies over the top," Godrich said by telephone from San Francisco. "Nobody knew we were doing it, nobody was waiting for us to finish something. It's very much like a couple of kids mucking about in the bedroom."
At first "I didn't expect it to be a song record," Yorke says. "The more that Nigel forced me to isolate and tidy up my ideas, the more they started forming into something you could call songs, or something that I felt relaxed about putting vocals onto because they felt loosely coherent."
Much of the album took shape without instruments: just Yorke with his computers and samples. Later he added some real drums and an occasional guitar part. The tracks on The Eraser sound disembodied and private: too rickety to come across as quantized computer music, but too synthetic to suggest a live band. "The music was fairly minimal," Yorke says. "And the vocal ideas that could go with it were fairly direct. It wasn't going to be, `Oh, it's heavily programmed, densely electronic, clever, clever.'"
He and Godrich were, he said, "very much trying to keep with the aesthetic of it being homemade, but discernibly out of the computer or out of the laptop, and making that something to be celebrated rather than pretend it's not."
Radiohead reconvened last summer to work on new music. "There was no record company, there was no nothing," Yorke says. "It was really nice to be in a period where there was none of that."
At the end of September the band posted a photograph of a studio blackboard filled with song titles. "That was just to wind up all the Web sites," Yorke admits. But the band didn't feel productive overall. "Because there was no endpoint, there was no goal," Yorke says. "To focus a group, a deadline is an excellent idea."
Radiohead hasn't resolved the question of how to release its new material. Although it seems that every last one of Radiohead's North American and European fans is online, Yorke ruled out purely digital distribution because fans elsewhere -- Russia or South America, for instance -- are not so well connected. A company still needs to press CDs and get them to stores. "The truth is that the traditional medium is still there, and you need it," he says.
Around last Christmas, Radiohead gave itself a deadline: The band decided to tour again. "We spent a long time in the studio just not going anywhere, wasting our time, and that was really, really frustrating," Yorke says. "But then we upped the stakes, and we went to a different space that we have, to start preparing for the tour. And it was like, OK, we're on tour in two and a half months. And we basically had all these half-formed songs, and we just had to get it together.
"And rather than it being a nightmare, it was really, really good fun, because suddenly everyone is being spontaneous and no one's self-conscious because you're not in the studio. So it was really good just hanging out and working for about four or five hours a day. It felt like being 16 again."
The night after the interview, Radiohead played a typically polymorphous set at Theater at Madison Square Garden: intricate picking and blunt drum-and-feedback drones, twinkling keyboards and bruising bass lines, plaintive anthems and bitter sarcasm. Among the new songs are Down Is the New Up, which harks back to the Zombies; Bangers 'n Mash, a grinding garage-rocker, and the tricky, odd-meter 15 Step, which begins: "How come I end up where I started?/How come I end up where I went wrong?"
Backstage after the show O'Brien, one of Radiohead's guitarists, says happily that the songs are "morphing rapidly" as they are played each night. Some might even be considered finished. But there is, for the moment, no album in sight, just a band that will let the music business wait until its songs are ready. "All we have to do," O'Brien says, "is record them."
Comments will be moderated. Keep comments relevant to the article. Remarks containing abusive and obscene language, personal attacks of any kind or promotion will be removed and the user banned. Final decision will be at the discretion of the Taipei Times.